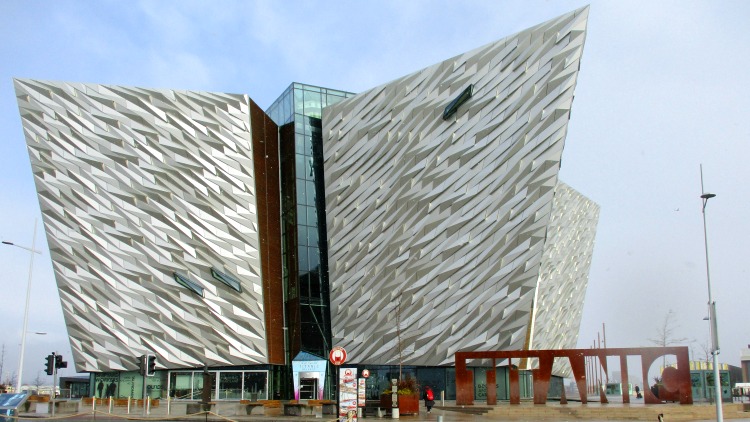 "Please, I really need your help."
So began a message we recently received from a reader. Galit had just begun her first solo journey, traveling from Israel to London.
Her note continued, "I am very anxious and have not slept all night. I don't feel safe, and I am considering going back home, even though I am supposed to travel in Europe for 16 days. Can you help me somehow?"
I turned to the amazingly engaged Solo Travel Society on Facebook. This knowledgable, encouraging, and supportive community of travelers, now more than 235,000 strong, dove right in with general travel advice, tips specific to London, and words of encouragement for our overwhelmed fellow traveler. From all over the world, experiences were shared, reassurance was given, and invitations to connect online and in person were extended.
Some of the tips were specific to her destination, but most of the comments apply across the board, to everyone from first-time solo travelers to those with experience, and to any new city you might be entering. Herewith, the generous advice of Solo Travel Society members for anyone who may be feeling a bit overwhelmed at the outset of a trip.
General Tips for Traveling Alone
Wanderlust 1. Walk with your chin up. As far as the locals are concerned, you are just another person walking down the sidewalk. They'll probably think you are commuting to work. 2. If you are anxious, don't rush to see the sites yet. Sit down at a coffee shop and absorb the conversations, the people, and the environment. 3. I always found that seeing my first monument in a new country brought me some comfort because of the familiarity of having seen it in magazines or online. "You did it!" I say to myself. Make that your one goal today. 4. Don't give up. You've just entered a secret and elite club: Solo Travelers. We don't brag about it to our friends when we go home but deep down, we know we are so much more awesome than the common folk.
Teresa Don't give up on your trip. It's quite natural to feel anxious, and sleeping in a strange place is hard. If staying in a hostel, talk to some other travellers. Don't go anywhere you feel unsafe, but try not to look like you are a newbie as in big cities there are always those waiting to exploit strangers. Just be sensible and try to enjoy your travels. Write a journal and keep in touch via phone or internet with family and friends.
Colette The first night is the worst. Fears just kind of creep in. Keep focusing on what you are there to see and do. You will have fun – the second day is better and flight fatigue goes away too.
Sandra Take a deep breath and start by taking an organized tour to get your bearings. Take it a little easy the first day given that you may well be jet lagged. Get a map and start with easy-to-find and sometimes no-line stuff such as the British Museum. Or just walk all day if that is more you. The first day is always the worst. Also, get busy putting a camera between you and what you are seeing. Take a lot of photos. Then you have more to focus on (no pun intended) and less energy for the worries. And yes, breathe.
Michelle Take a moment to breathe and think about what you want to experience. Find a walking tour or take the red hop on-hop off bus. Consider staying at a hostel (private room) and talk with other travelers. Hostels are for all ages and you will meet other travelers that you can spend time with exploring the city. The staff at hostels are usually good at making tour recommendations based on your interests. London has fantastic museums, theater, and music scenes. Find something that is interesting and enjoy it. Solo travel is fantastic once you change your way of thinking. Have fun and enjoy this amazing adventure.
Bonnie Buy a ticket for the bus. Ride around. Get a feel for the city. Go shopping. If your hotel has tea time, meet some of the women staying there. I would avoid the tube if you have fear. It can be confusing. Instead, I'd spring for a cab. You can go to a college campus if you want to blend. I find eating in a hospital or university cafeteria lets you blend as well. In fact, I stay at a university guest house in some towns when available. If you're nervous about other areas of Europe, you can find out where convents are. Usually there is a curfew, but you REALLY feel safe.
Kelly Excitement and fear feel very similar. What helps me is to move in a very small circle for a day or two: hotel, food, shower. Just let yourself settle in and don't force yourself to do a ton. Then you will have your safe zone and you can do a bit more as you feel comfortable. I always ask myself to imagine how I will feel if I give up, how it will feel to sit at home and imagine all I missed.
Jo The best advice my momma gave me was never make a decision when you are tired…first get a good nights sleep ( I went to Buenos Aires a couple of years ago and even as an experienced solo traveller I felt overwhelmed so I just slept lots, ate, went sightseeing for 3 days and nights and then the world looked very different) If you don't feel safe where you are staying, spend a bit more money and stay somewhere you DO feel safe. Also London may not be for you…if you still feel like this after a few days, hop on a bus/train/plane to your next destination – better than going home…you will at least be giving yourself a chance to have a good time-once home that opportunity is gone.
Grace Someone once told me to give yourself 3 days. The first is to get over jet lag, the second to do business (exchange money etc), and the third to get out and see things. Don't push it, just let it come naturally. If you give yourself those 3, it will be less overwhelming. Best of luck! It does get easier.
Micheline Please don't go home. One of the things I do when I travel is look for places where I would normally hang out. That might be a coffee bar, or a farmer's market, or a bakery, or a cool shop. Somehow, the familiar atmosphere makes me feel safe enough to explore some more. Remember: you don't have to do "big stuff" just because it's Europe. Just do what you like to do.
Clare Give it a day or two. I've travelled solo a few times now yet I still get nervous the first day. Spend a few hours learning the transport system. Once you have that figured out, the city will feel much smaller and less scary. A guided tour is a good idea as it'll help you get your bearings too. If all else fails, act confident. You'll be amazed at how faking something turns into really feeling something! Good luck, you'll be fine.
Leslie Relax. Go to a library or cafe and use the internet. Plan out your days. This will give you comfort in knowing what you will be doing each day. Go to a museum. Check out the places of interest. Your first reaction is to leave and go home, but you will regret it. You are there, see what there is to see and do. I like to plan my days, that way I am not wandering around wondering what to do. Do not be afraid to ask for directions or ask the locals what they like to do and see. Parks are a nice way to spend some downtime too.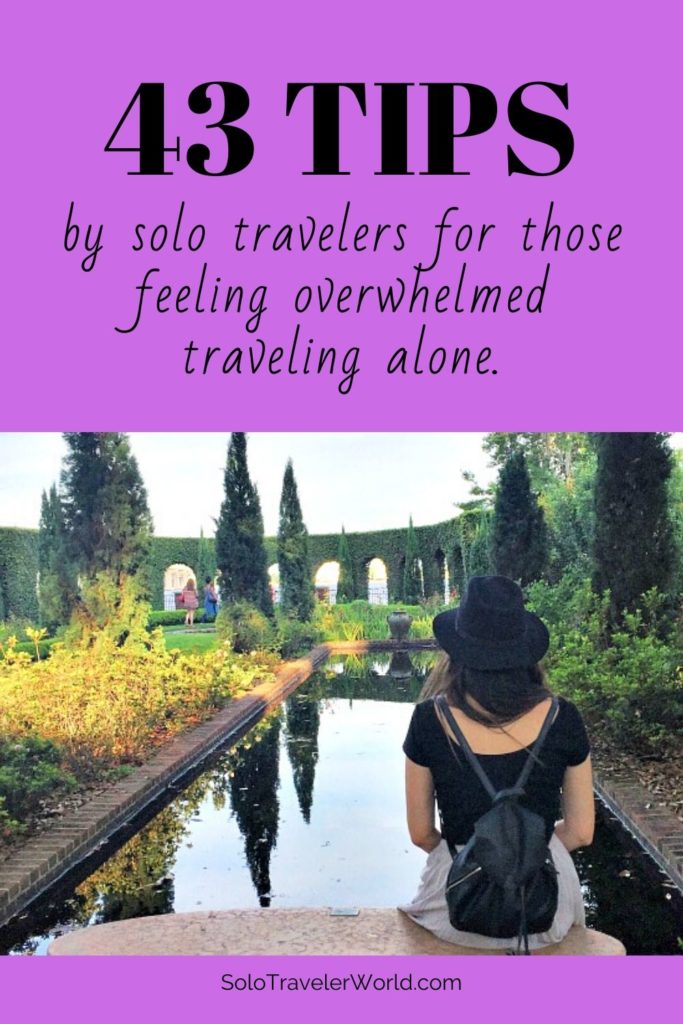 Margie Don't try to do too much. I always have a massage when things get shaky for me. It's ok to not be 'on' all the time. Find a safe nice cafe and sit there all day. You are there and it's ok and common to be frightened. Go to ordinary places like supermarkets.
Martha Try to relax. If you are anxious, go to a park, there are some beautiful ones in London. Sit on the grass, take a few deep breaths and enjoy the moment. Get a map and try to get oriented. It helps me a lot when I travel solo to always know where I'm going and how I'm going to get there before I set a foot on the street, it makes me feel more confident. And always, always be safe. Don't take risks with your wallet, papers or yourself. Don't walk alone late at night and take a taxi to get back to your hotel. Otherwise, enjoy!!!
Karen Go on a group tour. Connect with other visitors. Take the initiative to speak to people who look safe, happy, and interesting. Ask where they are from. Introduce yourself. Look for others who seem to be solo. Good luck. I think you'll be happy you stayed.
Stephanie Looks like you got a lot of good advice. Take a deep breath and objectively look at your situation. I'm guessing you spent a lot of time planning this trip and where to stay. Unless your hotel doesn't feel safe, don't be afraid…acknowledge the feeling. If it's not based on a fact (e.g. drunks accosting you in the hotel lobby) then stop listening to the voice in your head telling you to be afraid. You are the listener, not the voice. The voice is just thoughts. Don't let it control you or spoil your experience. The first time can be difficult but even bad experiences are adventures even if they don't feel like it at the time. They are the stories you tell and the memories you won't forget. Now get out there and enjoy yourself. The locals even speak your language!!!
Barbara Part of the issue may be jet lag. London is a great city. Walk, walk, walk; by night you will be tired and will sleep well. Tomorrow you will feel much better. Don't go home. Keep going. I'm sending positive thoughts your way!
Ilona Sit down in a beautiful place, have a cup of tea and first of all, relax. If you haven't brought one with you, buy a notebook and write down your thoughts, feelings, observations, discoveries, while sitting there and watching the life and the people. You'll realize it's not so bad and no need to worry. Think about what you wanna see, then go and see it.
Rachel You're just in a new situation and psyching yourself out. Relax, know that you can ask people for directions or suggestions of what to do/see, and take it at your own pace. Treat it like you've moved to a new city and need to familiarize yourself with it rather than reminding yourself you're not home and "don't belong" there.
Ivy Being solo means being aware. It can lead to mental fatigue when all decisions are yours. It is also fantastic to have that freedom. You need your sleep. The city is safe but where you sleep must allow you to feel the same. Does that need to change? The hop on bus has been mentioned. I loved it. I rode it all day long. I even napped a bit. Talk to people. They will encourage you.
If you're traveling to London make sure you read
Affordable London! 32 free and low-cost tips
Words of Support & Encouragement
Anne Don't go home! Anxiety is normal, Get get your sleep, spend time just watching what is going on around you, and then move on. You will never have your first trip again…
Joanne Be open to talking to families or couples so that you don't feel so alone. Do some deep breathing and tell yourself how lucky you are to have this opportunity. Don't waste it because you will be FINE. It takes a couple of days for everyone to feel comfortable in a new place.
Lauren Please don't give up on your solo adventure! You will be fine. Hang in there.
Kevin If you go home now you will be regretting it the rest of your life. Be brave. It will all be fine. You're doing what life is really all about.
Linda I have travelled since I was 17. But nothing got me more anxious than 2011 following some sad things that went on in my life before my trip. I was very nervous embarking on travelling alone again. When I arrived in Italy I had to force myself to leave the airport. I cried when I saw my tiny hotel bed. I talked to my best friend at home, and she said "You are just tired. Have a cry, wash your face, take a nap, wash, and go out." That is exactly what I did . Rome is amazing by night. I made friends. I have never felt scared or lonely since. Enjoy yourself. You have nothing to fear but fear itself. Everything else is an adventure …now go have fun!
Ilona You will soon see something that you have always wanted to see, and then you will be totally amazed that you are there, in London, flying solo, and being so brave and strong!!! Trust us. We know!
Theresa Breathe. Don't go home. You will rob yourself of an exceptional experience. Make a plan for your day and check it off of your list. Take a City Bus Tour as that is a controlled environment, you will get a feel for the city and for where you may like to visit on another day. Be gentle with yourself. Do what you love.
Lisa I had a wee moment of anxiety like yours, in Hanoi a few years ago. I rang home, and got the best advice from my sister: things are always better after food and a sleep. I found a place to get some comfort food, put a smile on my face, and ended up making friends with a lady who felt just the same. The next morning, we were on a day trip together, and I got my mojo back.
Karen Find the nearest coffee shop, sit, breathe, relax, unwind, observe. The beginning of a solo trip can be daunting but this is only day one. Rest, sleep, and get yourself centred. All will be well. Honestly.
Jill I've travelled solo a lot and the first day of any trip to a new country is scary. Just take it slowly, sit in a cafe if you get overwhelmed and people watch for a while. Take the city bus tour on day one to get your bearings. Please don't go home, just relax, enjoy, and soak up all the new experiences. Good luck. I'm 72 and still travelling solo.
Sarah I just completed my very first solo trip and it was amazing. I got lost a few times but most people are so helpful. Having done it once, I am hooked! It does get easier as the days pass.
Colton You mean to tell me you flew all that way just to turn around? The world is your oyster. Who knows when you may get an opportunity to do this again? You will find people feeling the same way you as you… scared and intimidated. Truth is everyone is their first time traveling. And once you get past that you'll be overcome with joyous emotions that will be hard to control.
Suzanne It gets better! Don't give up too early.
Karen Remember those reasons you booked your trip. Then think about how you behave at home when venturing out. Keep it small at first. Ask a server at a local coffee shop something about the area. Get acclimated to your area with a short walk or the hop on hop off bus. Baby steps. Each small thing you do will help build confidence.
Sharon Don't give in to your fear! I had a panic attack my first time too! Take a deep breath! Enjoy your adventure.
Linda Anything you do, the first time is the scariest. It is part of the human psyche. Just keep telling yourself it will be all right over and over again.
Elly That's totally normal! I was in your position 2 weeks ago but in Florence! I felt nervous/anxious/ lonely. That only lasted 2 days because I felt I wasn't staying in the right places. For me, as soon as I left my B&B for a hostel I was making friends really quickly! Put yourself out there though! Go to a bar, do a day trip/tour that you know other tourists might be doing
Jean Pierre Enjoy this opportunity to get to know yourself better as well. Being solo is different than being lonely. Try to relax, drink some wine and be happy, you're in Britain!
Madeleine Hang in there. It does get better. Promise. It's normal to be nervous your first solo trip.
Tariq Things don't go wrong and break your heart so you can become bitter and give up. They happen to break you down and build you up so you can be all that you were intended to be.
Brian Happens to me every time I travel solo. You'll get more comfortable with every day.
Diane You will always regret going home. Hang in and you will gain confidence.
AJ Don't go home! You can do this!
And indeed, she did. I followed up with Galit the next day, and she was already feeling better and beginning to venture about the city on her own. Five days later, she wrote from Amsterdam to express her appreciation. She had enjoyed London and was now starting to get her footing in the next country.
And that's how we do it: one step at a time, with a little help from fellow travelers, building confidence as we go.
For more tips for traveling alone, check out Getting Past the Fear: Taking Your First Solo Trip or First Time Solo Travel: Tips for Newbies
Please share your own tips in the comments section below. You can join the Solo Travel Society here.