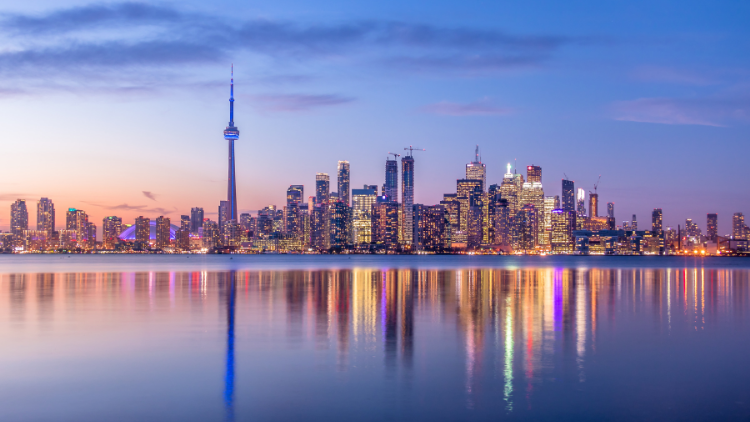 Let me gush about my home town for a bit and tell you why Toronto is a great destination for solo travel.
There's nothing like seeing a city from the perspective of a visitor to make you appreciate home.
That's what happened when I attended the Collision Conference last week. I didn't quite manage to talk to everyone from the 125 countries represented, but I spoke to many and, on a few occasions, people mentioned their surprise and love of Toronto.
Yes, Toronto is a modern city that is often described as "so clean" and "friendly". It's the financial center of Canada, it has a vibrant downtown that is alive day and night, a wonderful waterfront along Lake Ontario, lush green parks, and bike paths to get you anywhere.
There are the Toronto Islands which, in addition to offering many activities, give you a spectacular view of the city at sunset, and, of course, tourist attractions like the CN Tower, the Ontario Science Centre, Ripley's Aquarium, the Art Gallery of Ontario, and the Royal Ontario Museum. But there's so much more.
In my opinion the "so much more" comes from the fact that about half of Toronto's population was not born in Canada. In a city of almost 3 million people, that's significant and has a rich, exciting impact in terms of the food you can taste, the neighborhoods you can explore, and the comfort level of just about anyone visiting from anywhere. I'm not saying that Toronto has it all sorted; there are many challenges to be faced as there are in any large city.
Toronto's diversity is one of its greatest features. And though solo travel in Toronto can be expensive, like any large city, enjoying the diversity is not. If you know your way around, there are plenty of affordable things to do. So Tracey and I put our heads together to come up with a big list of free and low-cost things to do in our home town. Here you go…
Solo Travel in Toronto: Walking is the Best!
Free walking tour. Take a free walking tour of downtown Toronto. This walk goes from Union Station (Toronto's rail terminus) to City Hall. In bad weather it follows the underground PATH system. Please tip your guide.
Book a Toronto Greeter. Meet a local and walk their neighborhood with them for free.
Enjoy a Discovery Walk. There are 12 Discovery Walks planned out by the City of Toronto. Click to download a PDF for each.
Walk Toronto's neighborhoods. From Little Italy to Little India, from Baby Point to the Beach, there are fascinating neighborhoods to walk throughout Toronto.
Go hiking. Hike the ravines in the city.
Go to Canada's first Urban National Park. Located in the east end of the city, The Rouge is Toronto's largest park and Canada's first Urban National Park. It stretches from the Oak Ridges Moraine to the shores of Lake Ontario covering over 40 square kilometers and Canada's largest wetland. Great hiking.
Go to the Beach. This is a neighborhood along Toronto east waterfront. Enjoy a stroll along this 3 km boardwalk in both the summer and winter. Take the 501 Queen Streetcar east to Beech Avenue, grab a coffee at the local family owned Remarkable Bean and walk south to the lake and boardwalk.
Explore Toronto's Highlights
Explore the Distillery District. Enjoy the boutiques and art galleries in this artsy enclave. Get a coffee at Balzac's or a beer at Mill Street Brew Pub.
Listen at the Toronto Music Garden Located along the Toronto Harbourfront, designed by internationally renowned cellist Yo Yo Ma and landscape designer Julie Moir Messervy, this garden is a reflection in landscape of Bach's Suite No. 1 in G Major for unaccompanied cello. There are concerts and tours in the summer.
Go to Ireland Park and see the Toronto Irish Famine Memorial. The hardship of the Irish who immigrated to Toronto is remembered in this unusual memorial.
Go to the market. There are a variety of markets in Toronto. St. Lawrence Market was rated the number 1 market in the world by National Geographic. But there is also the Evergreen Brickworks that has a farmer's market, nature walks, classes, cafe, and gardens. A free shuttle bus runs from outside Broadview Subway Station to Evergreen daily. Another favorite of ours is Kensington Market which is a community as much as it is a market. It includes vintage clothing stores, local coffee shops, as well as great food.
Riverdale Farm is in Cabbagetown overlooking the Don Valley. This 7.5 acre farm features pathways through wooded areas, around ponds, and into butterfly-herb-flower-vegetable gardens. Visit the animals and chat with the farmers during daily chores.
Go swimming or catch some rays. There are 11 designated swimming beaches in Toronto with Blue Flag certification indicating that they meet this international eco-label's high standards for water quality, environmental management, environmental education, safety and services. Check here for locations and descriptions.
Explore Harbourfront. Harbourfront at Lake Ontario is directly south of downtown by a few city blocks. Whether you're traveling solo in Toronto during the spring, summer, or fall, there's likely to be a festival happening here. Yes, there are festivals throughout the city but there is always something going on at Harbourfront.
Public events in the Squares. Nathan Phillips Square and Yonge-Dundas Square are both events locations in the downtown area.
Take in a Street Festival. You can also go to one of Toronto's famous cultural neighborhoods for a festival with a more local flavor.
Go to Allen Gardens Conservatory to drink in the rich air of this magnificent greenhouse full of exotic plants. The park the greenhouses are in can be a bit rough but it's totally safe during the day. Located at Jarvis and Carlton Streets.
Take a free meditation class. Slow down and join a group of locals for a meditation (or join one virtually from wherever you are).
New Orleans in Toronto. Every Saturday afternoon there's music at Grossman's Tavern on Spadina Avenue. It's usually Patrick Tevlin and the Happy Pals.
There are always free events at the library. See what free events they have going and what free tickets they have for local museums and events (the latter varies week to week).
The Art Gallery of Ontario. See what new exhibitions are coming up at this Toronto gem. If you're going to visit more than once, an annual pass is only $10 more than a single admission.
Almost Free Stuff for Solo Travelers in Toronto
Getting around. Take public transit. Buy a day pass ($13 for one day of unlimited use) for the TTC. If you plan to use transit a lot, it may be worth getting a weekly pass, which will give you access to the transit systems of a few surrounding cities as well (just bear in mind that the "week" runs from Monday to Monday). Purchasing a Presto card is another payment option, but note that it takes about 24 hours to register. Toronto is very easy to navigate as the city is largely planned on a grid. Taxis are expensive. Uber is a convenient and reasonably-priced option.
Bike the city. Bop between sites with Bike Share Toronto. These are not meant for day-long cycling trips but for little jogs around the city. Pick up a bike at one location and drop it off at another for as little as $3.25. Download the app here.
The classic city pass. Buy a CityPASS and get 5 attractions for one price.
Affordable public golf courses in the city. Play golf on one of the city's five affordable, public golf courses.
Ride the Rocket to see the history of the city. Ride the 501 Queen Street Car from one end of the city to the other for a historic look at Toronto.
Ride the Rocket to see the diversity of Toronto. Ride the 506 College streetcar from one end to the other for a look at the ethnic diversity of the city. Here's Tracey's take on what you'll see.
Get a henna in Little India on Gerard Street East, just west of Coxwell for approximately $10.
Go to the Toronto Islands. Take the Ferry to the Toronto Islands. Rent a bike and explore then watch the sun set over the city skyline. Dine on the beautiful patio at The Riviera Ward's Island Kitchen.
Join locals for a bike ride. Toronto Bicycling Network. Solo travel in Toronto doesn't mean you have to be alone all the time. Cycle with locals on rides of different levels of difficulty almost every non-winter weekend. There's a small guest fee. You can also ride independently. There are lots of bike paths in Toronto that will take you along the shoreline of Lake Ontario, through ravines and parks.
Here in the winter? Go skating.
Rent a pair of skates and show off your moves on the rinks at Nathan Phillips Square or Harbourfront Centre.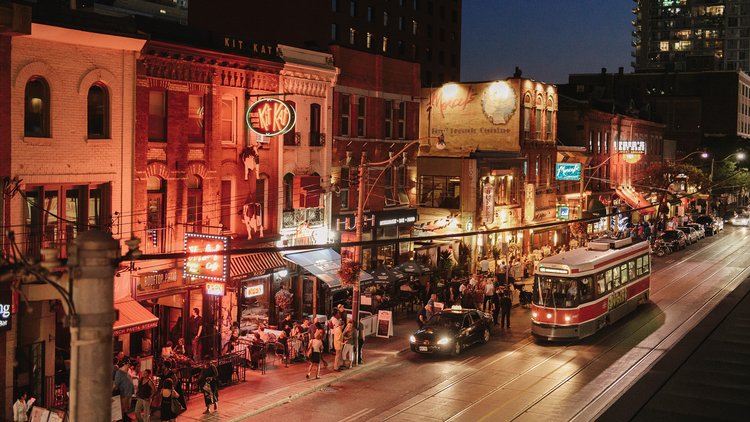 You might also enjoy Layover in Toronto: A Local's Guide to the Best Things to Do. If you travel solo in Toronto, consider contributing a post about it. You can submit your story and photos via our easy online form.