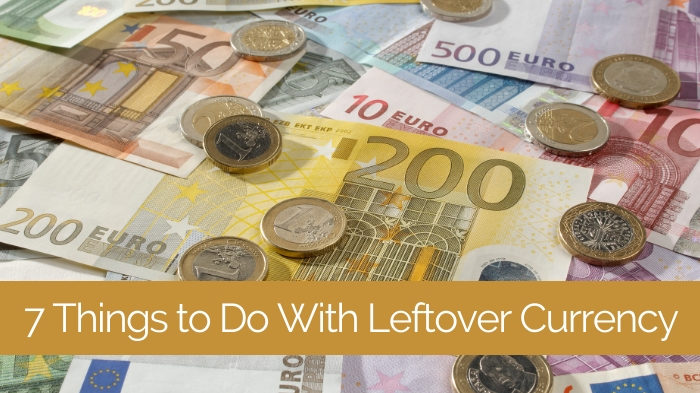 Left untended, leftover currency can mount up.
That's money you could use for more travel or to help people around the world that are in need.
Recently, on my way to Scotland, I donated a large baggie of change and bills to Air Transat's leftover currency charity. I'd collected it over time. I couldn't throw it out! It was an easy solution.
When flying out to Ireland a couple of years ago there was a new option. It allowed you to dump your foreign currency into the machine and deposit the value, less a percentage, into an account of your choice. This option didn't survive.
So, what are the options? What can you do with leftover currency? Here are a few choices for you to consider.
7 Ways to Manage Leftover Currency
According to Visa's 2018 Global Travel Intentions Study, 87% of travelers return with leftover cash but only 29% exchange it into the local currency. The main problem: banks rarely take foreign currency back and, if they do, it's only paper notes, not coins. But that's not the only option. Let's get that cash out of random drawers and put it to use.
Depending on the currency, save it. I never worry about what to do with US dollars, Euros, or British pounds. I know that, in time, I will return and use the money. It's currency from other countries that I have to find some appropriate use for. I tuck it away in the same place that I keep my passport.
Donate your change to charity. Like Air Transat mentioned above, there are airlines and some airports that will help you donate your leftover currency to charity either by collecting it on the plane or having donation boxes in the terminal. Unfortunately, I can't find a comprehensive list for you. Before hauling a bag of coins to the airport, call to confirm with either your airline or airport that they collect for charity. If you don't manage to donate the money on your trip, you can donate your leftover currency at home to UNICEF in the US.
Use it towards your final hotel bill. It's unlikely that your loose change will pay for a hotel night, but the hotel is always happy to collect it as a partial payment for your room. Pay the balance on your credit card.
Stock up on necessities at the airport. Most airport shopping is duty free, so it's a great place to spend your leftover currency. Pick up treats for the plane or basics for home. If you're in Europe but have British pounds, or in Britain but have Euros, you will likely be able to pay in either currency at the airport before departing.
Starbucks can help. There are Starbucks coffee shops all over the world, however only a few countries participate in the Starbucks card program: UK, USA, Canada, Australia, Mexico, and the Republic of Ireland. If you have a Starbucks card, you can have it topped up with your remaining local currency before leaving any one of these countries
Return it to the place you bought it. It's not common but some places like Travelex offer to buy back your currency. Find out whether this is an option before you buy.
Sell the currency online. You're going to have to pack it up and ship it off via snail mail, but there are currency exchange options for coins. In the UK, Leftover Currency is an option with great reviews on TrustPilot.
What do you do with your leftover currency? Please share in the comments.