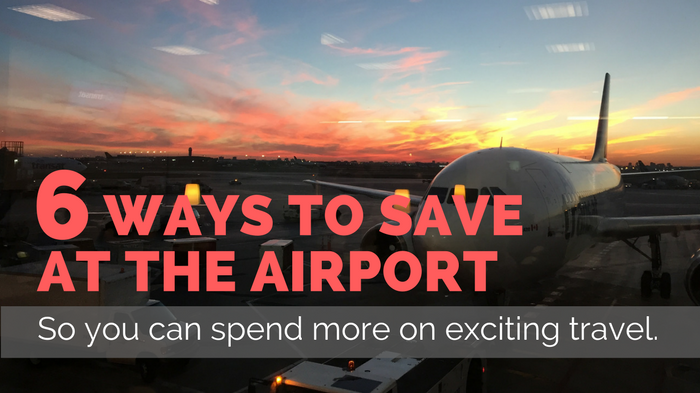 I love travel but I don't love fly days.
Getting to the airport hours early for my flight, standing in line after line, waiting around until boarding, deplaning and getting out of the airport and then, finally, to my destination – it's all a chore.
I'd rather save money on these days so that I have more to spend on the travel that I love. Here are my tips for saving at the airport. Tips to help you save on boring things so that you have the budget to spend on the really exciting part of travel.
How to Save at the Airport
Getting to the airport. Getting to the airport can be very expensive. How you get there can change that. For example, in London you can take the Tube for about £3 using an Oyster Card. Traveling with a carryon makes this really easy. I do it all the time. Most cities have connecting trains or airport shuttles. The London Express is £34 and a taxi is about £80. Before taking a taxi I suggest that you check out Uber if its available where you are as it's usually less expensive. However, it's unlikely that Uber can help you when leaving the airport due to licensing rules for taxis. For more about London read: Affordable London! 32 free and low-cost tips.
Keep your device chargers in your carryon. Delayed flights can result in run-down batteries in phones, tablets and computers. Yet these are the very devices that can help you endure the wait. Make sure you have your chargers in your carryon bag so that you're not tempted to buy a spare at the airport.
Don't waste money on high mark-up items. The mark up on water at the airport is significant. The same goes for snack foods. Bring your water bottle through security empty and fill it on the other side. Bring snacks from home. If you'll be there over a meal period, bring a meal too!
Get into the lounge for less. Sometimes a pass to the airport lounge is worth it, especially if you're not inclined to bring food and drinks with you to the airport. A lounge may be a better and more comfortable deal than the purchasing food in airport restaurants. Priority Pass gives you access to 700 lounges around the world. Some premium credit cards give you discounts to lounges and, depending on your status with your airline, you may automatically have lounge access. Read: Cheap Access to Lounge Luxury: 5 Tips
Don't exchange money at the currency kiosk. Many people think that changing money is something that they can get done while waiting around. Stop. Don't exchange your money at an airport kiosk or any money exchange booths. They tend to be more expensive. Read: Save Money When You Change Money
Shop wisely. You've got time to kill so why not go into the shops at the airport? Duty free? Great! But wait. Do you really need it? Would you buy it normally? Will the purchase cut into your trips spending money? Is it really a deal? That latter question can be answered by pulling out your phone and checking the price of that tempting object online. And when you do buy, pay in the local currency. Read: Your Currency or Theirs? The Decision Makes a Difference.
If you have more tips on how to save at airports please add them in the comments. As we all share our knowledge we all win!