I keep a travel journal
In my journal I ensure that I get the details down such as date, time, place, cost… When I have the time, I expand on these with my discoveries, feelings and learnings. And, of course, I expand further as I turn my journal entries into posts for Solo Traveler.
In your journal, you'll want the details of what you did and where, but at the end of a trip it's also nice to have a journal rich with the meaning of your travels.
There are many resources and ways to keep a travel journal. From the most traditional leather-bound journal using a fountain pen (that's my niece's preference). to going full-on technology with an app for your phone, here are your options.
More important than the technology you choose, below are also tips on how to write and get the most out of your journal.
Best App for Keeping a Travel Journal
I like Diaro. It's a free app (there's a pro version) you can get on Google Play and the App Store. You can have it accessible whenever your phone is unlocked or you can require a password specifically for your Diaro app.
Making an entry is easy.
Upload a photo or many. A map will be automatically added to your entry based on the data in your photo.
Add a title and text which can be a quick note or a long journal entry.
Add a tag if you like.
If you want to go back in time to see the journal entries from a specific trip, you can search by date, tags, folder or even location. If you get the pro version you can sync your journal across all your devices including online using a Dropbox account. The pro version also let's you download your entries to a PDF document and gets rid of the tiny ad at the bottom of the app.
There are other apps as well. For comparison, check out Journo Travel Journal and Blog.
For more details on how to write a great travel journal, read the nine tips in the next section and the meaning of the  W.R.I.T.E. acronym in the last section.
Go Old School with Your Travel Journal
I like a notebook and pen as the information will never be lost with a technology change and the journals look great on your shelf.
Choose a sturdy journal. It could be the classic Moleskine Notebook or one that is a little more fun such as I Was Here.
Document your itinerary. Rough out your itinerary in a few pages at the front of your journal. You can do this before you leave. Allow lots of space between points so you can keep track of how your itinerary changes as you travel.
Every entry doesn't have to be brilliant. But every day should have an entry. Writing every day, even small details, will help you maintain your momentum. Miss a few days and sometimes the practice of writing a journal can be lost for the entire trip so try to make a notation daily, no matter how small.
Aim for brilliance once in a while. When you can take the time to sit down and think back over the day, think about the places you went, the people you met, the food you ate, the scents you took notice of, your activities and the things you learned. As you do take note of what makes you smile. Your smile indicates an important moment. If you want you can even itemize these under a heading: What Made Me Smile Today.
Find your theme: Consider all the things that made you smile. Is there a theme? As a whole, what did the day mean to you? What did you learn? How did you change? What surprised you? State one of these in one sentence or a series of three short sentences. This is the beginning of a great journal entry.
Expand on the theme. Once you've completed your short introduction, expand. Explain what you learned. Provide details of the history or technology or your own potential – whatever it is that you learned. Describe what you thought before and after, why you changed your thinking, how it felt when it happened, what it means to you.
Get down the details. When you're home sharing your travel stories, or perhaps years later when someone asks you for a recommendation, you'll want to remember some of the details of the day. Write them down in bullet points: where you stayed, the name of that great book shop, where you got that fantastic coffee, the restaurant you want to make sure no one goes to… capture the details that you think will be important but don't labor over the mundane.
Go multimedia. Don't be afraid to sketch what you saw. Have glue with you so that you can add theater tickets, postcards or part of a brochure to make you pages interesting.
End with gratitude. You spent the day exploring a place other than home. We understand the world by contrasting one thing to another. Compare what you saw to what you live daily. Identify what you're grateful for in everyday life.
The Basics for Writing a Good Journal Entry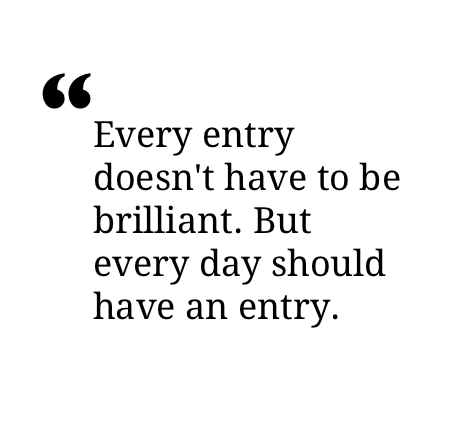 Here are some basics about the writing aspect of journaling. I've adapted the WRITE acronym for a travel journal.
W – Share what actually happened. When, where and why it happened.
R –  Reflect on how all those Ws make you feel. Close your eyes to go deep into it.
I –  Now allow your writing of these events, feelings and thoughts to flow from your pen or keyboard. As you do, you'll investigate them more deeply. If you get stuck, close your eyes again or re-read what you've written. Then continue.
T – Take the time to enjoy your reflecting and writing process.
E – Embellish what you've written with photographs, ticket stubs, and other souvenirs.