When it comes to popular road trips in Canada, the focus often flows to the Canadian Rockies, the eastern and western coastlines, or the big provinces of Ontario and Quebec. But for those looking for something different, doing a solo road trip in the Canadian prairies can be a magical experience. Not only will you find beautiful scenery and plenty of attractions, you'll also find a much quieter road compared to the popular areas mentioned above.
This article has been contributed by Matt Bailey, the founder and chief editor of mustdocanada.com, one of Canada's leading digital travel guides, Youtube channels, and newsletter. He has been to all 13 Canadian provinces and territories and in 2017, he road-tripped across Canada for 150 days to celebrate Canada's 150th birthday with the creation of a 13-part travel video series. When not exploring Canada, he loves to explore the world and has been to 42 countries and 6 continents. 
In this article, Matt will give you an exciting one-week Prairie road trip itinerary, starting and ending in the city of Winnipeg, Manitoba. Let's get started!
Start Your Prairie Road Trip in Winnipeg (2 Nights)
Winnipeg might be known as one of Canada's coldest cities in the winter, but the summers are quite the opposite. With high heat and humidity, you'd think you're in the Caribbean at times, minus the palm trees and turquoise ocean. There is, however, a place called The Forks, which is where the Red and Assiniboine rivers come together. This is one of Winnipeg's most popular hangouts, often home to performers and a range of farmers' market stalls and restaurants. We highly recommend grabbing a bite to eat or just going for a walk along the river.
Don't leave without spending a few hours at the nearby Canadian Museum for Human Rights. The building itself is an architectural marvel, but it also houses an incredibly moving and thought-provoking museum that explores the evolution and importance of human rights in Canada and around the world, including exhibits focusing on issues we still face today.
After finishing your visit with a view over the city, head over to Sargent Sundaes for delicious ice cream. I recommend the house-made maple walnut. If you like zoos, the Winnipeg Zoo is just across the street in Assinniboine Park and is home to a polar bear from Churchill, Manitoba. There are lots of things to do in Winnipeg, so we recommend spending two nights before heading out to Riding Mountain National Park.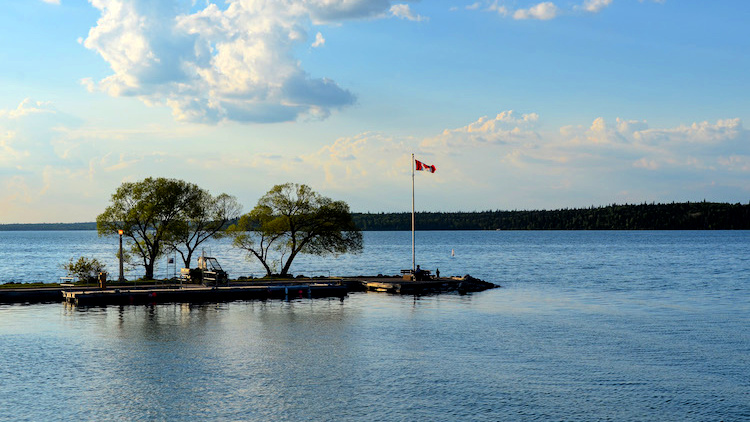 Explore Riding Mountain National Park (1-2 Nights)
As one of Manitoba's two national parks, and the only one that's easily accessible, Riding Mountain National Park is a special place to visit. Not only is it a wonderful place to see wildlife and go hiking, it's also home to one of the cutest lakeside communities in Canada – Wasagaming. Whether you decide to stay in a lakeview hotel or a cabin, you'll love the feel of this lively summer getaway.
Clear Lake is where much of the action is as it's home to a sandy beach, a lovely lakeside walking path, boat rentals, and even a popular dinner cruise that takes you around the perimeter of the lake. If you're hoping to see wildlife, I recommend taking a drive on the Highway 19 dirt road out to the historic Riding Mountain Park East Gate. Not only will you have the chance to see black bears and moose during your drive, but you'll also get to see the old park gate, which is now a national historic site.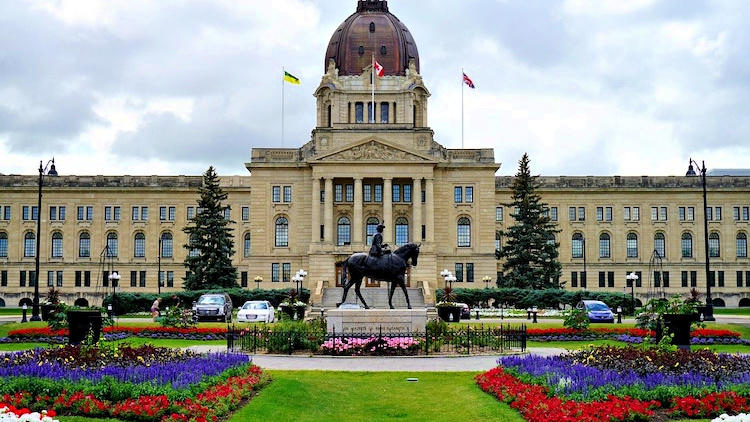 From Lakeside Life to the City (2 Nights)
After a night or two in nature, get in the car and continue on your prairie road trip to Regina, Saskatchewan's capital city. Bunker up at the beautiful and historic Hotel Saskatchewan and enjoy some culinary delights at the nearby Avenue Restaurant and Bar, which is owned by the winner of the first-ever Top Chef Canada.
There are some cool neighborhoods in Regina, such as Cathedral Village, which is home to many boutiques, restaurants, and the very popular Dessart Sweets Ice Cream and Candy Store.
If there's one place not to miss in Regina, it's Wascana Park, which is home to a beautiful manmade lake, the equally beautiful legislature building, and many of the city's top attractions, such as the Royal Saskatchewan Museum and the Saskatchewan Science Centre. I highly recommend booking yourself in for a free walking tour of the legislature building, and if you're game for learning about the natural history of the province, go to the museum and say hello to Scotty the T-Rex. If you time it right, I also highly recommend eating breakfast at Skye Cafe and Bistro, which is basically inside the Saskatchewan Science Centre.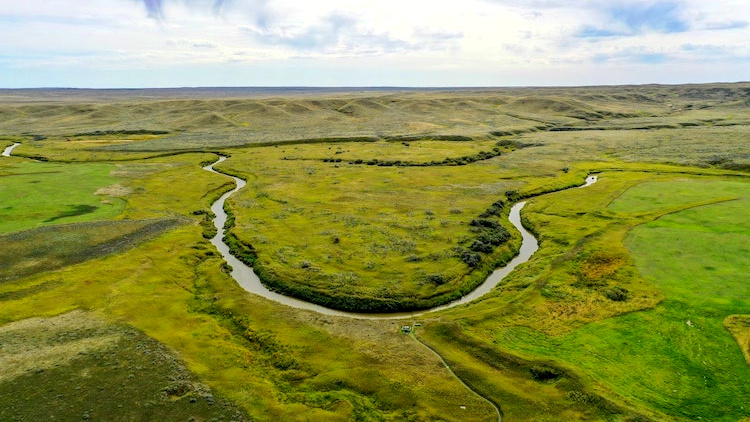 Back to Nature in Grasslands National Park (2 Nights)
Although small in size, Grasslands National Park is one of the coolest places you'll ever see. It's split into two parks, so I'd recommend starting with the West Block, which has more services. You can either pitch a tent, or, for added comfort, book one of Parks Canada's oTENTiks, which are quite comfortable and roomy. Another option would be to find accommodation in Val Marie.
There are some stunning hikes in Grasslands National Park, so I highly recommend spending at least one night, if not two. If I could only choose two things to do, one would be the eco-drive, which takes you throughout the park with stops and explanations along the way. You'll see stunning views, learn about the history of the park, and you'll get to see the super cute prairie dogs chirping away as you approach their little underground homes. If you're lucky, you may even spot them kissing! Another animal you might see in the park is bison, which is quite the contrast to the little prairie dogs. Paired to the backdrop of the rolling hills, it makes for an incredible photo if you time it right.
Next up, continue your prairie road trip in the East Block of the park. This site is a little further away from civilization but still home to a park office and some oTENTiks. What makes this area special is that it's home to some jaw-dropping badlands and some of the most beautiful scenery in Saskatchewan.
Driving along the new 11 km Badlands Parkway almost feels like you're driving along the Grand Canyon, though it's much smaller in size. I recommend doing it near sunset, admiring the deer you're likely to see as the sun dips below the horizon. If you're up for another hike, there's a couple of options including short and easy front-country trails and some longer backcountry trails as well. Please keep in mind that this park can get very hot in the summer months, so plan accordingly.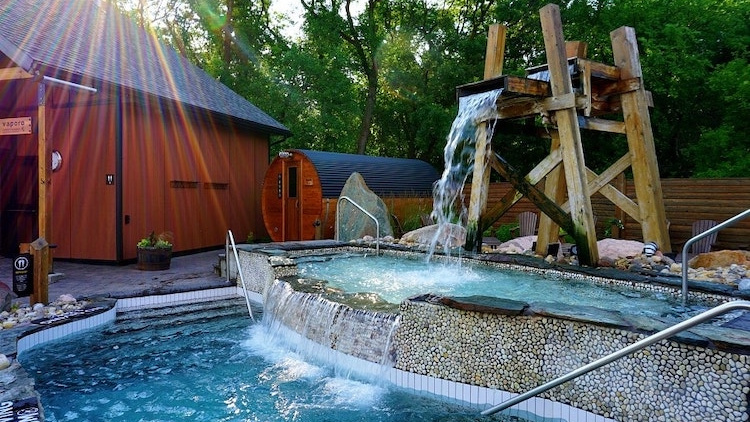 Wind Up Your Prairie Road Trip Back in Winnipeg (1-2 Nights)
After a few days in Grasslands National Park, it's time for a long 8 to 10-hour drive back to Winnipeg. Once back in Winnipeg, however, I highly recommend spending another night or two and enjoying a full day at Thermea Nordik Spa, one of the most relaxing places I've ever experienced. Once inside, you'll find a variety of thermal pools ranging from body temperature to hot, as well as various saunas, steam rooms, hammocks, and more. Some people spend a few hours there, but I'd honestly get there when they open and leave when they close. It's the perfect place to wind down after an adventure in the prairies. There are plenty of places to chill out with a book, as well as a delicious on-site restaurant and bar. What else do you need?
Here are some posts to help you prepare for a solo road trip: