On my first day in Iceland I was bursting!
My thought: it's like the Isle of Skye on steroids. (If you've been to the Isle of Skye, that statement will floor you.)
The landscape is dramatic and diverse and unlike anywhere else in the world. There are volcanoes and lava fields, glaciers and glacial lagoons, geysers and hot springs, mountains and plateaus.
Steam rises up from the earth and cloud formations seem to reach the ground.
If nature is what you want to see, Iceland is an absolute must.
However, if you want to meet Icelanders and have a low-to-the-ground cultural experience, it's more challenging than most countries. I'll be sharing my Icelandic experience in a few posts on Solo Traveler despite the fact that this trip was taken with my husband, Simon. Yes, I usually travel solo but we occasionally travel together. And why waste good travel information? This post is about road tripping in Iceland.
Driving Advice for Iceland
Picking up the rental car involved more instructions than I've ever received before. Here are a few important things to know about driving in Iceland.
Be careful of what you rent. Most cars in Iceland have standard transmissions. If you don't drive stick, make sure that you book an automatic. Learning to shift in a foreign country is not the best idea.
Pay attention to the speed limits. They are strictly enforced and I saw a number of cars pulled over that were doing maybe 10-15 km/hr over the speed limit.
Never pull over to the side of a road. Only use designated pullover spots. Why? Because the shoulders are almost non-existent and, I'm guessing, it's a foggy country. Rather than white and grey cars, it would be helpful if all cars were red and yellow.
Pay attention on single-lane bridges. Once you're away from Reykjavik you will encounter single-lane bridges. The rule is that the person that gets to the bridge first has the right-of-way.
Do not go into the high country. You really need a vehicle made for off-road driving to go into the high country. Regular cars with four-wheel drive are too low to the ground.
Open your doors carefully. I learned the merits of this advice the hard way. On a cliff overlooking the ocean I opened the door and the wind caught it and slammed it open so hard I thought it would come off its hinges. Apparently that has happened before.
Don't bother with a car in Reykjavik. The city is small and walkable. Plus, there is a decent transit system. When I first booked my car, I booked it from the airport to be dropped off at the airport. When I checked in and the customer service person realized I was going to go into Reykjavik after the drop-off, she made the drop-off in the city. It cost me no more to drop the car there and saved us the cost of transit into the city.
And then there are the studded tires. I've driven stick since I first learned to drive in my teens. I rarely take note of the tachometer because I can hear when it's time to shift gears. But with studded tires, which are needed in bad winter weather, I couldn't hear the revs of the engine. I often found myself cruising in third gear when I should have been in fifth. Yes, keep an eye on the tach.
Driving Route Iceland
Driving the full ring road is a classic Iceland road trip but at over 800 miles, or more than 1300 km, it requires at least a couple of weeks to cover well. Yes, it's only about 14 hours of driving, but if you want to do more than just see the landscape fly by, and want to spend a few days in the capital city of Reykjavik, I would recommend 12-14 days.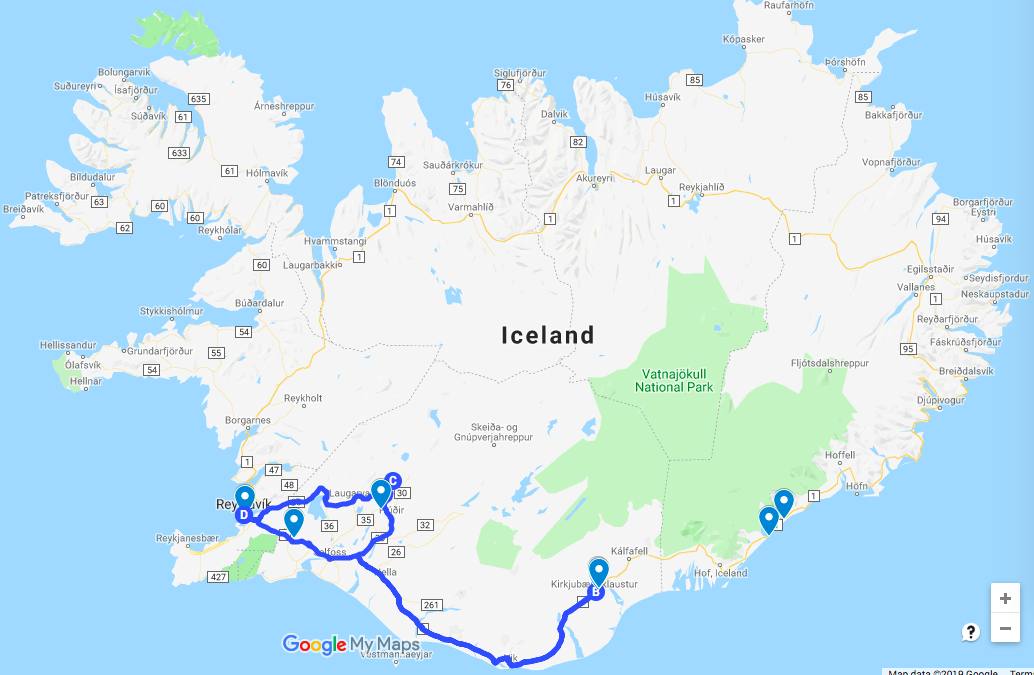 We had 8 full days in Iceland so we focused our trip on the southeast coast. You can see our driving route on the right in the solid line. It shows that we:
started in Reykjavik.
drove to Kirkjubæjarklaustur on our arrival day.
spent two days and three nights in that area exploring. As you can see on the map, we went farther east to Jökulsárlón and beyond to a museum celebrating Þórbergssetur, an Icelandic author.
went to Geyser for two nights. I don't have an alternative for you but I don't think it was the best place to stay. There's not much there except for the geysers, which are pretty cool, and hiking. Gullfoss is close by. It is on what is called the Golden Circle in Iceland which basically covers highlights accessible from Reykjavik.
stopped in Reykjavik for three nights. It's a small city with lots of tourist shopping. But there are also museums and a spectacular concert hall. Check out Reykjavik Culture Travel for some of their options.