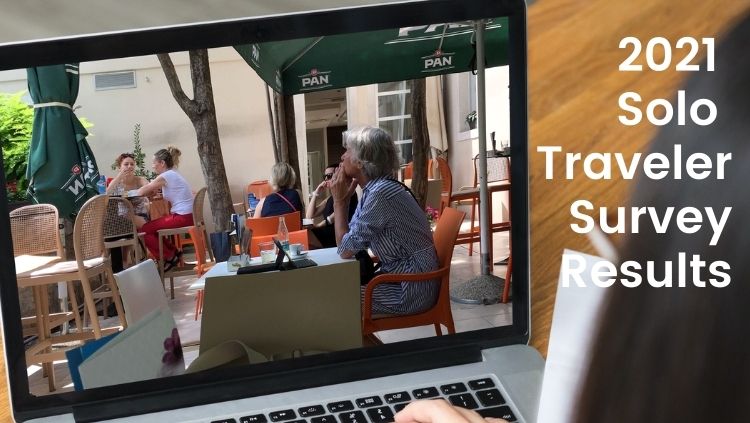 We update this page throughout the year. Below is the latest statistics and data for solo travel in 2022 and before.
Since starting Solo Traveler in 2009, we have gathered an extensive amount of solo travel statistics and data. We do this in two ways:
We monitor the copious amount of travel research that is conducted every year to extract solo travel-specific statistics.
We gather information annually from our readers. We do this in our reader survey and polls on our Facebook page where we engage with over 260,000 members.
Travel industry data looks at solo travelers within the context of all forms of travel. Our reader survey targets solo travelers specifically, providing a better understanding of the solo travel market.
One of the reasons we are so diligent about gathering data on the solo travel market is that we work with clients who are eager to serve solo travelers well. If you are such a company, you may also be interested in the following pages:
Reach the Solo Travel Market explains how we work with the travel industry.
Our Deals page is half of a monthly promotional opportunity for companies serving solo travelers. It pairs with our Solo Travel Advisory of Deals that is emailed to over 50,000 double opt-in subscribers.
The blog with over 1,500 articles for solo travelers.
We update this resource whenever we find new, relevant data. Bookmark this page so you can easily find the ultimate source of information, statistics, and data on the solo travel market in one place.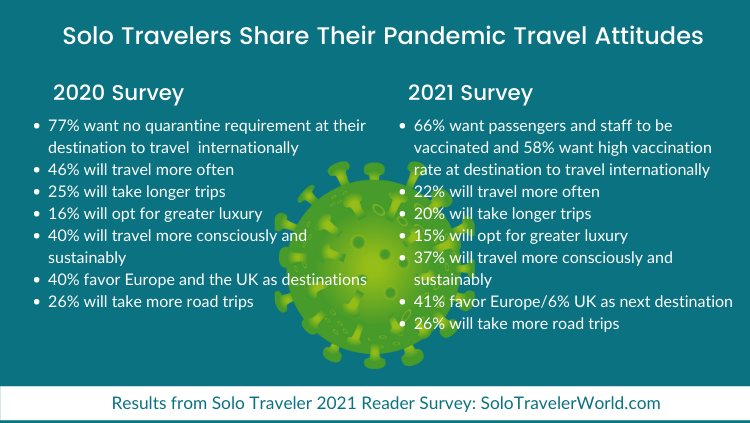 International Travel During Pandemic: Traveler Attitudes 2020 and 2021
With more knowledge about COVID-19 and the uptake of vaccines around the world, factors affecting the decision to travel internationally during the pandemic have changed significantly in the past year.
In October 2020, quarantine requirements were the primary concern. In 2021, vaccinations became the primary concern for international travel. Otherwise, with the exception of travel frequency, travel priorities such as luxury and sustainability remain relatively consistent.
More 2021 data regarding travel during the pandemic:
Solo travelers prepared to travel internationally. 70% of respondents indicated that they were ready to travel internationally again.
Financial impact of pandemic on ability to travel. 14% indicated that their financial ability to travel has been negatively impacted by the pandemic. 17% said they have more money to spend on travel and 69% said their financial ability to travel has not been affected.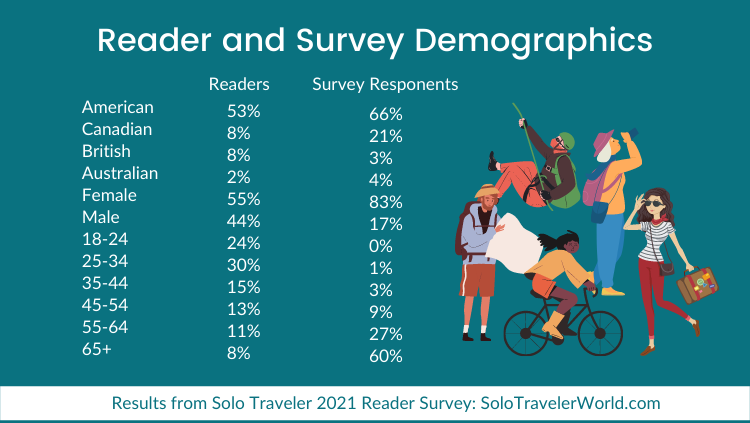 Why, How, Where & What Solo Travelers Spend
2,359 people responded to our 2021 survey as compared to 2,915 people in 2020. We suspect that last year people had a lot of time on their hands which accounted for the unusually high response rate.
The Solo Traveler Reader Survey included 26 questions. The respondents were primarily women, American, and over 55 years of age. Below we show the results from a number of the questions providing the data for those under 55, over 55, and for all.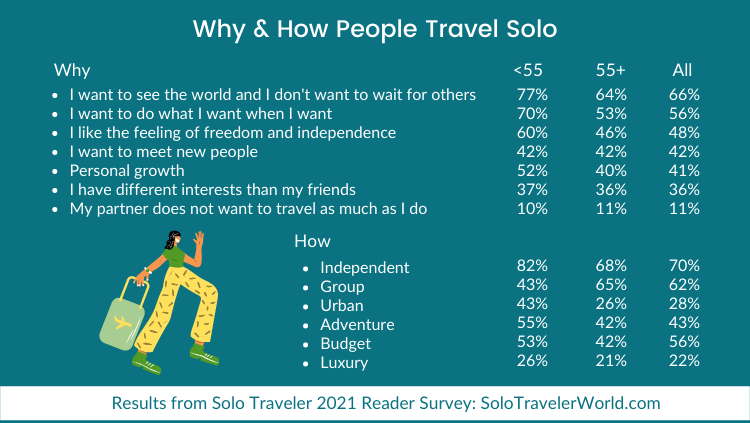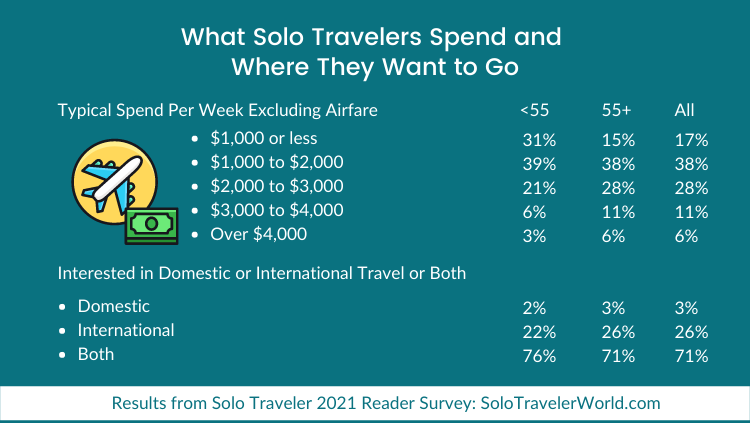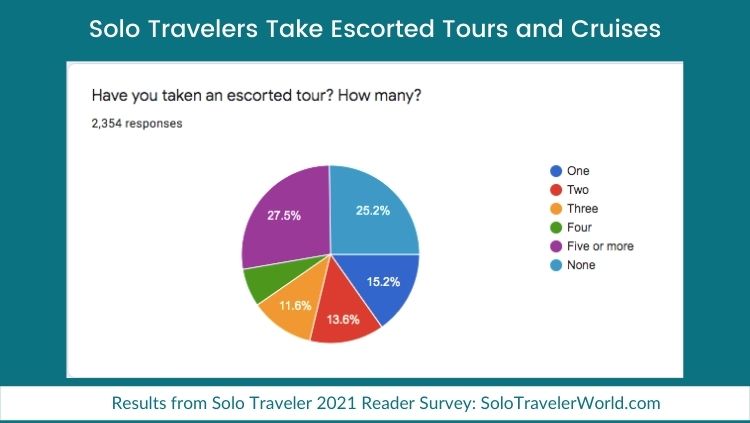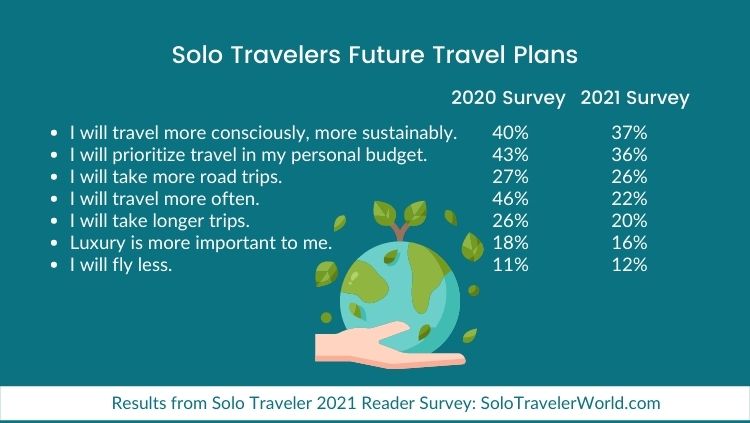 For more results from the 2021 Solo Traveler Survey contact Janice Waugh, publisher, Solo Traveler or Tracey Nesbitt, Editor of Solo Traveler.
More Sources of Solo Travel Statistics and Trends
This is a selection of solo travel statistics drawn from a variety of travel industry studies. As we find new research we add to it with the most recent appearing at the top of the list.
Solo Travel Service Market Overview and Market Forecast 2028. (2022) Global Solo Travel Service Market Report is a systematically conducted exhaustive study of the worldwide Solo Travel Service industry. As per the study, the market is expected to acquire notable returns and showcase a healthy growth rate during the forecast period. Source
Solo travel dominant global leisure market. (2022) Solo segment is anticipated to dominate the global leisure travel market due to various factors such as social media influence, different preferences and interests, psychographic traits. Source
Solo travelers and group tours (2021) Solo travelers "are joining guided tours at unprecedented rates, say tour organizers, with some companies reporting single bookings up 300 percent over those from couples, families or clusters of friends." Source
Booking.com data pre-pandemic (2021) saw only 14% of travelers were planning a trip on their own, whilst nearly double (23%) now say they will be planning a solo trip in the future. Source
According to Google trend data, (2021) Solo travel is up by 761.15%. Many are now "biting the bullet" and seeking solo travel opportunities to promote their wellbeing and try new experiences. Source
Post-Covid: Solo travel is the second-most popular category for post-lockdown trips, says Cox & Kings. (2020) A discussion about the solo market between Sue Livsey, senior manager – commercial at Cox & Kings, Sarah Weetman, head of trade sales at Just You, and Claire Brighton, account director for the Association of Touring & Adventure Suppliers. Source
Klook concludes that solo travel continues to present promising business opportunities (2020) "We commissioned a global Solo Travel Survey last October … Of the nearly 21,000 people we surveyed around the globe, 76% indicated that they have either traveled alone already or are considering it – regardless of age, gender and nationality." Source
Women continue to travel solo more than men (2020) "47% of travelers with Overseas Adventure Travel are registered as 'solo'. An astounding 85% of these solo travelers are women." Source
Searches for "Solo Women Travel" surge in 2019. "Google searches for 'solo women travel' increased by 32% in 2017 and 59% in 2018. The search grew to a jaw-dropping 230% increase in 2019. Source
Pinterest sees massive growth in interest for solo female travel. "Pinterest has also reported a 350% increase in women pinning articles in 'solo female travel'." Source
Solo travel as a global trend continues to grow. (2019) "Making up around 18% of global bookings, solo travel is becoming ever more popular and has increased by 7% in the last year alone. Solo travelers typically take longer trips than the other traveler personas at approximately 19 days on average." Source
Gen Z and solo travel. (2019) "…a third say they actually prefer to be alone when traveling and almost 20% say they want to take a solo backpacking trip or gap year." Source
Solo travel #1 trend for 2019 according to Klook. (2018) Solo travel, pop culture influence and the Fear of Missing Out (FOMO) effect are among the six driving factors in tours and activities for next year, reveals Hong Kong-based leading travel activities and services booking platform Source.
52% of solo travellers say they'd be interested in an escorted holiday. (2018) Mintel's 2018 Solo Traveller Report revealed that 17% of adults took a holiday on their own in the last five years – a year-on-year rise of two percentage points. The majority of these, 15%, were 'pure solo' travellers, not travelling with a group. The study found 60% of respondents said there is a "widespread belief" the travel industry does not cater well enough for solo travellers and that 52% of solo travellers were interested in taking an escorted tour. Source
Adventure Travel Trade Association 2018 trends report highlights solo travel (2018) The 20 Adventure Trends to Watch in 2018, indicate solo travel is on the rise. One of their members report that over 80% of their millennial travelers are going solo. Source
In 2018, 70% of passengers on Intrepid Travel's US trips travelled on their own. Source
2017 Princeton Survey Research Associates study revealed that 58 per cent of millennials worldwide are willing to travel alone, compared to 47 per cent of older generations. The study found 26 percent of millennial women have already travelled solo, while a further 27 percent said they haven't but would consider holidaying by themselves. Source
Searches for "solo female travel" grew by 52% between 2016 and 2017. This report not only looks at the trend of solo female travel but also the purchasing power of women. Source
Travel solo for relaxation. Agoda's 'Solo Travel Trends 2018' survey, conducted by YouGov, found that relaxation and time to unwind is the number one motivator for solo leisure travel globally (61%), which compares to 48% when traveling with friends. Source
Tour companies find that the majority of their female travelers are going solo. VBT Bicycling and Walking Vacations says that 68 percent of their female travelers in 2016 took a trip without a companion, while Country Walkers says 87 percent of its female participants were single (that's about 3.3 single women to every male traveler). Source
38% of those who have traveled solo will do so again. Among the top five trips that people have already been on and would like to go on again, as they allow them to experience travel to the fullest solo trip (34%). Source
Surge in baby boomers traveling solo. A study by Booking.com of 20,500 global travelers that was released in May of 2018 found that there "is also a surge in solo travel … with two fifths (40%) of global Baby Boomers having taken a solo trip in the last year, and a further fifth (21%) planning to take one in the future." Source
Solo is a top trip they'd do again. Again from the Booking.com study, 34% or respondents said that solo travel is among the "top five trips that they have already been on and would like to go on again".  Source
Roughly one in four people say they will travel solo in the next year (2018) — and that's on the rise, according to a survey of 2,300 people by marketing firm MMGY Global. Source
Between January 1 2015 and December 2017, the number of searches on Google for solo travel has risen significantly. The graph indicates approximately a 40% increase in searches for solo travel. Source


17% indicated that they would try solo travel for the first time in 2016 according to a survey of more than 44,000 travelers by online travel company TripAdvisor. Source
The popularity of guided tours among solo travelers grew from 21% to 46% between 2013 and 2015. Source
Between 2013 and 2015 the percentage of people polled who travel on their own grew from 15% to 24% according to the Visa Global Travel Intentions Study 2015. Source
A 2014 Booking.com survey resulted in a Solo Travel Report that revealed

72 percent of American women are taking solo journeys
American women ranked first in frequent solo travel, and are most likely to take three trips or more in a given year.
65% of US women polled have vacationed without a partner. Source
Related research on the solo travel market.
Solo Travel Demographics from 2019 Survey
Our 2018 readers survey received 1,340 responses. As you can see below, the results show slightly different demographic information than that of the Solo Travel Society Facebook page with its 162,000+ fans. Combining this with data given from Google Analytics I can safely say that the majority of our readers fall into either the Millennial or Boomer categories and there are more women than men. I usually estimate the gender split as 75% women and 25% men.
| | |
| --- | --- |
| Demographics by Survey. | Demographics by Facebook |
| | |
| | |

Solo Travelers' Travel and Spending Habits – 2018 Survey Results
In 2018 the number of subscribers to Solo Traveler's newsletter grew from 35,000 to 46,000 which is up from 25,500 at the beginning of 2017. That's an 80% increase over two years. Yes, the solo travel market is growing. Many of our subscribers completed our 2018 reader survey. Below is a breakdown by age range of a variety of solo travel statistics we gathered from that survey. Here are a few takeaways:
Solo travelers are highly educated. 50% of respondents indicated that they have a university or college degree or diploma and 35% have post-graduate degrees.
Why do solo travelers go solo? Respondents could choose more than one response. 59% said they want to see more of the world and they're not willing to wait for others. 45% like the freedom to do what they want when they want.
54% of respondents like group travel at least some of the time. That's up from 34% in the 2017 survey.
Solo travelers are frequent travelers. 46% of respondents travel three or more times per year.
Adventure beats out urban travel. 30% like adventure travel while only 23% favor urban travel
24% of readers spend more than $1,500 for one week excluding airfare. Most spend between $500 and $1,500 for the same (2017 result).
32% of solo travelers start planning 6 months before departure. 33% start planning 3 months or less before departure.