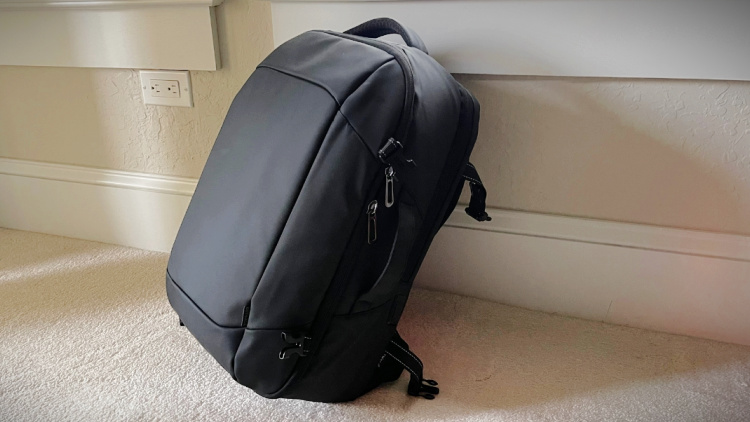 Carry-on luggage has a special place in my heart as it is a foundational pillar in my carefree travel strategy. A great backpack for solo travel, especially for short trips, was on my wish list. So, it was a happy day for me when the Outwalk 1.0 Travel Backpack popped into my life just hours before I was due to head off to New York City for a few days.
First Impressions
The Outwalk 1.0 is a carry-on sized backpack (45″H X 32″W X 19″D) and fits up to a 17″ laptop, although I wouldn't recommend traveling with a 17" laptop if you can avoid it as they are heavy. It's matte black on the outside, with orange highlights on the inside, and can also be carried on its side like a briefcase if you'd like to change things up. It feels very sturdy and appears to be well-constructed and water resistant, so it should stand up to years of travel adventures.
It is easily big enough to store three days' worth of clothes, as long as you're just wearing one outfit per day and aren't going anywhere too cold. I made my trip to New York in the fall, so I didn't need to bring any heavy coats or sweaters. I did manage to fit a suit in along with three days' worth of casual outfits which were mainly jeans, t-shirts, hoodies, and a light jacket.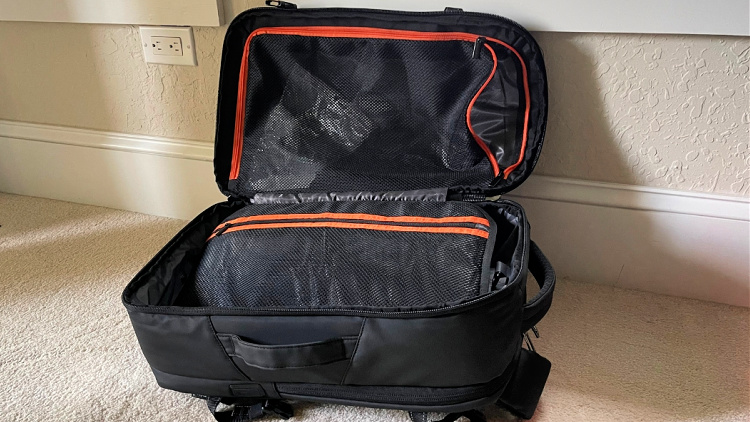 Is It a Stylish Backpack for Solo Travelers?
While style points aren't a priority for everyone, because I was visiting the offices of Vanity Fair, it was definitely something on my mind. I wasn't going to bring my luggage to the meeting, so it really didn't matter what it looked like, but the knowledge that Vogue and GQ magazine were in the same building had me questioning everything I had on including my socks.
I like that the Outwalk is minimalistic with a streamlined silhouette and that there's no visible branding on the outside of the bag. There are labels inside the bag, but the outside is very simple and tasteful. It currently only comes in black, but that's a color that matches with everything, so more style points earned!
Interesting Elements of this Backpack for Solo Travel
As I didn't have a lot of time to examine the bag prior to departure, I kept discovering interesting features along the way. This backpack has an exterior water bottle/umbrella holder that zips up and out of the way when not in use to ensure it doesn't ruin the sleek silhouette of the bag. There's a small zippered pocket on the shoulder strap to conceal a credit card or transit pass so you have easy access to it without having to reach into your bag or pockets. It also features a compression bag area that allows you to keep your dirty items contained in an airtight compartment to prevent them from funking up your clean clothes.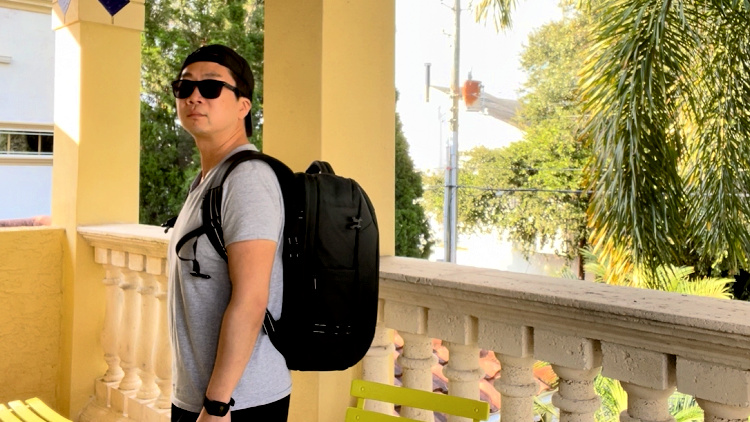 Did It Live Up to Expectations?
I was amazed by how much I was able to fit into the bag and by the well thought out storage compartments. The bag was surprisingly comfortable, and the weight is evenly distributed across both shoulder straps. Even after wearing it for six hours while walking around NYC, I barely felt it! And no one pointed at me in horror for any fashion crimes.
My Final Verdict
I managed to make it through my trip with only one pair of shoes. If you must carry an extra pair of shoes, it might be more difficult to pack for three full days (depending on how big and compressible your shoes are). I don't think it's impossible, you'll just have to get creative. (For tips on packing light, see Bare Minimum Packing: Here's Your Packing List.)
Overall, I highly recommend the Outwalk 1.0 if you're in the market for a carry-on travel backpack for solo travel that is ergonomic, practical, and stylish. Those in the U.S. also get free shipping on their order which comes with a 100% satisfaction guarantee.
Thank you to our friends at The Outwalk for providing us with the Outwalk 1.0 backpack for this review.
Planning a solo trip? We've got you covered: Solo Travel Planning Guide with 2023 Trends, a Checklist, and Insider Tips.