The best person to ask about food in any destination is a local. In this case, we have insider information from Solo Travel Society member Jessica, who shares her choices for the best food in St. John's, Newfoundland.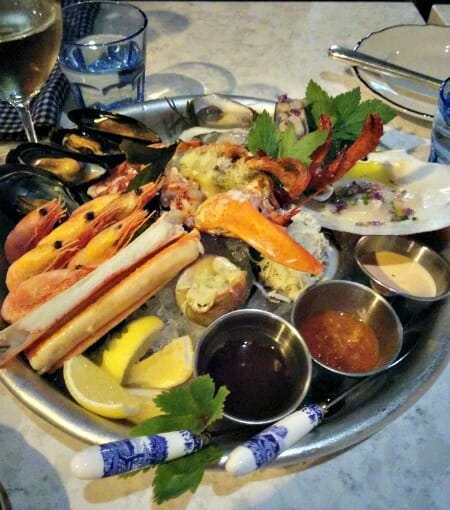 Here in Newfoundland and Labrador our food culture is deeply rooted in the ruggedness of our land and dependence on the sea for our existence. We have dinner at lunchtime, supper for dinner, and a lunch before bed. I know, that's a lot to digest, but you'll get the hang of it after a few days along our rugged shores.
Centuries of hard living and sometimes meagre provisions have resulted in a widely eclectic culinary landscape where traditional methods of salting, curing, drying, and pickling preserve fresh meats, fish, berries, and vegetables for use year round and form the backbone of any good Newfie "scoff". If you are lucky enough to be traveling with an Islander you are sure to be invited for Jiggs Dinner or a proper "Boil Up" on the beach where a pot of Crab or Lobster, or whatever is fresh, is cooked and enjoyed by a crowd.
To this day, our regional foods are best enjoyed sitting around someone's kitchen table. However, many professionally trained chefs and producers are now focussing on traditional cooking and local products to present our cuisine to the world.
In the Capital of St. John's our colorful cobblestone streets offer as diverse a restaurant scene as the people who call this town home. While this list is by no means exhaustive, it highlights some of the best food in St. John's and promotes environments where any "Come From Away" will feel right at home.
Jessica's Top 5 List (+1) of the Best Food in St. John's
Chinched Bistro
Chinched means stuffed, full as an egg, couldn't eat another bite. Chinched Bistro is a great spot to taste the flavors of our traditional foods presented in a modern style and welcoming atmosphere. A fresh cod loin delicately wrapped in vermicelli-thin potato strands and fried crisp is their homage to Newfie-style Fish 'n Chips (don't worry, more on that later). Chinched is a huge supporter of local foragers and producers and features some of the best in-season and hard to find products that come straight from the land around them. They use the tongues, cheeks, and hocks of all sorts of animals to provide you with a memorable taste of our land. Depending on when you visit you may find local Chanterelle mushrooms, Oyster Grass, Dulse and Kelps of all kinds, Bakeapples, and Partridgeberries in use in their kitchen. Chinched is a perfect place to find balance between fine dining and Newfoundland hospitality.
The Merchant Tavern
The Merchant Tavern is the bustling little sister of Raymond's Restaurant and offers diners an accessible menu and dining experience in Chef Jeremy Charles' unmistakable style. Local seafood shines in simple preparations which feature the inherent freshness of the fish and subtle saltiness of our pristine waters. The chilled seafood platter is a feast for the eyes and a great way to sample the lesser known cockles and crustaceans that are sourced on the island. Local meats are treated and braised for rich hearty pastas and seasonal roots and vegetables are always a feature. The open space is lively and boisterous and is a great place to sit for a 3-course meal or drop in for a sip at the bar and a few shareable plates. If you stay late enough to see them close down you'll learn why their stunning open kitchen is the cleanest you've seen.
International Flavours
Nestled amongst the row-houses at the base of Signal Hill you'll find this delightful Pakistani kitchen serving up fresh curries and daal. Talat, the owner and chef, moved to Newfoundland decades ago with her family. After the loss of her husband she put her kitchen prowess to use and opened International Flavours kitchen and spice shop to support herself and two daughters. As one of the first ethnic restaurants in St. John's, Talat and her team of New Canadian staffers continue to present gently spiced fresh foods in a casual dining room. Choose Meat or Veggie, the selection changes often and the rice is always perfectly scented.
The Sprout
St.John's first strictly vegetarian and vegan restaurant continues to cook up some of the freshest, most flavorful meals around. The Sprout is a great place for lunch or a casual dinner and opens late at night on weekends as Poyo, a veggie taco stand for your late night post-pub cravings. There are great options if you are gluten intolerant. Everything from breads to miso gravy to chickpea patties are made entirely in house.
By The Beach Fish 'n Chips
We could write a novel about fish 'n chips. A love between a Newfoundlander and this dish is like no other on earth and each individual knows, although seldom agrees upon, where to find the BEST Fish 'n Chips on the island. There are different styles of batter and preferences for vinegar and whether or not a true Newfoundlander uses tartar sauce. One thing is for certain, here on the Island, Cod is King. Ask a local to recommend their favourite spot—I'm certain you won't be disappointed. My top pick is By the Beach, at 1608 Thorburn Road, Portugal Cove-St. Phillips, which is about a 15-minute drive from St. John's. They serve fresh, impossibly crispy yet light and airy, battered cod and homemade chips. Complete your meal with a cold Quidi Vidi Brew and enjoy the view of Bell Island from the simple dining room.
Chafe's Landing in Petty Harbour rivals my top pick and serves an equally perfectly done plate of Fish 'n Chips. My choice reveals the highly personal nature of this recommendation for any Newfoundlander and there will always be a touch of nostalgia in our first choice.