This summer I camped for the first time alone. I have camped for years and I love being outside all day long. I love hiking, a hammock and good book, building a fire… I love rambling the day away with no chore other than cooking and eating.
Now, to be clear, I don't do interior camping. That is "true" camping in the eyes of serious hikers and canoeists.  I do the lowly car camping. But for me, the now solo camper, it's safer than going off into the woods alone.
But is it safe?
As a solo woman traveler, I wonder how safe it is to live in a nylon house. There truly is nothing physical protecting me. What is protecting me is a code of ethics that keeps all campgrounds safe. People respect one another and their gear. Simple as that.
However, almost 20 years ago now, I experienced that code broken when some kids stole our cooler. The value of the loss wasn't the issue. It was the breach of the code that was appalling. It was unheard of. How could they do such a thing?
So I have this in mind when I think of traveling and camping alone. The code only has to be broken once for an unpleasant result. Ultimately, I think that my ideal would be to camp using a small mobile home – one similar to what we traveled in as a family during the long-term trip in Europe.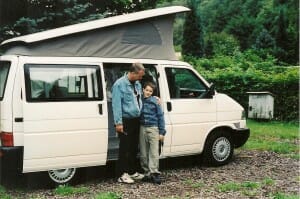 Renting a Motorhome or Camper
While camping is inexpensive, renting a motorhome can be quite expensive. However, if you go on the off-season it can be affordable. When we camped our way through Europe, the VW Pop-up cost the same for 10 months in the off season as it did for a few weeks in peak season. Amazing!
I'm hoping to make it to the UK again this fall. Last time I took Britrail everywhere, from Cambridge to the Lake District (beautiful, part of the National Trust) to Bath and then London. This year I'd like to explore more National Trust lands. I'm sure that, especially in the fall, there will be plenty of motorhomes for hire that are available at a good price.  So I'll look into this and, if I make this trip, it will be a completely different Britain that I experience.