Tracey buys a pass to an airport lounge for just about every trip she takes.
I never think of it. That is, until I'm walking by one and wondering what's behind those tinted glass doors.
Well, now I know.
A bit of luxury.
Last May I went to Hong Kong thanks to Cathay Pacific and was fortunate enough to use one of their lounges, out of the hubbub, while waiting for my flight. Lounges offer:
comfortable seating in a quiet environment
hot meals, snacks, and drinks
computer terminals for work or play
even showers, in some cases.
Historically, this kind of service has been for business and first class passengers but now the luxury is available to everyone. And when you consider the cost of airport food, it may be less expensive than you think.
You just need to know the ins and outs of how to get behind those tinted glass doors.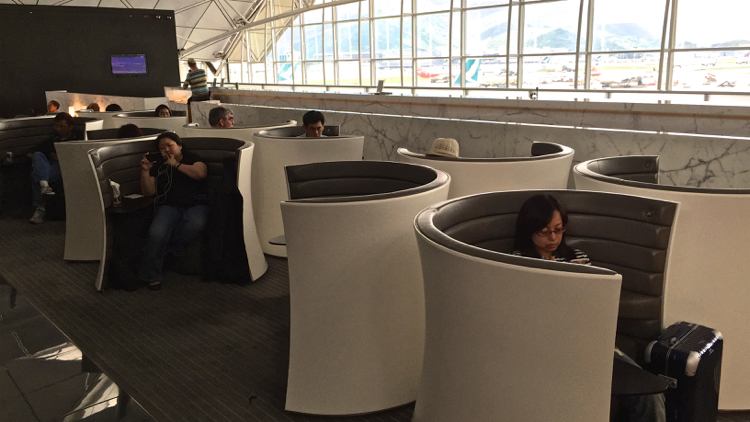 5 Airport Lounge Benefits
Airport lounges offer a number of benefits. Which ones are most important to you will depend on what kind of traveler you are and what you consider to be luxury. Here are just a few:
Quiet. Oh, the noise that can accost you in the airport seating areas! From people chatter, to children's cries, to incessant boarding announcements, it can be loud and stressful. Airport lounges tend to be quiet. People speak quietly, children are rarely there, and announcements are made on screens.
Calm. This is not quite the same as quiet. In the lounge there are no people running around, stepping over you with luggage, crawling under your chair to plug in their technology, or any number of things that cause the main space of an airport to be frenetic.
Rest. This is particularly important on long layovers. The comfortable chairs are better than the banks of seats in the airport for a rest or even a nap.
Food and drink are included. The buffet is well-tended with reasonably healthy food and the bar is always open. Though, I recommend avoiding alcohol if you're facing potential jet lag.
Customer service. If you need something or have a travel concern, the staff are their to help.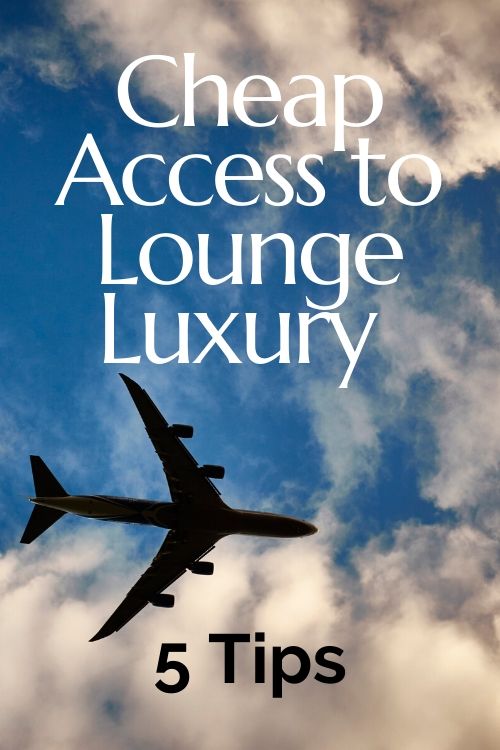 5 Tips for Cheap Access to Airport Lounges
To be clear, access to an airport lounge is going to cost you. The question is, as always, is your purchase worth the expense to you? If you have decided that a lounge is where you want to spend your discretionary travel budget, here are 5 ways to do it for less.
Credit cards with lounge access by country. There are many premium credit cards that offer you lounge access. At the expensive end, the access is unlimited – I didn't know you could pay $699 for a premium credit card. Yikes! But for some $100 premium credit cards, you can get discounts on lounge entry fees. Here's a list of:
Lounge membership with your favorite carrier. If you fly frequently, a membership may make sense but they can be expensive. If you don't fly frequently you can purchase a day pass. The cost is $20 to $50 per three hours. Here's a list of airlines that offer lounge memberships.
Third-party airport lounge memberships. If you travel a lot Priority Pass gives you access to 700 lounges around the world through its membership program. There are three tiers of membership starting at $89. This gives you discounted access rates of $32 per visit. For $269 you get 10 free lounge visits and $386 you get unlimited visits.
Pay-as-You-Go Lounges. If you want access to a lounge occasionally, Plaza Premium is a smaller network that gives you access to 70 locations in 34 airports worldwide. The bonus is that there is no membership required. You pay only for the time you want in a lounge. They offer hot food, beverages, showers, and concierge service just like a traditional lounge. The prices vary by location and you can purchase 2, 3, or 4-hour blocks. You can also reserve your space and pay online. Depending on your airports and expected use, it may be worth buying yourself a gift card which has lower rates.
Cash in rewards points for a lounge pass. This is hit and miss. With Aeroplan (my main carrier is Air Canada) I can buy one lounge pass for 7,000 points. Given that I can fly to Montreal and back for 15,000 points I don't consider this a good use of points but you may find a better offer with your carrier.
That's it. Those are my best tips for lounges. What have you learned in your travels? If you have more advice please share it in the comments.