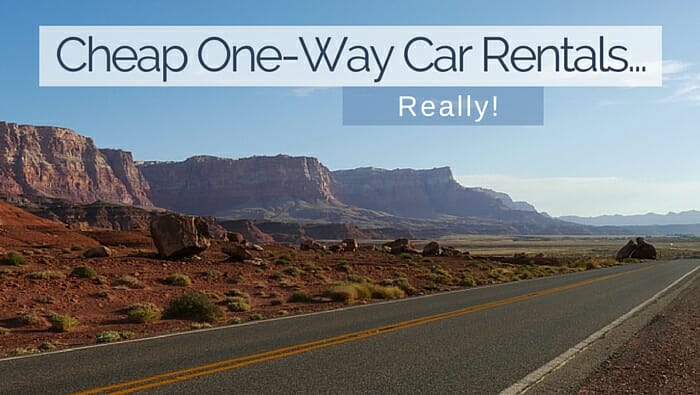 Want to take a long road trip but not keen on driving both ways?
I get it.
I'm hungry to drive across Canada. I haven't done it for years. But I don't want to drive there and back again.
So I wondered how I could do it affordably. I can't do a one-way with my own car and a one-way car with a traditional rental company is crazy expensive. They'll let you do it but to drop-off at a location that's different from where you picked up the car will cost a bundle.
So I've been doing some research and there are options. You need to be a little flexible in terms of when and where you go but such seems to always be the way if you want to save money when traveling.
Fortunately, being flexible is what we as solo travelers tend to be more capable of than those with others in tow. So here are some options. The first two require lots of flexibility. The third may be the best option ever, but it's just in a few test markets at the moment.
Three Options for Cheap One-Way Car Rentals

Driveaways for personal vehicles. People who go south for the winter often want their car with them but are not interested in doing the long drive. There are other scenarios in which people want someone else to relocate their car as well. By working with a driveaway service you can take a road trip without the expense of renting a car. Often there's a gas allowance as well. Check out Auto Driveaway (U.S. and Canada), Toronto Driveaway (Toronto) and Cars To Florida (Toronto).
Relocate rental cars, RVs and vans. There are a number of companies that organize the relocation of rental cars from quiet offices to ones that need the cars. Like with the Driveaways, you'll have a deadline by which you'll have to return the car and in this case you'll pay a nominal rate of a few dollars a day. There are a few options including imoova.com and transfercar.com.
Zip Car is an upcoming option for one-way car rentals.
Zipcars are now offering the option of one-way or round trip. Change your drop-off if plans change. Extend the length of your trip if you want as no one has the car booked after you. Join Zipcar and get $25 free driving in the tank. They have hourly and daily rates which include gas, insurance and all the fixings. Plus they have cars everywhere. At this point they are testing this in Boston, Denver and Los Angeles. They plan to roll out the service from there.
Plus: Keep in mind that a meta-search engine like Kayak can sometimes come up with great deals, especially in the seasons when car rental companies are moving their fleets around. From the research I did the drop-off fee was typically less expensive at locations in a city than at a city airport.
Hope that helps!
See you next Travel Money Tuesday.