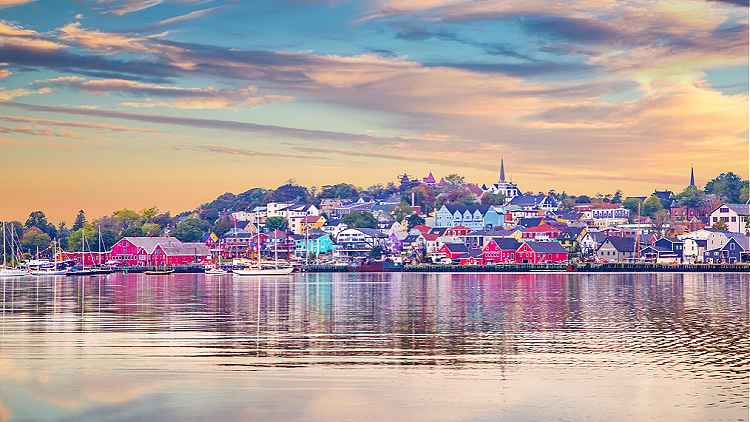 This was a fun post to write. By combining the experiences of Tracey and myself we were able to build a 10-day road trip circumnavigating Nova Scotia.
We have both covered the ground of this route solo. It is all quite doable as a solo traveler, even if it's your first road trip.
The plan we've made takes you counter clockwise around the province. Of course, you can just as easily do it in the other direction but I tend to leave the most spectacular scenery towards the end of any road trip if possible. In this case, we're saving the Cabot Trail for last.
I'm not suggesting that the rest of the province isn't beautiful. It absolutely is. But just as an author delivers hours of reading enjoyment before revealing the climax of the novel, we are suggesting that you enjoy the seaside villages, high tide activities of the Bay of Fundy, Nova Scotia wine country, and much more before the grandeur of Cape Breton Island's Highlands.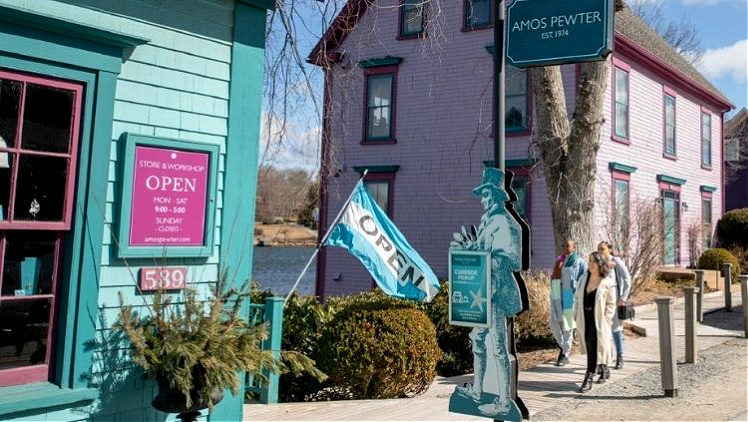 Day 1 Halifax to Lunenburg or Mahone Bay – 1¼ Hours
Whether you fly into Halifax or are already in the city, leg one of our road trip plan to circumnavigate the province takes just over one hour. It takes you to Lunenburg or, if you wish, Mahone Bay.
Lunenburg is a colorful and historic port town. Old Town Lunenburg is one of only two urban communities in all of North America that has been designated a UNESCO World Heritage Site. It's worth taking the one-hour Essential Old Town tour with Lunenburg Walking Tours to get an overview of the 18th and 19th century architecture and history.
A word to the wise: Lunenberg is built on a very steep hill. The Essential Old Town Tour starts at the top and meanders down to the port. If you park your car at the top, as I did, it's a heck of a climb back up. Luckily, there's a taxi service in town or you can take an equally interesting walking tour of the waterfront, which is on level ground, and learn all about the Bluenose II, Prohibition, rum running, and more in the Fisherman's Folklore tour. Follow that up with a tasting at the boutique Ironworks Distillery and then a fresh seafood meal on one of the many restaurant patios overlooking the water.
If Mahone Bay is your choice, you will find yourself in a quaint artistic community full of shops and restaurants. With gorgeous harbor views and more colorfully painted houses, it's a lovely place to wander and soak it all in. Take a boat tour, enjoy walking trails, watch artisans at work, relax on the beach, or enjoy a local beer at the Saltbox Brewing Company. A little tip: Mahone Bay is very busy on the weekends and very compact. Go early to get a parking spot or leave your car at your B&B and explore Mahone Bay on foot.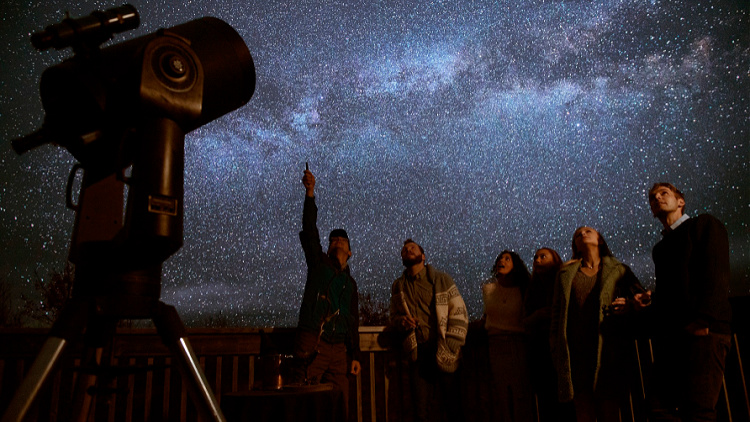 Day 2: Lunenburg to Yarmouth – 3 Hours
Some unique opportunities await you on this road trip circumnavigating Nova Scotia and Yarmouth is particularly special. Cape Forchu is home to the only lighthouse in Nova Scotia that is open to public tours to the lantern room. Climb to the top and you will be rewarded with panoramic views of Cape Forchu, Yarmouth Harbour, and the Atlantic Ocean. The lighthouse is also surrounded by Leif Erikson Park which has walking paths, benches, and picnic sites. Pick up lunch along the way and enjoy it with a view.
One of the things that the Yarmouth & Acadian Shores area is known for is stargazing. Because it has such dark and clear skies, it has been designated the first Starlight Reserve in North America by The International Starlight Foundation. The Deep Sky Eye Observatory outside Yarmouth offers an outdoor viewing platform as well as a telescope indoors under a 9-foot dome. You can even spend the night in a Sky Bubble, a tent structure with a bed and a clear vinyl dome so you can lay down and watch the stars until you fall asleep.
If it's in your budget and you want to treat yourself to one of the most spectacular eco resorts in the world, book a stay at Trout Point Lodge. Half an hour from Yarmouth, this luxury wilderness retreat was long on my list of dream trips. If you decide to stay there, adjust all of the other timings in your road trip to spend every minute from check-in to check-out on the property.
Two more posts on the Acadian Shores: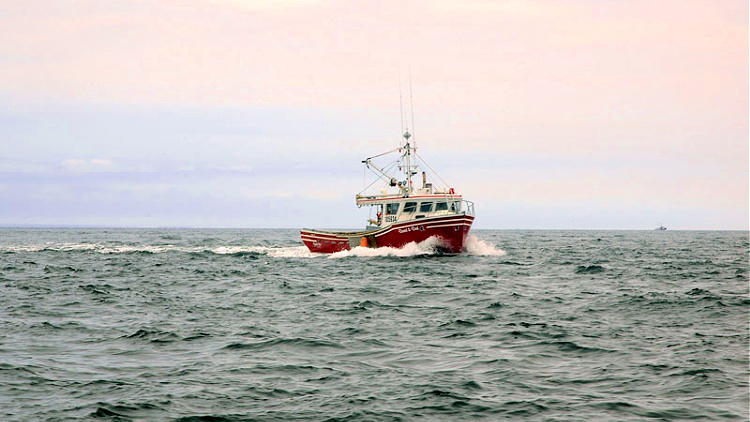 Day 3 Yarmouth to Digby via Wedgeport – 1½ Hours
You must go via Wedgeport so you can take a trip on a fishing boat through the Tusket Islands with the LeBlanc brothers. You'll learn what life is like for a lobster fisher, discover the history of the area, and enjoy being out on the water. Simon and Lucien will take you to their family shanty and serve you homemade chowder, made from a recipe handed down through generations of the LeBlanc family. On the way back, you'll be treated to live entertainment – and you might even be invited to perform yourself! You can't reserve or pay online, so call or email Tusket Island Tours and they will make sure you have a wonderful time. Pro tip: even if it's a cloudy or foggy day, wear lots of sunscreen. It will save you from having to make a trip to the Wolfville Shopper's Drug Mart the next morning for powder concealer. Or so I'm told.
After spending a few hours on the sea, you might prefer to stay on land in Digby. Luckily, there are lots of walking trails where you can stretch your legs and take in the views. You can download the Digby Outdoors Map here to pinpoint nearby hiking trails and lighthouses. Hike or cycle the rail trail, relax at one of the beaches, admire the view from the Annapolis Basin Lookoff, or stroll along Admiral's Walk at the waterfront. Browse the shops and galleries, see the work of local artists or treat yourself to a handmade quilt at Quilts by the Bay.
For more details on this section of the trip, read Acadian Shores Road Trip: How to Enjoy 4 Days of Sea and Sky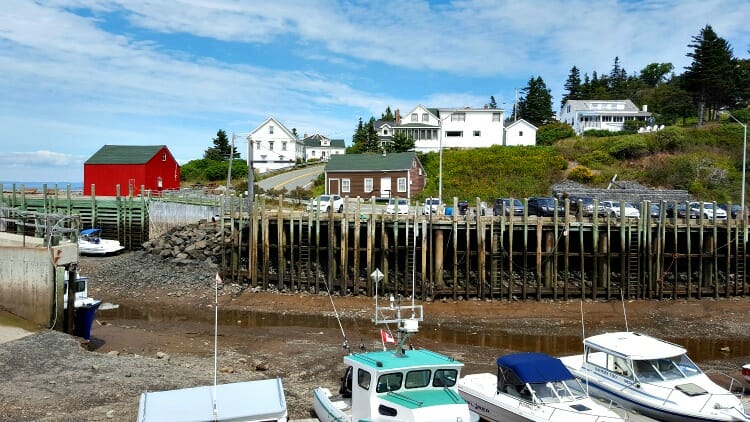 Day 4: Digby to Wolfville – 1½ Hours
From Wolfville you can easily fill a day with local food and wine experiences. If you haven't had a lobster meal yet as you've been circumnavigating Nova Scotia, today is the day to do it! Hall's Harbour Lobster Pound, a short drive from Wolfville is a popular spot. Not only do you get to choose your lobster then have it cooked while you wait, you can watch the boats in the harbor rise or sink with the tide.
If you're a wine lover, ditch your car and join a tour with Grape Escapes. You'll visit two or three wineries, learn about Annapolis Valley wines, then enjoy lunch or dinner with the other travelers and locals on your tour. Pick up a bottle or two of your favorite wines to savor later in your trip or to take home.
The town of Wolfville itself has great dining options. I loved Le Caveau at Domaine du Grand Pré, a winery, restaurant, and inn. Their scallops were swoon-worthy and appeared in Flavors of Nova Scotia: My Top 5 Tastes. Since my road trip in Nova Scotia, a chef whose creations I have tasted in Toronto has transported his artistry to Wolfville. I'm sure you won't go wrong with TR Trattoria, featuring fresh pasta, artisanal pizza, and house-made gelato.
Wolfville also hosts the Devour! Food Film Festival in October and the Deep Roots music festival in September. Ask a local for directions and the best time of day to visit Look-Off for panoramic views over the Annapolis Valley and Bay of Fundy.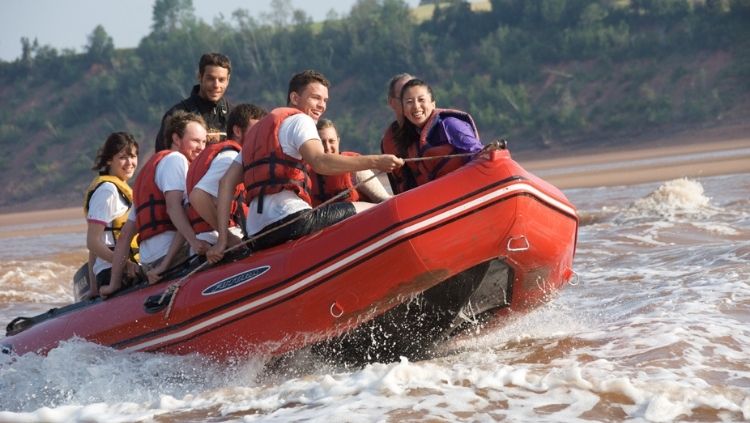 Day 5: Wolfville to Shubenacadie – 1½-2 Hours
The Bay of Fundy side of Nova Scotia has so much to offer. In addition to the food and wine near Wolfville, it is a great area for adventure experiences.
The tides in the Bay of Fundy rise the highest in the world. This results in dramatic rock sculptures due to erosion. The rise of the tide offers great kayaking opportunities. Its ebb reveals a sea bed ready for clam digging. The Shubenacadie River offers something even more special.
The high tides of the Bay of Fundy causes a phenomenon called the tidal bore. Twice a day the tide comes in with such force that it surges water up the river, essentially reversing the flow of the river. This battle with the water coming down stream causes swells up to 13 feet in height.
It is great fun to join a group in a zodiac driven by someone who really knows the river the tidal bore. The driver will hit the waves just right and you'll be cascading down rapids.
When I went I stayed at the Tidal Bore Rafting Park. It's a full service resort in the woods. They run their own rafting service. I remember seeing bald eagles when I was there. Just a great time!
For more like this, read Soft Adventure in Nova Scotia: Fun in the Great Outdoors.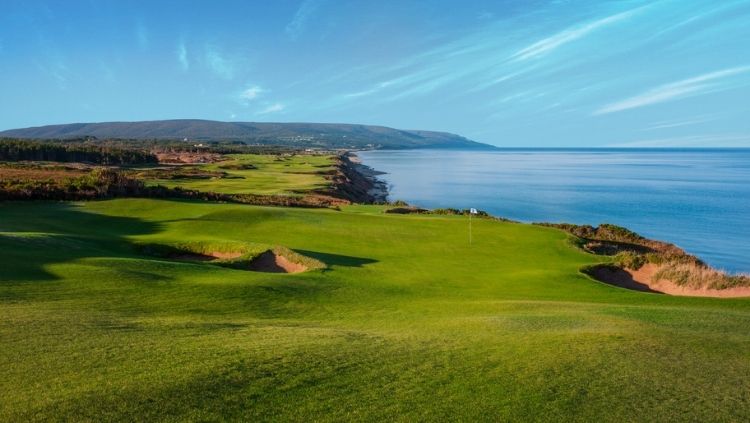 You might also enjoy Halifax to Antigonish: Street Parties, Chocolate & the Most Friendly People.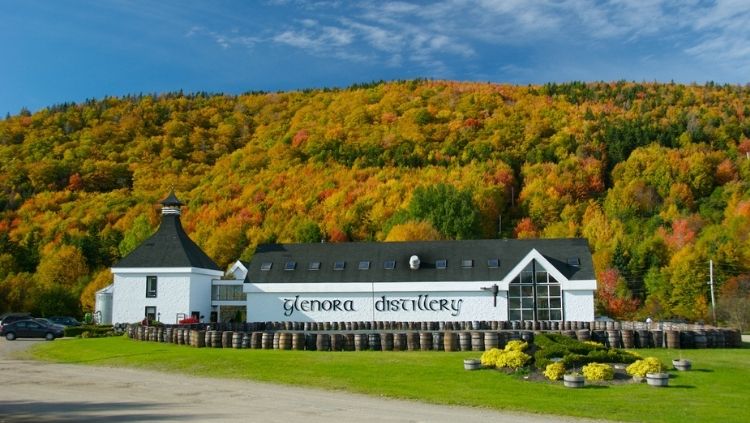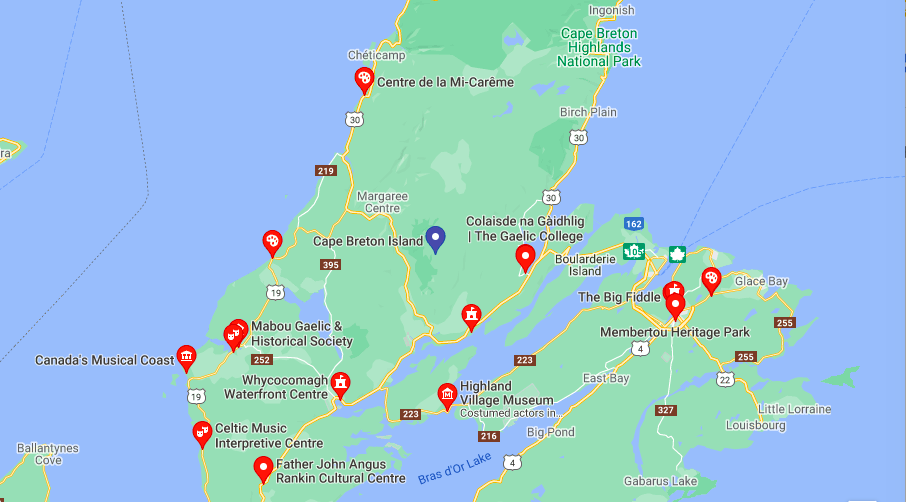 Days 6 & 7: Shubenacadie to Inverness – 3½ Hours
The drives are getting a bit longer now so we're suggesting that you spend two nights in the next two location.
Day 6 of your road trip circumnavigating Nova Scotia solo takes you off the mainland and onto Cape Breton Island, a destination I have loved and visited many times since I was a teenager. I suggest that your specific destination be the Glenora Inn and Distillery.
Things to do in the area include:
Note: If you're choosing Option 2 for days 9 and 10, you may want to take a bit longer than the 3 1/2 hours for this trip. If so, check out Option 1 for advice on what to do in Truro en route to Inverness.
Day 8: Inverness to Sydney via the Cabot Trail – Full Day
This is the longest driving day as you circumnavigate Nova Scotia, true, but it is the Cabot Trail! It's a must. Two choices:
The trail is 300 km and is said to take 5 hours which allows a bit of time to stop, take in the stunning views, or enjoy a lunch. The debate about whether to take the trail clockwise or counter-clockwise is an old one. Everyone has their own reasons for one over another. Given that you'll be starting from Inverness, this trip is taking you clockwise.
Read Top Tips for Visiting the Cabot Trail, Nova Scotia for a more detailed account of the trail. Here are the highlights going clockwise.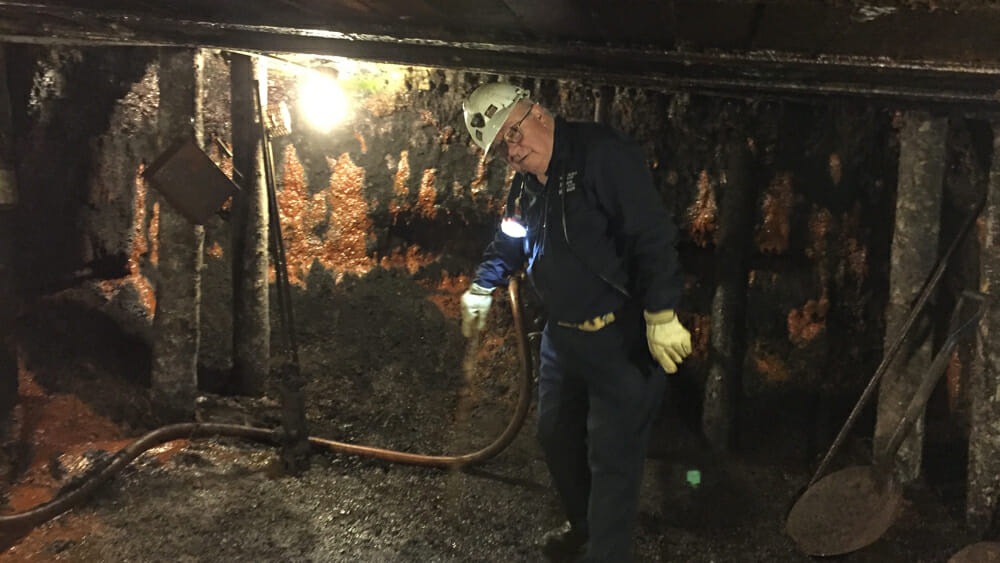 Day 9: One More Night in Sydney
Yesterday was a very big driving day so, again, I suggest that you take a break from driving and explore the area. There is plenty to do.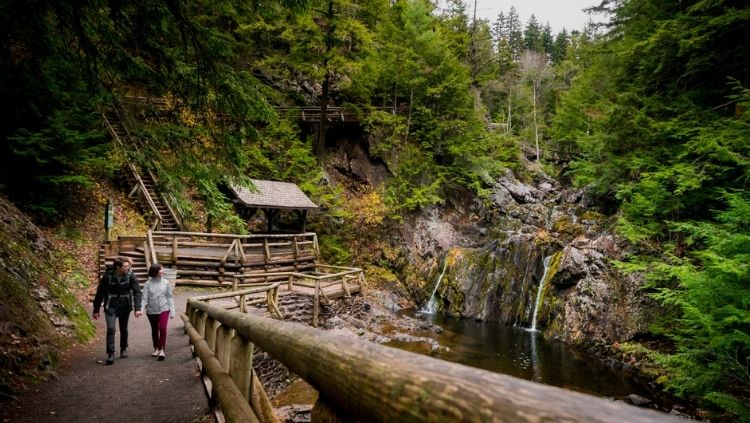 Day 10: Sydney to Halifax via Truro or Sherbrooke
To truly circumnavigate Nova Scotia you'll want to drive to Halifax via Sherbrooke but if you're getting a little tired of driving, the Truro route will save you time on the road.
Option 1: Sydney to Sherbrooke – 3½ Hours
Step back in time at Sherbrooke Village, where costumed interpreters transport you to 1867. At Nova Scotia's largest Provincial Museum, you, too, can dress the part and walk around the 25 heritage buildings, learn about the history of this one-time boom town, visit the Indigenous Art Centre, and have your photo taken in Canada's only commercial Ambrotype Photo studio. Check out the Port Bickerton Lighthouse walking trails system and take a tour of the lighthouse, take a swim, or stroll on the boardwallk.
You might recognize Sherbrooke as the town mentioned in the well-known folk song, Barrett's Privateers. Here it is, performed by Stan Rogers himself. Tip: If you take the Tusket Island Tour on Day 3, there will be music and singing of sea shanties on the boat. Ask Simon to sing this song for you – and join in!
Option 2: Sydney to Truro – 3¾ Hours
Truro is considered the hub of Nova Scotia because of its central location. You can view the tidal bore there as well. On the edge of town is the Truro Tidal Bore Viewing Visitor Centre along the Salmon River. Other highlights include: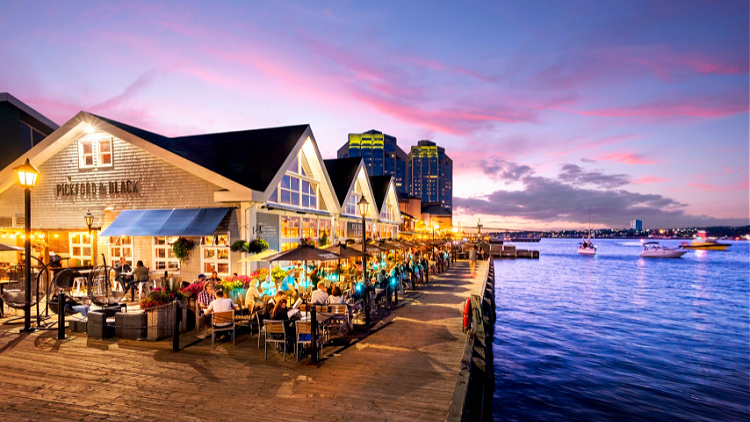 Day 11: Circumnavigating Nova Scotia Ends in Halifax – 1 Hour
Now you're completing your route, circumnavigating Nova Scotia and returning to Halifax. You're on your way to the big city! We've written extensively about Halifax. Read Explore Halifax Two Ways: Luxury and Budget Tips to see how each of us would spend our time in the capital city of Nova Scotia. You can mix and match from our itineraries to create the perfect day (or more) for you.
Halifax has so much to offer, from a four kilometer boardwalk along the harbour to microbreweries, cideries and distilleries to museums and art galleries to beaches and hiking trails to wonderful dining or picnic options, live music and festivals. Be sure to leave some time in your itinerary to enjoy it all.