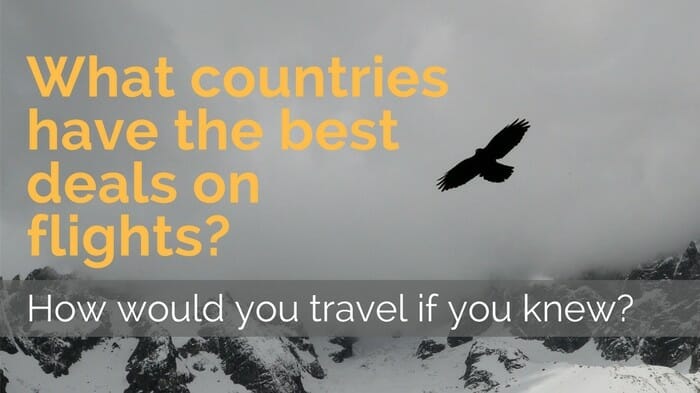 What countries have the best deals on flights?
Can this knowledge help you stretch your travel dollar?
That depends on where your home is and where you want to go. Do you live near the border with another country? If yes, you may benefit from better fares in that country. If you're planning a trip that will involve flights within a country or region you may save by choosing your destination based on those costs.
Two weeks ago I wrote a post called Extreme Saving on Flights. Our expert indicated that if you find a flight "that amounts to about 6 cents a mile you've found a good deal. It's a good rule of thumb and it means it's time to buy." But that's an American perspective. If you're Canadian a good deal might be significantly higher than that.
The Most and Least Expensive Countries for Flying
Kiwi.com's 2016 Aviation Price Index reveals the average cost per 100 kilometers for flights overall and also breaks the data down for domestic and international flights using low-cost and full-service airlines.
The information is great news for those traveling to India as the country ranks #1 in terms of the average price of a flight per 100km which is US$3.25 or 3 cents below the 6 cents per mile target mentioned above. It's terrible news for Canada which ranks 70th (of 75) with the average price of a fight per 100km being $38.71 or almost 23 cents per mile, almost four times the American standard of 6 cents.
So how can this information be applied? Generalizations such as I related above are never accurate in every circumstance. However they can be a guide, Here are a few things for your to consider when planning your travels.
Travel Canada via the US? If you're planning a trip to North America the chart shows that domestic flights in Canada average to $8/100km vs $3.54/100km in the US. However, many of Canada's major cities like Toronto and Vancouver are near the border and cities with significant airports. You may want to compare the cost of flying from the US side of the border rather than the Canadian.
Train and plane? In Europe many countries that border each other have significantly different average prices. Austria has an average price per 100km of US$36.91 whereas Germany's average is US$9.80. Less dramatic but still significant is the comparison between France and Spain. France has an average of US$12.50/100km whereas Spain is $8.68. It may be worth exploring the costs more deeply and even taking a train to get to the airport where you can secure the savings.
Choose your destination based on domestic fares. If you anticipate traveling by air between places at your destination consider the cost of fights within the country as well as the cost of getting there. On domestic flights the US ranks 3rd while its 17th in terms of flights overall. The UK is fourth domestically while 32nd over all.
I hope that by sharing the Aviation Price Index with you you'll have information that will help you save on flights so that you can travel longer, farther and more often.