Touring the birthplace of one of the world's great liqueurs.
Making macarons with my own hands.
Dining at the restaurant that inspired in Julia Child a lifetime devotion to French cuisine.
These were my personal top three highlights of the many culinary experiences offered on the France Culinary Delights: Paris to Normandy river cruise that I took with Vantage Travel this summer. This 12-night cruise included stops in Paris, Conflans, Vernon, Caudebec-en-Caux, Honfleur, the D-Day beaches of Normandy, Le Havre, Rouen, and Les Andelys, as well as tours branching out from those ports. In addition, there were onboard food and drink activities and tastings – not to mention, delicious food at every meal. There was lots to keep a food-lover busy (and full!) on this trip.
Drinking Benedictine at the Palace
Visiting the Benedictine Palace in Fécamp was fascinating. Of course, I had heard of the liqueur, but I did not know the story of the secret recipe. It dates back to 1510, when it was originally created by a monk at the Abbey of Fécamp. More than 350 years later, Alexandre Le Grand discovered the recipe among some books and began producing the liqueur which he named Benedictine. He built the palace in its honor, and the drink has continued to be made there ever since.
The most exciting discovery for me was not the gorgeous palace filled with art and sculptures, vintage advertising posters, and intricate stained glass windows, or the fact that the recipe, including 27 herbs and spices has been kept secret for five centuries, but the Benedictine Single Cask. This swoon-worthy delight marries French brandy with the liqueur, then ages it in small oak casks. While I can pick up the regular Benedictine at my local liquor store, the Single Cask can only be purchased in two places in the world: at the palace and (for some reason I was unable to figure out) the airport in Singapore. My suitcase became considerably heavier after this particular outing.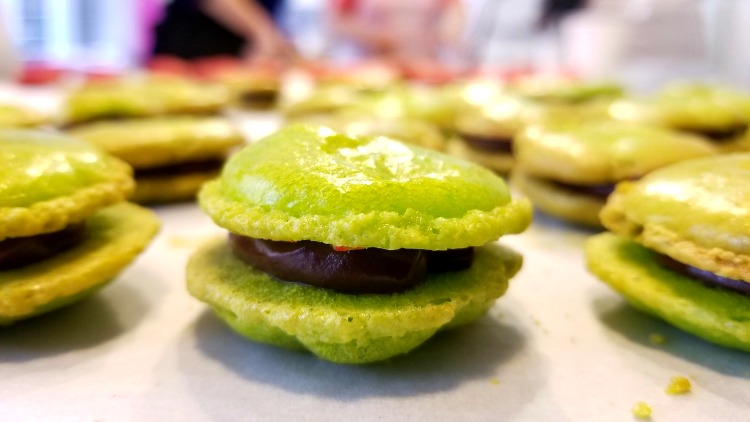 Making Macarons in Rouen
I know that people go wild for macarons, and I like them, but I'm really not a sweets person (though you would be forgiven for thinking otherwise if you saw me enjoying dessert every single night on the MS River Venture!). However, I do know that making great macarons is a real art form, and there is a reason that the bite-size morsels are so expensive. I was very excited to take part in one of the special features of this culinary river cruise, a macaron baking class in Rouen! It felt like a great accomplishment to produce a batch of these iconic French treats with a small group of my fellow passengers in a tiny kitchen down a quiet little alley. As lopsided and irregular as most of them turned out to be, they were delicious! Back on the ship, I gave my box of macarons to the staff who served me in the dining room every day. It was the least I could do.
Dining Like Julia Child
I don't have a bucket list, but if I did, dining at La Couronne might have been on it. The restaurant that inspired Julia Child to devote her life to teaching Americans about French food, which has been in that same spot and operating since the 1300s, was my top culinary experience on this trip. I purposely didn't do much reading about the itinerary before leaving home, in order that I would be surprised each day. Consequently, I hadn't realized that I would have the opportunity to eat here.
It was incredible.
I had lunch in the Joan of Arc Lounge, and one of my fellow passengers, a lovely gentleman named John, joined me at my table for two. The room itself was a lot to take in – all that history, the perfectly laid tables, the massive stone fireplace, the highly skilled professional waiters – as was the location, right on the square where Joan of Arc had been executed.
Everything about this meal was exquisite: separate, appropriate glasses for my red and white wines, which were offered with each course; wonderful French butter into which a design had been carved before our arrival; artistic presentations of each course, from oysters to lobster to veal to souffle. My photos, when I remembered to take them, do not do the food justice. The room was quite dim, and the lighting was not on my side. Besides, I was very busy moaning with pleasure at every forkful, surrendering to the tastes and to the visual experience of dining in that place. My lunch companion kindly indulged me and pretended I was not making a fool of myself.
Other Pleasures of My Culinary River Cruise
In addition to my favorite experiences on this culinary river cruise, there were many other pleasures. You can see the complete itinerary here, but there were also plenty of opportunities for solo exploration. In Honfleur, we were treated to a tasting of fresh-caught oysters at a small restaurant on the harbor. Following a walking tour of the city center, I wandered around on my own, visiting shops that caught my eye. I picked up French sea salt here, aged Calvados there, and artisanal caramels to take home to friends. I knew what to look for because there had been an introduction to and tasting of Calvados on the ship the evening before.
In steaming hot Paris, I met up with a friend for some chilled rosé on a patio. After she left, I went inside and treated myself to a dinner of steak tartare, salad, frites, and red wine. The following day, I spent a ridiculous amount of time at Galeries Lafayette Gourmet, gazing longingly at the pungent French cheeses, spicy cured meats, velvety foie gras, and gorgeous displays of fresh fruits, vegetables, and baked goods – none of which would survive the long trip back to Canada. I purchased some spices and tea to take home, then relaxed with a cappuccino.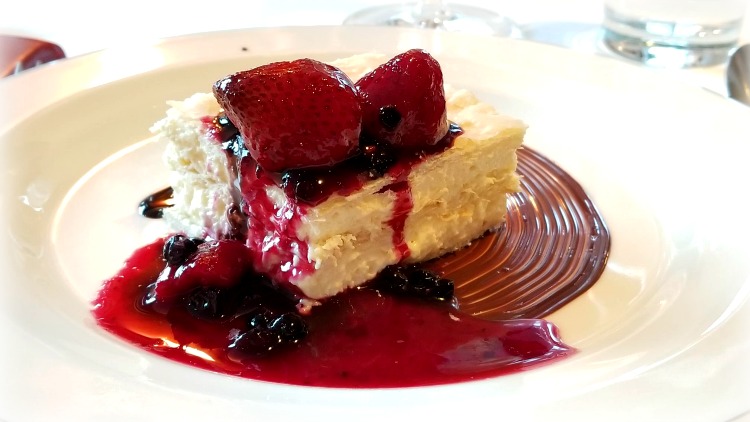 Baked Alaska and Afternoon Tea
As if all this was not enough, the food on board the ship was excellent, far exceeding my expectations given the number of people being served. There were different choices of appetizers, entrees, and desserts at every meal, and if you weren't feeling up to the day's specials, there were standard options that were always available for those times when you just wanted a salad or a burger.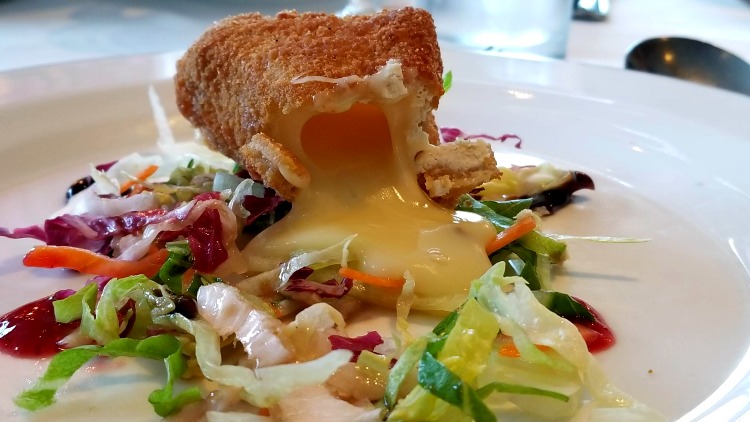 The kitchen also had some special surprises in store for us. One day, they put on a spectacular afternoon tea. It was not your typical formal tea, but an extravaganza of sweet treats, from cookies to brownies to cheesecake to fresh fruit to cheese to finger sandwiches to ice cream, and everything in between. There were frequent recipe demonstrations for both food and cocktails. And at our final, blowout dinner on the ship, the kitchen staff presented Baked Alaska to top off 12 incredible days of food.
As someone who operated a personal chef business in a former life, I know how stressful and difficult it can be to serve a lot of people at once. The kitchen on the MS River Venture operated with military precision. On a tour with the Executive Chef, I was able to see how surprisingly small the kitchen was, which gave me an even greater appreciation for what they were able to accomplish. Every meal was a pleasure, as were the gracious and hard-working staff, who, it must be said, had me pegged by Day Two: they stopped asking if I wanted more wine, and just kept my glass full through every dinner service. Merci, mes amies!
You can read more about my experiences on this culinary river cruise in these posts:
Thank you to Vantage Travel for sponsoring my trip on their France Culinary Delights: Paris to Normandy river cruise. You can get all of the information about their trips and specials for solo travelers here. All experiences and impressions are my own, and Solo Traveler maintains complete editorial control over all content.