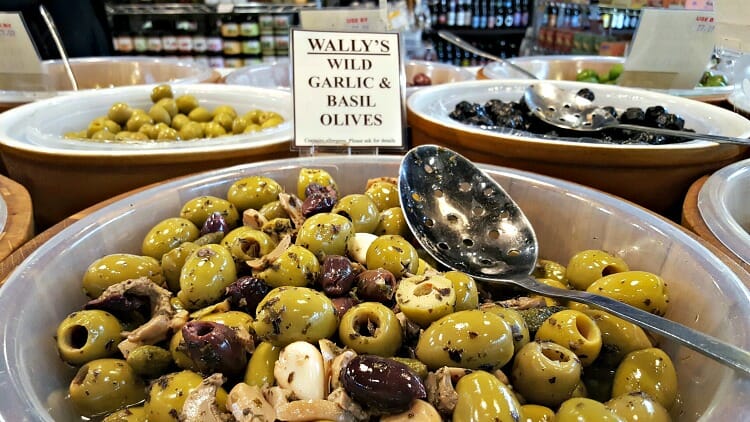 One of the great joys of travel is discovering the cuisine of the destinations you visit. You can learn a lot about the history and culture of a place through its food and drink. I have pulled together some of the fabulous culinary travel experiences we have had as we have traveled solo around the world.
Over the years I've enjoyed a market tour and cooking class with a Michelin Star chef in Barcelona, learned about Italian home cooking in a town devoted to food, been bossed around in a professional kitchen in New York State, and made discoveries about French culture in Paris markets. In Italy, Janice found liquid gold. All of these stories are gathered here.
If you are looking for some tips to help you research and plan ahead for your own tasty travel experiences, have a look at Culinary Travel: Top Tips for Food and Wine Travel Planning.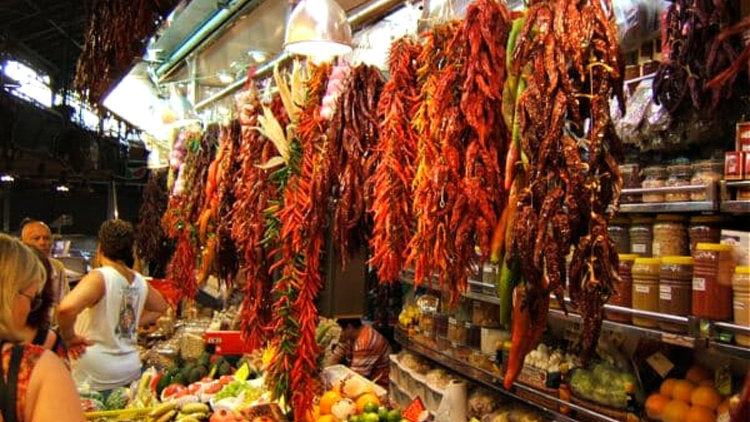 Food, Wine & Culture: Cooking in Barcelona
In the course of planning a trip to Barcelona, I signed up for a cooking class which promised to teach me how to make some traditional Spanish dishes. I was a bit leery as the website indicated that the classes were geared for tourists, but I crossed my fingers, booked the optional market tour, and hoped for the best.
The Adventure Begins
On the appointed day, a small group of travelers, (a few, like myself, solo travelers), trudged up a steep staircase to find an apartment converted into a huge kitchen area, with a small office and washroom. I was in the Cook and Taste cooking school. Stools lined one side of a long counter, while huge windows looked out over La Rambla.
Once gathered and introduced to one another, we set out for a tour of the famous Boqueria Market. What a treat to have a skilled guide! Our instructor showed us what to buy, who to buy it from, and where to eat when we were finished shopping.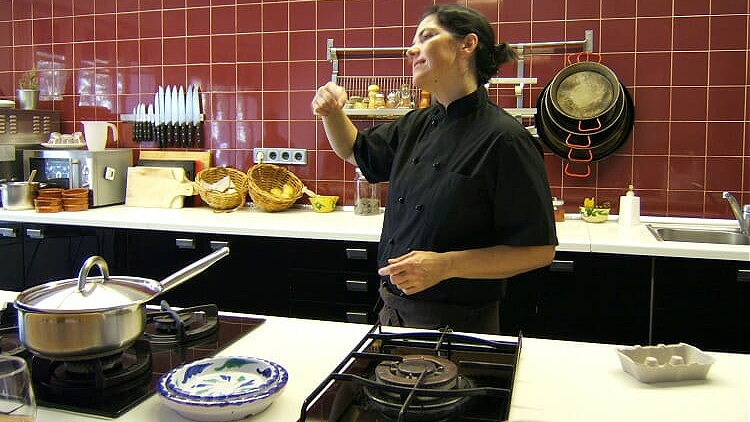 Getting Down to Work
Back in the kitchen, we unloaded the ingredients that we had gathered, and got down to work. The interactive class format allowed for as much or as little participation as desired.
My classmates and I, hailing from the United States, Sweden, the UK, Canada, France, and Australia were an enthusiastic bunch. We chopped and stirred, listened and laughed, and ate and drank our way through the next few hours. We created – then ate – a delicious cold tomato soup topped with a mound of idiazabal cheese, a classic tortilla, chicken paella, and crema catalana.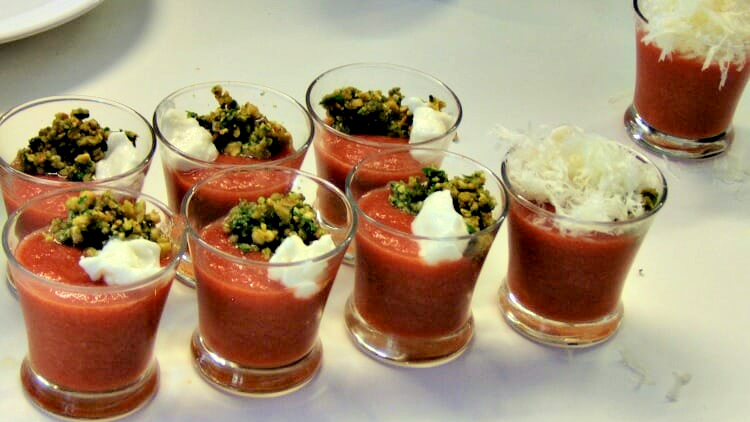 The Delicious Rewards of Culinary Travel
The free-flowing wine may have contributed to us overstaying our scheduled class time, but luckily the chef didn't seem to mind. We picked her brain for restaurant recommendations, shopping tips, and all manner of food and wine-related topics to help guide us to other culinary travel experiences.
My fears that this would be a low-level, touristy outing proved unfounded. In fact, our instructor was a chef from a Michelin-starred restaurant in Barcelona. She gave us a peek into the world of a top female chef in a male-dominated profession, in a cultural context very different from my own. It was fascinating.
Taking a cooking class is a great option for solo travelers. You can learn a lot about the local food and culture, pick up a new skill, then dine with your new-found friends. You also leave with all of the recipes, so that you can recreate the meal and relive your trip back at home. I loved it! And that's not just the wine talking.
Cook and Taste offers virtual events, cooking classes, food walking tours and more in Barcelona. Get all the details on their website.
Forlimpopoli: A Culinary Travel Dream Town
Forlimpopoli.
Just saying the word makes me feel a little bit Italian!
This town of approximately 13,000 people in north-eastern Italy was one of the highlights of my food and wine exploration in the Emilia-Romagna region. Easily reached by train from Bologna in about an hour (everywhere I went in Italy seemed to be just an hour's train ride away), Forlimpopoli appears to have always been a center for agriculture and gastronomy. It was the birthplace of Pellegrino Artusi, arguably the father of modern Italian cooking, and author of Science in the Kitchen and the Art of Eating Well.
Casa Artusi
In the heart of Forlimpopoli lies Casa Artusi, which is a sort of living, breathing monument to Italian gastronomy and culture. Combining a cooking school, library, restaurant, museum, wine cellar, and event venue – not to mention a jaw-droppingly beautiful church—Casa Artusi is dedicated to the art of home cooking.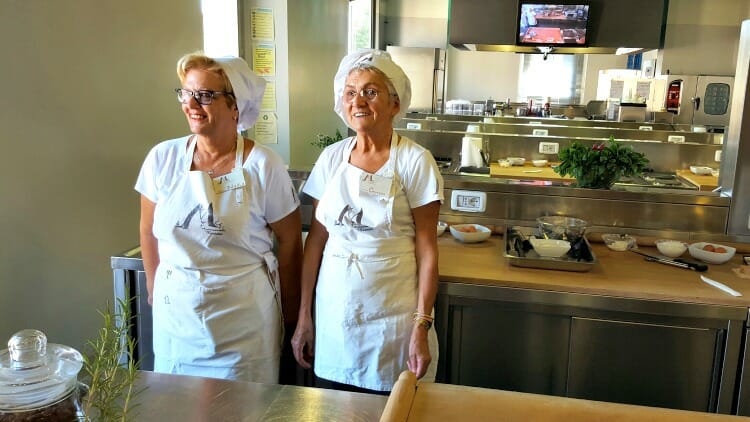 Did you catch that? Home cooking. This is what was so fascinating to me: the focus of all of this love and care and attention (and money) is the everyday cooking that Italians do at home. Not celebrity chefs. Not Michelin-star restaurants. Real people making real food in their homes for their families.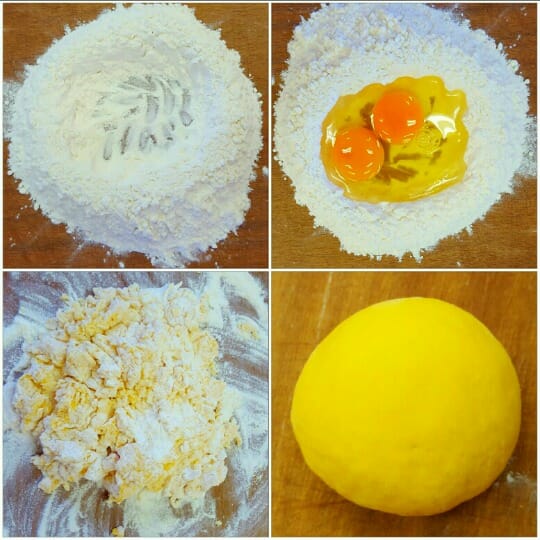 This theme is carried throughout the exhibits and events at Casa Artusi. I took a pasta-making lesson in their bright and airy kitchen, and was taught not by a chef or a local restaurateur, but by women known as Le Mariette. These women, members of the Associazione delle Mariette, teach practical cooking skills in traditional Romagnolo cuisine, drawing on their own home cooking experience. Although I do not speak Italian, and they spoke very little English, they taught me to make fresh pasta using our hands – which, in my opinion, is the best way to learn.
A Reverence for Gastronomy
There was something really wonderful about creating food from scratch, by hand, instructed by someone who has done this her entire life, who probably learned it from her mother, who learned it from hers.
There is a sense of reverence in Italy not just for food, but for the ingredients, the process of creating it, and the joy of sharing a homemade meal. This is really captured in the spirit of Casa Artusi, where you can hang out in the library and marvel at an early edition of Artusi's famous book, now translated into multiple languages over innumerable editions; dine in the restaurant; take a hands-on course yourself; or take a break and visit the adjoining church of Chiesa dei Servi.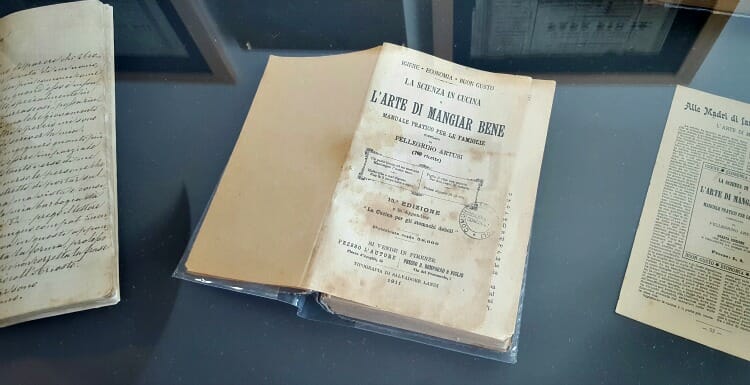 I think Pellegrino Artusi, after whom the center is named, would be proud.
There are lots of reasons to build in a day trip to Forlimpopoli, not least of which would be to attend one of the many festivals and events that take place throughout the year. Festa Artusiana, a nine-day gastronomic extravaganza that takes over the town in late June each year would be one culinary travel experience I would like to plan around next time.
For more information about visiting the first center of gastronomic culture devoted entirely to Italian home cookery, taking a virtual or hands-on cooking class, check out the Casa Artusi website.
Cooking in Canandaigua
Early on a Saturday morning in June (very early for this non-morning person!) I found myself surrounded by the sights and sounds of a busy farmer's market. Organized by a group of local farmers, the Canandaigua Farmers' Market runs from June to October in a parking lot in downtown Canandaigua, in New York's Finger Lakes Region.
But I wasn't just there to browse: I was on a mission. I had been handed $20 and instructed to check out the local produce and choose a few ingredients that I would like to cook with.
As I wandered up and down the small market, I picked up big bunches of kale, curly garlic scapes, bright red strawberries, and snow-white fresh goat cheese. I teamed up with a mother-daughter duo from Rochester, Rose and Mary Ann, and we added a few more items to our shopping bags.
Then, we were off to what is now called New York Kitchen (formerly the New York Wine and Culinary Center) for a cooking class. Their Hands-On Kitchen is located in a beautiful building on the shore of Canandaigua Lake, which also houses a tasting room where you can explore local wine and beer; a restaurant, NYK Cafe; private event space, and more. They host a wide variety of cooking classes, both in-person and virtual, and food and wine related events.
I was excited to work with the fresh ingredients that we had gathered at the market, and equally excited to have such a well-equipped kitchen to play in. I had a kale pesto in mind, and I couldn't wait to get started. As it turned out, however, Rose had her own ideas about what we would make. And who would make it. And it wasn't me.
Mary Ann took me aside early in the process to let me know that her mother was always in charge in kitchen. She wanted to apologize in advance because she knew that we were both about to get bossed around. And indeed, my pesto idea was thrown out with the kale ribs and strawberry stems. I was allowed only to sautee the greens under Rose's watchful eye, and help fetch ingredients for the other dishes. My biggest contribution to the meal was spreading goat cheese and hot pepper jelly on crackers.
Sometimes, it's more important to go with the flow than to worry about fulfilling expectations. It seemed pointless to share with Rose that I was, in fact, a personal chef. Instead, I accepted her orders and watched her in action. She had years of experience cooking up Italian specialties for family and friends, so she knew exactly how she wanted things to be done.
Letting go of my desire to do things my way also freed me up to wander around the kitchen and see what our fellow classmates were up to. At each station, different dishes were being whipped up with the guidance of our patient and friendly chef, Jose Morales. Within less than two hours, everyone was finished, and we walked around the kitchen filling our plates with tastes of more than 20 different dishes. It was delicious!
Although the class didn't turn out quite as I had expected, as a culinary travel experience, it combined many wonderful elements. From visiting the farmers market and getting a feel for what was growing in the Finger Lakes region, to meeting new people, to having the opportunity to work in a professional kitchen under the tutelage of a local chef, to tasting great food made alongside new friends, it was time well spent.
At the end of the class, Rose gave me a big hug, and I gifted her and her daughter with some lovely bread that I had picked up at the market. It was a sweet ending to an interesting morning.
To find out more about virtual and in-person cooking classes, tastings, dining, and other culinary travel events offered in the Finger Lakes region, see the New York Kitchen website.
Lessons Learned in the Markets of Paris
When I'm at home, I spend a lot of time traveling around my city, and the surrounding countryside, visiting farmer's markets – at least during the limited harvest season we have in Ontario. I love to see what's being grown, what's in season, what delicacies vendors have created from their harvest. When I'm traveling, this becomes even more interesting, and I can't wait to seek out the local markets.
On my first solo trip to Paris, I was in market heaven. I had drooled over a beautiful coffee table book about the numerous Paris markets before setting out. I had even rented an apartment close to one of them, with the idea that I would shop at the market and then experiment with French cuisine. Naturally, this did not happen. The last thing I wanted to do after 10 hours of walking around the city each day was to start cooking. I did, however, make terrific use of the markets: eating lunch at one, picking up prepared food for dinner at another, and loading up my suitcase with treats that would likely have been confiscated at the airport had they been discovered.
What Culinary Travel Can Teach Us
You can learn a lot about a new place from its markets. Drawn in by the sight of a woman stirring a huge cauldron of paella, I'm sure I stared like a kid in a candy shop. As I took in the aroma and watched the steam rising from her pot in the cool autumn air, I was shocked to see her pick out a grain of rice, pinch it between her fingers, then frown and flick it back into the pot! It was the first of several experiences on that trip that would bring me face-to-face with my hyper-hygienic North American cultural bias. Lesson number one.
Even though I was taking the paella home for later, this chef made me wait for some time as she would not dish it out until the rice was perfectly cooked – which required a few more pinches and flicks to determine. She took tremendous pride in her creation, and there would be no short cuts taken. I would just have to wait. Lesson number two.
At a market near the Bastille, I was surprised to see some of the very people whose photographs had graced the pages of the book I had read back at home. Even though that book had been published almost 10 years earlier, the old man soaking his feet in his famous bath salts and the woman with the huge smile, describing her African finger foods were still there, still selling the products that they were passionate about. Lesson number three.
Markets Are Perfect for Solo Travelers
For a solo traveler and diner, markets are a wonderful place for food and entertainment. At Richard Lenoir, I wandered through, picking up a fresh-baked baguette at one stall, some perfectly ripe, runny brie at another, olives in a variety of sizes, colors, and flavors at still another. I sat on a bench in the sunshine and watched the locals do their weekend shopping, listened to some musicians play, and savored my meal. I will never forget that experience – and am reminded of it every day by the photos of the components of that meal which now hang on my kitchen wall at home.
From the Paris Tourist Office, here is a list of many of the food markets in Paris, their locations and hours.
Joy and Balsamic Vinegar: This Is What Life's About
Joy.
La dolce vita.
That's what I found.
What I was looking for was traditional balsamic vinegar and its glorious taste. I wanted to savor it. I wanted to understand it. I wanted to know how to buy it.
You see, before leaving for Bologna, I was given a mission by my sister to find a supplier of the real Balsamico. I accepted the assignment with pleasure but I needed details.
Modena, the Home of Aceto Balsamico Tradizionale
Traveling in the Emilia-Romagna region, I learned that there is industrial food and there is food. There is:
Parmesan and then there is

Parmigiano-Reggiano

Prosciutto and Prosciutto di Parma
Balsamic vinegar and Aceto Balsamico Tradizionale di Modena
Most balsamic vinegar you buy is produced by industry in vast quantities. Quality varies and the taste is simple.
Aceto Balsamico Tradizionale di Modena is produced by families with their own vineyards and sometimes generations of experience. Its flavor is rich and complex. It is carefully regulated by the Consorzio Produttori Aceto Balsamico Tradizionale di Modena so if a bottle has the Tradizionale seal as shown in a picture below, you can be sure that it has been produced in the traditional method that has been passed down for centuries.
Balsamic Production at Antica Acetaia Villa Bianca
So, back to my story.
I found la dolce vita at the Antica Acetaia Villa Bianca.
Upon arrival at the Antica Acetaia Villa Bianca (acetaia is directly translated as vinegar cellar), we were greeted by Emilio and Aurora – brother and sister. Just as they were getting started with our tour Irene, their mother, arrived with great flare. While Emilio had one plan for the tour, she had another. He took back the reigns and then his sister had a suggestion. Back and forth it went, first Emilio, then his mother, then Aurora, and then Emilio again. The family dynamic was delightful as was their exuberance for sharing their passion for Aceto Balsamico Tradizionale with us.
As you can imagine, touring the acetaia was both educational and fun.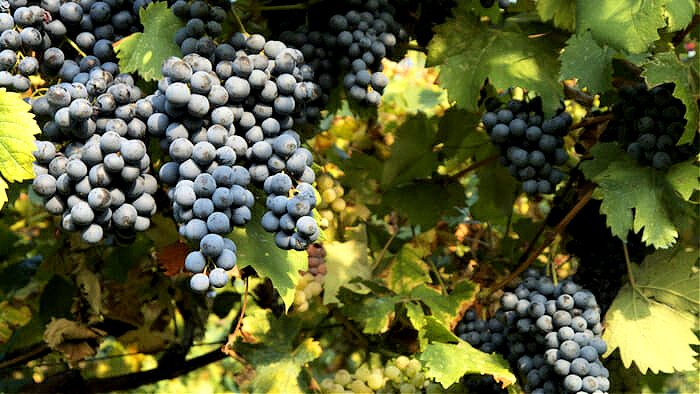 The Making of Traditional Balsamic Vinegar
To make Aceto Balsamico Tradizionale di Modena the grapes must reach a sweetness level of at least 18% before harvesting. The grapes are then crushed and the must (freshly pressed juice) is cooked. The cooked juice is then put in barrels for aging.
The first stage of aging is 6 years. At this point, the vinegar is wonderful but the standards of the Consorzio require more. The vinegar must be aged for at least 8 more years to produce 12-year-old vinegar (the minimum age at which Balsamico Tradizionale can be sold) and 40 years to produce 25-year-old vinegar. These numbers don't add up because every year 1/3 of each barrel is added to a barrel of the next year to keep the vinegar making process alive. Because of this, it takes more than the years declared on the bottle to have all the vinegar inside aged for the stated number of years.
Trust me, I don't really understand the math but this is how it was explained to me.
Does the fact that I don't understand bother me? No, the proof is in the tasting.
Tasting a Vinegar Made with Love
After seeing the production process we went into the attic of the house where the barrels of vinegar were aging beyond six years. They are housed in the attic so that the vinegar lives the heat of summer and the cold of winter – a necessity in the making of Aceto Balsamico Tradizionale.
And the taste? As Emilio explained, taste is affected by personal experience. The stories of how one has lived with food will determine how we describe a new food experience. I tasted cherries and chocolate with a bit of an acidic kick.
I would call it liquid gold.
The family is pleased to accept people for tours throughout the year though they recommend the spring and fall. Tours must be arranged in advance, but there is no minimum number required so solo travelers are welcome anytime.
What have been your favorite culinary travel experiences? Please share them with us in the comments section below.