I'm thrilled to share with you today a story from Cat, a reader of Solo Traveler and member of the Solo Travel Society who walked El Camino de Santiago solo: 800 km over 37 days! She gives us a great view of what the experience was like and what she learned along the way.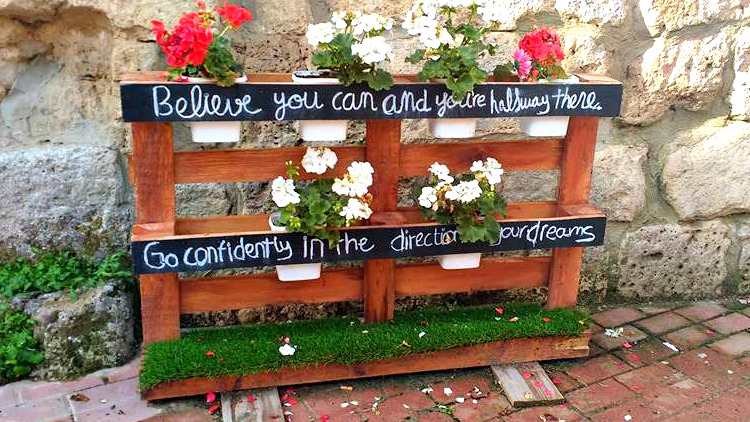 I was exhausted and burned out from a stressful job, keeping my head barely above water in one of the most expensive cities in the world. I was feeling like my life was going nowhere, much less moving forward. So, in 2017, I decided it was time do something I had wanted to do for many years: walk the Camino Frances route of El Camino de Santiago.
The 300,000 pilgrims who walked the Camino Frances with me that year all had different reasons for undertaking this 800 km journey on foot. Like me, many were taking a break to try and reconnect with their heart and spirit and figure things out. Others found themselves at the end of a job or relationship. Some were there for religious or spiritual reasons. One or two wanted an adventure and to meet new people, and a few were mourning and honoring loved ones. I believe that whatever your personal reason is for walking, it is the right one and you deserve to be there. It's your Camino.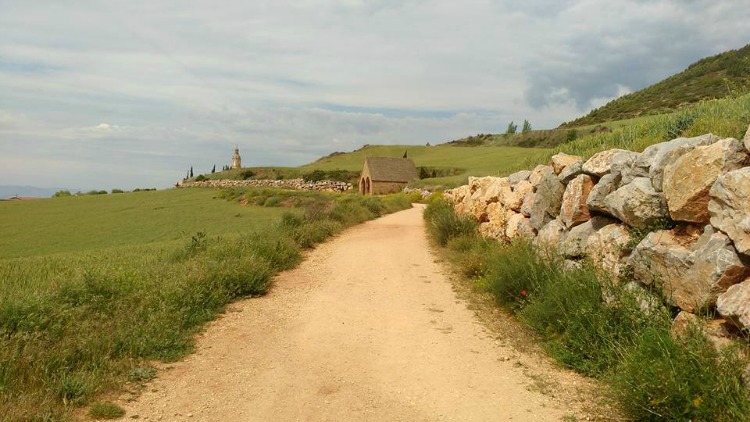 Walking the Camino Frances Solo
The most popular route of the Camino de Santiago is the Camino Frances, which begins in St. Jean Pied de Port, at the foot of the Pyrenees in the French Basque Country and ends in Santiago de Compostela (or Finisterre for those who choose to continue walking for an additional 4 or 5 days). This route could not be better set up for those of us walking the Camino solo and it is truly the perfect trip to do on your own. The entire journey took me 37 days, which included rest days in Pamplona, Burgos, and Leon, three beautiful and interesting cities.
More than a month of walking seems daunting and I was a bit concerned about whether I was physically capable of doing it. But, after walking it, I think anyone who is in reasonable shape can complete the Camino, and I met people of all ages and fitness levels taking it one step at a time. I am far from the most athletic person in the world and, although I had a few days of aches and pains, I finished it relatively easily. There are definitely some challenging parts, but nothing that can't be done at your own pace. You stop when you need to. It is not a race.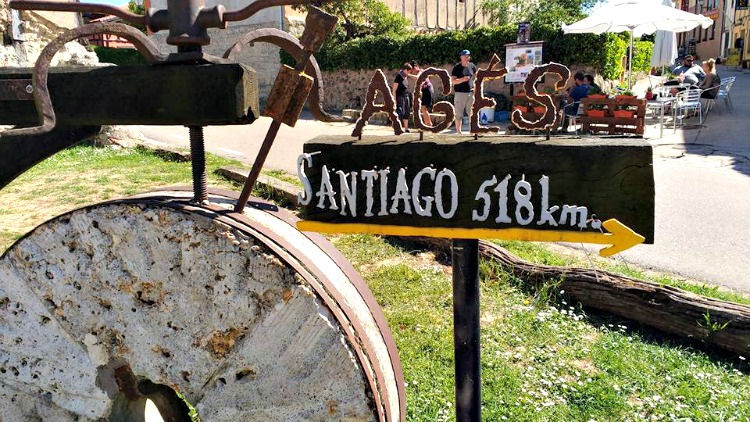 Naturally, walking across a country alone brought up many questions about safety. However, with bright yellow arrow and shell waymarkers everywhere, a large number of pilgrims walking alongside me, and police patrols, not for a moment did I feel unsafe or in any danger, nor did I get lost. Just remember, the Camino Frances is the lifeblood to countless small villages in Northern Spain and they work hard to protect pilgrims. Of course, as we solo travelers know so well, exercise common sense and follow your intuition, regardless of how safe a place seems to be.
As for accommodation, you can once again make your Camino your own and go as budget-friendly or as budget-blowing as you would like. The most common places to rest your head for the night are called albergues, simple hostels which will give you a bed in a dorm room and cost anywhere from a donation to around €15 (bring your earplugs!). There are also plenty of private rooms, modest hotels, and luxurious Paradors along the route if you need a night to yourself or just want a little bit of pampering.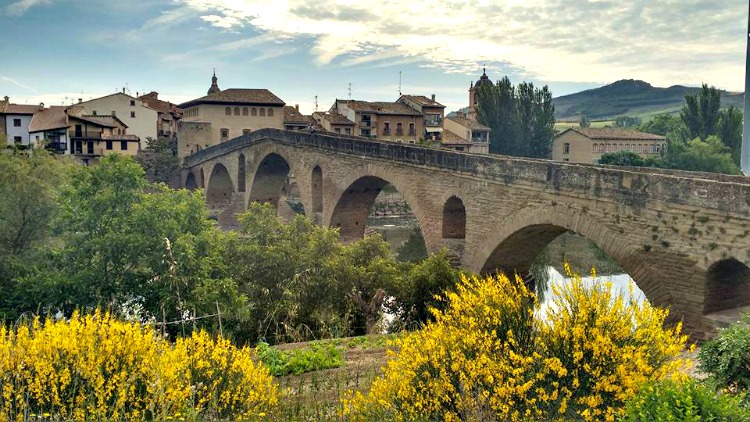 Walking so many kilometers every day makes you very hungry and thankfully you will not starve on the Camino. There are small bars and restaurants everywhere where you can purchase inexpensive snacks and meals, as well as grocery stores and entrepreneurs who set up food stands in more remote areas. Once you reach your daily destination, many albergues and restaurants offer a "pilgrim's menu" which, for €10, gives you a three-course meal with bread, water, and wine.
I would say I spent, on average, €35 to €40 per day on my food, lodging, and small necessities.
So, you have all you need. All your clothes and worldly possessions are on your back. You have food and shelter. You have everything. What else can you expect from the Camino?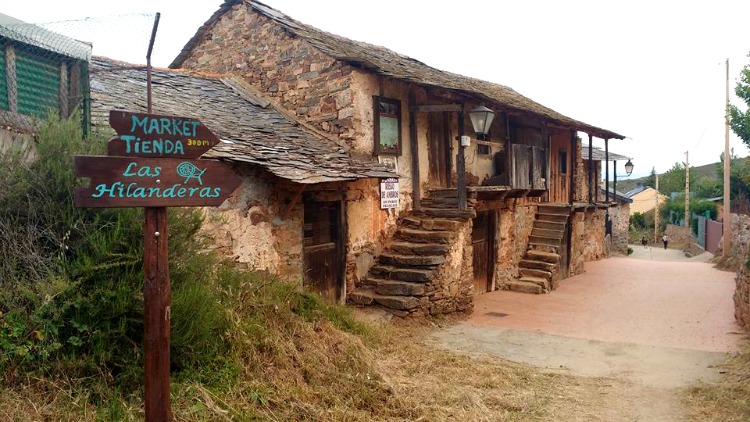 The road will lead you through sweet rural villages with friendly locals, lovely farms, interesting churches, and ancient sites. You will experience some of Spain's smaller cities with their beautiful cathedrals, lively restaurants and nightlife, and interesting landmarks. The yellow arrows will guide you up, down, and around stunning and diverse landscapes where you will encounter lovely animals, not so lovely animals, and pretty wildflowers. You will read inspiring messages written on walls and see tokens left by pilgrims past.
As much as I loved and look fondly on everything about this journey now, it was not without its challenges, including being doused in a downpour; picking up a nasty cold, a few painful blisters and pulled muscles; and spending a night with bedbugs. But, that's life, right? Even though walking the Camino solo feels like you are getting away from it all, it's still real life and you will have to deal with unfortunate things that come your way despite how well prepared you are. Luckily, there is always someone around who is willing to help and friends who find a way to make you laugh even in the direst of bedbug situations.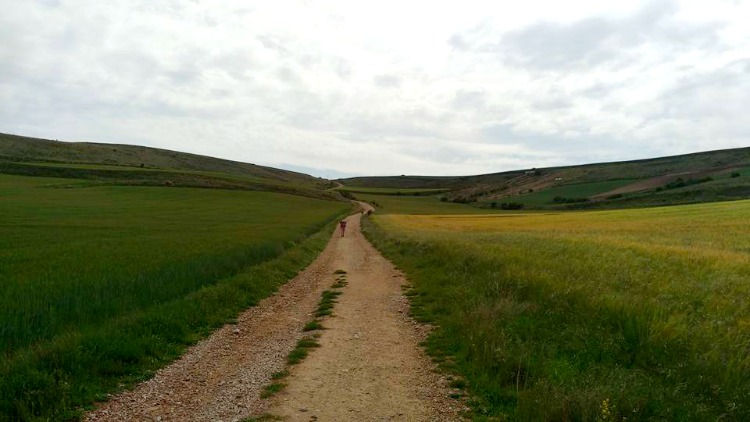 The Camino de Santiago in Three Parts
They say that the Camino is divided into three parts.
The first, through the Pyrenees to Burgos is gorgeous and mountainous with lush landscapes and even lusher vineyards (Hola, La Rioja!). This part is for the body. This was where I had to get used to walking 20-25 km every day with a full backpack and the part which had me questioning whether I could actually do this.
The second part, known as the Meseta, from Burgos to Leon, is a flat, agricultural area. Many pilgrims walking the Camino solo chose to skip this, but it was a beautiful part of the journey for me and a great rest for my body. This is the part for your mind. I loved the landscape, but honestly, there's not much to look at, so it forces you to look inwards, at yourself, at your habits and patterns, at the things you want to change. I also found that this was the time where I really started to let go and get in the Camino groove.
The third part, from Leon and through the stunning green hills and farms of Galicia to Santiago de Compostela is for your spirit. This is where I felt mentally and emotionally strong and refreshed and did not want it to end.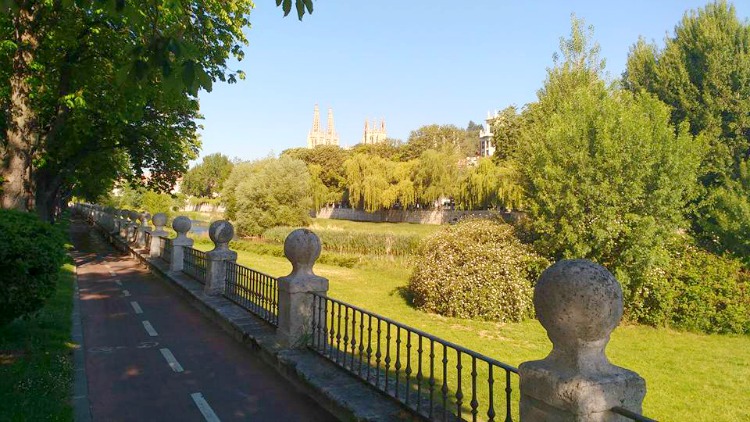 The best part of the Camino Frances for me was the dozens of fellow pilgrims I walked with, who honored me by sharing their stories and listening to mine, and who I now consider my lifelong friends. I will always be grateful to have them in my life and I believe I was meant to meet each and every one of them.
Many people speak about the Camino de Santiago being full of miracles and synchronicity. There is a mystical aura which is certainly palpable. Unlike others, though, I didn't really feel like anything extraordinary was happening to me while I walked. I can, however, say that this experience absolutely changed my life after the fact. It taught me what I can and cannot live without. It allowed me the space and time to reflect upon and work through the things I was struggling with in my life. It gave me the confidence and courage to make the changes I needed to make. Although everyone's experience will be different, I think everyone will come away with something valuable.
The Camino Frances is in a beautiful part of the world and experiencing it by foot provides such a unique and special experience. As a solo traveler, this is one of the most rewarding adventures you could take.
Considering walking the Camino solo? Read Cat's planning advice in Preparing for the Camino: What You Need to Know.