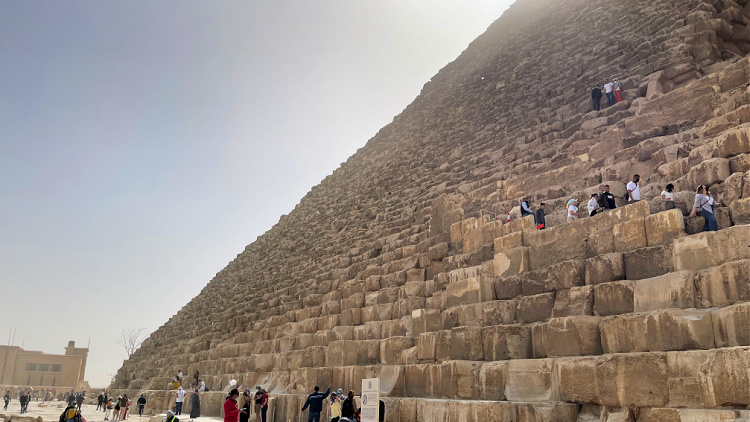 For as long as I can remember, I've wanted to visit Egypt and see for myself the wonders that have been left behind by the ancient Egyptians. I finally got that chance recently and I still can't believe I was actually exploring Cairo last week! It was also my first overseas trip in over two years, so that experience was surreal as well.
Pre-trip Anxiety and Advice
I'm no stranger to traveling, so I found it odd that I was so anxious in the lead-up to this trip. I had thought it was just because of my hiatus from traveling during the pandemic, but as my trip neared, I realized it was because this was going to be my first fully organized tour.
I usually travel independently, making all my travel arrangements on my own, occasionally booking guided day tours. This was the first time that I would be completely entrusting my plans to someone else, and not knowing the details really made me uneasy. However, recognizing this helped me get over the unease, as I fully trusted the tour company (this trip was sponsored by Exodus Travels) and knew they wouldn't let me down. For anyone else booking a tour for the first time, keep that in mind if you feel uneasy as well.
Any lingering reservations I had quickly went away once I landed in Cairo and was met by my Exodus Travels representative who helped me obtain my visitor's visa, get through customs, and find my hotel transfer. I was very surprised that he was able to meet me before I even got through customs, but he had a special pass that allowed for that. I was really happy to be able to finally shut off my brain after my 10+ hour flight and let him take the wheel.
If you are eligible to obtain your visitor's visa on arrival in Egypt, I recommend that you do that instead of obtaining one in advance. The process was quick, and from what I've heard, much easier than trying to navigate the process of getting one before you arrive.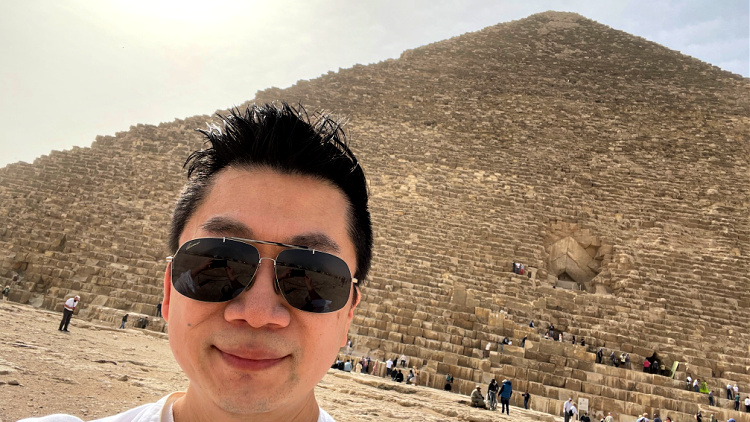 Exploring Cairo: A Dream Come True
Dreams do come true. Not only was I able to see the Pyramids of Giza and the Sphinx, I was able to climb on the Pyramids and go into one as well! I had no idea that this was allowed, and I've since been told that this wasn't always the case. It's free to walk on the Pyramids, after you've paid for admission to get into the complex, but to go inside the Pyramids one has to pay extra. Make sure you buy all your tickets before entering the Giza Pyramid Complex.
On the advice of my guide, I decided to go into the Pyramid of Khafre (which is the second largest pyramid) and not the Great Pyramid (it's four times the cost and my guide suggested it was not as good an experience as Khafre). You can see some shots from my visit inside Khafre on the Solo Traveler Instagram account.
The experience was mind-blowing. I mean, how could it not be? How often can one say that they went inside a 4,000-year-old tomb? They don't recommend that anyone who is claustrophobic go into the Pyramids as the tunnel to get in is a bit tight, and there's also a fair bit of crouching so anyone with back problems should consider that as well. Anyone who missed leg day at the gym will also get more than enough of a workout navigating the steep tunnels while entering and exiting Khafre.
My biggest surprise was that the walls inside the pyramid were plain and bare, but apparently the custom of decorating the walls of tombs didn't come about until later. It was still an extraordinary, once-in-a-lifetime experience that I highly recommend for all fans of ancient Egyptian history.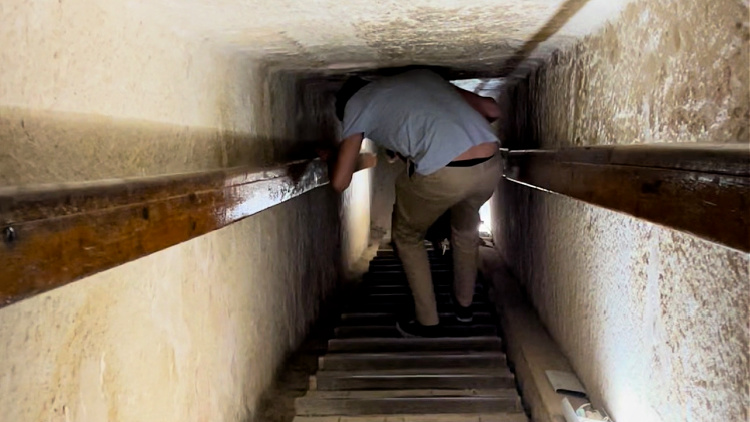 Sands and the Sphinx
While exploring Cairo, wearers of contact lenses should note that there can be a lot of sand being blown around at the pyramid complex, so you may want to consider wearing glasses during your visit. The sandstorms were so active that I pretty much left a trail of sand everywhere I went for the rest of the day.
The Great Sphinx is located near the Pyramids, so naturally, any visit would include both. While the Pyramids were about the size that I expected, the Sphinx was a bit smaller than I had envisioned, though still breathtaking.
Something I realized when I was there was that one always sees pictures of the front of the Sphinx, but never the back. So, I made sure to go and observe the back of the Sphinx. Warning to those who decide to venture to the back end of the Sphinx: the winds there are quite a bit stronger and you'll be treated to an intense microdermabrasion treatment.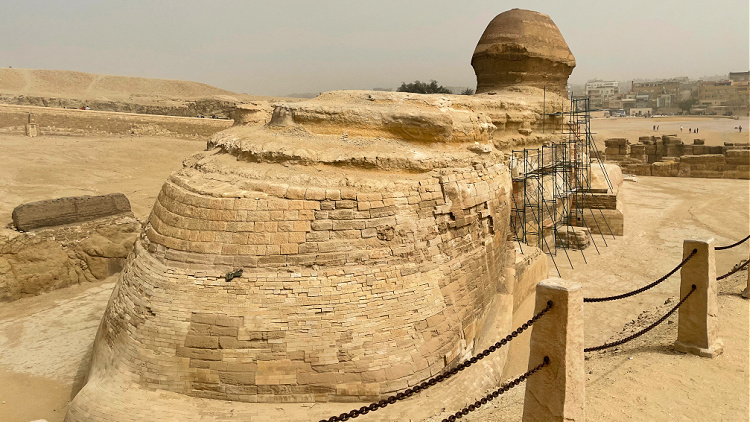 Antiquities and a Bazaar
While in Cairo, we made a stop at the incredible Egyptian Museum, which houses the world's largest collection of Egyptian antiquities and the fantastic riches from the tomb of King Tutankhamun! However, I was happy to hear that King Tut's mummy wasn't at the museum—he was resting peacefully in his tomb at the Valley of the Kings.
The day wrapped up with us visiting Cairo's famous Khan El-Khalili bazaar where shopaholics and professional bargain hunters can engage with some of the most colorful vendors I've ever encountered. Their reputation of being very aggressive sales reps is true, but as long as you keep it all in good humor, and just walk away if you're not interested, it doesn't have to be an unpleasant experience.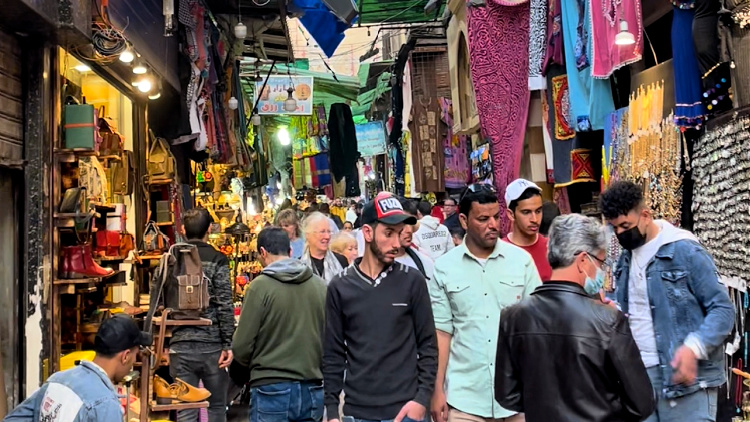 The Value of a Guide when Exploring Cairo
I am so thankful that I was on a guided tour for this trip as it would definitely have been a headache to try to figure out everything on my own. Even just the logistics of getting from one site to another would have been challenging, and I'm sure the language barrier would have further complicated things.
While it's not impossible to figure it all out on your own, I would recommend the services of a tour guide to make your life less complicated. Additionally, a good guide also provides a wealth of information about each historical site that helps to paint a fuller picture of the significance of each artifact.
Finally, as you may already know, don't drink the water! You'll instantly recognize the scent of Cairo's tap water as it resembles that of pure chlorine! You may even assume that no bacteria could live in pure chlorine and decide it's safe to drink, but I'm here to say, don't do it. While the locals do drink the water in Cairo and the chlorine probably does kill all the microbes, the high levels of chlorine are likely to upset your stomach.
Exploring Cairo was just the beginning of my trip to Egypt. For more, see Solo in Egypt: Cruising, Temples & Murder Mysteries and Visiting Luxor and the Valley of the Kings: Best Tombs and Temples.
Thank you to Exodus Travels for sponsoring my trip on their Nile Cruise Premium tour. All experiences and impressions are my own, and Solo Traveler maintains complete editorial control over all content.