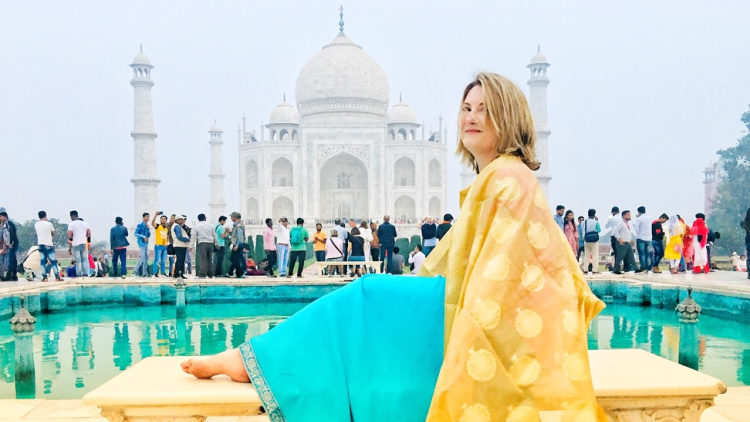 I'd like to introduce you to Mariellen Ward, one of our guests in the Solo Traveler Insiders Speaker Series. Mariellen started travelling in 2005 with an epic six-month trip exploring India. She was both following her dreams and trying to recover from depression following a series of devastating losses.
On that first trip to India, Mariellen fell in love with travel, with India, and with travel blogging–and she has been doing all three ever since. She has spent more than 6 years of the last 14 in India, and now lives in North India — in Rishikesh, the Yoga capital of the world. Though Canadian by birth, Mariellen considers India to be her "soul culture". With her travel blog, Breathedreamgo, and her custom travel company, India for Beginners, she tries to encourage and help other female travelers to go after their dreams.
We recently interviewed Mariellen to find out a bit more about her story.
If you can think back to 2005 for a moment, what led you to choose a six-month trip exploring India?
When I chose to go to India for six months in 2005, it actually didn't feel like a choice at the time; it felt like a compulsion. I was taking a yoga teacher training course in Toronto and struggling with depression in the wake of several devastating losses in my life. One of my yoga teachers had recently returned from India, and he really impacted me. Perhaps he brought the energy of India with him! Anyway, I felt a sudden desire to go to India, a place that had always fascinated me. It was like hearing a loud inner voice, and I did not dare refuse. It took me 11 months to save and plan, and when I finally got on the plane to Delhi in December 2005, I was a mass of nerves. I was so nervous; I almost didn't go! But now, I shudder to think what would have happened if I had refused the call to adventure.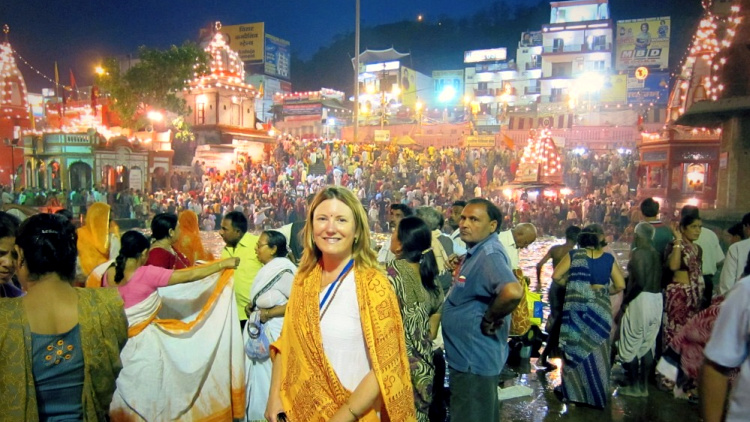 What are some of the most important things you learned (about yourself, about travel, about life) from your first solo trip to India?
My first trip to India was life-changing in so many ways. For starters, I felt a surprising affinity with India that I didn't expect. I fell in love with the culture, the people, the landscapes, the adventure of travel – everything. I also overcame my depression and felt re-charged. I started writing from my heart, for the first time in my life. India was (and is) like a creative muse to me, and it inspires me to try to capture the experience of travel there in words and images. I felt spiritually awakened, which really helped me to deal with the grief I felt over my mother's sudden death several years before my trip. Perhaps most of all, I developed a lot of self-confidence, really learned to trust my gut instincts, and just generally grew to feel more whole and better able to deal with life's challenges.
Do you recommend exploring India to solo travelers?
I recommend India to travelers who feel CALLED to go to India. It is not a casual vacation destination. Travel in India is an experience, it is transformative. It is perfect if you're ready for it and open to the experience. It is very difficult if you are not.
There are a couple of reasons for this. One is the culture shock, which is extreme. India lights you up like a pinball machine. It can really be a shock to the system, and can force you to confront yourself, especially your biases, notions, preconceived ideas, etc. Another main reason is that travel in India is not easy, it is confusing and frustrating to the uninitiated – and you can lose a lot of time, money, and patience trying to navigate it yourself. On top of that, it's very hard to know who to trust. I'm sorry to say there are some very unscrupulous people operating in the travel industry, and it is not uncommon for newbies to get ripped off. This is EXACTLY the reason I started my custom tour business and called it India for Beginners.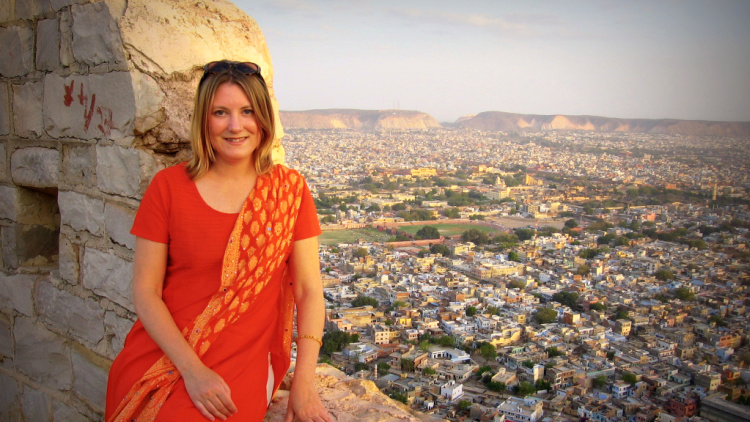 Now that you've been living in India full time, can you share with us some of your favorite local dishes (and maybe a recipe or two)?
We all know Indian food is delicious! Not everyone knows that it is also extremely diverse. North Indian food (e.g., butter chicken) is completely different from South Indian food (e.g., dosas). In the north, it's all about rich sauces, tandoori BBQ, and wheat bread – rotis and chapatis, and parathas – and in the south, the cuisine is rice-based, so you get idlis, dosas, and the like. Here is a list of top 20 Indian dishes with recipes so you can try them at home.
What is one piece of advice you would share with a solo traveler contemplating their first trip to explore India?
The most important tip I have for those contemplating a trip to India is to look both within and without. Look within to make sure you're ready, and to try and rid yourself of preconceived notions. It's much better to be open to the experience and accept what happens and roll with it. Things DO NOT go as planned in India, but, hey, that's the fun! Also, do your research. Do not rock up in India knowing nothing. It's a disservice to you and to the country. India's culture is rich and timeless and deserves some study. It will also be safer and more satisfactory if you know where to go. I do not recommend first-time visitors stray from the well-traveled tourist route unless you are invited or hosted by someone. Having someone local holding your hand in India goes a long, long, way to helping ensure you have a great trip—another reason I founded India for Beginners custom tours.
What's coming up next for you?
Like most of us, I'm grounded at the moment, waiting for things to change and for the pandemic to recede. However, I'm still moving forward in my planning. I'm in my home office in Rishikesh currently, working with my India for Beginners partner Anjani in Delhi. We're planning some very exciting trips for later this year and next year. They include festival-themed trips around Diwali (the Festival of Lights) and Holi (the Festival of Color). There will also be a tiger safari tour to the incredible lush jungles of Central India—these are the jungles that literally inspired The Jungle Book. And we are adding our first international trip, Nepal for Beginners, too. And, of course, I am always publishing new posts on Breathedreamgo—usually I focus on Canada, India, and destinations in Asia.
We talked to Mariellen Ward about her love affair with India, solo travel, and life in Rishikesh as part of the Solo Traveler Insiders Speaker Series. Members can access a recording of the session at any time. If you'd like to join and receive invitations to future events, access our video library of interviews with travel experts, and take advantage of other benefits and discounts, you can get all the information here.