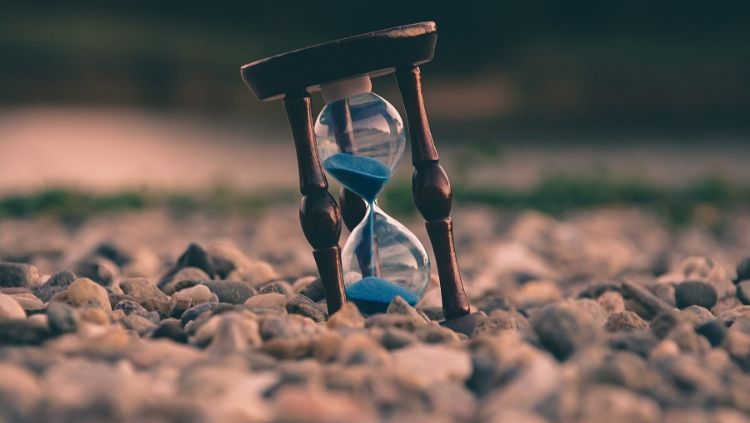 Finding time to travel is a significant challenge for many readers.
Time and money compete for top ranking in what holds you back most from more travel. Since I've written a number of posts on the issue of money, I now want to take on the challenge of time.
To a large degree, the time we have available for travel is affected by our values and the time demanded of us to act on them. Whether and how we respond to these demands on our time reveals what we hold important in our lives. Finding the time to travel is about our values and the type of life we want to live.
"Life is art. It's about making something timeless out of limited time."*
The memories of your travels are timeless. But then so are the joys of relationships and the meaning and satisfaction of work or volunteering. The question is: what kind of art do you want to make of your life? Assuming that your work of art will have competing priorities, only one of which is travel, below are some tips to help you capture as much of it as possible.
Finding Time to Travel Can Improve Everything
Research suggests that there are four main factors that affect how much time we have for travel – or, for that matter, for making our life a work of art.
Work (our present and future need for money).
Career or vocation (the need to create our identity).
Responsibilities to family (my definition of family extends to anyone we may care for).
What other people think (the need to feel respected).
Each of these is important, however, pursuing activities that increase your happiness is important too.
Sound selfish? It isn't.
A research survey done at the University of California in 2005 called The Benefits of Frequent Positive Affect: Does Happiness Lead to Success? suggests that numerous studies show that happy individuals are more successful in life, including marriage, friendship, income, work performance, and health. In other words, you'll do a better job at work, as a caregiver, or as a student if you're happy.
Budgeting Time for Travel
We budget money for travel. For most of us it is possible to budget time for it as well.
First, give yourself permission to take time to travel. Yes, you have responsibilities, but that does not mean that you can't give yourself permission to take some time for yourself.
Once you've given yourself permission, you need to find the time on a practical level. Whether the demands on your time come from having a young family, being a primary caregiver for someone, the demands of work, career dreams, or your own business, here's how to find travel time within the realities of life and how to best use this time for a great travel experience.
Identify what is realistic within the constraints of your life. Does your life allow for a half-day to yourself every week, a weekend once a quarter, or three weeks every year? Given your responsibilities and your aspirations, define how much time you think you can and should have. Be creative.

Perhaps you can combine some vacation time with public holidays or even weekends to give yourself a more extended opportunity.
For those facing the challenge of having to visit family on those few precious vacation days, consider meeting them somewhere other than home and try to build extra solo time on either side of the family vacation.

Haul out a calendar/planner and look at it with the time chunks you've defined. Are you looking for the best half-day to take weekly micro-vacations or are you looking for three weeks all together just once in the year? If you are a caregiver, find respite care and choose your day based on its availability. If you're building a career, know the cycles of your workplace and plan for your multiple weeks of vacation during quieter times. You could even consider a career break.
Schedule your travel time. Inform all those around you when you will be taking time to travel so that they can plan around you as well.
Up next, a few ways to effectively spend the time you've found.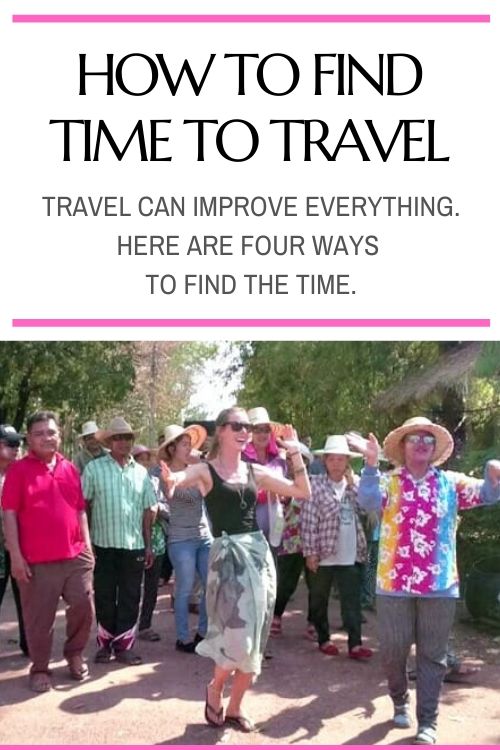 Four Travel Options for Those Without Enough Time
Micro-vacations
Micro-vacations are great for people who are seriously time challenged and have no way around it. Micro-vacations are four to twenty four-hour breaks designed to refresh and recharge you. Elizabeth Verwey of Office Mentors introduced me to the concept a few years ago. She suggests that her entrepreneur clients take a micro-vacation completely solo to gain the optimal rejuvenating effect.
Think of a micro-vacation as a staycation. The short time frame typically requires staying in your own town. Changing how you experience your hometown is the key to its success.
Change your focus. Eliminate television, computer activities, and cell phones. Go to the theater, read, or try a new restaurant by yourself. Choose something that you really enjoy.
Change your environment. Trade homes with a friend, stay at a B&B, seek out natural settings such as a park or garden, or discover a part of your city you've never explored before.
Change your pace. Walk or take public transit to slow things down.
Short Getaways
Getaways are usually two or three days long.
Don't go far. If you have to fly, try to stay within or near your time zone. Don't lose energy by trying to adapt to time zones for a weekend away. Consider the train. It's a leisurely form of travel and usually takes you to the city center, saving you transit time to and from airports. Try to make your transportation an enjoyable part of your travels.
Research before you go. Know in advance what you want to do. Is there a play you want to see, a museum to visit or a restaurant to experience? If you know what you want to do, you'll spend less time wandering aimlessly – though don't deny the value of the latter. Hanging out in a park or market people-watching can be an activity unto itself.
Relax. Don't over-schedule yourself. If you only have time for a getaway you are likely relaxation-time-challenged as well. Make sure you allow time to relax.
A Week or Two to Yourself
A week or two is the typical travel time frame for most people, so there's not much to add here other than to go. Go across time zones if you want and enjoy exploring the places of your dreams. Here are three tips to help.
Pack light. This way you won't struggle with moving from place to place or be out of pocket getting assistance from others. Read: Bare Minimum Packing.
Choose the destination that fits your travel experience. Read Best Destinations for Solo Travelers and check out these destinations recommended by other solo travelers.
Have fun. You may want to read: How to Travel Alone Without Being Lonely, How to Find Classes when Traveling Solo, Planning for Food and Wine Fun, and other posts on Solo Traveler.
* Quote by poet and aphorist, Simon Constam. Sign up here to receive Daily Ferocity, Simon's pithy observations about life, death, love, art, and travel. We look forward to his email every morning.