If you're considering your first solo trip, you will also want to read First Time Solo Travel: Tips for Newbies.
"At 54, I am still planning my first solo trip in my head…fear keeps halting me!"
Jane, one of the many members of the Solo Travel Society who has joined the group for the inspiration, motivation, and encouragement that the more than 220,000 members provide, but hasn't yet embarked on a solo trip, was frustrated. She wrote to me at a time when she was almost ready for a life-changing journey, but needed something to help move her from planning to action.
Enter the members of the Solo Travel Society.
When asked to provide some words of encouragement for Jane, they stepped up in a big way. If you, too, are poised in that position between desire and departure, read on! You may just find the advice you need to give you that final nudge to book your first solo trip.
Sharing First Solo Trip Stories
Everyone remembers their first solo journey. For some members, it was a long time ago, and there have been many more trips since. For others, the memory is still quite fresh. Almost everyone had some trepidation before setting out. Not a single person regretted doing so.
Steve I started solo travel 7 years ago at the age of forty-eight. My first trip was a backpack, the Amalfi Coast, and no reservations anywhere. It turned into what started a whole new outlook on my life.
I think the fear is very normal. It's not for everyone, but for those that do it, the rewards far exceed the fear or challenge. Once you take that first step, whether picking the days, or booking that airline ticket, the excitement will kick in. It's extremely invigorating and empowering. The personal strength you will gain from doing it, far outweighs the fear. Know there are so many people just like you out there doing this. I just returned from two weeks solo in Portugal and I still haven't come down from the experience. Embrace it. Good luck.
Judy It was booking the gorgeous hotel in Santorini that did it for me. It was so quintessentially Greek and though it was to be the last part of my trip, Santorini was the place I most wanted to go, so I booked it first!
Jennifer My first experience with solo travel was in Spain 9 years ago during a 3-day stint. I cried and was homesick until my mother was scheduled to meet me. I was 38 years old. Since then, each solo trip (Columbia, Copenhagen, Seattle, Italy, Mexico) has been increasingly more amazing. You have so much to learn about yourself. You can read, sleep, eat, and drink whenever you want. I write more when I'm alone. I learn more. I talk to other travelers. Choosing places to stay that allow for communication with other travelers, such as hostels, B&Bs, guesthouses, or even boutique hotels is fabulous. For a first trip I might suggest a place with no language barrier like the U.K. or Ireland. Once you do it you will love it!
Nancy I was 58 when I took my first solo trip to Mexico a year ago. I never thought I could or would enjoy traveling alone, but I ended up loving it. I chose to stay in an Airbnb with a wonderful family, just to have built-in local advice. I was on my own all day and because I was traveling alone, I met all kinds of amazing people. My self confidence skyrocketed and I finally understood why so many people tout solo travel. I went back to the same Airbnb this year with a friend and I must say that my solo visit was ten times more fun. Just do it!
Usha I started solo travel when I was 62. My first trip was 23 days in Vietnam. People were especially caring and respectful. The young women receptionists at the hotel took me out in their spare time to see night markets, and invited me to join them for dinner! It was a great country in which to travel solo as an older woman. I have been to Hong Kong, Ireland, Italy, and Paris since then. Keep family informed where you are every day, look for hotels that are centrally located in safe areas. Ask the hotel to send a car if you arrive at night. My best stays have involved booking rooms in somebody's house through Airbnb. You get all the local tips and have someone to come home to in the evening! We have even cooked our respective cuisines (mine is Indian) for each other. It's great fun, just do it!
Dee I felt so scared I was almost physically sick before I went on a year-long solo overseas sabbatical. The moment the plane took off, though, I relaxed. I was on my way and there was no turning back.
Judy I did my first solo trip 6 years ago at the age of 49. I live in New Zealand and I spent 5 weeks in Europe. That meant flying to the other side of the world. I drove through France and Italy, where they drive on the other side of the road. I'm so glad I did it, and it was the start of something I can be proud of. I've since been to Bali, Tonga, back to Italy for 5 weeks in Florence, and in a month I'm going back to Greece for 3 weeks. The first step is taking the first step. Yes, it's scary and I've found that feeling doesn't necessarily go away, but if you don't do it you'll always regret it. No one lies on their death bed wishing they'd seen less of the world. Do it!
Diane Think you can't or think you can- you are right! I'm 55 and I started with traveling solo within my own country. Then to Bali. Then the UK, Ireland, Europe, Thailand, and Hawaii: all solo. Why? I trusted myself enough to know I could and I did! Solo travel? I love it! Only way to go! Safe travels!
Helen Jane, just do it! I remember my first solo trip: I was 61 and I walked 800 km across Spain on the Camino. I sat at the airport and cried, thinking, what in the world am I doing? So I know what you are feeling. Several walks later I still draw on that experience and encourage other women. I say to them, "The bigger question is, what if I don't do it?" You will be amazed where your strength will come from. Good luck with your life's experiences.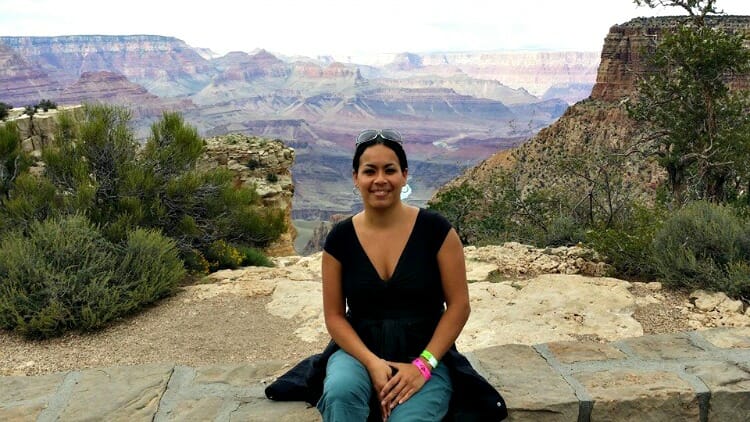 Start with Baby Steps When Going Solo for the First Time
Some Solo Travel Society members advised Jane to start small and build up from there.
Joanne The nature of confidence is that it only comes after you take the risk. I would recommend taking a small step first, like going to a local, unfamiliar city and finding your way around. I took my bike to a nearby city that I hadn't really explored and was wowed by all the things I discovered without maps and guidebooks. My last piece of advice is to actually address your biggest fear. Is it getting lost? Is it getting attacked? Whatever it is, go that extra step by adding an additional layer of security to help ease your fear.
Tom Joanne's first sentence is powerful. I travel solo often, and this is an absolute truth. It gets more fun after the first few trips alone when your confidence is up. After you've learned to not fear doing things alone. Dining. Buying one ticket. Asking someone to take your picture.
The first trip alone is the worst, and looking back, wasn't as bad as you imagined it at the time. You learn from your mistakes and each subsequent trip gets better.
Suzanne Baby steps are best, in my opinion. Maybe try to go solo by joining a group tour or a special interest journey (i.e. yoga or sailing escapes), or a cruise. You don't need to run out and go it totally alone (there are no medals). You need to go at your own pace and comfort level and that might be surrounded by people with the same itinerary but flexibility to have quiet moments and solo experiences too.
Tonya I started out with small mini-vacations, within driving distance. I then went much greater distances, either flying or driving for days. I wanted to go to Italy so badly but was worried about not speaking the language, getting lost, or encountering flight problems, but the desire was greater than the fear. I took a Rick Steves tour. You are by yourself but also have the backing of knowing someone is there. I loved it. I do get tired of people questioning me about being by myself but as I told one group of travelers at the Grand Canyon, "I could tell you a whopper of a story, but the truth is, I just wanted to see and do." I am planning my second trip to Italy for later this year. Just do it!
Elizabeth Take it slow. I did my first solo overnight trip to a place just three hours from my house. It was so exhilarating. After that, I was hooked.
Susan Maybe start small. I started with long weekends in Canada by myself when I was a teen. Even a staycation in the city you live in can build confidence. Book a hotel in a part of the city you've meant to explore but haven't. A solo camping weekend is also a good choice.
Dive Right In
Not everyone was a fan of taking baby steps – some people advised Jane to take the leap and dive in!
Charlie It only lasts the first couple of days. So don't think, "Oh, I'll just do a long weekend so it's not too much." You're not giving yourself time to overcome the anxiety. Go for 2 or 3 weeks, stress out for 48 hours, and then you're much better placed to truly enjoy the rest.
Mark Jane, I'm 54 too and I'm currently in Denmark after traveling across the US and Europe via trains and AirBnB. Even I get apprehensive every time I go to a new country. I was so worried about the US but guess what? Nothing happened and I had a great time. Just grit your teeth, jump in, and you'll have a great time.
Jennifer A journey begins with a single step. It's like getting into a chilly swimming pool: you can either wade in slowly, flinching as the cool water inches up, acclimating a bit at a time, or take a deep breath and jump in all at once. Either way you end up wet!
Just Do It!
If there was one phrase that could sum up the majority of the more than 150 responses to my appeal for some words of encouragement for Jane it was this: Just do it!
Linda I was 20 years of age when I first traveled 12,000 miles from home on my own. I wasn't one bit scared. You gain confidence along the way. Now that I am closer to 70 years of age, I find that you lose your confidence quite a bit. Having said that, in 2011 I went away for 4 months on my own. I booked several tours to go on whilst away so I did have company quite a bit, but I traveled to a few other countries entirely on my own. I still have lots to see in this world and other places I would like to visit again, so by all means just do it!
Alet Just do it! I'm 62 and I traveled solo in 10 countries last year with no advance planning. I planned my accommodation from day to day and I explored every country by word of mouth from the locals. I'm going back out soon to see the rest of the world. I never felt unsafe. Local people were amazing. If you don't know how and where, just ask! Even in Italy where a lot of people didn't speak English, they googled an answer for me. Staying at hostels you meet amazing people, no matter how old you are. They also help you with great info regarding places to see and they organize social evenings where people can meet and chat about the interesting places to visit
Megan Do it! You'll be nervous until you actually get your bearings but you'll get so much more out of your trip. And if you're anything like me, you'll kick yourself for not going, so just pull the trigger and go have fun!
Vanda Just go. Any fear will evaporate once you arrive at your destination and go out in the world with a smile on your face and the curiosity of a child. I'm 62 and have been traveling solo for decades
Ilona You will not get past your fear if you wait for it to go away. It will not disappear just like that. To get past it you have to go! That's all there is to say. It will be scary, but you will get past it.
Donna Go Jane Go! 74-year-old seasoned solo traveler Jane will thank you for taking the leap.
Annette It is the most freeing and wonderful experience. Trust yourself, trust your instincts and just go for it!
Mervyn Just do it, only then will you realize how much you are capable of.
Meghan Feel the fear and just do it. You will never regret it! Traveling solo liberates you in every part of your life!
Kelly Do the thing that scares you. Fear is short-lived compared to regret.
Sarah Reframe it: stop thinking of it as fear, and start thinking of it as excitement.
Neelofir Solo travel changed my life. It helped me to get over my beloved father's death. It gave me perspective into my crumbling marriage, which I eventually left. It gave me confidence and the guts to do anything I set my mind on. Do it! Life is short!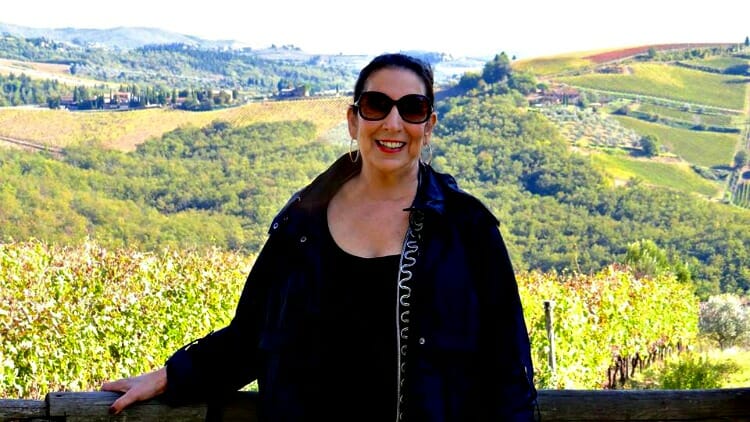 Words of Encouragement for First Time Solo Travelers
STS members really excel at encouraging their fellow travelers.
Nancy Friends tell me I am brave because I travel solo. I am not brave but I do realize that if I do not travel solo, I will not be traveling or only traveling once in a great while. My desire to travel pushes me through the fears and doubts. And Jane, the fears and doubts are always so much greater than reality. Go for it. I started solo traveling at 66 so age is not a barrier either.
Jan Do it. I am 54 and recently traveled solo to Europe for the first time. I visited Finland and Ireland. I know now that I can travel solo, did wonders for my self confidence. You can do it.
Steven Regret is one of the worst feelings for me. I have been traveling solo since 2010 and I still have some anxiety when preparing for another trip (Alaska in 2 weeks). But once out on the road, it all comes together. Relax. Breathe. Enjoy. Savor.
Felicia Jane, my heart goes out to you. The feeling you will get once you conquer fear will be unique and exhilarating. Embrace it. Best of luck to you!
Patricia I'm 72 and still traveling solo. I always meet the nicest people and learn so much everywhere I go. Tell yourself you can do it, and you will.
Tricia Go, Jane, Go! Don't put it off one more day! Plan well and put that fear behind you. I was terrified before starting on my first cross-country solo drive. But as soon as I began to drive, the fear evaporated, and euphoria replaced it! Don't wait! GO GO GO, you got this!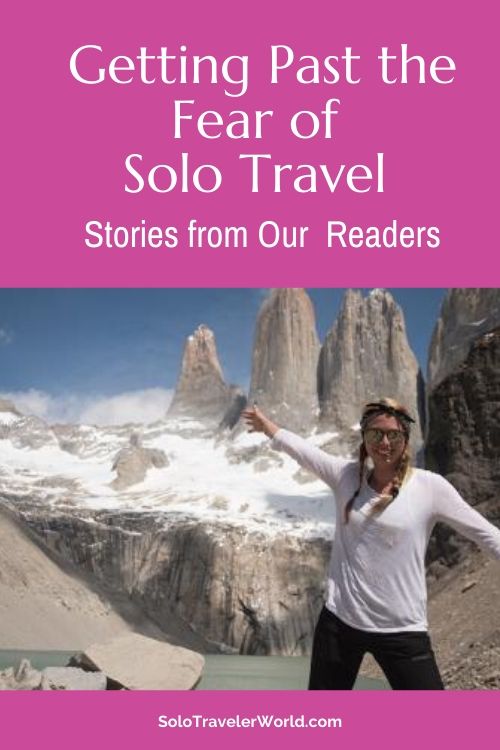 Ron The emotions and feeling that you have when you are traveling will be very different from the emotions and feelings that you have while sitting at home, waiting to travel and hearing about "foreign" places. So many people overemphasize the fear factor, probably because it is in their very natures to be fearful of things.
With the exception of areas of active militarized conflict, these places are really little different than the place you live now in terms of risks and dangers. People are just going about their lives, making money, caring for children and loved ones, socializing, and having fun.
In my experience of "solo" travel, I am always surrounded by potential partners in crime who are basically doing the same thing that I am doing. You may leave on your own, but if you choose, it will not be difficult to find partners for dinners, activities, and even sub-trips within your overall trip.
Linda I am in the same position but quite a bit older. It's natural to be anxious (as I am) but if you don't go the regret will be so much worse.
Mona I did my first solo travel to Europe and Britain at 55, staying in hostels and backpacking. I went to Greece for 6 weeks last year and am planning another trip for this year. I'm scared to death every time I get on the plane. It pushes me beyond my comfort zone, but I love it. Face the fear—don't let it overwhelm you.
Tori "The fears we don't face become our limits." (Robin Sharma) Jane, trust me–you're going to be fine. I've done two solo trips on my own now and it's much easier than traveling with others. You can go everywhere you want, you can do everything you want to do, you can sleep in if you want to and not worry about others!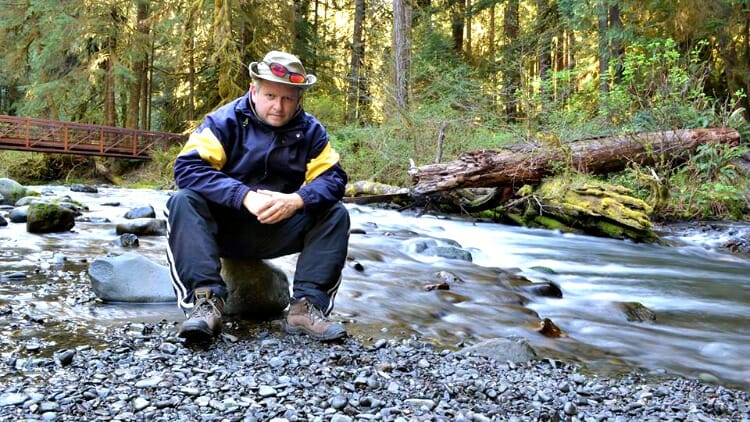 There Is So Much to Gain from Traveling Solo
The gains from a solo trip so far outweigh the fears and anxiety you might experience at the outset, and these solo travelers wanted to assure Jane that she would not only love the trip, but that she would learn much about herself and the world by going alone.
Lee-Anne There's a certain joy to traveling alone. It forces you out of your comfort zone, and that's when the real fun begins. There is so much to gain personally by going alone, even on a short trip. Just take the usual precautions, be sensible about where you go and when. Age has nothing to do with it. I didn't think I could ever go alone to a pub or restaurant to eat, overseas, but I did just that. Never had a problem. There will always be someone you can talk to. A word of warning: when you come home, your feet will itch, and you won't be happy until you go again!
Natalie You will feel weird the first time, and that's okay. But you'll also realize that you can do anything, at any time, with anyone, and however you want. That is truly priceless.
Su It's okay to be afraid and nervous–but don't let it stop you. Solo travel is a gift to you. Be open and embrace it, go with the flow, and enjoy the moment. You will be surprised what this trip will do to you. I just returned from a solo trip to Florence and it was awesome. I met so many lovely people. Go for it – you will love it!
Susan Only know that once you do this you become fearless. My first solo trip was to Kathmandu at age 40. Fifty States and 35 countries later, retirement has given me the opportunity to really continue to see the world.
Sarah It's the best thing you will ever do! It's liberating! It makes you free and it makes you strong. You will never, ever regret going it alone. It's one of the best feelings in the world!
Katelyn Once you take that first step, any doubts will fall away. Going on a solo trip is an amazing thing, something you will remember forever. Take the leap!
In this course, in seven weekly emails, we'll help you with the practical aspects of travel. We'll help you develop travel skills, build travel confidence, and cultivate money strategies so that you can travel more. We'll also point you to your youth. We'll help you rediscover the wonder you had as a child so that it may resurface and infuse your travels with new richness and fun. Learn more about The Wit & Wonder Travel Course.
Planning Tips from Seasoned Solo Travelers
Solo Travel Society members had lots of great tips for taking the edge off the first solo trip jitters.
Kathy Can you mix it up? I don't know what you are planning but there are some tours where you can be part of a group and at other times be on your own. Or check ahead to find group activities. For instance, the first time I went to Florence, I was on my own. I found a series of informal evening art lectures for tourists. Very relaxed, great fun. What are your interests? You could go somewhere and take a language, cooking, art appreciation, or scuba diving class. It is nerve-racking to start, things will sometimes go pear-shaped, but it'll be worth it.
Micheline I find that planning is my friend. If I know what to expect, my fear goes down. I'm not sure what frightens you most, but perhaps it would help to make a list. "I'm most afraid that I'll get lost." Well, not if you have GPS. "I'm most afraid people will pity me." Listen, no one is thinking that. There are counterpoints for all your fears. You can do it!
Mel So true! I also find that the pity perspective can be my own false doubts. Most people say they can't imagine going alone but what they really mean is they may not have the courage to go alone. Unless they're footing the bill, don't worry about what anyone else thinks. Just go!
Heather Research where you would like to go. Seek out places where solo travelers sleep. You will meet many people doing exactly the same thing. I traveled Italy using hostels as accommodation. At the age of 51 I found so many women doing exactly the same. You won't be alone for long. Follow your gut instinct and go.
Bev Your fear will diminish, then vanish as you accomplish. As you feel more secure in trips to come, you can start to wing it. But for this first time why not pick something or someplace that you've always yearned to see so the "pull" is strong. Familiarize yourself with the different ways to get from and to the airport or dock and how to get around town. Look at a local map and find hotels that are central to the things you really want to see, and near local transportation if you aren't renting a car. Once you have your "connections" in your mind, it takes away so much of the concern and hesitation. Pick up a business card from your hotel and keep it with you–if you get lost you can always ask how to get back to that address. Use your common sense and build on it. But most of all, just love this thing you're doing for yourself.
Mimi Start "easy" with a country where you speak the language, or a destination you've always been interested in. Take a day to get your bearings (I always scope out the coffee shops my first day and choose "my" shop & table). If you're going to a big city, take the Big Bus tour!
Travel needn't be scary. There is no reason to completely leave your comfort zone – though venturing out a bit is absolutely essential. Maybe just start with buying a travel guidebook for the place you'd like to visit. Circle your top 3 spots to see. Make a plan. Choose your guesthouse/hostel/5-star resort and go from there!
Pack light, wear sensible shoes, and have a little faith in humanity. The world isn't as scary as you've been led to believe.
Lynne I have traveled solo for years, and I'm not a person who talks to lots of people, or tries to make friends, although I have met some great people. I say this because if you just go, you never know who you might meet, or what you will see. Before I set off I did lots of research, so I knew as much as I could about where I was going. I took guide books with me. I started on the first page and saw everything. I never wandered around late at night. If I wanted to go somewhere smart I walked in as if I owned the place and had a glass of prosecco on a beautiful hotel terrace. I went out for meals. Sometimes you feel a bit alone, but the plus side is you don't have to sit in a bar or restaurant for hours with someone who bores you–you can go outside and see the world. Do it, girl!
Karen There are several ways to travel 'solo.' You can sign up for group tours for single travelers that have a roommate matching service. Or you can go totally on your own. Pick someplace you speak the language for your first go! It doesn't have to be an active or backpacking trip. Go stay in a city at a nice hotel. Sign up for a bus tour to get familiar with your surroundings, or free walking tours (food/wine tours are great). You're still by yourself but there will be others around you. I like to stay in a nice B&B within walking distance to tourist sights. There are fewer guests but they are usually sociable over breakfast. Generally, the hosts have a wealth of knowledge on what to see and where to go locally. Just do it!
Go, Jane, Go!
This was a very popular line that popped up again and again in the responses to Jane's predicament. She was very appreciative of all the support–in fact, I think she may be on her very first solo adventure right now! Hopefully, she will let us know how it all went. Please tell us about your first solo trip in the comments section below.