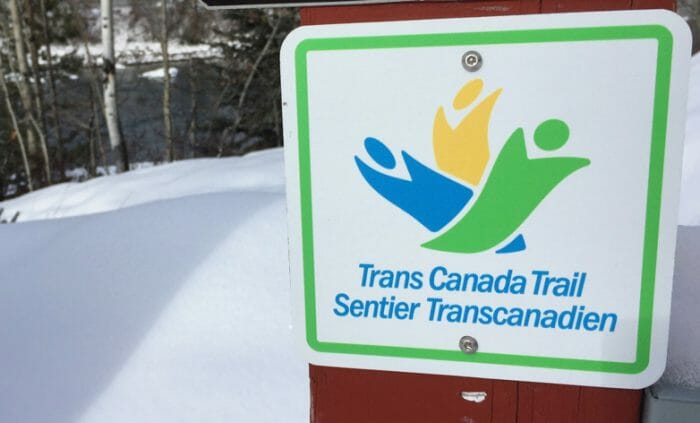 There has long been a passion for traveling the breadth of Canada.
From the canoe routes of the voyageurs in the 17th and 18th centuries, to railroad building in the late 19th century, to the completion of the Trans-Canada Highway in 1962, navigating across Canada has been a challenge and a preoccupation of Canadians.
Now that we finally have it sorted with air, road and rail travel we've gone back to the land and are in the process of completing, during Canada's 150th anniversary, the Trans Canada Trail that has been renamed The Great Trail. It is now 91% complete and covers 21,500 km.
This is actually the consolidation of many existing trails along with new connecting trails. It's diverse. Parts of it go through National and Provincial Parks, some are on water and require a canoe and some go through major cities. I walk part of the trail along Lake Ontario most mornings I'm at home.
As I travel Canada I try to pick up parts of the trail which I did when I was in Whitehorse last month.
Navigating the Great Trail
Before I share with you the beauty of the Whitehorse section of the trail I want to share the best tool I've found for navigation.
The Great Trail app is available on Google Play and the App Store. Allow the app to know your location and when you open the app it will show where you are and where the trail is near you.
You can map out and measure the trail portion you plan to hike and you can track your actual activity when you're on the trail.
Click on "Map" and then click on the trail in your area that you want to take. The name of the trail will show. Click on the name and you'll receive a description of the trail and a chance to upload photos that you take. Click on "Directions" and you'll be taken to a map showing how to get to a trail entrance and where to park. It's not all in the most intuitive order but it is all there which is fantastic.
The Beauty of the Trans Canada Trail in Whitehorse
I spent much of my trip to Whitehorse in a blizzard. It's not the best weather to hike solo in a new area. But on the last day I awoke to sunshine and though I didn't have a car, a section of the Great Trail was but a few blocks from my hotel. I headed over. Here's the story of my complete trip: Solo Travel to Whitehorse: Highlights & No Lights in Canada's North. Here are the photos I took that spectacular day on this short urban section of the Great Trail.