Accommodation is one of the biggest budget items for solo travelers. We can expect hotel prices to be higher now as companies try to rebuild after almost two years of drastically reduced revenue. Here's another option to consider. Nola Beard has exchanged homes 25 times. Here's what she has to say about the experience along with some tips for getting started.
An Exceptional Arrival
The neighbor walked us up the stairs, unlocked the door and handed us the key. He took his leave saying, "Don't hesitate if you need anything, okay? Enjoy your stay!"
Thanking him, we picked up our luggage and turned the knob. We stepped into a grand foyer: towering ceilings, a staircase rising to who-knows-where, and dramatic alabaster light fixtures above gleaming wood floors. To the right, through 12-foot French doors, was a sitting room.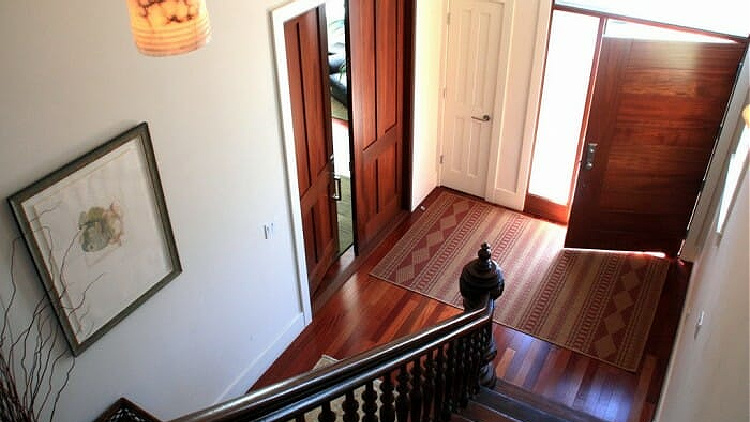 A little wide-eyed and, if I recall correctly, speechless, we turned left with the unspoken intent of finding the master bedroom to drop our bags. Inside the first door was a welcoming bedroom with a queen-size four-poster bed and bright windows. There, on our right, was a pristine en suite bathroom with custom tile tub. Wow. Fabulous! Suitcases forgotten, we turned back to the hall.
This wasn't a vacation rental, it was a home exchange.
While we were spending the week in this 5000 square foot home in the middle of San Francisco, California, the owners were staying in our condo in Vancouver, Canada.
This was our tenth home exchange, and we've done another fifteen since.
Why Home Exchange?
Home exchanging (also known as home swapping) is trading your home with another traveler. You stay in their home and they stay in yours. Why would you want to do this?
Because you stay free! It's the best travel deal going. Given the cost of a decent, centrally located hotel in San Francisco at the time, conservatively, that seven night exchange saved us $840. At that rate our 25 home exchanges, and 166 free nights to date, mean $20,000 saved.
With each swap you can enjoy the comforts of home. Or, consider it a hotel room: never touch the kitchen or laundry. Instead, dine in restaurants and visit a spa.
Then there's the solo traveler bonus: no single supplement is ever charged! And it's always nice to not just have a local connection, but someone handing you the names and numbers of locals should you need them.
How Does it Work?
Home Exchangers usually use members-only exchange websites (typically $120-150/year). They list their home, search for homes in destinations they want to visit, and send and receive offers. It's not pioneering anymore; one site has 40,000 members worldwide.
Swaps can be any length–a weekend, a week or a year–and nearby or on the other side of the globe.
Who Can Home Exchange?
Most people with a home can exchange. Generally, swappers consider exchange partners to be house-sitters or house guests, but condo and co-op owners, and renters, should check for restrictions.
Beyond that it's pretty basic: a home must be clean and in good repair. Modest to deluxe, rural and urban, all kinds of homes are swapped. A city dweller might want a farmhouse retreat, and empty-nesters with a family home may welcome a small urban studio.
The Drawbacks
Two drawbacks come to mind. The first is that sometimes you don't find an exchange where and when you'd like to (so take advantage of opportunities as they appear). The second is adding a "home exchange deep clean" to your pre-trip to-do list. But a cleaning service can help with that and returning to a super-clean home turns a negative into a very welcoming positive.
Six Tips for the Curious
If your interest is piqued, here are six tips to get you started:
List and see. Tempted but unsure? Listing your home doesn't obligate you to swap. List, assess opportunities as they arise, and then decide.
Choose a Home Exchange Website. Editor's note: I use HomeExchange.com but there are others to browse and compare for features, what homes are offered in destinations you want to visit, and what's included with membership. So far, HomeExchange.com has served me well.
Post a Helpful Listing. Read other listings. What questions do you still have about their home? In your own, answer those questions!
Post [lots of] Pictures. Include at least one current photo of each room, clean and tidy.
Search and Send. Don't wait for offers! Search and then send offers, too. Not everyone responds so don't be disappointed.
Make the Rules. Your home, your exchange, your rules. Decide what you're comfortable with (children? pets? smoking?). Only accept an exchange that works for you. Exchanging should reduce vacation stress, not create it!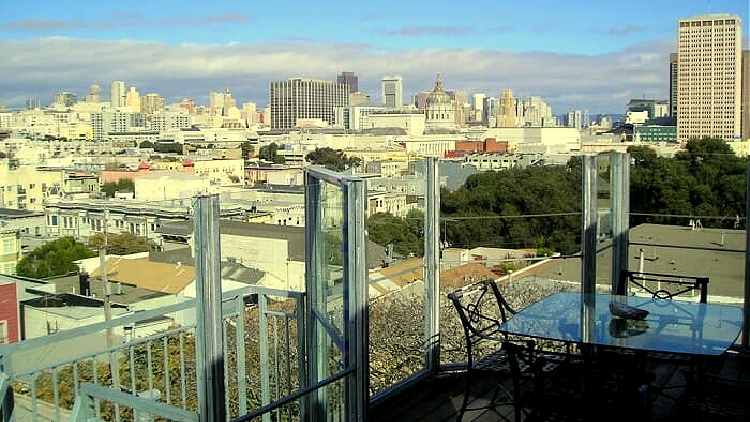 The Rest of the Story
We left the master bedroom and continued down the hall. The door at the end was ajar and we walked into…the Master Suite: larger still, tall ceilings, a bay window, refined furnishings, fine art, an enormous walk-in closet, and a luxurious bath with double sinks and deep-jetted tub. We started to laugh and then quickly retraced our steps to the guest room and our luggage. We'll take the real Master Suite, please!
On return trips to San Francisco we've shared lovely evenings with these exchangers, catching up over dinner and (inevitably) talking travel. [Special thanks to them for providing these photos.] They have a standing invitation in our home, too. It seems that by nature exchangers are welcoming, curious about the world and willing to step out of the box. Home swapping is a pretty spectacular way to meet like-minded people.
My Take
Home exchanging is what you choose to make of it. Dabble or dive deep, it's up to you. Either way I'm fully convinced you'd come out ahead with more travel savings, more travel options and maybe even some new friends.
Home Exchange Tips from the Solo Travel Society
I asked members of the Solo Travel Society, our great group of travelers on Facebook for tips and advice from their home exchange experiences. As always, they had great information to offer.
Stamie – Greece
I am an experienced home exchanger. For a few years, I exchanged my home in Charleston, South Carolina and now I exchange my home in Athens, Greece. You have to be discerning. I have had nothing but good experiences, both as the exchanger and the exchangee. I've stayed in Ireland, London, Madeira, Malta, Greece (before I chose to live here), Italy, Portugal, and Spain, plus Florida, California, and South Carolina in the United States. It can be a win/win. Not once have my exchanges been simultaneous, and I've banked a few destinations. I use the HomeExchange platform.
Jenny – Australia
I think setting up a home exchange has become easier with video calling. I did a few exchanges in the early days that were not at all as they had been presented—one wasn't even the same unit. But now you can easily do a video call to show each other the tricks of your home and to check that the home on offer is as described.
You need to investigate public transport options, uber costs, and the like if there is no car provided. If there is a car in the swap, make sure your name is on the insurance and the company is aware that you are not a citizen (if it's overseas travel). You can come very unstuck very quickly with car insurance.
Typically, I tell them that someone will drop in on them at some point to check all is okay and that is also to put my mind at ease.
I've also asked people with homes way better than mine if they would be interested in a cash rental and have scored a few rippers like that. Usually if someone is prepared to swap, they are open to a cash deal as well. We got what looked like a lovely home in Coral Gables for 10 days once that ended up being a mansion on the water (we had the mother-in-law suite with full access to the pool and gardens) and by me disclosing info about us to describe who we were, the gentleman was excited to learn that my husband worked with boats. Knowing that, they asked us to stay a few extra days after they returned and we all enjoyed a few days out on the water as their guest.
Usually, you wouldn't apply for a swap that doesn't match your home level but location can be a big factor in that. We have a one-bedroom Queensland cottage that is very funky in style, but we are a five-minute walk from a stunning Gold Coast beach and have cafes and restaurants all around us. I mention that in my application and that has swung some great home swaps our way.
Nancy – United States
I did a home exchange for a year as part of a teacher exchange, and it went really well. Here are my tips:
Check out exchange references or use a reputable group.
Leave specific instructions on appliances, mail, house care, etc.
Speak directly with your exchange; make personal contact.
Put away things that are valuable and/or personal.
Take care of the place you stay as if it were your own.
Have fun!
For more on travel accommodation, see Best Accommodation for Solo Travelers.
Here are some popular home exchange websites to check out to get a feel for how it works: