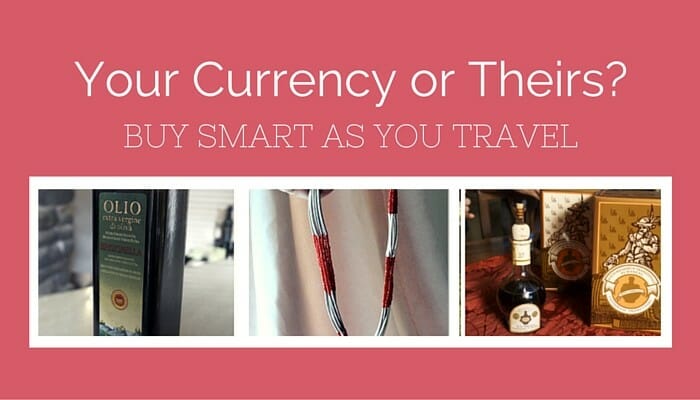 Earrings and scarves.
Local food and wine.
These are my go-to souvenirs.
And the question I'm now being asked more often than not is: "would you like to pay in your currency or ours?"
If you pay in your home currency, you will know exactly what number will appear on your credit card statement. That's handy. But it also means that you will pay more for the item than if you paid in the local currency.
Read on for how this works and other ways you can save.
Your Home or Local Currency? Go Local.
After researching the financial sites I'm happy to share with you the best ways to cut costs on your foreign purchases.
Let's start with fees.
Foreign transaction fees. This is a fee that is charged by some credit card companies for transactions made in currencies other than the currency of the card. This fee does not relate to the merchant and is not typically affected by your choice of currencies for the transaction. Make sure you choose a card for your foreign travels that does not have a foreign exchange fee which is typically 2.5-3%. The Amazon Prime Visa Card (US) and the Home Trust Preferred Visa Card (Canada) have no fees and no foreign transaction fees. Both also offer cash-back rewards.
Currency Conversion Fee or Dynamic Currency Conversion (DCC) A currency conversion fee is charged by credit card companies when your purchase lands in your account in your home currency. It can range from 1.5% to 3%. I don't know anyway to avoid this. A DCC is a currency conversion fee charged by the merchant's credit card processing service when you make a purchase in your home currency rather than the currency of the country you're in. A merchant must ask your permission before charging you in your home currency because a DCC is typically higher (possibly double) a standard conversion fee.
It all adds up. 
If you don't have a credit card without foreign transaction fees, you will be paying 2.5-3% for the pleasure of making a purchase.
Hidden in the charge that shows on your credit card bill (which is in your home currency) is a currency conversion fee of about 1.5-3%. To my knowledge, this is unavoidable.
If you choose to pay in your home currency rather than the local one you'll pay the DCC which is essentially a higher currency conversion fee. This can double the currency conversion costs.
So, over and above the cost of your item, by paying with a credit card you could be adding up to 9% to the cost of your item.
If you have a credit card with nor foreign transaction fee and choose to pay in the local currency you could contain that extra cost to 1.5-3% which is comparable to paying in cash with local currency that you had to buy with your currency.
The above just reflects fees. There is also the exchange rate. I can only find speculation on this matter but it appears that your worst exchange rate will come from the DCC, the merchants processing system.
Bottom line.
When asked whether you want to buy in your home or local currency, answer local.