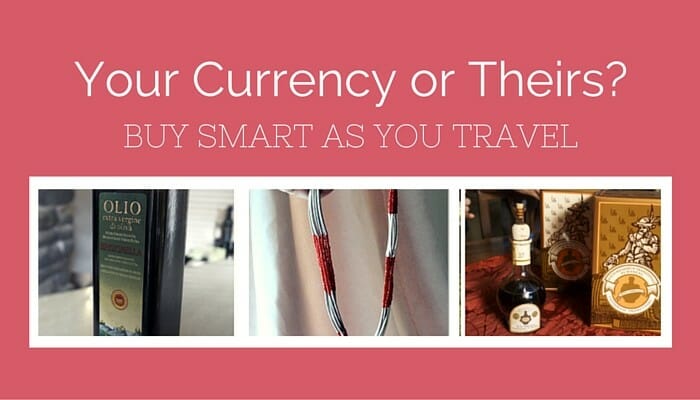 You have consistently told us that money is the main reason that you don't travel more. #FinancialFridays to the rescue! Come back every Friday for tips and advice to help you travel longer, farther, and more often.

Earrings and scarves.
Local food and wine.
These are my go-to souvenirs. And they are perishable – in the sense that they get eaten or lost.
But still, they are bought on occasion. And during the purchase a new question has started to arise: "would you like to pay in your currency or ours?"
The first time I was asked this I hesitated. What was the meaning of the question. And then I chose theirs despite the opportunity to know exactly what I would be charged on my credit card when I got home. The reason: it's unlikely a store would offer this option unless they were something in it for them.
And I was  right.
Your Home or Local Currency? Go Local.
After doing some research I'm happy to share with you the potential incremental costs you may incur going with your home currency.
Let's start with fees. (You can read more detail about the difference between these two fees here.)
Foreign transaction fees. This is a fee that is charged by some credit card companies. (Make sure you choose a card for your foreign travels that does not have a foreign exchange fee which is typically 2.5-3%.  Chase cards in the US typically have no foreign transaction fees. In Canada I use the Chase Amazon.ca Visa Card.) This fee does not relate to the merchant and is not typically affected by your choice of currencies for the transaction. However…
Currency Conversion Fee or Dynamic Currency Conversion (DCC) A currency conversion fee is charged by credit card companies when your purchase lands in your account. A DCC is a currency conversion fee charged by the merchant through a third party when you buy in your home currency. In both cases the fee can be 3% and while it is unlikely that you'll pay both of these fees some research shows that it happens. That would make 6% in fees.
It all adds up. If you don't have a credit card without foreign transaction fees, you will be paying 2.5-3% there. If you choose to pay in your currency rather than the local one you'll pay at least 3% for the currency conversion. Plus you could end up paying a 3% for the DCC as well. So, over and above the cost of your item, by paying in with a credit card you could be adding anywhere from 3% to 9% to the cost of your item. If you choose your own currency in that transaction you will likely be on the high side of that amount.
And then there's the exchange rate. This one is hard to track but speculation has it that you will get the worst possible exchange rate from the merchants processing system.
Bottom line.
When asked whether you want to buy in your home or local currency, answer local.