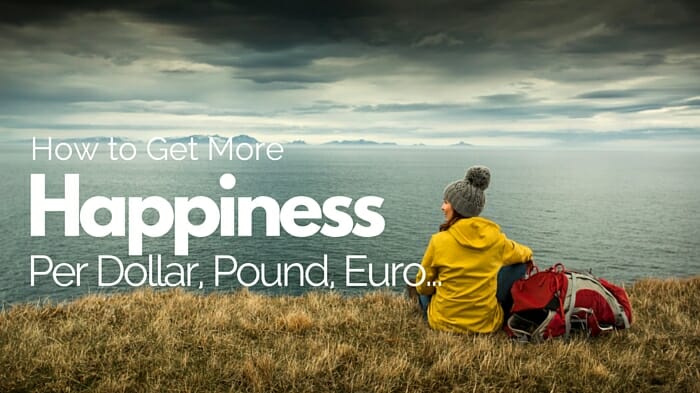 It's always a good thing to stop, take stock and and live with intention.
Now and again we need to consider our lives and how to make them better. And to approach them with fresh enthusiasm.
It turns out that solo travel is not only a a time when this process can happen naturally, it can also contribute greatly to our happiness.
How we save and choose to spend money is a big part of this.
So how should we use money to make our lives better?
Seems that travel can be the answer.
Travel Memories, Good and Bad, are Great!
Essentially, the research concludes that:
Things depreciate over time.
Experiences – especially travel experiences – tend to appreciate.
Our travel memories are always with us. They become a part of us. Great times make for great stories that you can share in the future – heck, I've even dined out on my travel stories.
In Rochester, New York I went to a restaurant to have a bite at the bar. There I met Sandy and Mark who invited me to have dinner with them. More people joined. The result, fun conversation, and they even bought me my meal! Read: The Solo Traveler Advantage
But travel troubles also make great stories. That time that everything went wrong becomes a badge of honor and a story that receives more attention and laughs than the good times story.
My best is when I was on a the Navimag ferry going to Patagonia, Chile and the ferry hit an island. The story is usually both gripping and funny because I tell it with my hands as I did trying to communicate it to Spanish speakers, whose language I don't speak. Read: When your holiday hits the rocks – Or, the crash of the Navimag
The research says that you should shift from buying stuff to experiences if you want your money to buy happiness.
How to Get More Happiness for Your Travel Money
So if travel is the answer, the question remains, how to get more travel for your dollar, euro or pound. Here are some of our Travel Money posts to help.
Save As You Travel
Get the Best Deals on Flights: Here's How When, where, how and with which company you book your flights all contribute to the price you pay. Here's how to get the best deal on flights.
Save on Hotels? Yes You Can with These 10 Tips So you don't want to cheap out on your accommodation but you want a great deal. Here are 10 tips to help you save on hotels.
Travel, Eat Well and Save on Food This is part 1 of a 3-part series on the big 3 of travel expenses: transportation, accommodation and food. This time: how to travel, eat well and save on food.
Tickets to Attractions and Day Tours: How to Get the Best Deal Where there are tourists there are hucksters. Here's how to avoid being ripped off and how to get the best deal on tickets to attractions and day tours.
Save Money When You Change Money 7 tips for exchange rates and travel and budgeting. Here's how solo travelers can win in the exchange rate game.
6 Ways to Save at The Airport Why spend your money on the boring, tedious part of travel – the airport. Here are 6 ways to save at the airport so you have more to spend on real travel!
Take Your Membership Benefits on the Road: 11 Ways to Save Take your membership benefits on the road – the ones you have purchased to use at home might have great value when you're traveling as well.
The Sharing Economy for Travel Saves You Money! The sharing economy for travel is alive and well and helping travelers save money. Here's an introduction to what it is and the major players.
6 Things to Do With Leftover Currency Oh it can mount up. Coins and bills from other countries that you'll never return to. What do you do with leftover currency? Here are 6 ways to manage it.
Protect Yourself and Your Money as You Travel