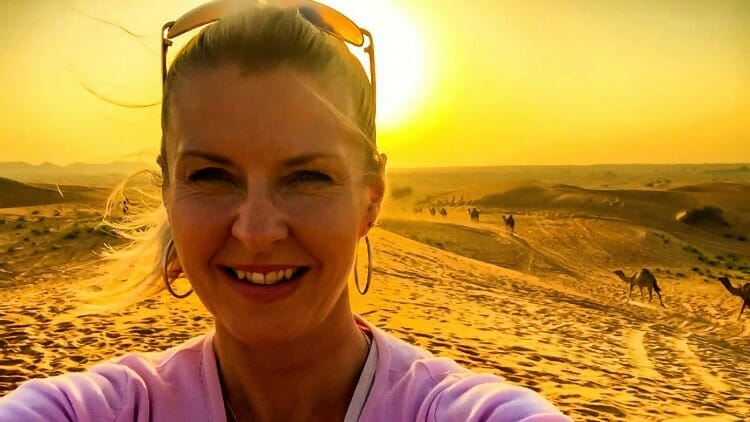 The selfie lives on.
Despite the negative reviews a few years ago, there can be no denying that the selfie is here to stay. And that, I believe, is how it should be.
Whether you're traveling solo and want a pic of yourself on the road or you're simply sending thanks for birthday wishes as Michelle Obama did yesterday on Instagram, the selfie has a permanent place in our lives.
The Selfie is Important
The selfie has had a bad rap.
It all seemed to start when the Oxford Dictionaries declared "selfie" to be the 2013 word of the year. Apparently, the word can be traced back to 2002 but only gained momentum in 2012 and then really took off in '13.
The biggest criticism of selfies is that they are evidence of narcissism. In fact, there are those who argue that the selfie is the result of social platforms such as Facebook providing an outlet for what is just the latest mode of "forming and reinforcing our identities by making them visible to others," as technology and culture writer, Navneet Alang describes it in this Globe and Mail article. So, we're not more narcissistic than those in the past, we just have this new social way of managing our identities.
The issue of being visible is important. As we travel solo we are not visible to those who count in our lives. We are evolving without being seen by family and friends. While this is, to some degree, the reason for traveling solo, being seen by those same people is also an important aspect of life.
Having a witness or witnesses, being visible, is important to our sense of self. To our identities. Yet as we travel solo we don't have a witness who will continue to be part of our life. This is why taking selfies is so important.
When we return home with photos of ourselves in front of a waterfall we've just hiked to, with a new friend we've just made, or at one end of a landmark bridge we're about to cross, we have the goods with which to make the witnesses to the rest of our lives witnesses to our growth as solo travelers as well.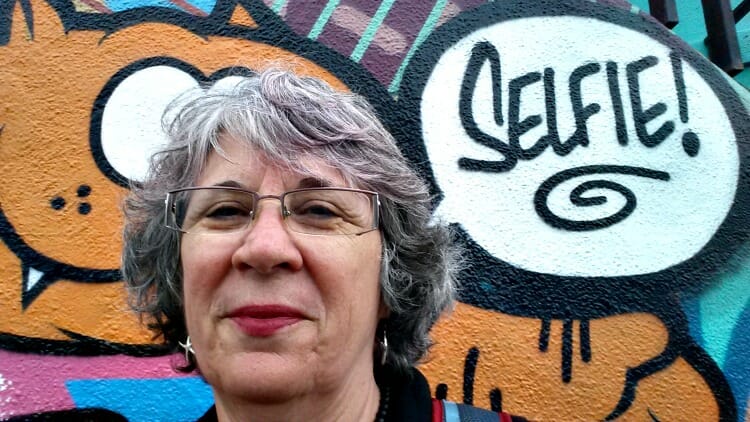 Five Ways Selfies Enrich Your Life
For clarity, let's enumerate why selfies are good things. I'll start with five reasons. Perhaps you can add more in the comments section below.
A selfie is a great, weightless, inexpensive souvenir.
Friends and family want to see pictures of you more than of pretty places. They'll happily view your photos with you.
As you're taking a selfie it becomes evident that you're traveling solo so you may meet new people as a result.
With a selfie, the important people in your life can witness a more complete you.
Selfies help complete the record of your life. Looking back through travels, they will be more meaningful with selfies than without.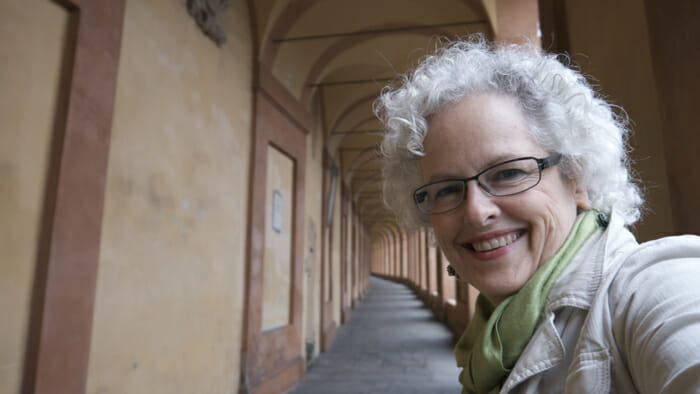 How to Take a Great Selfie
Shoot yourself using the widest angle your camera offers. Zooming in leaves too little room for error.
Extend your arm fully. Again, this gives you more room to get it right plus it will show where you are in the background.
Hold your extended arm at the same angle whenever possible. Through hit and miss, you can discover the best angle to show your best side.
Be aware of how you hold your head and be consistent with it as well (to avoid the double chin challenge).
Make sure that there are no objects such as smoke stacks or flower pots positioned behind your head so that they don't appear to be springing out of your head in the photo.
Be aware of the location of the sun to avoid ghastly shadows under the eyes or the silhouette effect.
Don't be shy to send a big smile into the camera. So what if people around are looking at you oddly? You're happy and your photos should reflect that.
Delete all horrible pictures of you. I have no really bad ones to show because I've already deleted them.
Avoid These Mistakes When Taking a Selfie
There are hazards to taking your own photo. Using a smartphone is one thing, but with most cameras, you won't be able to look through the viewfinder and take your photo at the same time. There's a lot of guess-work involved, and a lot of room for errors such as:
A chopped off head.
The "Kilroy Was Here" effect (peaking up at the bottom).
The horrors of a double chin you didn't know you had (and needn't show).
Massive dark circles under your eyes caused by light (sun) from above.
Disappearing altogether because of a back light (a particular problem of mine with white hair).