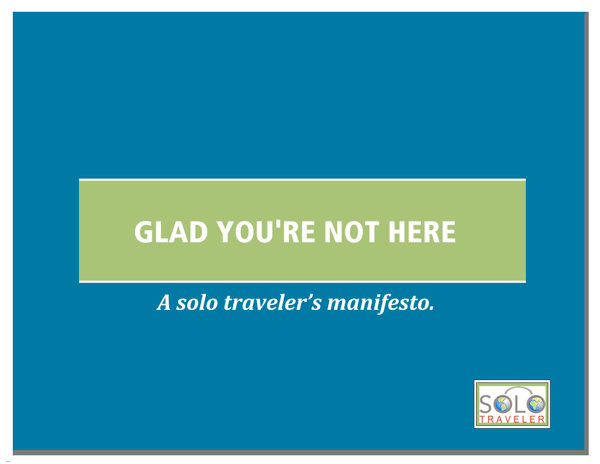 "Is it weird to travel alone?"
That's a question that has brought many people to Solo Traveler.  I thought it was a thing of the past.
I first noticed it in 2009 – a few people landed on my blog by searching Google for this phrase. But over the last few years it seemed to disappear. I thought it wasn't being asked any longer but after doing a little digging on the weekend, I discovered that it had simply been buried. With over 700 people coming to Solo Traveler every day via Google, I had lost sight of the fact that this search phrase is still commonly used.
I went looking because last week I was spoke at the Toronto Public Library and this concern was brought to my attention. I was surprised.
Well, it made me think of the manifesto that I wrote in response to this query in 2009. It's time to publish it again.
Glad You're Not Here: a solo traveler's manifesto.
So, here it is. It's a short and easy read. Please download it to:
Reinforce your conviction that traveling solo is a great idea. It's good for you and good for the world.
Share it with those who are dubious. Those who don't understand why solo travel is such a great idea.