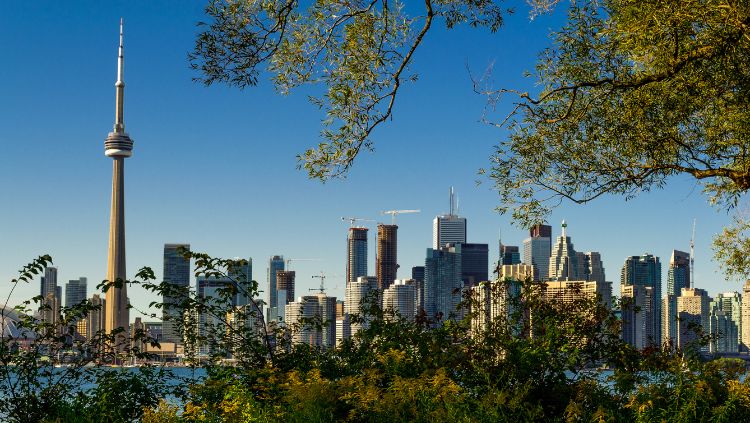 Wondering what to do on a layover in Toronto? As a Torontonian, I have the inside scoop.
In addition to the usual tourist things to do, below I'm going to give you ways to:
get out of stale airport air and into nature
get into some real Canadian culture
have fun doing a sport you love
see the diversity that is Toronto, a dynamic, multicultural city
take in theater at large and small venues
In this post I've emphasized what can be done from Pearson Airport but all of the activities in the city center can certainly be easily done from the downtown, island, Billy Bishop Airport as well.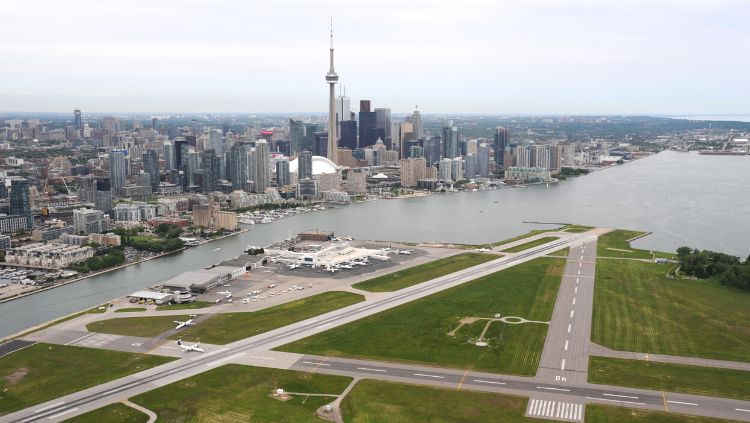 Planning a Layover from Toronto Airports
To give you the lay of the land, there are two main airports that serve Toronto and each have different recommendations in terms of how long you need to be there before your flight.
Pearson International Airport is the main one that handles all the larger aircraft. It's about 25 km from downtown.

For international flights you need to be at the airport 3 hours in advance.
For flights to the US you need to be at the airport 3 hours in advance because you pass customs into the US in Pearson airport.
Collect and store your luggage if you're not staying overnight in Toronto.

Bounce Luggage Storage is located in Terminals 1 and 3. At the airport storage is $25/day.
The Excess Baggage Company works out of Terminals 1 and 3. They don't publish rates.
If you're willing to take your bags out of the airport and schlep them to another location for short-term storage, the cost will be about $6/day. Check out Luggage Hero.

Most efficient way into the city: UP Express Pearson Airport to

UP Express Union Station takes 25 minutes from Terminal 1 and 37 minutes from Terminal 3.

It's CAD$24.70 return.
Going someplace other than downtown Toronto? The best thing to do is take a taxi unless you have a very long layover and public transport will suit.

Billy Bishop International Airport is on an island in the Toronto harbor area. This airport services smaller commercial aircraft within Canada and to about 40 points in the United States and the Caribbean. It's easily accessible from downtown and much more time-efficient in most cases. A free shuttle runs between the airport and downtown. The ride is about 15 minutes but the whole trip will take 45 minutes when you also consider the walk time through the airport.

For domestic and US flights, they recommend that you arrive one hour before your flight.
There is no place to store your luggage at Billy Bishop Airport.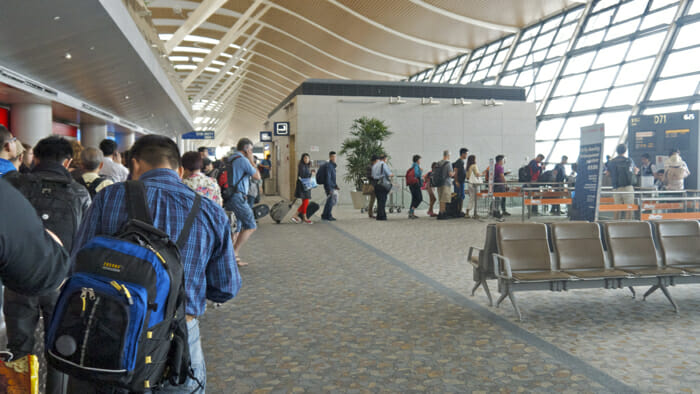 How Much Time Do I Need for a Toronto Pearson Airport Layover?
Round trip into Toronto or another destination nearby, including the time you need at the airport for collection of luggage and passing through security again, is about 5 hours.
Collecting your bags upon your arrival and finding the place to store them: 1 hour, possibly longer if you have to go through customs.
UP to downtown: 25 – 40 minutes.
UP from downtown back to the airport: 25-40 minutes.
Time to get through international security to your gate: the airport recommends 3 hours.
Time to get through US security and customs to your gate: the airport recommends 3 hours.
So, to make this worthwhile you'll want a decent number of layover hours, I'd say at least five, if your layover is all during the day. However, if you can stay the night in Toronto, why not turn your layover into a great travel experience?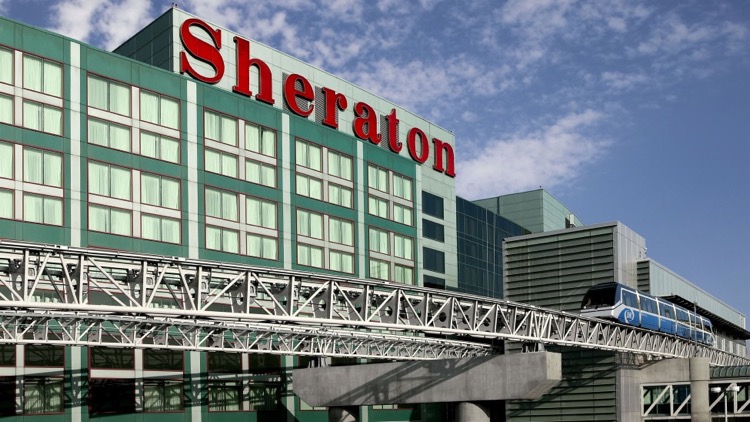 Toronto Pearson Airport Hotels at Every Price Point
If you plan to really enjoy the opportunity of a layover in Toronto, here are three airport hotels at different price points with different benefits. All have great ratings. It's up to you which you pick.
Sheraton Gateway Hotel at Terminal 3. This is actually connected to the airport so it's your best bet if you arrive exhausted and have an early morning flight. Just walk across from Terminal 3 and you're there. In other words, it's great if you really don't have time for a layover, only enough time to relax a bit. There's a fitness room, an indoor pool, and a whirlpool. Typical price is CDN$300+.
The Alt Hotel. Accessible on the free terminal link train, the boutique Alt Hotel also promotes itself as eco-friendly. It's modern and fun. Typical price is $200+.
The Sandman. A mainstay of the Toronto Pearson Airport, the Sandman has a free shuttle service to and from the airport. There is a pool and fitness area, restaurant, and room service. Typical price is $100+.
Are you a Torontonian leaving via Pearson? Consider staying at an airport hotel before an early morning flight. You'll enjoy less hassle in the morning, take a shuttle to the airport, and the hotel will often give you a free week of parking. Check individual hotels for details.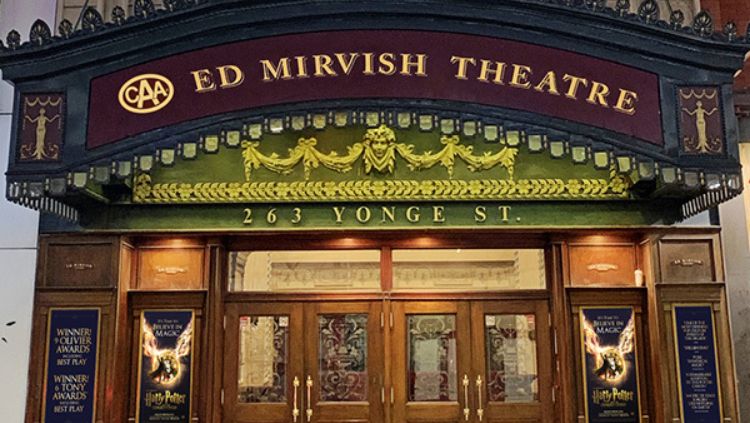 Discounts and Ticket Information for a Toronto Layover
While I have my favorite things to do in Toronto, there are reasons that tourist attractions become just that: attractions. As they develop into an attraction, companies step up to make them easy to do and less expensive. Here are a few tourist discounts and ticket information for Toronto that you need to know.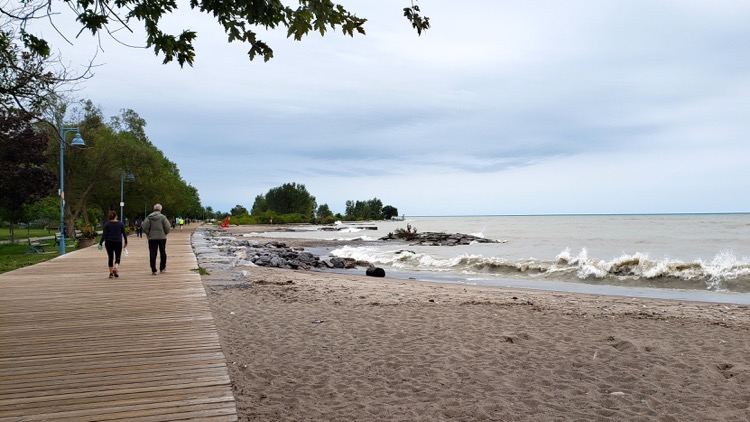 Layover in Toronto: Things Locals Do in Toronto
Here are my top suggestions for what to do in Toronto. These are all things I love to do. Next up, three itineraries for a Toronto layover.
Visit the quintessential gallery of Canadian art. McMichael Canadian Art Collection, 20-30 minutes north of the airport by taxi. The McMichael gallery is not in Toronto, so many tourists never get there. Yet, it is a stunning gallery in a natural setting featuring many of the best works from the Group of Seven, Inuit, First Nations, and Metis artists and others. It is so worth the visit to understand Canadian art.
Go to the beach. 60 minutes by taxi from the airport or a 30-minute ride on the 504 streetcar going east along Queen Street from downtown. A long boardwalk, bike paths, sand, colorful Muskoka chairs, Lake Ontario, and places you can rent stand up paddle boards, kayaks, and the like. A day at the beach is good for the soul and you'll be among friendly locals. But this is not an isolated beach. Queen Street East is just one block north of the Beach for independent coffee shops, a bite to eat, and shopping.
Take in a sports event. Downtown area. The Raptors (basketball), the Blue Jays (baseball), and the Toronto Maple Leafs (hockey) all play in downtown Toronto. Be part of a truly local crowd by attending any one of the many local sporting events that are going on all the time.
Go to Harbourfront. Near downtown along Lake Ontario. There are weekly festivals, whether indoors or out, at Harbourfront almost all year long. It's a cultural center with theater, art, and activities such as skating on a man-made pond/rink in the winter.
Take in a musical. Downtown either along King Street or Yonge Street. After London and New York, Toronto is the next major center for musical theater. Thanks to the enthusiasm of the Mirvish family, theaters were restored and musical productions developed in this city. See Broadway musicals and those on their way to Broadway. Come From Away, which opened in Toronto, won four 2019 Olivier Awards! They operate six beautiful theaters so there is always something going on. Go directly to the Mirvish site to book your tickets.
Enter Toronto's smaller theater scene.Fairly central in Toronto but not as convenient as downtown musicals. Many people prefer small theater to big musicals. Those who do will be happy to learn that the small theater scene is huge in Toronto. Here are my top four.
Go golfing. Humber Valley Golf Course is 20 minutes by taxi from Pearson airport. This 18-hole course is one of five city golf courses easily accessible by transit lines. Monday to Friday, the rate is CAD$52 for 18 holes plus $25 for club rentals. Nine holes is $29.50. Plan for the time to check in, get your clubs, and play the 9 or 18 holes in addition to your travel time mentioned above.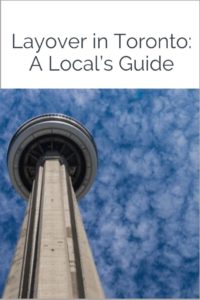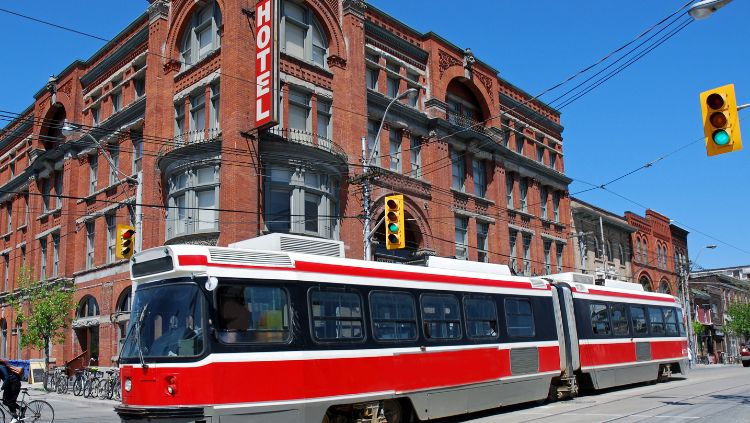 One-Day Itineraries: Full Days of Activities Locals Love in Toronto
Here are three tours I've designed for a layover in Toronto. I hope one will meet your interests.
Culture Two Ways in One Day. Start at the Art Gallery of Ontario at Dundas Street and McCaul (almost downtown) and soak in a wide range of art and special exhibits in one of Toronto's best museum/gallery buildings. Great architecture! After you've enjoyed the gallery, walk west along Dundas Street to Spadina Street, cross the street and head north for a bit to explore Chinatown. At St. Andrew Street, turn left and enter Kensington Market. Both Spadina Street and the Kensington Market area were the heart of the Jewish district in the past. Kensington now has a very unique mixture of old and new, hippie and alternative. There are many food options in Chinatown and Kensington. If you want some great music in a greasy bar, go to Grossman's Tavern on Spadina either in the afternoon or evening. Check their schedule.
Hop on a Bike and Explore Toronto's Natural Side. I'm big into cycling so this one is close to my heart. Decide on your bike strategy (see the two options below) and, starting from downtown, hop on the 501 Queen Streetcar heading east almost to the end of the line. You're going to the neighborhood known as The Beach. Get off at Beech Avenue. If you want a coffee, cross to the north side of the street (you'll get off the bus on the south side) and cross again to the east side of the intersection. You'll find the Remarkable Bean, a family-owned café where they have great coffee and baked goods. But, your real purpose for taking the streetcar is to go for a bike ride along Toronto's waterfront. Head south towards the lake which you can see from just about every cross street in The Beach. Once there, you'll see the boardwalk for walkers and the bike path for cyclists. Start heading west and stop along the way as often as you like. There's ice cream and a very active beach volleyball area. Follow the bike path all the way to the foot of Yonge Street (downtown). At that point, you have the choice of continuing on to Harbourfront or turning south to the ferry terminal and taking the ferry to the Toronto Islands to ride there. If you want a really long ride, continue going west as long as you want. You can ride to Niagara Falls along this route. There are bike trails throughout the city. Enjoy!

Bike Share Toronto is a great option. You can get a 24-hour pass for $7, however, you can only use the bike for 30 minutes at a time. The program is designed for short hops. They have places to pick up and drop off everywhere.
Find a traditional bike rental shop close to you using the map at the bottom of this post.

See Multicultural Toronto on a Streetcar. Take the 506 Carlton Car from one end to the other. It's a rich cultural experience showing just a few of the many ethnic communities in Toronto. You can get a day pass for $13, however, if you're not planning to hop on and off a lot, two one way tickets is your better deal. From beginning to end, from the west to the east, here are some highlights.

High Park – the city's largest parkRoncesvalles – a favorite west end neighborhood with Polish rootsLittle Portugal – oh, the bakeries!Little Italy – clubs and great restaurantsChinatown (the original)University of TorontoQueens Park – home to the Ontario legislatureYonge Street – known as the longest street in the world.Cabbagetown – where the Irish originally settled in Toronto, now a gentrified neighborhood. You could get off here for a tour of Toronto's urban farm, with cows and all.

Chinatown East – The story goes that an ambitious real estate agent wanting to stake a strong position in the market underwrote the cost of lobster away from Chinatown to create Chinatown East.
Little India – great restaurants and sari shops
North Beaches – get off here and walk about 1 km south to reach the neighborhood, beach, boardwalk, and cycling paths along Lake Ontario.
Considering a longer trip? Check out Solo Travel Canada: 60 Tips to Plan an Exciting Adventure.