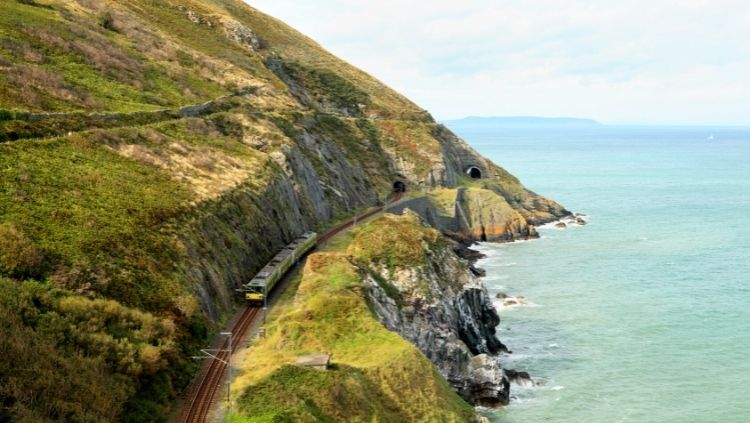 Lush and green. Cozy and charming. To describe Ireland is to describe a place you want to be. For those who are not keen on driving on the left side of the road, here's how to explore Ireland without a car.
My concern about driving on the left is not for when I first arrive. Concentration will ensure my safety. It's not for the time when I have really adjusted to the left. That would eventually happen if I gave it a chance. It is that in-between time that frightens me. The time when I've gained confidence, forget to concentrate, need to make a left turn, and instinctively end up on the right-hand side of the road. I anticipate moments of panic, of not knowing which is the correct side to be on. This is why I have always traveled Ireland, the UK, and Australia by bus and train.
Based on a reader request, here's how to travel Ireland without a car.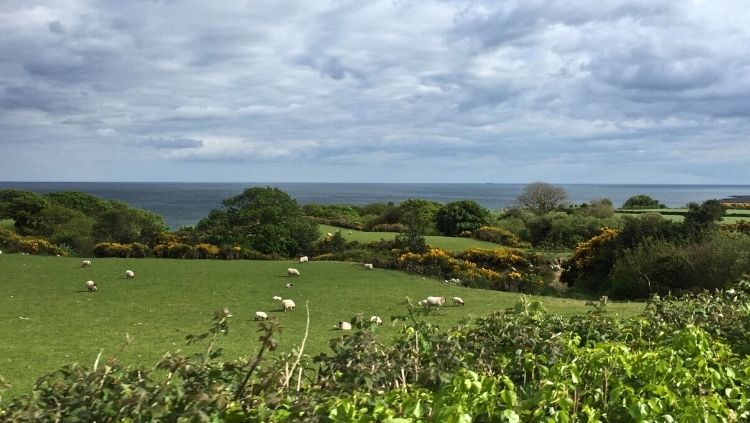 The Lay of the Land: Ireland and Northern Ireland
Ireland is one Island that contains two countries. The Republic of Ireland in the south is known simply as Ireland. It occupies the majority of the island. Northern Ireland is part of the United Kingdom.
Dublin, the capital of Ireland, is located on the east side, about halfway up from south to north. It is famous for its literary history as James Joyce, Oscar Wilde, W.B. Yeats, Roddy Doyle, and other writers of note were born and/or lived there. It's also known for its beer as it is the home of Guinness. Trinity University, and especially its library, is famous. It's a city of deep history and fabulous cuisine.
Belfast, again located on the east side of the island, is the capital of Northern Ireland. Belfast has been called the literary capital of the United Kingdom. Its history runs deep as well but it is the more recent history of "the troubles" that is most evident to a traveler. Black Cab Tours, the murals on the Peace Walls, and other public installations tell the story. Again, it has an exceptional food scene and is known for great pubs.
All of Ireland, north and south, is known for rich, green landscapes, dramatic coastlines, and the friendliness of the people. They are famous for pubs, great music, and good craic ("crack") which is basically fun, intelligent, and witty conversation.
Here are some posts on specific parts of Ireland and Northern Ireland you might enjoy.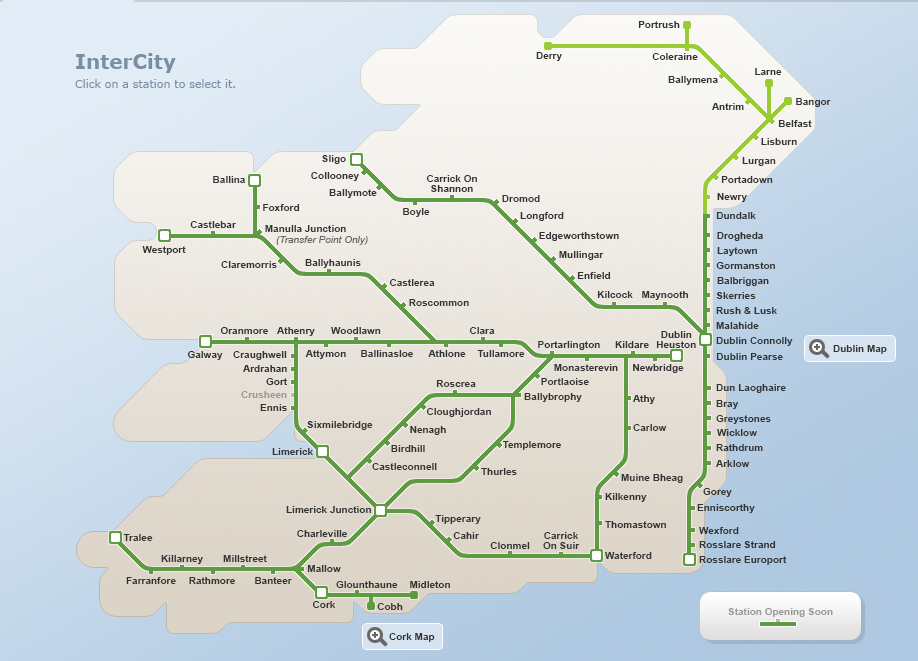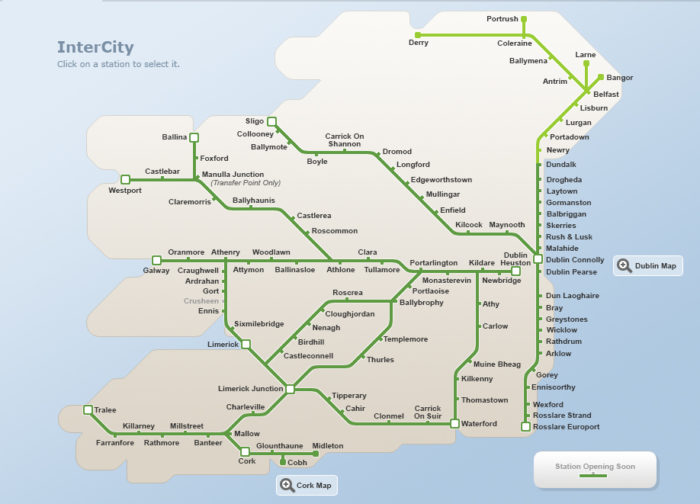 How to Travel Ireland Without a Car
You can get just about anywhere in Ireland and Northern Ireland by bus or train. The train network, as you can see above, is quite good; however, its primary purpose is to serve the cities. The bus network gets you into the villages and rural areas which, for many, is the reason they go to Ireland.
While the two countries can feel like one when you're there, they are separate. Ticket booking is done on different sites. The trains in Ireland are run by Iarnród Éireann Rail, Irish Rail. Buses are run by Bus Eireann. In Northern Ireland, Translink is your point of purchase for both buses and trains.
As with most travel, booking in advance will save you money. Bus travel is less expensive than train travel. If you're traveling between the larger cities, you will likely have a number of schedule options each day, though fewer on Sundays and holidays. If you're traveling on the less popular lines, frequency can become an issue.
There are, of course, numerous guided tours you can take to explore Ireland without a car. These have the advantage of an informative guide and the social experience of other travelers. However, if you want to go independently, here's what you need to know.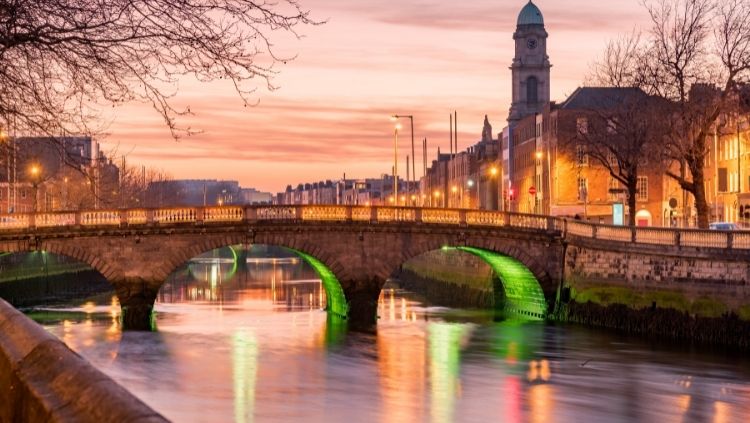 Things to Know about Train and Bus Travel in Ireland
Combining train and bus travel will take you just about anywhere in Ireland without a car.
Travel between Dublin and Belfast. It takes about two hours to travel between Dublin Connolly station and Belfast Lanyon Place (formerly known as Belfast Central).
Discounts between Dublin and Belfast. If you anticipate some back-and-forth between Dublin and Belfast, you can save money by buying Carnet tickets. It's not a pass. They are books of prepaid tickets, so they can be shared.
Two stations in Dublin.

Dublin Connolly is the station for north/south travel and trains headed for Belfast, Sligo, Wicklow, Wexford, Dun Laoghaire, and Rosslare.
Heuston station is the terminus for trains heading west & southwest from Dublin to Cork, Limerick, Galway, Kilkenny, Waterford, Tralee, Westport, and Ballina.

Tourist Train Tickets. These are not available online. Details here.

Trekker 4 Day 110 Euros for consecutive days of unlimited travel on all Iarnród Éireann services in the Republic of Ireland from the date of issue on the ticket
Explorer 5 days of unlimited travel out of 15 consecutive days on all Iarnród Éireann services in the Republic of Ireland for only €160 for an Adult
Leap Visitor Card 1-day, 3-day, or 7-day cards. These have more complicated conditions.
Eurail Your Eurail pass works in Ireland.

Traveling with a bike. Here's bicycle travel information from Iarnród Éireann.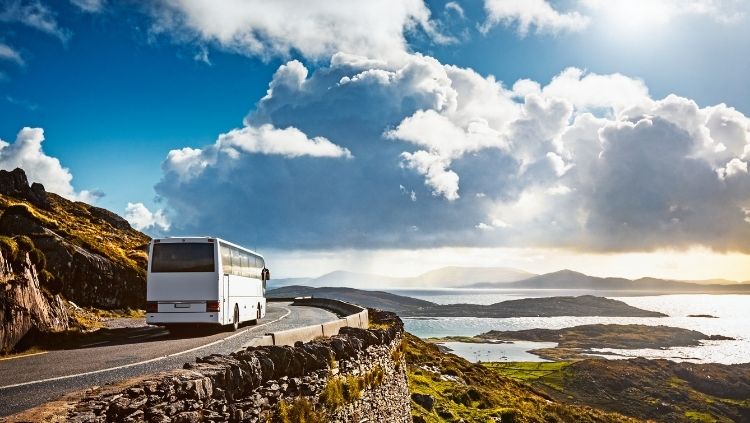 Things to Know about Train and Bus Travel in Northern Ireland
North America to Dublin. There are a few seasonal, direct flights to Belfast but, year-round, most direct flights from North America go into Dublin.
Dublin Airport to Belfast. While there is a train between Dublin and Belfast, the most efficient way to get to Belfast from Dublin airport is by bus.
Belfast to Derry. The train takes just over two hours. A seat on the right side when going north to Derry is recommended for the views. You'll be passing the Giant's Causeway.
Belfast to Giant's Causeway. This trip is worth it, however, it requires a train to Colraine and then a bus to the Giant's Causeway.
iLink Card. iLink is a smartcard that you can top up with daily, weekly, or monthly travel options. From the Translink site: "If you travel by bus and train within specified zones, using iLink could be better value for money than buying separate bus and train tickets. Check out the prices to see if iLink suits you."
3 Day Flexi Ticket for trains. This is an odd one but, depending on your plans, it could be useful. It offers unlimited travel on any three days out of seven days between two chosen rail stations within Northern Ireland.
Special offers. Always check Translink for special offers.
Students over the age of 24. If you're a full time student over the age of 24 you can get a 24 Plus Travelcard and save.
Buses. You have a few bus options:

Goldline Goldline buses are express buses for traveling between cities that are operated by Ulsterbus.
Ulsterbus. They have the Goldline service but go beyond the cities with their regular service. They have a journey planner to help you sort out your travel plans.
Rambler Day Ticket. This works for Sundays only. The price is £9.50. The Bus Rambler Day Ticket gives you a hop-on, hop-off kind of service that allows you to explore Northern Ireland's most spectacular scenic areas with unlimited travel on Ulsterbus, Goldline, and Metro. In past years, they have extended the service to all days during the summer.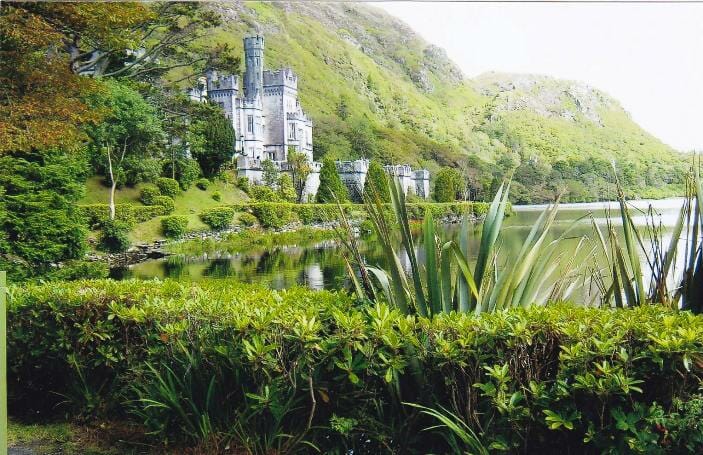 Readers Top Tips for Travel in Ireland without a Car
As we often do, we went to the Solo Travel Society on Facebook to get their suggestions for for traveling Ireland without a car.
Kate recommends Connemara. It's an easy bus ride from Clifden to the Inishbofin ferry in Cleggan. You can also grab the bus to the great town of Westport or grab a taxi tour to Achill Island. From Westport, you might consider Donegal town. I took a wonderful day tour from there to Slieve League and Glenveigh national park.
Alma recommends Sligo. There are wonderful beaches where the Atlantic waves are huge but there will be no tourists. Visit Lough Gill, Benbulben, Yeats' grave. There's a great bus service from the west to Dublin so I'd explore the city and enjoy the craic before leaving.
Grace recommends Athlone. In the heart of Ireland is the world's oldest pub—Sean's Bar. You can practically hop from one city to another by bus.
Barb recommends B&Bs. The rail system is wonderful. When you arrive at the town you plan to visit, go into the tourist information center and tell them you need a bed and breakfast. They'll accommodate your budget and all those with the shamrock sign are great and government approved.
Tom recommends warm clothes. Take cold weather clothing. When I was there in June many years ago, temperatures were quite frigid.
Gail recommends hostels for day tours. Look for day tours. Sometimes hostels set up their own tours.
Susan recommends Inishbofin. Take the ferry to Inishbofin and spend a few days there. It's a small, beautiful, not very developed island.
Dianne recommends buying tickets online. Book a train ticket online at far less cost than buying at the station. A lovely trip is Dublin (Heuston Station) to Galway, 2.5 hours; day trip from Eye Square on the bus to Cliffs of Moher, the Burren, and a lunch in Doolin, County Clare. Galway is a stunning city with lots to see and do.
Catherine recommends Belfast. Definitely go to Belfast. Easy to get to on public transportation.
Lynda recommends taking the bus. I went to Clifton, Donegal, and Lisdoonvarna, only using buses on a budget. It's totally possible, just plan ahead and research. You can download bus timetables and routes and even purchase tickets online for special deals!
You may also want to read The Spectacular Isle of Skye Without a Car.