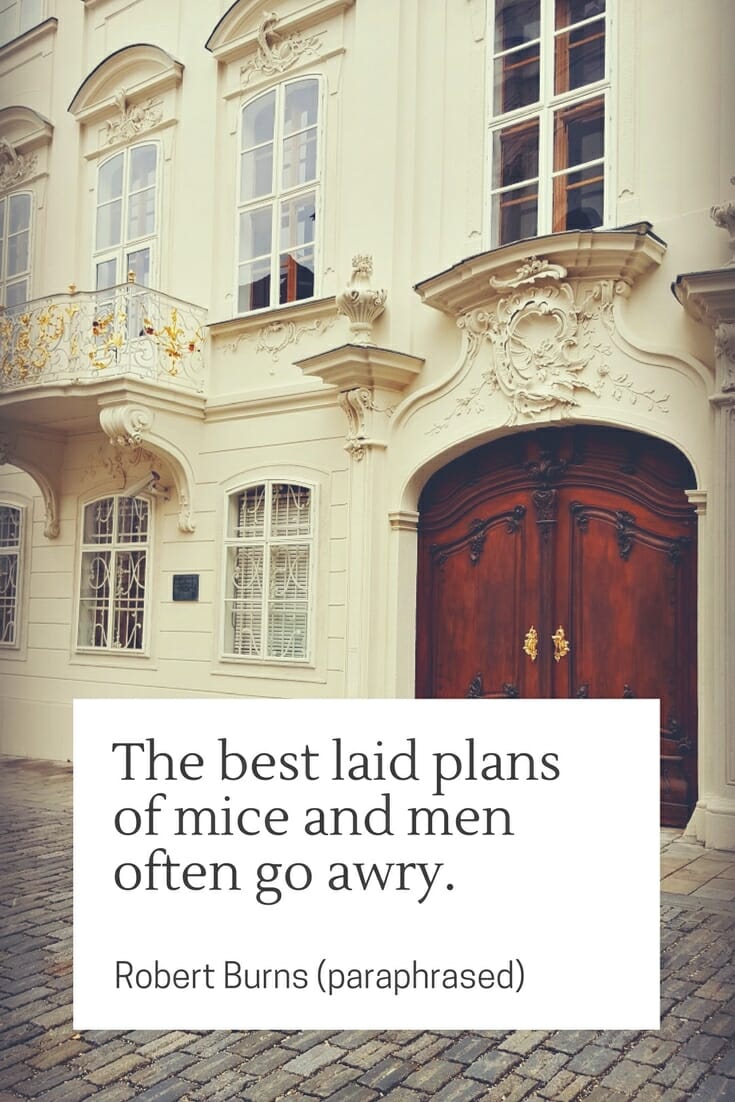 The conference wrapped up in Austria on Wednesday night.
Thursday morning, I was on a train en route to Slovakia.
Friday morning, I was wandering around Bratislava clutching my jaw, searching for a dentist to help alleviate my pain.
This trip was definitely not going according to plan.
I had been in Kitzbuehel, Austria for the Social Travel Summit, an annual event where the world's leading online travel influencers and travel industry decision-makers meet to share, learn, and develop best practices and collaborative success in travel marketing and publishing. I had spent weeks working on every little logistical detail to ensure that the conference went smoothly, then managing and trouble-shooting onsite. I had also spent many early mornings, late nights, and weekends working on Solo Traveler and other projects so that I wouldn't be too far behind when I returned.
My reward for all this toil was to be a little European break–3 nights in Bratislava followed by 2 nights in Vienna–before flying home. Having never visited either city, I had been looking forward to this trip for months.
I awakened on Friday morning with a headache and a throbbing jaw. I was fairly certain that I knew what was wrong, as I had experienced this same thing 5 months earlier. I had hoped that the treatment I had received for a tooth infection had cleared up the problem, but evidently, it was only temporary.
I pulled out my laptop and began searching for English-speaking dentists in central Bratislava. I called a couple of them, but being a Friday afternoon, they were unable to squeeze in an extra patient. I went to the hotel lobby and asked the desk clerk for advice. She recommended a family dental clinic which was only a few blocks away, and drew the route for me on a map.
Arriving at the address, I was a little worried. The building was very old and didn't seem very well preserved from the outside. The front door was locked and I couldn't figure out how to enter. Luckily, after a few minutes, a man who was headed to the same place let me in, and I began trudging up the stairs, feeling  more pain and concern with each step.
As I swung the door open and stepped into the office, I felt that there should have been some background music to accompany my entrance. It was like stepping into a cloud! Everything was white, from the walls to the waiting room furniture to the clothing the staff were wearing, to the reception desk. It was only punctuated by the deep blue of an aquarium with multicolored fish swimming lazily around. Sun streamed through the windows onto framed prints with quotes about kindness and joy. It was the most calming and spotless space I have ever seen.
I didn't even have time to sit down before they whisked me in to see a dentist. I didn't want them to actually do any work on my tooth, I just wanted a prescription for some antibiotics and painkillers so I could get through my trip and have the dental work done at home. The staff could not have been nicer or more efficient. After a quick exam and a lot of back and forth to make sure that we were understanding one another, I paid my bill and set off with my prescription. Total cost for exam: €19. One week's worth of antibiotics and a package of ibuprofen: €9. The relief of having the situation dealt with in a way that I felt confident about: priceless.
Unfortunately, this did not mean that all was well and I could return to enjoying my vacation. Oh, no. Quite the contrary. I spent most of the next four days in hotel rooms in pain, feeling very sorry for myself. I had been looking forward to visiting some of the many wine bars in Bratislava and Vienna: taking antibiotics made this impossible. I had been dreaming of trying their traditional foods, from schnitzel to sausages to strudel to goulash: my inability to chew made this impossible. I had been eager to explore both cities, to visit galleries, to wander around with no specific plan, maybe attend a classical concert: the dental pain, which was intensified by the smallest amount of physical exertion and the headache, which made me irritable and self-pitying, made this impossible.
I called Air Canada to see what would be involved in flying home early. They informed me that it would cost CAN$900 to change my ticket. $900.00! It was much cheaper to pay for the hotel rooms and stay put.
I had to find some upside to this fiasco.
I thought to myself, if I'm not going to have the trip of my dreams (or even a passable one, for that matter), at least I will return home rested, something that virtually never happens to me. I had my laptop, free Wi-Fi, and a comfortable bed. Because I use a VPN, I was able to access my home version of Netflix. To take my mind off the pain at night, I watched a number of episodes of a series that I had already started at home. And I took a lot of naps.
I forced myself to leave the room every day, if only for an hour or two. I discovered that in both Slovakia and Austria, pumpkin soup is popular. Because it is pureed, I was able to slurp it down. Bratislava also has a lot of cafes, including one mobile coffee shop that was a stone's throw from my hotel, and I had no trouble consuming liquids. I took short walks around Bratislava's Old Town so I could at least see something on this trip, and drank more coffee and ate more soup.
By the time I reached Vienna, I didn't even feel like leaving the hotel. I looked into hiring a private driver to take me on a tour of the city, but there wasn't enough lead time to book anything. I left my room only once–again, for soup–because I was worried about taking all of that medication on an empty stomach. I went to Cafe Landtmann, which had been on my wish list of places to visit. If I was only going to get to one cafe in Vienna, it was going to be this one, which has been operating since 1873. I sat on the patio, enjoying yet another bowl of pumpkin soup, breathing in some fresh air, and watching the formally dressed, professional waiters gracefully serving customers.
The next morning, I headed to the airport. I was worried about the impact of flying on my swollen, throbbing jaw. Would the air pressure make things worse? I was also worried about the fact that I had been unable to check in online, and unable to check in at one of the kiosks at the airport, so I had to join a long line-up to check in at the desk. But from that point on, I had the best, smoothest, most comfortable journey home! The cabin pressure did not bother me, my layover at Heathrow involved–you guessed it–more soup, both flights were on time, and my seatmate for the longest leg of my flight home was apparently removed from the plane before I boarded (I gather he had spent a little too much time at the airport bar) so I had plenty of room to spread out. At least one thing went well on this trip.
It can be difficult to find the upside of a bad travel situation. My infection wasn't an emergency situation, but it was bad enough that it made sightseeing, eating, drinking, and exploring uncomfortable and virtually impossible. This short trip, which was to be a reward for hard work, was a bust. However, I saw as much of Bratislava and Vienna as I could, enough to know that I want to return at another time. It was disappointing, for sure, but it could have been much worse. I got a lot of rest, which I really needed. And, since I spent so little on this trip, I have enough money to pay for an upcoming root canal. At least there's that.
Have you had to make the best of a bad travel situation? Please share your stories below.