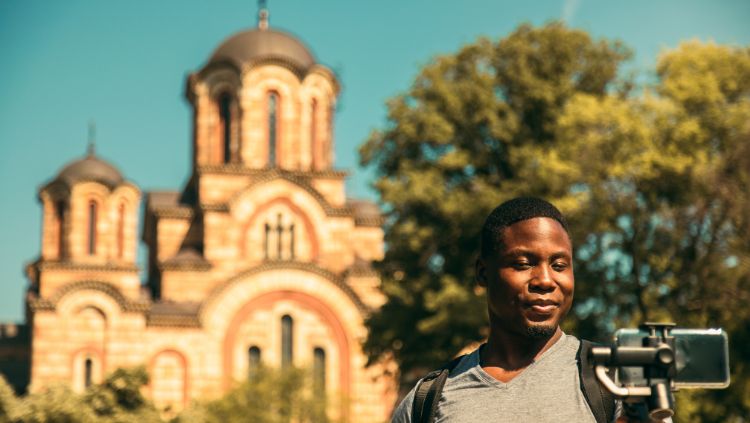 There is so little written for men traveling alone. I get emails all the time. They seem to be left out. But, in fact, about 35% of our readers and members of the Solo Travel Society on Facebook are male solo travelers.
Yes, men travel solo too. But you wouldn't think so when you see what is published by so many other sites about solo travel. They are very focused on women.
At Solo Traveler our posts are designed for everyone who wants to travel alone. We try to provide tips, advice, and resources that as many people as possible will find useful.
However, there are some experiences that are unique for men which is what this post will attempt to address.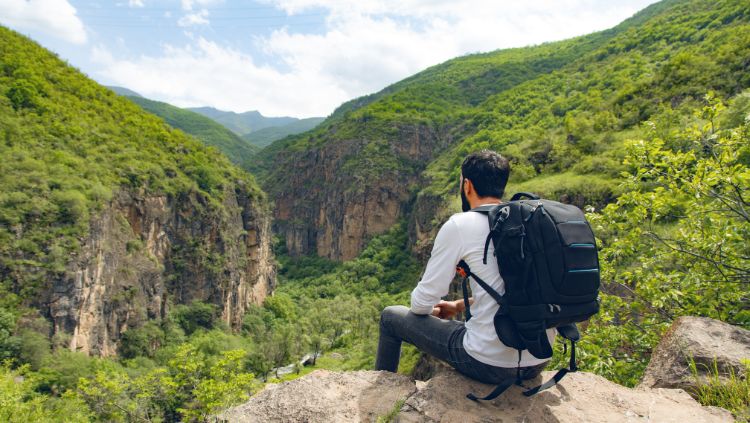 10 Tips for Men Traveling Solo
Straight or gay, people who present as male face unique issues in solo travel.
Because I can't claim to know what men are up against when they travel alone, I turned to Brian Peters, former publisher of No Debt World Travel, for help. He came through with flying colors which isn't surprising since he has traveled solo all over the world. Here are his tips.
1. Do not rush in.
Sit back and let things happen. Men sometimes rush in without taking the time to learn local customs. Take the time to sit back, watch how a culture functions, see the opportunities that are presented and let your trip develop.
2. Try not to be intimidating.
Men who travel solo sometimes find it more difficult to connect with others than women do. This is because you may not be as approachable as you think. Western men tend to be much larger than those in other parts of the world. That, and the fact that you are foreign, can make you intimidating. So, especially if you're a big guy, try to be gentle. Smile, speak calmly, and remove sunglasses so that people can see your eyes when you're speaking to them.
3. Keep drinking and drugs in check.
For safety, it's important to stay in control at all times. Drinking, drugs, even being really tired can cause you to respond with less restraint than normal to a difficult situation. Getting into a fight, whether by your provocation or simply by being in the wrong place at the wrong time, can be a big problem in another country. Having your wits about you to manage a situation well is important.
Take it slow. One drink per hour is a good pace.
Drink lots of water.
Keep an eye on your drink so that nothing is slipped into it.
In addition, be aware of local drug laws. More than one person has been caught in a legal problem caused by assuming the laws are more liberal than they are.
4. Risk taking can be a thrill, but don't push it.
Everyone needs to know their limits. A quick scuba course may prepare you for a shallow dive but not a deep one. A motorbike may be easy to rent in Thailand but it's not the place to jump on and learn if you've never ridden one before.
It's a basic "look before you leap" message. However, unless it's dangerous, don't miss a great opportunity for a special experience.
5. Keep the gadgets to a minimum.
No one wants to lose things but it does happen. Try to carry only the gadgets you need and try not to carry really expensive ones that will attract attention. They add weight and you'll have more things to keep track of as a man traveling alone. If you do carry technology or other special equipment that is expensive, make sure that it is covered by your travel insurance. Read A Complete Guide to Travel Insurance for Solo Travelers.
6. Keep valuables secure with one item of travel-specific clothing.
Typically, travel clothing will make you look like a tourist. This is not something that is particularly desirable. However, there are travel pants with a zipped pocket inside the front pocket for keeping valuables. They look just like regular pants. It's not as good as a money belt but it's way better than any other pocket for protecting your passport and your money. It will definitely reduce the chances of having your wallet stolen. Read Protect Yourself from Pickpockets: Keep Cards & Cash Safe and Bare Minimum Packing.
7. Get consent. Know the law. Consider the culture.
The age of consent for sexual activity varies from 16 to 18 in most countries. However, consent may not be the only issue as, in some countries, extra-marital and homosexual sex is a chargeable offence. In addition, if the age of consent is lower than it is in your own country, you could still face charges at home should it be found out. In Canada, for instance, "It is against the law for a Canadian or permanent resident to travel outside of Canada and engage in any sexual activity with a young person that is against the law in Canada. If the person is not prosecuted in the country where the offence is alleged to have occurred, the person could be prosecuted in Canada."
8. Have condoms on hand.
If you're going to be sexually active, bring your own condoms. This will avoid confusion over which brand to buy in a foreign country and concern about their quality. Go with what you know. If you don't bring any, buy some. Better to be safe than get an STD or a surprise pregnancy.
9. They love you / They love you not.
Finding love on the road is complicated. Being outside your familiar culture makes it difficult to accurately interpret a person's response to you. If you get serious, it's difficult to know whether the love will survive everyday life when you're not traveling. It's also important to consider that there may be other motivations for developing a relationship with you. Take your time in any new relationship.
10. Know that men traveling alone are vulnerable too.
Men sometimes think that women have to worry more about solo travel safety than men but, in fact, men are just as likely to be mugged or robbed as women. Plus, in some circumstances, men will start fights over what you consider to be small issues. It can be a cultural thing. Eye contact that is a few seconds too long by a man can be considered an act of aggression. Not so for women.
Leave places you think could be prone to such situations before anything happens. Don't get drawn into a fight: de-escalate, walk away. This is especially important for men traveling solo.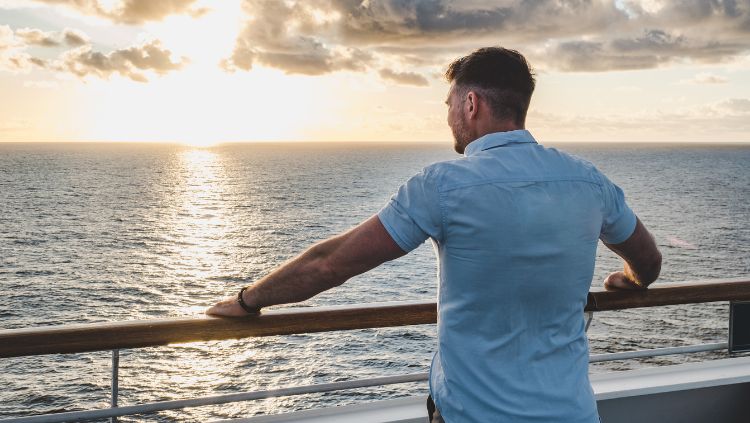 Solo Trip Options for Men Traveling Alone
We receive emails from men who want to travel solo interested in cruises, tours or simply advice on where to travel independently. As with everyone, the best solo vacations for guys depends on who you are and what interests you. Here are the fundamental options.
1. Independent Solo Travel
To travel independently means that you are responsible for everything: the planning, navigation, deciding where to eat, where to stay, and more. Some people love all the research involved before going and the feeling of freedom when on the road.
The tips above are especially important for the independent solo traveler. To help you with the details of your independent solo trip read Solo Travel Planning Guide with Trends, a Checklist, and Insider Tips, Best Budget Destinations for Solo Travelers: 2023 Shortlist, and The Ultimate Solo Travel Guide: Travel Alone & Love It.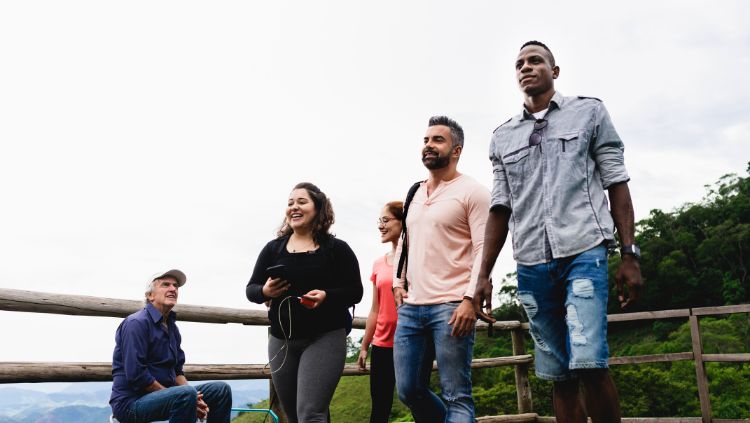 2. The Escorted Travel Option
While there are tour companies that cater exclusively to women and tour companies specifically for gay men, like Outgoing Adventures, I have not yet found any that are only for straight men. That said, most tour companies cater to men and women and I've not yet been on an organized trip that didn't have some men.
If it's a tour you're looking for, check out our Searchable Trips page and our full list of tour advertisers and the trips they are currently promoting for solo travelers. They all have a zero-20% maximum single supplement. Get them delivered directly to your inbox each month by signing up here. I also suggest that you read How to Choose a Tour for Solo Travelers: Top Tips for Savings and Fun.
3. Hybrid Travel
For those who want independence and, sometimes, for someone else to take the reins, a great option is to create your own trip to include both a tour and independent travel. Consider arriving early for a tour so you can adjust to a change in time zone and explore or stay longer in destinations so you can enjoy them on your own with all the knowledge that you will have gained from the tour guide.
4. Road Trips Are Great for Men Traveling Solo
Whether you plan for a short or long distance road trip, it is another excellent option in solo trips for men. The sense of independence is amazing. We have an entire road trip section on our site with planning tips, itineraries, stories from the road (and even a playlist!) to inspire and equip you for your journey.