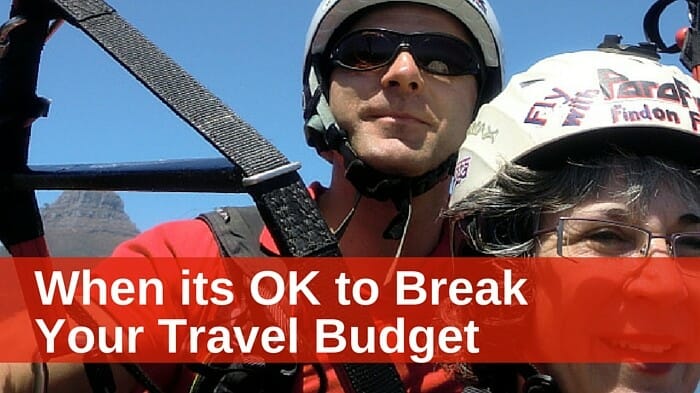 Money, that piece of paper or the metal in your pocket, has no value — until you buy something with it.
Then, its value is up to you. Is it…
One taxi ride or a bus trip and a fine pastry?
One week at a resort in high season or a two-week road trip in the off-season?
DSLR camera or a good quality point-and-shoot camera and new walking shoes?
You have choices. In advance of a trip, you may plan to spend so much on accommodation, a certain amount on food and another amount shopping or on activities. But on your trip, things can change. Unexpected opportunities arise and you are faced with the decision of when to make or break your budget.
Money is About Trade-offs
As a solo traveler, you choose how to spend your money. You aren't forced to spend money in any way that doesn't interest you or will cause you stress.
Be aware of the stress that money decisions can cause. You may want to stay at a five-star rather than a four-star resort but that extra expense may cause you stress when you try to recover from it. You may want an amazing bike for your cycling trip but the fear of it being stolen may cause you unnecessary stress. Stress is a trade-off to consider when making money decisions.
Know your passions? Some people will eat on the cheap in Italy to have the money to spend on a fabulous pair of Italian shoes. Others will stay at a hostel so that they can afford to eat at a Michelin Star restaurant. You can save in one area to spend in another according to what's important to you.
Good money decisions are about being aware of your financial constraints and trade-offs.
When to Make and When to Break Your Travel Budget
Everyone has financial constraints when it comes to travel. Know yours. Read How to Plan Your Solo Travel Budget – on Any Budget. Once you know your budget, your passions and your stress relationship with money you're ready for make or break travel budget decisions. I suggest that you consider the following…
Make or spend short of your travel budget when:
You can get the same results/pleasure/satisfaction at a lower cost.
You don't care about something very much.
The expense would worry you.
Break your travel budget when:
It feeds whatever you are passionate about in this world: food, wine, art….
It's buying something tangible that you will value in the long term.
It is fun in a way that is just not possible anywhere else.
Be aware of your budget as you're making your decisions. If you simply keep to your budget in some areas you will definitely find yourself over budget should you break it in others. It's important that the making and breaking of your budget is done in balance.