I gained the typical tourist's introduction to Paris on a free 3-hour walking tour.
Notre Dame de Paris, the Pont Neuf, the Champs-Élysées, the Arc de Triomphe, etcetera, etcetera, etcetera. None of it is to be missed but it is not the Paris that Parisians live.
To get a real sense of Paris – Paris from a local's perspective – I went on a Paris Greeter tour. And my experience was way beyond that of a typical tourist.
Exploring the 20th Arrondisement
My Greeter, Christine, took me into her neighborhood of Belleville in the 20th arrondisement which lies a bit east of the city center. Located on the second highest hill in Paris, it was, historically, a working-class district that received wave after wave of immigrants from the late 19th century on.
Today it is in the process of gentrification. Working-class accommodation and artisan workshops have been transformed into beautiful apartments and townhouses. There are community gardens, a street market on Sundays, small alleys and extraordinary views of Paris as a whole. It was the birthplace of Edith Piaf and is the final resting place of many famous people in the Père Lachaise Cemetery including Chopin, Moliere, Jim Morrison and Oscar Wilde.
But I would have seen little of this if it wasn't for Christine's generosity as a volunteer Greeter.
My day with Christine, a Paris Greeter
I met Christine outside the Jourdain Metro station. Bright and charming she shares her enthusiasm for Paris and her neighborhood by taking visitors on a stroll and showing many of its unique features – pointing out things large and small that I might have missed if I had ever got to the 20th arrondissement in the first place.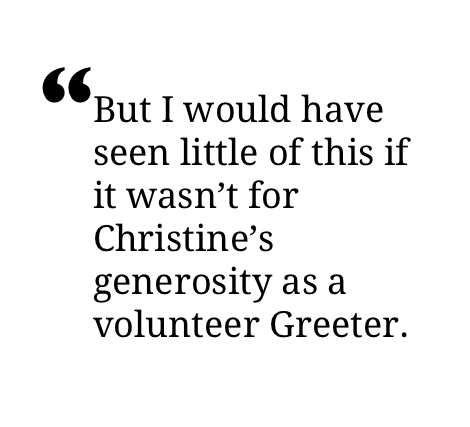 After brief hellos we set out on our journey. First stop was a doorway. Christine was hoping that someone would exit so that we could enter. It wasn't long before someone did and we went in to discover a courtyard with beautifully groomed gardens. I was very surprised to learn that the apartments surrounding the courtyard that looked very expensive had been where the working-class of Paris had once lived. She took me behind many doors revealing homes and small communities – real life in Paris.
And a surprising invitation.
Christine had her route well-planned. After peeking behind the street facade into domestic scenes, we walked along the main streets of Belleville, saw the birthplace of Edith Piaf and then took a short-cut through a restaurant so that I could see a mural on the wall that showed Belleville when it was an independent village. Over to the Parc du Belleville that offers a wonderful lookout over Paris then through the small streets, past an artist commune and on to the community gardens – first one that is purely decorative featuring flowers and a rock garden, then a herb garden that in which everything is edible.
Along our route we ran into her husband who had just come from the market where he had bought fish for their lunch. It wasn't long after that that I was invited to lunch as well.
Such a gracious invitation. And then we ran into an acquaintance of Christine's, another Paris Greeter, and she was invited too. We shopped for a bit more food at the market. Christine bought fish, I bought cheese and our friend bought oysters. We then went to Christine's where we met her husband and a cousin.
Now, I was not only peaking behind the street facade, I was in an apartment. Everything about it was interesting from the high ceilings and the book shelves that circled the walls just beneath them to the floorplan, furniture and decor. It was cozy and comfortable and French!
There were five of us for this spontaneous lunch. The conversation was lively and the food was excellent.
My Sunday with Christine was a day that has given me many fond memories and I thank her for her hospitality.
Étreintes, Christine. (Have I got that right?)
Book a local Greeter
You can book a Paris Greeter by registering on their website and specifying the dates you'll be in town, your language of choice and your interests. They also request a €1o contribution which is optional but I did it to support the system.
If you're looking for a Greeter in another city, check out the International Greeter Association to see if the city you're visiting has one.