I love French food. I love French wine.
I love exploring France. I love being on the water.
What could be better, then, than a culinary-themed river cruise from Paris to Normandy, featuring cooking classes and cocktail demonstrations, fine food and wine, cheese and oyster tastings, not to mention walking tours in iconic locations like Monet's Gardens in Giverny and Auvers-sur-Oise, where van Gogh spent his final days?
All this and much, much more was a part of the France Culinary Delights: Paris to Normandy river cruise that I took on board the MS River Venture with Vantage Travel. Following is an overview of some of the highlights of my delicious 13-day trip.
Auvers-sur-Oise
The first stop on this cruise was in Auvers-sur-Oise, famous for having been the place where Vincent van Gogh spent his final days. He painted many scenes in and around the village, and you can definitely feel his presence and influence here.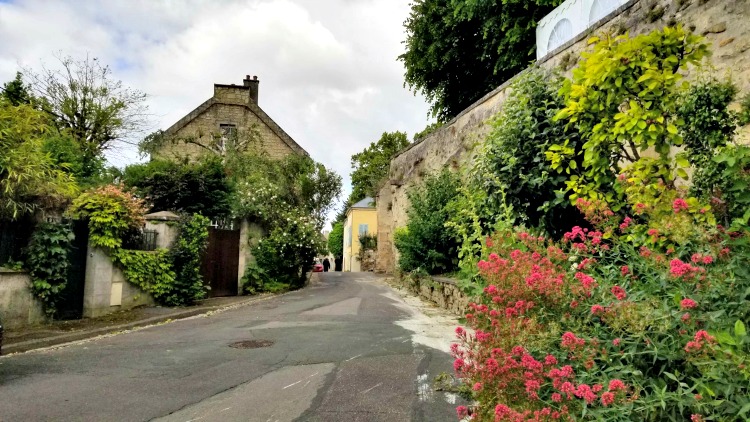 I took an optional walking tour, Footsteps of van Gogh, which was brilliant. The tour guide was very knowledgeable, sharing information about the artist's life and times, his art, and the village itself. Around the town can be found plaques with images of his paintings, placed right next to the objects that inspired them.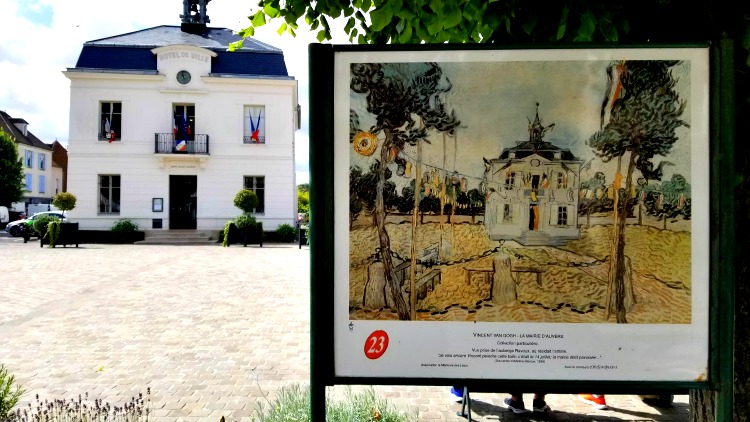 Monet's Garden at Giverny
The next day, we were off to Giverny and a walking tour of Monet's gardens. It's difficult to describe just how lush and full these gardens are. They were also full of hundreds of tourists who were just as stunned as I was. In spite of the crush of people, it was still possible to get a feel for the beauty of the area, and to feel as though you had stepped inside one of Monet's paintings.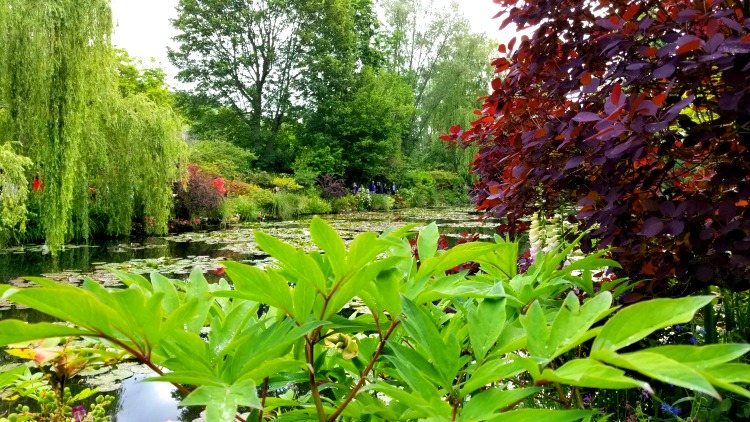 In addition to all of the stops along the way, I really enjoyed watching the landscape go by–it is, after all, one of the highlights of a river cruise. It was lovely to open the sliding door and enjoy fresh air and a cup of tea in my cabin after dinner while the French countryside passed by my window.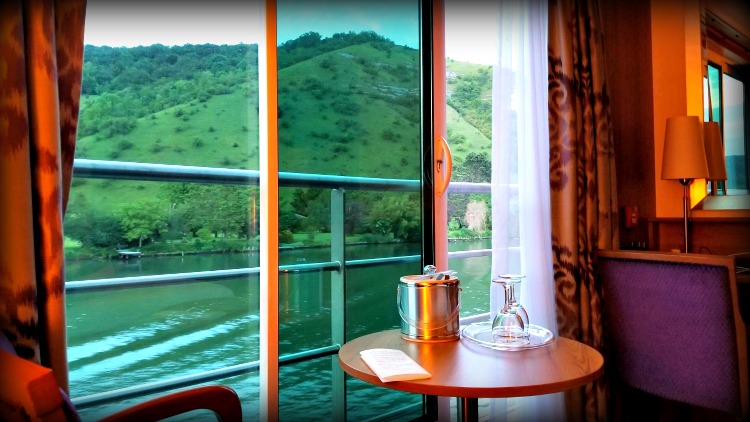 Enjoying the River Cruise Ship
Not only did I enjoy the view from my bed, but I was pleasantly surprised by the very efficient use of a tiny amount of space in my cabin. Having never taken a cruise before, I had been worried about feeling claustrophobic or not being able to enjoy a shower without banging my elbows. Certainly not a single inch of space is wasted, but the shower was spacious and the cabin was really well designed.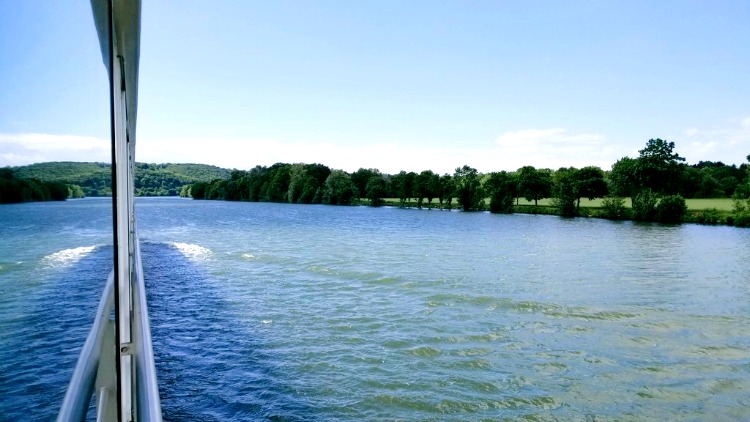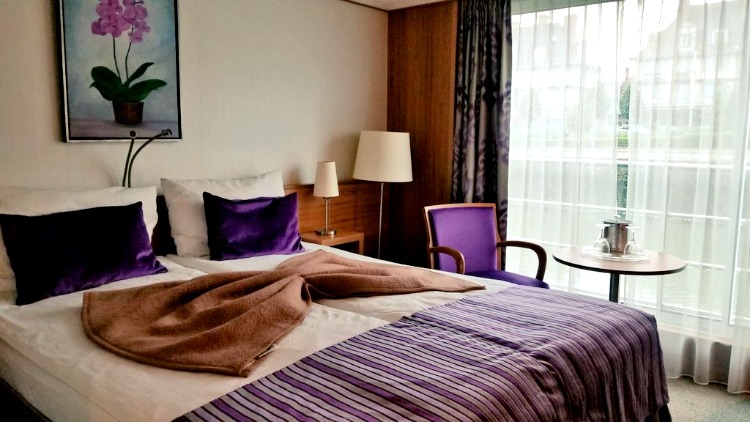 Honfleur
We had a shorter walking tour of the very photogenic harbor town of Honfleur, which I appreciated since I wanted to do a little shopping! There had been an introduction to and tasting of Calvados the previous evening on the ship, and I was eager to buy some in the place where it is made. Strolling along the cobblestone streets of Honfleur was a delight: each time you rounded a corner there was an even more beautiful shop or sight to behold.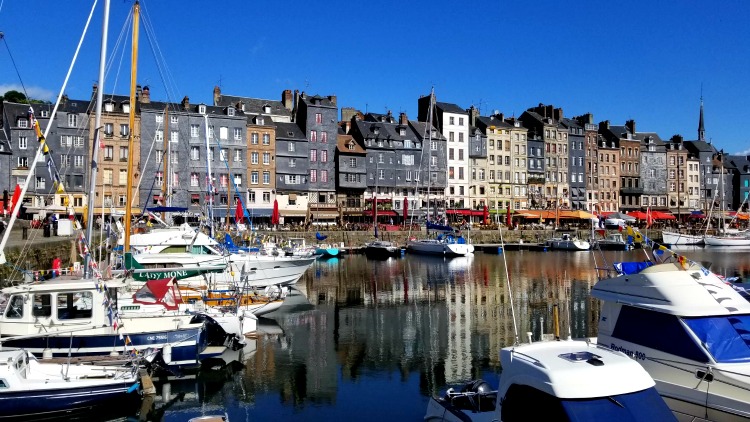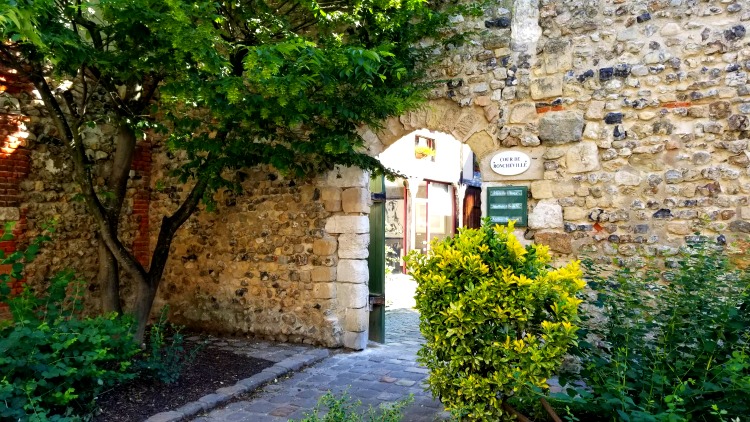 On this evening, there was a surprise for me and my fellow solo travelers aboard the MS River Venture: an invitation from the Cruise Director to a reception just for us. It was a great opportunity to enjoy a complimentary drink and meet the others on the ship who were traveling alone. There were about 12 of us at this gathering, though there may well have been more on the trip who were just unable to make it for this event.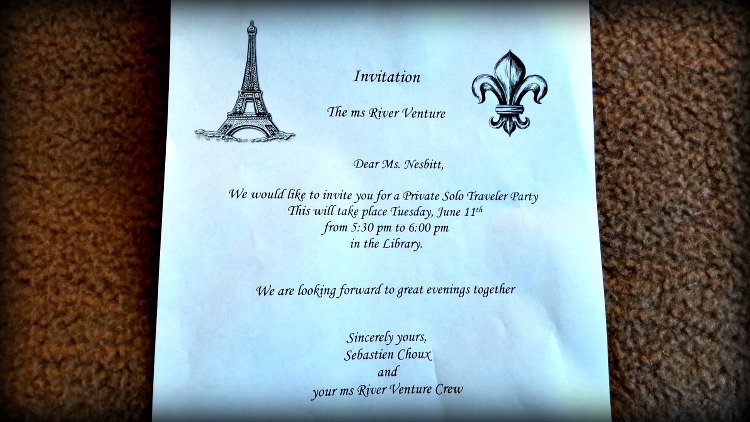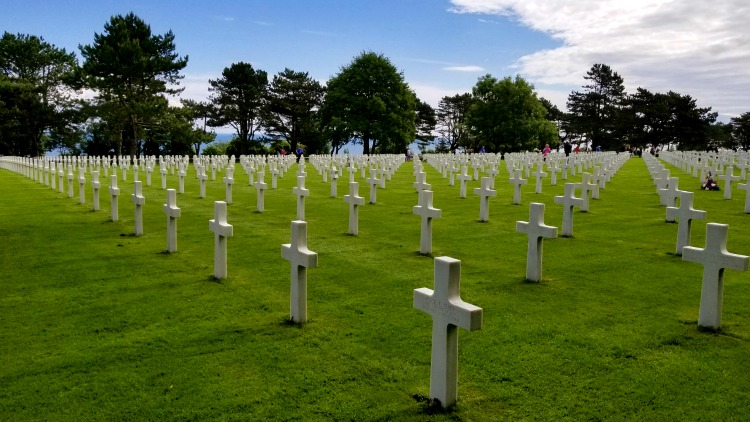 Normandy's D-Day Beaches and the American Cemetery
The next day brought more somber sights, as we visited the American Cemetery and Memorial. Most of my fellow passengers were American, including a few veterans, and I was moved to tears when they stood and sang their national anthem and a floral tribute, delivered by the Cruise Director, was laid at the chapel.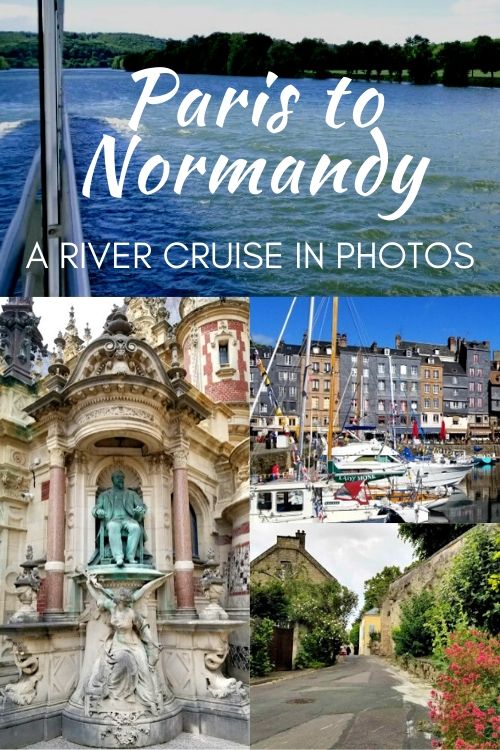 I walked alone among the crosses and along the ridge looking down over the landing beaches. The grounds are impeccably kept and the surrounding nature and walking paths provide a soothing space to contemplate and take in all that you're experiencing.
Benedictine Palace
One of my favorite excursions on this river cruise was to the birthplace of Benedictine, the famous French liqueur. To be honest, I knew very little (actually, nothing) about it beforehand, other than recognizing it as an ingredient that my parents used to keep around for making cocktails. The building itself is incredibly ornate and well maintained, the story of how the recipe, featuring 27 herbs has been kept secret for hundreds of years is intriguing, and the collection of vintage advertising posters is great. But they really did keep the best for last: this is one of only 2 locations in the entire world where one can purchase the special Benedictine Single Cask. And buy, I did!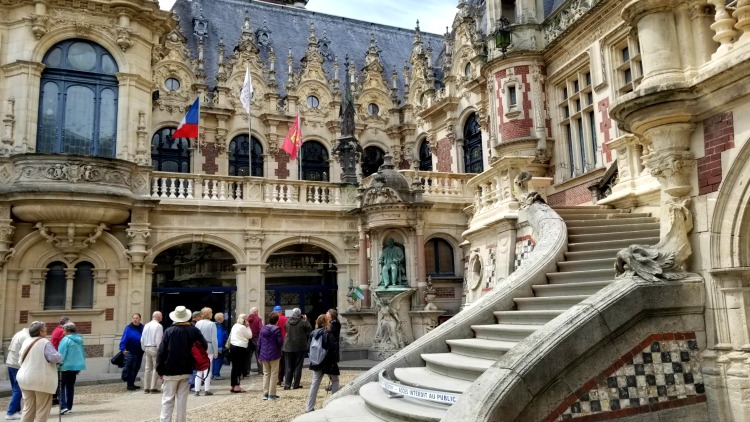 Also on this day, our tour took us to the town of Etretat, famous for its white cliffs and arches which can be viewed from the boardwalk. A little stroll through town on the way back to the bus yielded a few tasty purchases as well.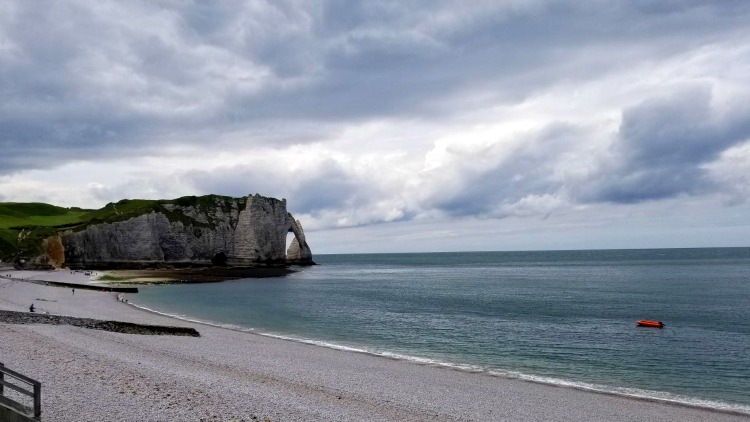 Rouen
Possibly the most significant event for me (though not for all of my fellow passengers – I fully admit my food geekiness here) was an outstanding 4-course lunch at La Couronne in Rouen. This is the restaurant where Julia Child enjoyed her first meal in France that inspired her to devote herself to French cuisine. The building itself has been around since 1345! It was truly a special experience for me.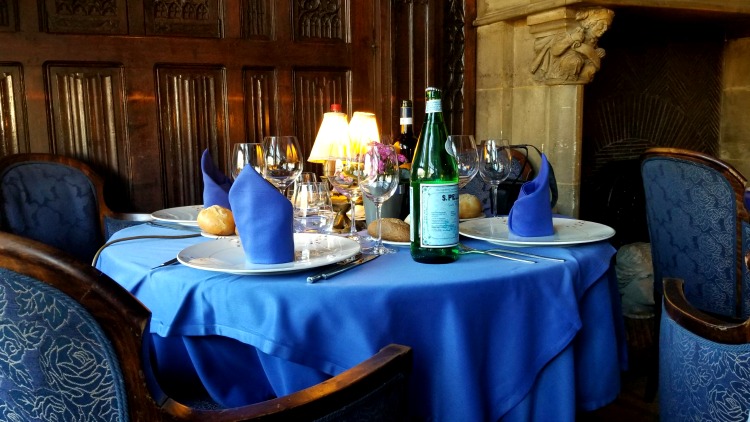 The following day, I visited the Musée des Beaux-Arts de Rouen, with its wonderful collection of impressionist art. It was full of surprises. You might round a corner, expecting to find a boring staircase, and discover more gorgeous architecture, or you might find yourself in a gallery full of portraits from the 1800s, then suddenly be confronted by a very contemporary piece, placed there to challenge the historical context. I loved it.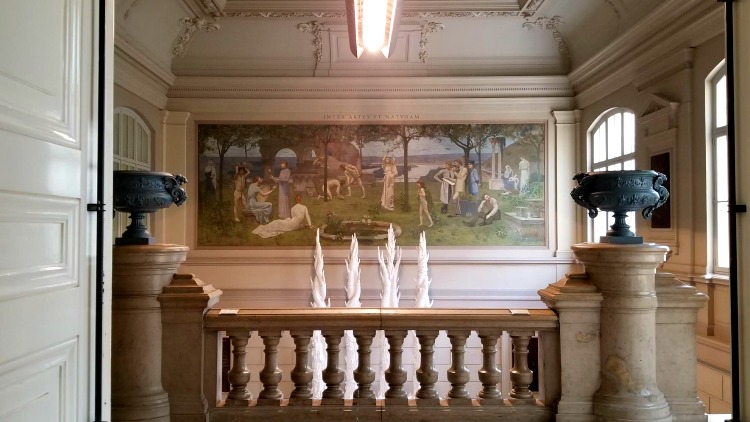 The River Cruise Winds Down
After Rouen, we began to head back to our starting point, Paris. There had been a fair amount of rain earlier in the trip, but now the weather was sunny and beautiful. Standing on the roof deck gave a wonderful view of homes and villages situated along the Seine.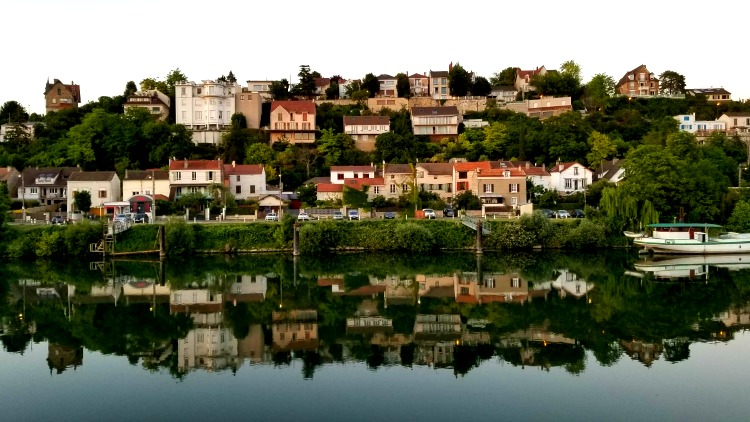 Back in Paris, there was plenty of free time to take tours or wander around on your own. Since I have visited Paris a few times before, I took only one of the offered tours, a bit of an overview to orient myself. Others chose to visit the Louvre or take a walking tour of the Marais. I visited Shakespeare and Company, the famous English bookstore, picked up a copy of the Paris Review and a cappuccino from their adjoining cafe, and went to a nearby park. I met up for some rose on a patio with Lisa Rankin, the owner of Flavors of Paris, whom I had met when I took one of her food tours several years ago. I took myself out for dinner, and enjoyed a quiet glass of wine and some steak tartare. I indulged in a little shopping (very little, as my poor Canadian dollars are not going far at the moment) and bought, as I always do in France, some herbes de provence.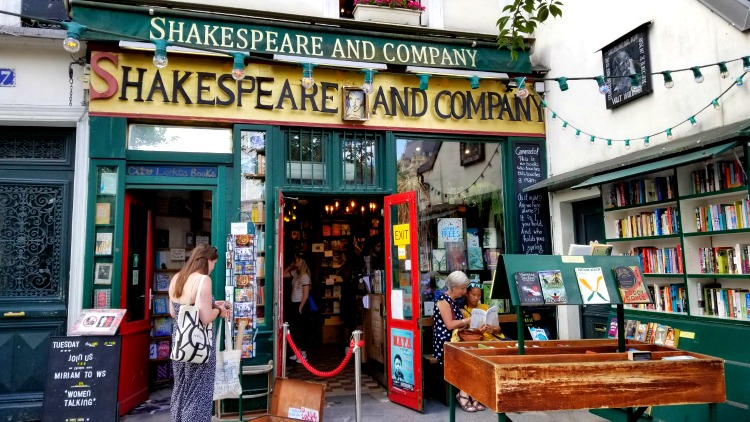 As my first river cruise–in fact, my first cruise of any kind–this could not have gone any better. The staff were outstanding, the food (which I will be writing about in a future post) was wonderful, and, of course, you can't beat France for gorgeous scenery. I'll have more articles coming up soon that will focus on the culinary experiences, tips for making the most of a river cruise experience, and what it's like to be a solo traveler on this type of trip.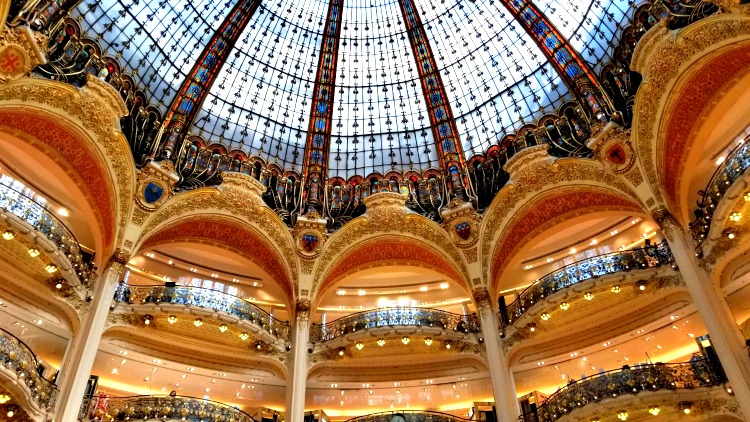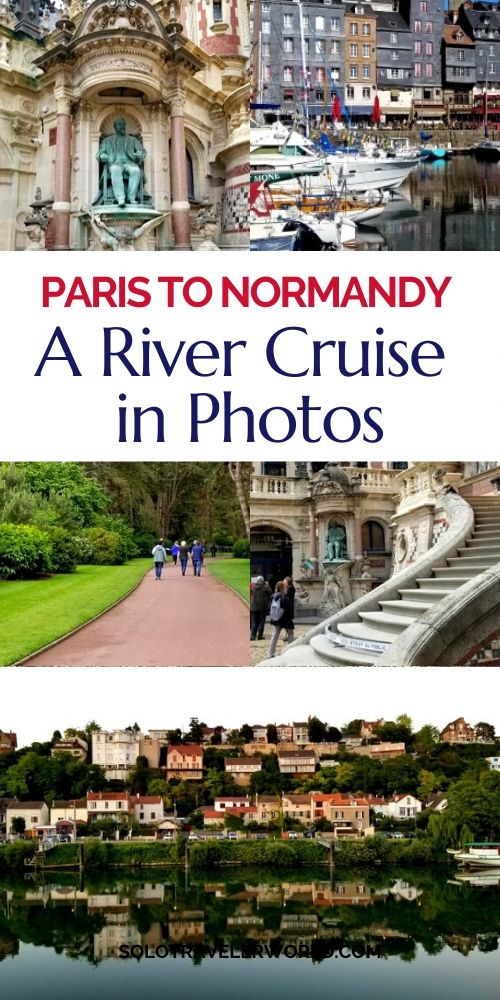 Thank you to Vantage Travel for sponsoring my trip on their France Culinary Delights: Paris to Normandy river cruise. You can get all of the information about their trips and specials for solo travelers here. All experiences and impressions are my own, and Solo Traveler maintains complete editorial control over all content.