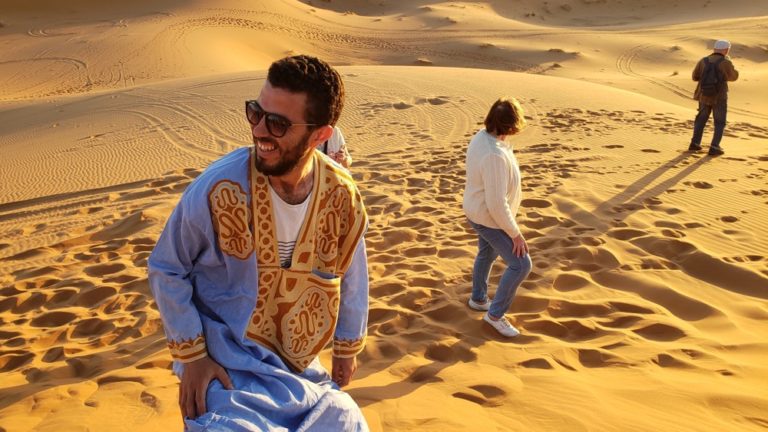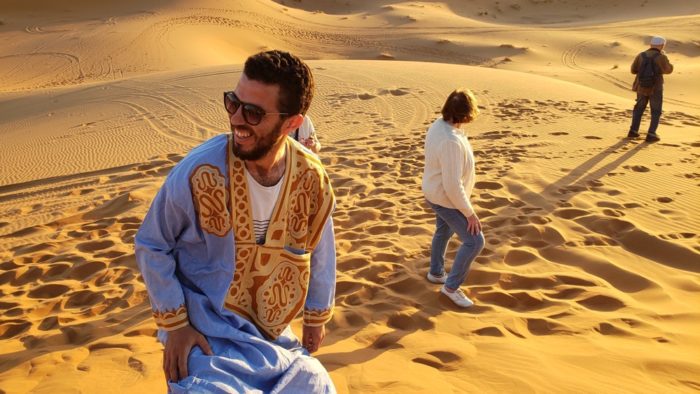 I'm writing about my experience of travel and COVID-19 over the last three days of my trip to Morocco, from the point of hearing that "we should leave now" to actually getting onto my flight home. This trip to Morocco was sponsored by Just You but, as always, the views and opinions are my own.
Though I am currently in Morocco with a bit of uncertainty about flights home, the pain I feel during this crisis is for the hotel workers, the vendors in the Medina, the tour guides and coach drivers, the restaurant workers and all who are being affected by the lack of tourists.
For everyone in tourism, from the women weaving carpets in the Atlas Mountains (whose carpets won't sell this year, leaving a surplus in the market and making income next year precarious as well), to the employees of the tour companies with whom you book your trips, my heart aches.
Many of us will be affected financially due to the virus, but those working in tourism will feel it first. And, while many in North America and Europe have some sort of financial cushion, savings or access to loans from family, financial institutions or potentially government, that will not be the case for many workers in Morocco and elsewhere, whose very survival depends on tourists.
To give you a sense of the situation, in this hotel of 226 rooms, the 15 in our group represents more than half of the people staying in the hotel.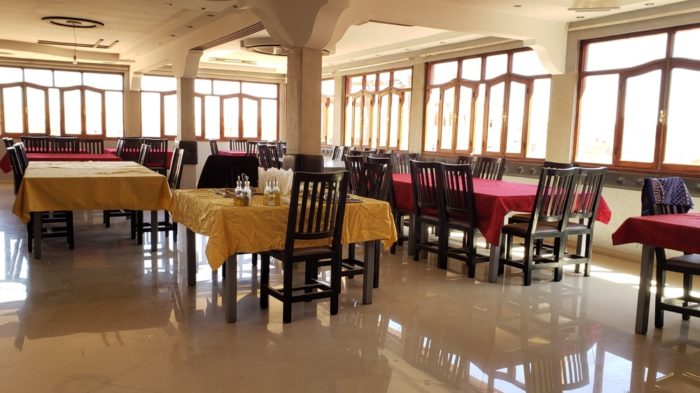 It's difficult to reconcile what we see in the markets of Marrakesh with what we see and hear from home.
Images on the news and social media don't connect with my experience here, where the markets are stocked and ready for an influx of tourists. From trinkets to, yes, toilet paper, the shelves of shops in the Medina are full. Though yesterday, at the Carrefour, it was clear that panic-buying has begun to happen here as well.
To see reports of travel and COVID-19 on the news, looking at the pandemic from a global scale, with panic buying and images of thousands of passengers in airports trying to get home, it can look quite terrible. From my individual experience, it is not so, at least not so far.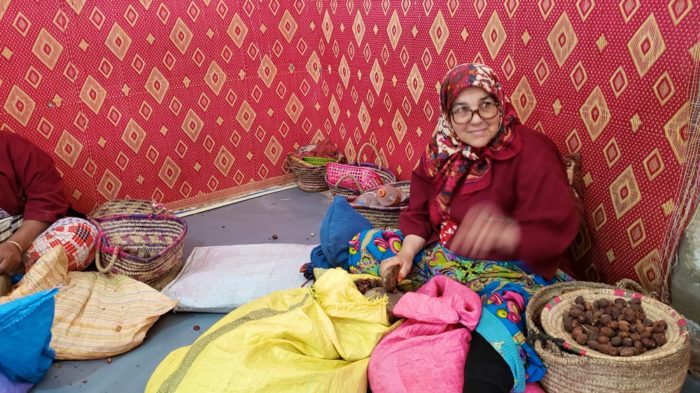 How to Get Home Was the Big Question
Most of the time spent getting home has been waiting to find out how we'll get home. Fortunately, Marco and the staff at Just You were taking care of this.
The confusion started on Saturday. Our original flights were to leave Tuesday but there were reports that the Moroccan government would be closing their airspace by Monday night. The scramble began. We basically kept our bags packed and ready to go on a moment's notice from then on.
Sunday, we thought we could be going. Early morning we found that we weren't and were able to squeeze in one more excursion. We went to Essaouira, a lovely seaside town a few hours from Marrakesh. We were all happy to be going somewhere to get our minds off the turmoil and enjoy travel. I actually bought a painting.
Monday morning we went to breakfast looking for information as to whether we'd get out that afternoon or not. It took until noon to find out that it wasn't possible but, through some magic, Morocco agreed to keep planes flying on the 17th and we would leave the next day on our originally scheduled flights.
However, not everyone was flying with Just You. Two women had made their own flight arrangements and had to confirm whether theirs were still going. Fortunately, they had a family member at home who was their travel agent. All went well for them.
Another woman had had plans to move on to Portugal after our trip. As the Canadian government's advice changed day by day, her plans changed as well. Just You was very helpful in finding her a route home. Though we left Marrakesh on different planes, we both had a transfer and one night stay at London Gatwick. I already had a room booked so I offered to share.
Yes, we were somewhat stuck the last few days of the trip, with lots of uncertainty, but we were in a nice hotel. Efforts were being made to ensure that we could leave and get home.
Once at the airport, we met many people whose return flights were much later than the 17th. For them, standby was the only solution.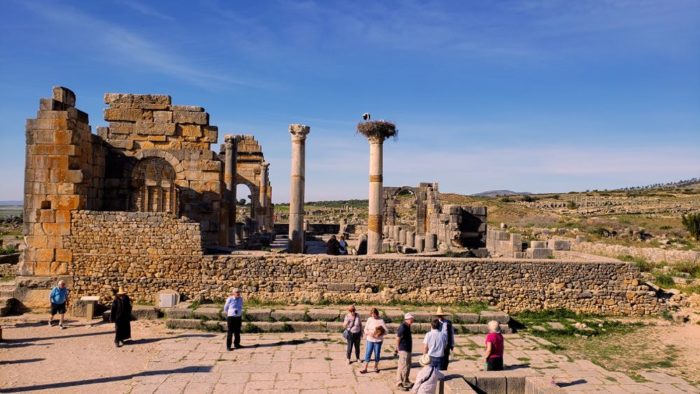 Travel and COVID-19: At the Airport
Tuesday morning, I awoke to an email from my husband and yet another article saying that Morocco was closing air travel to and from the UK at 23:59 that night. My faith lay with the embassies. I was sure they would have negotiated a means for repatriating their citizens. After all, what does Morocco want with us?
We left for the airport at 9:00 am for a 2:30 pm flight. We didn't know what we would be in for and all agreed, better to sit there and have time to deal with whatever was ahead of us than stay too long at the hotel.
When we arrived, the confusion made it difficult to determine what line to get in. There was no one to ask. I went to the front of the line and the men there had been waiting since 6:30 am. They didn't have tickets! I asked others as I walked back to my group and discovered some had tickets and some were there on a wish and a prayer. We waited there two hours when, finally, a representative came to declare the line we were in to be for standby travelers and another for those with confirmed tickets. We were in the wrong line. Ah well, there was a great shuffle and all got sorted.
While in line I met two women whose tour was cut short by about eight days. On their way to the Atlas Mountains they turned back and were put up for a night in Marrakesh. The next day they were left to sort their way home to New Zealand on their own despite having booked their flights through a different tour company. Their confirmed tickets were not for another week and, of course, they had to get out much sooner than that. I have to say, hearing this story confirmed that the care taken of us by Just You was really exceptional.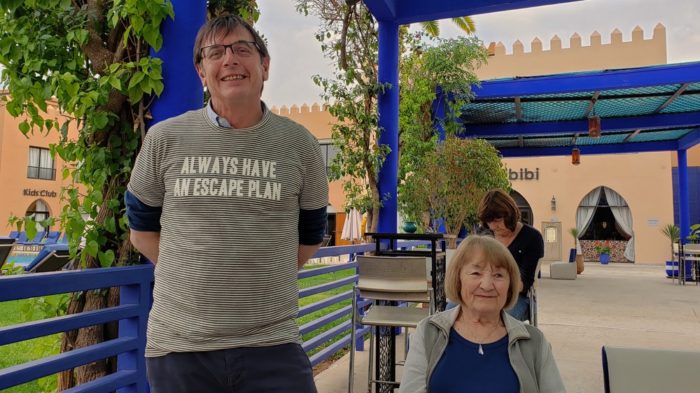 We're On Board the Aircraft
Once through check-in, security, and additional security at the gate, we boarded the aircraft only to wait some more. For some reason, we were not getting permission to take off despite there being very few planes at the airport.
An hour and a quarter in, they announced that they would begin to serve refreshments. But, as we were in Morocco, there would be no alcoholic drinks. You can imagine the sighs and laughs at this announcement. People were happy, even a little giddy, as we seemed to be on our way. These little inconveniences were more a source of humor than anything.
Two and a half hours after our scheduled departure, we got on our way. To great applause we landed at Gatwick another three hours later. Collecting our bags was easy as there was only one conveyor operating in the baggage claim area.
I expect that tomorrow's flight home via Air Transat will be easy with a fairly empty terminal but I'll get there early just in case. If anything special happens, I'll add it to this post.
I will be very glad to be home!
But then, there's two weeks of self-isolation. Ah well, I can use the time to write and dream of future travel.
I'd like to thank Just You for sponsoring this trip to Morocco. Please be assured the opinions are all my own.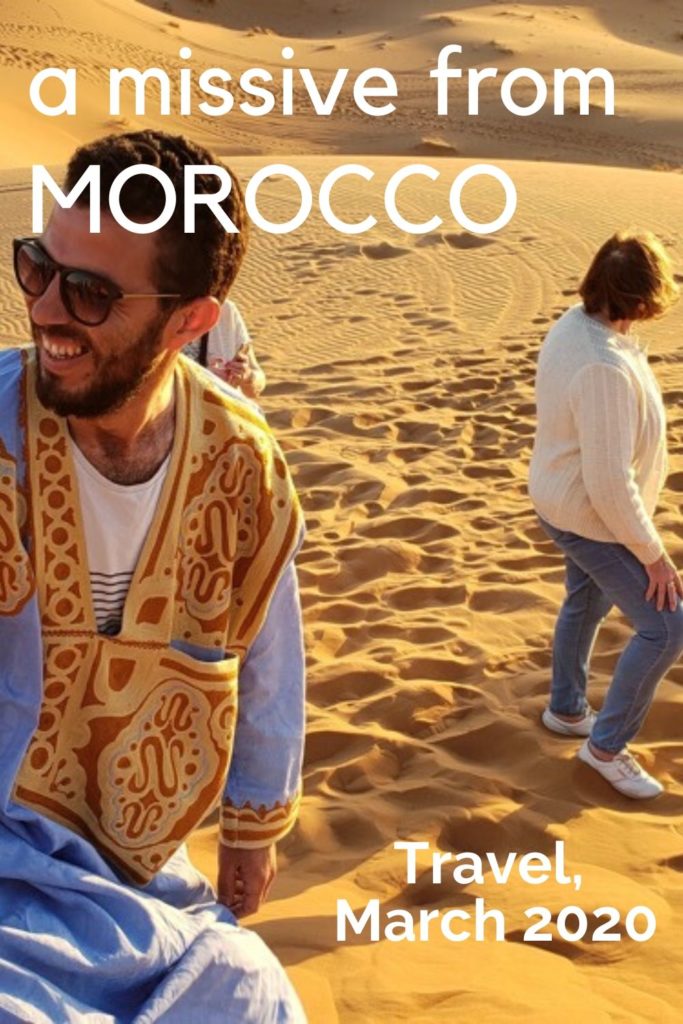 An Update from Home
Leg two of my trip home was from London Gatwick Airport to Toronto. I flew Air Transat, an airline that is often less expensive and one that I like for a number of reasons.
We boarded and on each seat was a plastic bag holding a sandwich, small Pringles, bottle of water and a sweet for dessert. The senior flight attendant came on the speaker to announce that this was a repatriation flight and would not, therefore have regular service. As she went on her voice cracked, I teared up and when I looked at the two women beside I saw that they had as well.
Upon arrival there were claps and cheers.
Home is an emotion as much as it is a place.