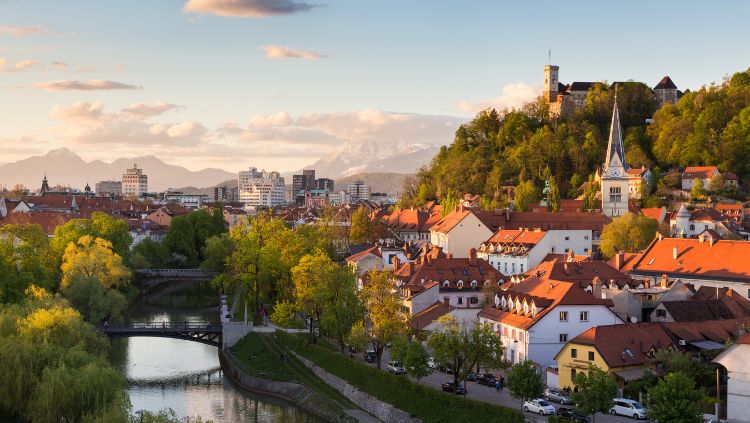 I'm in planning mode and it's exciting. It's my big trip of the year and it has quite a few moving parts. On this trip I'll be doing a road trip around the Adriatic. I'll be going to multiple cities in three countries and will require five modes of transportation as well as various kinds of accommodation.
Planning a trip of this nature is complicated. For this reason I thought I'd share my process.
Now, to be honest, this is not a solo trip. I'm getting married later this month and this will be our honeymoon. But please don't think that this is the end of me traveling solo. Oh no! We've been together five years and of all my travels over that time, only about 2 weeks a year have been traveling with Simon.
When deciding where to go, we had two criteria. One was that we both wanted to go there. The other was that neither of us had been there before. We also wanted it to be affordable. And then something was added to our mix. My brother decided to get married in Italy. That was it. The Balkans became our destination and we would incorporate a few days in Italy.
The planning process for this trip is no different from from a solo trip. So here you go.
Booking Flights
At the start, I keep my dates flexible and the city of arrival flexible too. Flying into a different city and a day or two in one direction or another can save a couple of hundred dollars. I use FlightNetwork because I've saved a lot using them but I don't assume that they have the best deal. I always check with the actual airline I'm considering before actually buying. In all cases so far I've found a better deal through FlightNetwork. So I book my flights thereby setting the start and end points and the time frame.
The result of my research is that we're flying into Venice for less than Can$800 or less than US$600 each.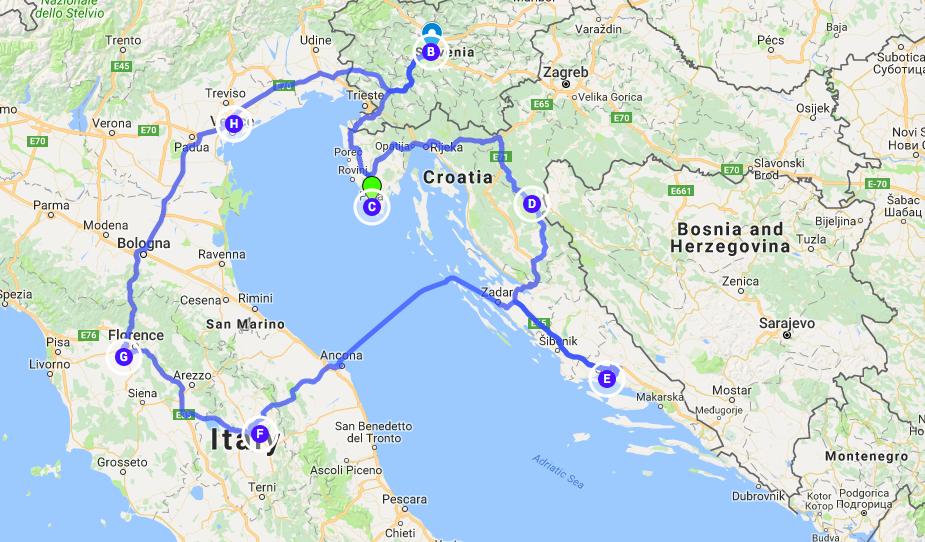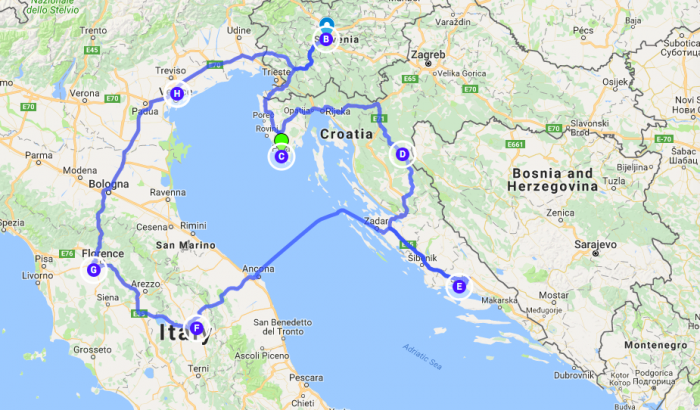 Planning the Road Trip in a Foreign Country
We pick up a car rental at Venice Airport and then we're off on this two-week road trip around the Adriatic. To decide our route I used a combination of the Destination posts we have on Solo Traveler about these countries, articles of inspiration I found on Pinterest, Google Maps to determine distances and hours driving between points and even this site that tells you what time sunset is so that we're not driving in the dark.
Once I gathered all that information, especially driving hours, I plotted the trip on a Google Map as above. It's nice to have a visual of the trip.
How to Use Google Maps to Plan a Route
To create a map you need a gmail account. Sign in, go to Google Maps, click on the menu in the upper left corner, choose Your Places, choose Maps, scroll to the bottom and click Create A Map.
Click on Untitled Map and name your map.
Use the search box to find your first destination, not your starting point. Click on the marker on the map of your first destination and a box pops up. Click Add to Map. Click on Directions and on the left you'll see a box to indicate where your starting point is. Enter it there. A line between your starting point and first destination will show on the map.
From now on you'll see below your list of destinations, Add Destination. Just name your place and the destination and driving directions will be added.
My map is above. You'll notice that there are 7 points on the map. However only 4 of them are places we'll stay. Two are stop-overs during the day and the other is our fly-in, fly-out point. I don't like being on the move all the time and four places to stay over 14 days is about perfect to me.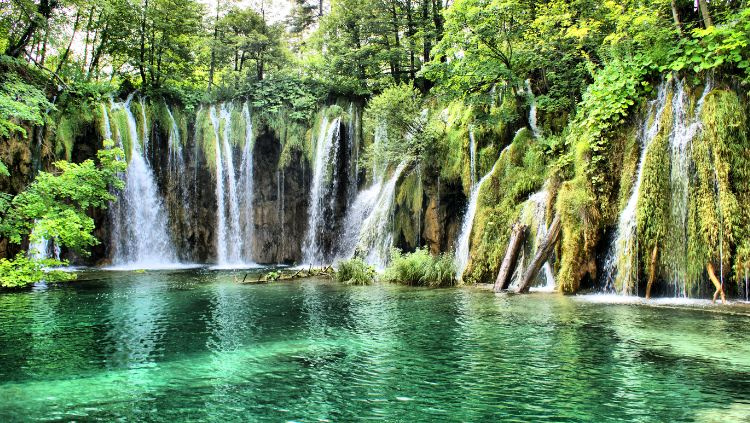 A 14-Day Itinerary for a Road Trip Around the Adriatic
Below is our basic itinerary. You may be surprised to see that we are not spending a night in Venice. But you remember our criteria. I've been to Venice but Simon has not so it wasn't a priority. Still, it's not a city to miss so we will take a half day so the Simon can at least see a bit of it and then we move on to Ljubljana.
Destination: Ljubljana, Slovenia
From Venice airport Drive to Ljubljana 2.5 hours – sunset is 8pm
Arrive Day 1 – Depart Day 4. Accommodation booked
Explore Ljubljana city and Slovenia countryside for three days.
Destination: Plitvice Lakes National Park, Croatia
Drive 5.5 hours to Plitvice Lakes National Park with stop in Pula for lunch
Arrive Day 4 – Depart Day 7
This is the plan but we're not booking our accommodation as this is the portion of the trip when we can be flexible.
Destination: Split, Croatia
Drive 4.5 hours to Split
Arrive Day 7 – Depart evening of Day 9 on overnight ferry
We'll have two full days in and around Split and because we know we have to be there for the ferry we have booked an Airbnb for two nights.
Destination: Florence, Italy
Overnight Ferry Day 9 to Ancona on the Day 10
Drive 2 hours to Assisi and spend a few hours there.
Drive 2 hours to Florence
Arrive Day 10 – Depart Day 13
Staying at luxury accommodation where my brother is getting married.
Destination: Venice Airport
Drive 3 hours to Venice Airport Day 13
Fly home
Booking a Rental Car for Eastern Europe
Booking a rental car for my road trip around the Adriatic was a bit of a challenge because the plan was to go through Eastern Europe. I checked online with a couple of rental companies directly but went through Auto Europe in the end. A few comments regarding the car rental.
Auto Europe's rates include all fees so the price you see is the price you get. That's not always the case and can result in surprises.
Online you pay in advance and can cancel up to 48 hours in advance of pickup. If you cancel less than 48 hours before pickup there is a $75 cancellation fee. I booked over the phone in which case I can cancel up to the day I am to pick up the car.
It was less expensive to pay for 14 days rather than the 13 days I need. There is no charge for returning the car early but also no refund for doing so.
I had wanted to include Montenegro and Albania in our trip but those countries are out of bounds for this car rental. There are a number of countries outside of Western Europe that are not covered by rental car companies. I called to get these details before booking. Budget Rent-a-Car does not allow any Eastern European destinations yet Avis does. We have a car from Avis.
You might find this post helpful if you are not accustomed to driving in Europe: Driving Tips for Europe: Written and Unwritten Rules of the Road.
Booking the Ferry from Croatia to Italy
There are a number of ferry companies that operate between Croatia and Italy including SNAV, Blueline and Jadrolinija. Finding the routes and timetables was easy. Booking was a bit difficult. I ran into road blocks at various points along the way.
I started my booking with Directferries.com however I didn't have the registration of our rental vehicle and the form wouldn't allow me to advance if the field requiring it was blank. A phone call and I knew that I could put TBD into the registration field. I hung up, finished online but then my credit card had a security issue. They wanted me to send them a scan of my card and my passport to an [email protected] For me, too many things could go wrong with that so I declined and started over with SNAV's site. Again, it was clunky but with what I had learned before I finally got the booking finalized.
Booking in advance is advisable if you have a car. If you're on foot and don't want a cabin or a reserved chair (Split to Ancona is an overnight sailing) you are more likely to be fine.
Deck space is included in the basic price meaning that you are not guaranteed a seat. A reserved seat was $27.99 and a reserved cabin was $44.79.
If you are taking a rental car put TBC in the field asking for the registration number of the vehicle.
Booking Accommodation
I have not booked all the accommodation yet, however it will be a combination of a very cool hostel in Ljubljana, an Airbnb likely in Split so that I use a credit I have with them and hotels. For hostels and hotels I always book through Booking.com for their cancellation policy and their customer service should something go wrong. I've visited their service center in Toronto and was very impressed.
My Budget for this Road Trip Around the Adriatic
This trip should cost somewhere around $6,500 for the two of us for 14 days. Some of the prices below are confirmed and others are an estimate. Solo travelers could save on the food budget, the museum and entertainment budget, some accommodation as the Florence location is expensive because it was based on my brother's wedding, and, of course, the extra flight. Here's how it breaks down in Canadian dollars.
Flights – $795.00 each
Car rental 13 days – $398.50
Gas – $420.00
Parking – $150
Ferry – $300 including cabin for two
Accommodation 3 nights unconfirmed – $375.00
Accommodation 4 nights Ljubljana – $300.00. We're staying in a very cool hostel.
Accommodation 2 nights Split – $38.00. I had a credit with Airbnb, other wise it would have been $135.00)
Accommodation 3 nights outside Florence – $525.00
Food – $1300.00
Museum/Entertainment – $450.00
Maps and guidebooks (digital) – $25.00
Miscellaneous – $300
For more road trip inspiration, advice, and stories from the road, see Road Trips: Tips & Itineraries for Solo Travelers.