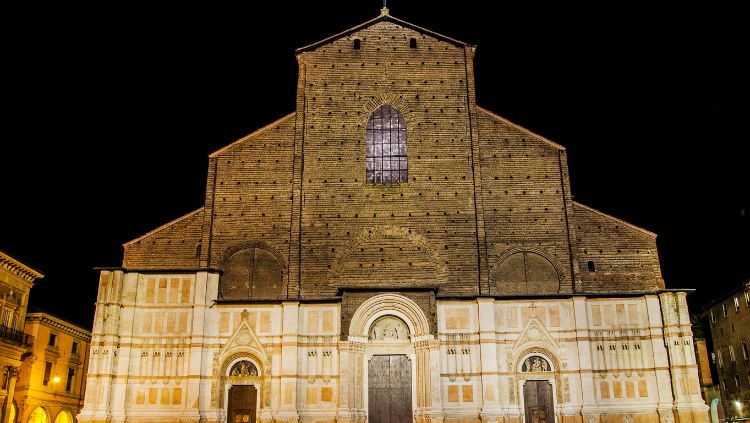 Three very different countries, one great road trip covering Italy, Slovenia, and Croatia. A bit of the Balkans and a lot of glorious Italy, some on the beaten path and some off it. This road trip around the Adriatic is one you will remember for a very long time.
There are many possible starting points for this circular trip. Where you begin will be determined by your point of origin and the flight schedules. There are not as many flights going directly to Europe as there once were. At the time of writing, there is only one direct flight to Italy from Toronto, for instance. It goes to Rome. There are no direct flights to Slovenia or Croatia.
It's also worth mentioning that flights are very expensive right now. Be flexible with your dates and the number of stops and you may be able to save some money. Check Skyscanner and Flight Network as well as the airlines that seem to be the best option to find your best deal.
Let's start this plan in Rome.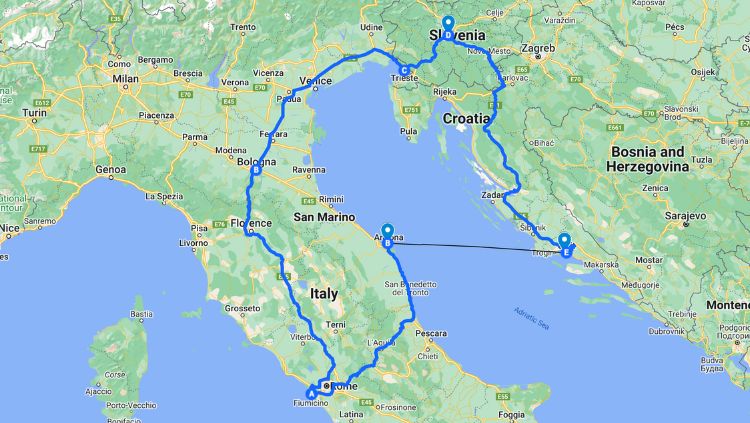 How to Map Out a Road Trip
To decide on a route I determine the highlights I want to see and then turn to Google Maps to determine distances and driving hours between points to see what is realistic. I plot the trip on a Google Map as I did for this circular road trip around the Adriatic, above. It's nice to have a visual of the trip. I add additional stops as needed.
How to Use Google Maps to Plan a Route
To create a map you need a gmail account. Sign in, go to Google Maps, click on the menu in the upper left corner, choose Your Places, choose Maps, scroll to the bottom and click Create A Map. Then, follow these steps.
Click on Untitled Map and name your map.
Use the search box to find your first destination, not your starting point. Click on the marker on the map of your first destination and a box will pop up. Click Add to Map.
Click on Directions and on the left you'll see a box to indicate where your starting point is. Enter it there. A line between your starting point and first destination will show on the map.
From now on, below your list of destinations you'll see Add Destination. Just name your place and the destination and driving directions will be added.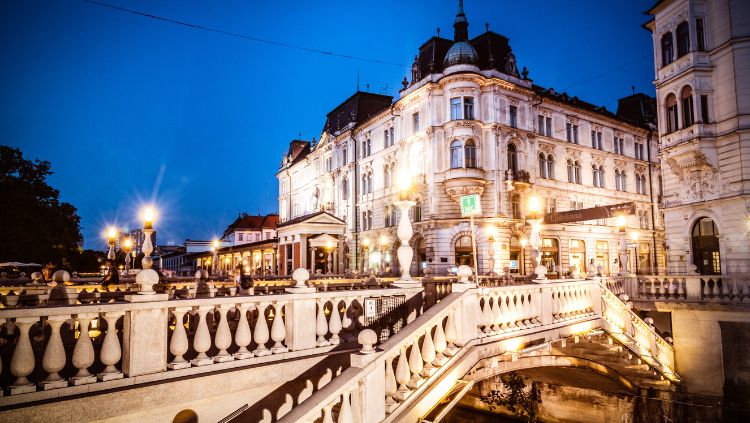 14-Day Itinerary for a Road Trip Around the Adriatic
Below is a basic itinerary, starting in Rome. It includes Italy's big three cities but suggests staying in smaller cities to avoid astronomical accommodation prices. Florence, Venice, and Rome are included in this road trip around the Adriatic but if you have already explored those, there are plenty of other options.
Rome to Bologna – 4 days
In the first four days of your trip choose from the following:
Stay and explore Rome for two days and then do what you can of the Bologna choices.
Stay in Bologna for all four days and explore Bologna for the amazing history and food culture. Then choose one or two of the following:

a day trip food tour of Emilia Romagna to enjoy some of the best food in Italy. The region is known for Prosciutto di Parma, Parmigiano Reggiano, and Modena balsamic vinegar.
a day trip to Florence. It's a half hour by train to the city center. Definitely leave your car behind.
a day trip to Ravenna for the Christian and Byzantine mosaics. It's about one hour by car.
Bologna to Ljubljana – 4 days
Day 1 Drive to Venice (1 3/4 hours) and spend the day. Venice is a car-free city so you'll have to park outside the historic center. Here's an article with lots of information on parking for Venice. Either splurge on a hotel there or leave early enough and stay in Trieste which is two hours away by car.
Day 2 Enjoy Trieste and drive to Ljubljana (1 hour) and settle into the city. I loved this city as it felt a bit Austrian and a lot Italian but with fewer tourists than in either of those countries.
Day 3 Take a tour of the city on foot or by boat, visit the castle, and enjoy the food.
Day 4 Take a day to explore beautiful Lake Bled and the Vintgar Gorge and enjoy some light hiking or more adventurous canyoning.
Ljubljana to Split – 3 days
Day 1 Drive 5.5 hours to Plitvice Lakes National Park and stay overnight in the area. Explore the amazing waterfalls in the afternoon.
Days 2 and 3 Drive to Split and spend two days. Split is a lively port city with a fascinating architectural history affected by Roman, Byzantine, and Venetian civilizations. Jump forward to the 19th century and there's the influence of the Napoleonic wars as well.
Evening Day 3 Take the overnight ferry from Split to Ancona. It's 11.5 hours, so you'll get a bit of a break from driving on your road trip around the Adriatic.
Split to Assisi, Italy – 2 days
Day 1 Arrive on the overnight ferry from Split in Ancona at about 7 am and drive 2 hours to Assisi, a beautiful hill town in Umbria. The Basilica of St. Francis is a massive, 2-level church, consecrated in 1253 with 13th-century frescoes portraying the life of St. Francis. Given the size of the town there are quite a few churches if that's your thing. It's a very small, walkable city so enjoy.
Day 2 Get yourself sorted in terms of the timeline for your departure day, which is tomorrow. Then, I suggest that you spend your last day soaking in the ambiance, enjoying the food, and drinking the wine of Italy. It will be behind you tomorrow.
Assisi to Rome and Departure – 1 day
Departure day is a day of logistics, an unfortunate necessity of travel.
Revel in all that you have seen and done and look forward to being home in your own bed once again.
For more road trip inspiration, advice, and stories from the road, see Road Trips: Tips & Itineraries for Solo Travelers.