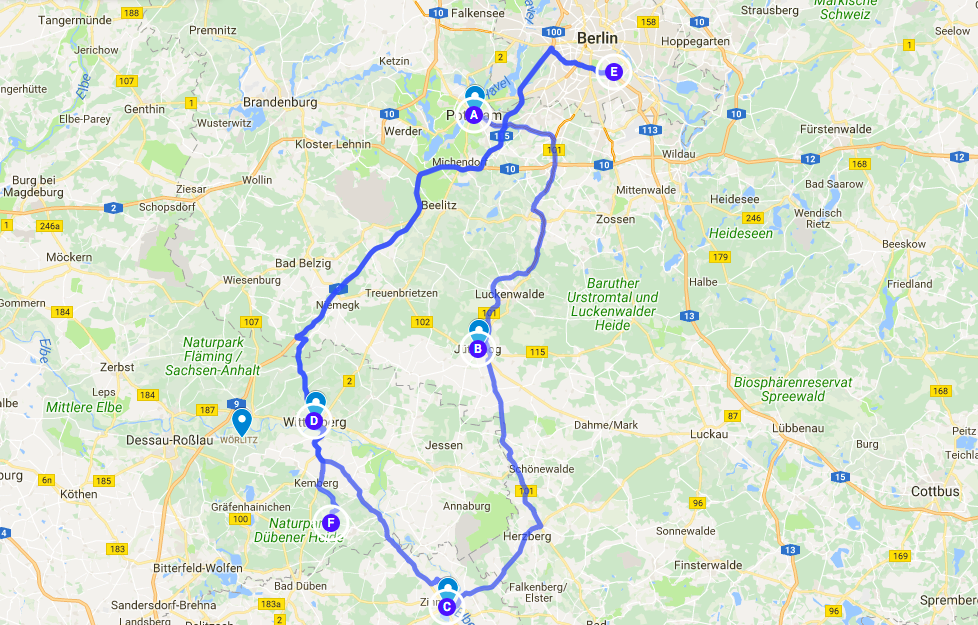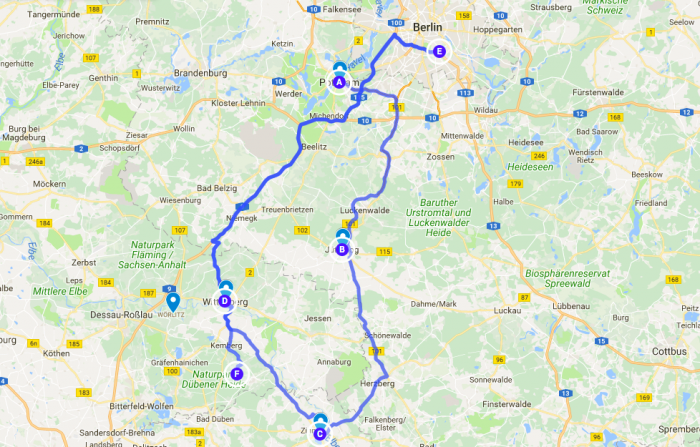 I love history so starting my German road trip in the imperial city of Potsdam, exploring its enormous palaces and gardens, was a great way to begin my trip!
The Prussian kings built luxurious palaces in Potsdam in the 18th Century and nowadays, their gardens interconnect so you can walk from one palace to the next.
It's not an easy trek but there are sculptures and fountains along the way which make it enjoyable. I particularly liked the Sanssouci Palace with its lovely terraced gardens and glass doors to protect the fig trees from the harsh German winter. The gardens themselves are now a UNESCO world heritage site which is not surprising for they are truly majestic.
That night, I stayed at Hotel Brandenburger Tor Potsdam, a modern hotel right beside the (other) Brandenburg Gate, ate copious amounts of Saxon rolled beef and potato dumplings and awoke to head further back in time to medieval towns nearby.
This trip was prompted by the five hundredth anniversary of Martin Luther posting the 95 theses on a church door in Wittenberg, an event which began the Reformation. Soon I'll tell you about how this history is reflected everywhere in the country but for now, on to my road trip through the beautiful medieval towns of Germany.
History in the Houses
The first medieval stop was in Jüterbog, a tiny village in the former East Germany with churches and monasteries dating back hundreds of years.
In Jüterbog, it was fascinating to see how different historical periods are clearly visible through architecture. In communist Eastern Germany (the DDR as it's called), the houses built were grey and utilitarian. After the Berlin Wall fell and resources became more available, those homes were decorated with bright colors. Often, right next to them, are 19th Century Neoclassical houses or Rococo buildings from the 18th Century. Next to them are half-timbered houses from the Gothic era.
Unlike in Dresden or Berlin, many of the towns I visited survived allied bombing in World War II so this interwoven history is much easier to see and makes a trip outside of the major German cities really worthwhile.
Beautiful half-timbered homes
If you're interested in medieval buildings, the cities of Wittenberg, Halle, and Erfurt are spectacular to visit.
I could live in any of the towns I visited, but if I had to choose one, it would be Erfurt. It feels like a university town and has tiny hipster cafes next to historic sites which people pass on bicycles as they go about their day. When I arrived, they were setting up a wine festival in the main square which looked just as charming as the Christmas Markets I saw in Austria a few years back.
Along the stairway leading up to Erfurt's Cathedral are food stalls so that you can grab a quick pastry before you head to church. There's a bridge with half-timbered buildings on it that was built in 1117 CE (it's called the Krämerbrücke – don't the Germans have such great names for things?). It's very touristy but it's also undeniably pretty and I imagine that sitting on the patio in one of those 800-year-old homes, overlooking the streams that run through the city with a glass of Riesling in hand would be quite perfect.
Surprises in Germany's Medieval Castles
A short drive away is Torgau, my next stop. After staying the night at the Goldener Anker Hotel in the town square, I went for a run encircling the walled city in the morning and then visited the large castle that dominates the town: Hartenfels Castle.
Hartenfels is different from the palaces of Potsdam because of its age, its style, oh and the fact that it has bears living in the moat.
Yes, you read that correctly.
Actual,
live
bears.
I still can't get over this. If you look down as you cross the bridge into the castle, you'll see two brown bears relaxing on the grass below, patiently waiting for you to fall in so they can eat lunch.
It wasn't just Hartenfels that was surprising. In another castle, Burg Querfurt, there is an enormous tower that was built in the 12th century and dubbed "The Fat Henry." It was used to store grain after the Thirty Years War but today it's decorated with a long blonde rope braid as if Rapunzel is letting her hair down from the window above….and people say Germans don't have a sense of humor!
A few miles away, in Rochlitz, I was shocked to find a10th Century castle with an uber-modern exhibition inside. Castle Rochlitz had a Virtual Reality Tour in one of the rooms, showing you how the castle was variously decorated from the 900s to the modern day. There were rooms in which you could dress up as knights and interactive plastic jesters all throughout the castle for kids to learn about the history of the site. It was so unusual yet delightful to see a modern museum in this very old building.
Volcanoes, in Germany?
In my research before the trip, I discovered another surprising thing: an unusual fact about one of the parks in the region. Back in the 19th century, the Duke of Anhalt-Dessau visited the site of the ruins of Pompeii in Italy and saw Mount Vesuvius. Upon his return to Germany, he decided to build his own artificial volcano in Wörlitz Park. It's the first of its kind in the world and it still works! And the German government occasionally organizes an eruption! I really have to be there when it happens again.
Painting in Luther Country
After long days of driving and walking around this pretty country, I would set aside time each day before dinner to do some watercolor paintings.
When in Wittenberg, I was leaning against a wall with my paints on a window ledge when an older gentleman approached me and started talking in German. Especially in small-town Eastern Germany, it can be uncommon to find English speakers.
"I don't speak German, I'm sorry," I said.
He kept pointing to the painting and talking but I was still clueless so he eventually walked away. A few moments later, he returned with a cellphone in hand. It was opened to Google Translate and read: "My daughter is an author and painter in town."
"Wunderbar!" I said, using the limited German I have in my repertoire, "danke schön."
It's small interactions like this that remind me how much easier it is to communicate with people in the 21st century, no matter where you happen to be.
Germany by Car is the Best Way to See the Country
Driving around Germany and seeing all of these lovely towns is really the best way to visit the country. Instead of taking the autobahn, I drove a silver Mercedes through the beautiful winding roads of the German countryside. What I still find so remarkable is that it seems like every road was lined with trees or wound through a forest. A few times there was an alleé of apple or pear trees on the roadside so I hopped out of the car and grabbed a quick snack from the branches.
Magical!
As are the castles. If you follow signs with "schloss" or "burg" in the name, you can discover any number of castles on your journey. Even if the weather calls for rain, stormy days provide a great ambiance for visiting Gothic castles. At Schloss Rochlitz, I walked the ramparts, climbed to the highest tower and opened the windows to watch the wind and rain from above. Then I walked back down and warmed up in the nearby Blümchen cafe with a cup of hot chocolate.
Prior to taking this road trip around the country, the only other experience I had of Germany was in its big cities. I had no idea that its countryside was so beautiful, full of little villages and castles, fields of sunflowers, and surprising delights. As much as I'm a city person, the countryside in Germany may have converted me.
For more posts and tips by and for millennials read Solo Travel in Your 20s & 30s: Budget, Luxury & Gap Year Tips
This post was brought to you as a result of the Luther Country campaign, created and managed by iambassador in partnership with the German National Tourist Board. As always, Solo Traveler retains all editorial control of what is published.