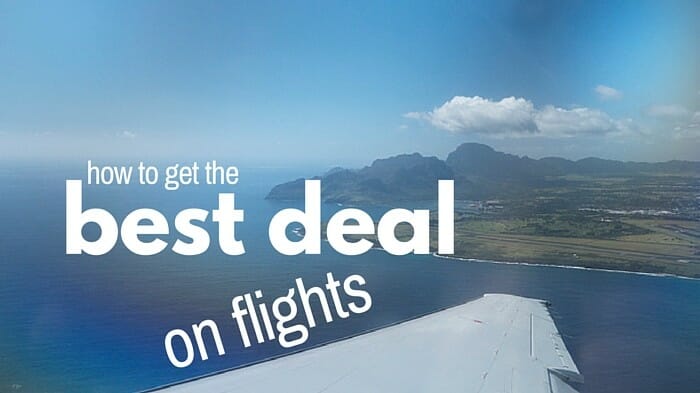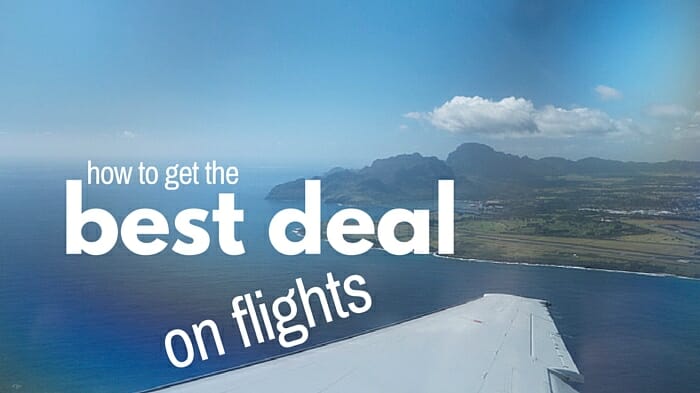 Everyone wants the best possible deal they can get on a flight.
It's natural. Save on flights and you'll have more to spend at your destination.
Fortunately for solo travelers, we have an advantage in this  arena. Searching as one person will usually deliver a better fare than if you search for two or more. How often does that happen? Solo travelers don't usually receive a better price for being just one!
Still, flights are expensive. It would be nice if all your flights could be paid for with points – especially points earned by flying for work. But not everyone is in such a position. What if you're just the average traveler with an average job? There's lots you can do to save. This is a long post so I've broken it down into three sections.
There's a lot to be covered so let's get started.
Simple Tips to Save on Flights
Sign up for a travel rewards credit card. I earn hundreds of dollars on my credit card every year that I put towards travel. I do so by using my travel rewards credit card for every purchase possible, from a coffee to the computer I'm using right now. (Read Decide on the Right Travel Rewards Card.)
Start looking about 3 months out. If you're a travel planner as opposed to a spontaneous traveler, start your search at least three months ahead. The sweet spot for getting the best deal on a flight is supposed to be 8 to 12 weeks before flying. However, that doesn't mean you will definitely get the best deal at that point. Start then to get the lay of the land.
Be flexible on your dates. Shift your dates a bit if possible. Flying a different day of the week can save in the low hundreds. Flying a different week could save more. So rather than booking specific dates for your vacation, try to pencil in a range of dates and confirm the actual days later. This will give you the option of running your holidays in the typical Monday to Monday pattern or shifting to Tuesday to Tuesday or Wednesday to Wednesday. The data suggests that you might get a better price flying on Tuesdays or Wednesdays.
Be flexible on your destination.  Booking sites like Skyscanner give you the option of entering "everywhere" into the destination search field. They then deliver a list of flights from your departure airport starting from the cheapest to the more expensive. Kayak Explore lets you do something similar but offers the search results on a map. Read: When Travel Is the Goal, Not Destination.
Be creative with your route. One direct flight is always ideal but what if you could save a few hundred dollars by flying into another city and taking a commuter train or plane to your final destination. I did this when traveling to Inverness. The city is a bit out of the way. I could have flown to many cities and taken a connecting flight for Inverness. Instead, I flew direct to Glasgow and took a train to Inverness. It was far more relaxing and less expensive.
Look for the cheap airport. Some airport taxes are higher than others.
Search incognito. Cookies are like a trail of breadcrumbs you leave behind you as you search the Internet, but they're not for you to retrace your steps. They are for the websites to know what you've been doing on their site, like searching for fares to a specific destination. Once they know what you're looking for and you return to check the fares again they can manipulate the results. This doesn't mean that they definitely change fares knowing that you visited before, but they can. Search without cookies so that the fares can't be manipulated.  This is how Google tells you to do it. You can use Duck Duck Go as your search engine, as it doesn't allow cookies. Or simply turn on private browsing in your favorite browser. Here's how to turn on private browsing in Firefox.
Use an aggregator to comparison shop. Start with an aggregator search engine such as FlightNetwork or Skyscanner. (If you are searching European destinations check out GoEuro which will give you train and bus options as well.) There are quite a few aggregators. These sites search many airlines and booking engines to give you a list of your options. This is valuable because not every booking engine will retrieve results on all the possible flights from one airport to another. Multiple aggregators broaden your search. THE ONE I USE: I've used a variety of sites over the years but the one I like best right now is FlightNetwork. When I booked a flight to New York City recently I saved almost CAD$200 on a $500 flight compared to the airline's site. I just checked it again and the saving was $66, not quite as much, but I'd take it. I was equally lucky when I booked a flight home from Glasgow for $400. FlightNetwork also offers Price Drop Protection which I've not yet tested.
Set up price alerts.  With your favorite aggregator, or aggregators, set up a price alert through their app so that you get an immediate alert on your phone when there's a price drop. I set up a price alert for a flight to Miami and received notice of a flash sale from Westjet where the price had dropped CAD$246.
Always check the airline's site. I always do this and sometimes I save a bit. But when booking a flight to Sydney, Australia three months ahead, I saved $256 return by booking with Air Canada directly rather than through Expedia. That's a big saving!
Know the short-term cancellation policy. It's important to know the cancellation policy in your jurisdiction. In Ontario, consumers have a 24-hour window during which they can cancel a flight without a penalty. This allows me to book a flight that I think is a good deal and keep looking for 24 hours with the knowledge that I can cancel if I find something better.
Find fare mistakes. This happens more often than you would think. It might be due to human error or a computer glitch but, regardless, mistakes are made and sometimes incredible deals are on offer. Check out sites like Secret Flying or follow them on Facebook or Twitter to keep up with the latest deals.
Look for what's included. If you're a carry-on person, check the carry-on allowance. You may save by booking a more expensive flight that has the inclusions you need such as checked baggage and food.
Use budget airlines. Budget airlines offer great fares but a lower level of service. Be aware of what you're really buying so that your great deal isn't compromised by extra fees. Here's how to get the best from a budget airline.

Don't be hit by surprise baggage fees. Know what your baggage allowance is and pack accordingly. Here's a link to our packing list. And here are 24 tips on how to get through airport security with ease. Many of these can only be applied before you leave for the airport.
Will you need meals on the flight? Many flights don't serve meals. My recent flight from Glasgow to Halifax to Toronto only had juices and soft drinks and small bags of pretzels free. Otherwise, for this 7 1/2 hour flight I had to buy my food. It was a first for me on a transatlantic flight. Know what will be served and pack a meal to save money.
Pack headphones, bring a scarf. Some airlines still charge for headphones to watch the entertainment system. Others will charge you for the use of a blanket. I bring my headphones with me and I always go with a scarf large enough to warm me up if the plane is cool.
Set up your own entertainment system. Whether it's music, an audio book, or a movie, you can download these onto your phone or tablet and save money when flying a budget airline that charges for their onboard entertainment. Netflix is now an option as they have allow us to download programs and movies onto our devices.
Save the web pages you want to read before you fly. Wi-Fi in the sky is expensive. You need it if you want to check email but if there's an article you want to read on the flight you can save it in your browser for reading before you board.
Stopover Flights Deliver More Travel for Less Money
Multiple destinations on one trip can be costly. But plan the multiple destinations with stopover flights in major airline hubs and you can definitely travel more for less.
On the day I researched this article in May, with FlightNetwork, I could fly from Toronto to Prague on August 1st, returning on August 15th for  CAD$1,252.  Were I to choose to stop down in Amsterdam and then go on to Prague on the 8th, and return from there to Toronto on the 15th of August, my flight cost would be $1,377, just $125 more.
Let's look at a similar scenario in travel to Asia. Again using FlightNetwork, the roundtrip flight from Toronto to Bangkok leaving August 1st and returning on August 15th is CAD$1637. If I were to travel Toronto to Hong Kong on August 1st then on to Bangkok on the 8th and return home on the 15th, the total cost would be $1,850.  The additional cost is $213. In this case you'd fly Cathay Pacific, an airline with a great reputation, as opposed to China Eastern Airlines.
A smart stopover is good value for your travel dollar. But how do you find them?
How to Find Stopover Flights to Save Money
Finding the perfect stopover can take a lot of research as there is no clear-cut method that covers every travel option. Try a few of the methods below to determine which uncovers the best deal for you.
Choose an airline with a stopover program. Air Canada, IcelandAir, Finnair, and many more airlines have specific stopover programs. Check to see if your favorite airline has a stopover program simply by googling the airline + stopover.
Understand airline hubs. Hubs are airports that airlines use as major transfer points. As such, they are prime airports for a layover that could be extended into a stopover. By knowing which airlines use your destination airports as hubs you can narrow down which airlines to search for stopovers.
Buy one-way tickets. Consider buying a series of one-way tickets on budget airlines that hub in your destination cities. For example, JetBlue hubs at JFK Airport in New York City. You could fly to NYC on JetBlue and stay for a few days. If your next destination were Miami you could book on Spirit, which hubs in Miramar, Florida, which is essentially Miami.
Get yourself to the region first. If you're traveling overseas it's likely best to get yourself to the region first and then book on local budget airlines. For example, flying from Toronto to Paris, non-stop, in October is CAD$835 return. If I want to spend a week in Berlin as well it's best that I make a separate purchase of a short-haul flight on easyJet, a budget airline. That hop would cost less than CAD$200. When I looked up the two cities  as a multi-city trip the cost was over $2,000. Be careful when booking budget airlines as their limits on luggage could cost you a lot.
Use a specialty online booking engine. For the information above I used FlightNetwork, my current favorite booking engine. It has saved me hundreds of dollars in the last year. But there is also a booking engine called Indie that specializes in multi-city trips. So, I ran the Toronto, Paris, Berlin and back to Toronto flight through their system. It picked up the easyJet option to Berlin and came out at the same price, around $1,000. On the downside, the transatlantic flights were not nonstop. To get direct flights the cost they found was $270 more than those noted above.
Use a specialty travel agent. Airtreks is a travel agency that specializes in booking long-term travel and, as such, they specialize in multiple flights in one trip. They know which airlines hub where, which ones have stopover programs for what destinations, which local carriers are going to save you big time when moving within a region, etc. In other words, they know the ins and outs of all the methods above. However, to use them you need to have a complex trip. Here's their minimum: "TripPlanner requires at least 3 stops internationally in at least two countries not including the start and end cities."
I would love to hear how you have used stopovers in your travels, whether they be long or short-term. Please share in the comments below.
How to Make Money from Overbooked Flights: 10 Tips
You've heard the announcement before. The flight is overbooked and $200, $500–oh, it's up to $800–is being offered if you're willing to be bumped.
You've been tempted to take the offer but it will ruin your plans.
Ah, but what if your plans included this possibility? They can and there are people making travel money/credits by planning accordingly.
Why Airlines Overbook Flights
Airlines want to maximize revenue by flying full planes as often as possible. However, if they sell 100% of the seats on a plane they may still fly at less than capacity due to no-shows, cancellations, and missed connections. To avoid this they sell more tickets than there are seats.
The number of extra tickets sold is based on historical data. But historical data is not necessarily a predictor of what will actually happen. When the data is wrong and there are more people than seats, someone, perhaps many people, need to be bumped either voluntarily or involuntarily.
There is also an expense side to this picture. A plane sitting waiting for passengers to board costs big money so when an overbooking situation does arise, the airline wants to resolve it as quickly as possible.
Involuntarily Bumped? Know Your Rights
The US Transportation.gov site has an Aviation Consumer Protection section which provides detailed information on consumer rights including bumping rules. Essentially, if you voluntarily accept a bump your compensation is up to a negotiation between you and the airline. If, however, you are bumped involuntarily, compensation must be legal tender, not a credit, and goes as follows:
If they get you to your destination within one hour of your original scheduled arrival time there is no compensation.
If your delayed arrival is 1-2 hours late domestically or 1-4 hours on international flights you deserve 200% of your one-way fare up to $675.
If that delay exceeds 2 hours domestically or 4 hours internationally that compensation jumps to 400% to a maximum of $1,350.
See the full details on involuntary bumping here.
Volunteer to be Bumped and Earn Travel Money
Being voluntarily bumped may be an opportunity to make a bit of money or, at least, an airline credit towards future travel.
My sister and her husband were flying home from Florida earlier this year when they accepted a voluntary bump in Atlanta. For the inconvenience of having to explore Atlanta for a day – which they loved – they were paid $1,000 each!
If only such an opportunity came along often! For frequent flyers it could. One fellow I know of flies weekly for business. Through experience he identified the one flight that tends to be overbooked. With a bit of flexibility in his schedule he books that flight on a regular basis and sometimes earns travel credits when the compensation offered reaches his threshold.
But what if you don't have an inside track like this fellow? With no data available on what flights get overbooked on a regular basis here's the accumulated wisdom I found on how to deal with, and possibly gain from, overbooked flights.
Fly on the busiest days. Generally speaking, early Monday mornings and Friday afternoons tend to be the busiest days for travel. This is when business frequent flyers are traveling and may be less motivated to accept a bump. That said, flights are usually a bit more expensive at these times. But there are days like the day before Thanksgiving that are particularly busy, Fridays in the summer months, and during spring break.
Fly the airlines that overbook the most. According to Airhelp.com Delta, United, and Southwest do the most overbooking, so you are more likely to be bumped on one of their flights.
Know what your time is worth. Do you have to meet someone? Do you have a retreat booked? Is money worth taking time from your vacation? Consider all this and decide what amount of money would make compromising your plans worthwhile.
Know before you go. Check your flight before you leave for the airport. Are there many available seats? None? It's possible there will be a bump process.
Don't check your bags. If you get bumped you'll want to have your bags with you. All the more reason for using a carry-on. Here's my post on Bare Minimum Packing.
Get to the gate early. The bump auction could happen at any time so be there early so you can participate.
The bump auction. When an airline has to bump passengers they want to offer as little compensation as possible. They may start by offering free meals or lounge passes. Is this good enough? You decide. Then they'll go into travel credits, perhaps starting at $100, and they'll keep increasing the amount until all needed bumps are dealt with or it's in their interest to involuntarily bump someone. If you had $500 in mind as an acceptable compensation and you waited but all bumps were satisfied at $400, then you get $0. Such is the way of the bump auction. You have to be prepared to lose.

Another strategy is to accept an early offer and ask at the desk to receive the same compensation as the last offer. Apparently this can work.

Sit near the gate desk. When your desired bump value is reached you'll want to move quickly. Sit near the gate desk so that you can step up quickly.
Ask for cash rather than a credit. The terms of a credit can vary and may include blackout dates. This, clearly, isn't great compensation so, if possible, get cash. If it's a credit, know the terms for your airline. Delta offers Delta Dollars. Their policy is clearly written on their site and indicates that Delta Dollar transportation vouchers are good toward the purchase of any published fare on Delta Air Lines.
Know what the compensation includes. Does the bump mean that you have to fly out the next day? Will the credit you receive include a hotel night and meal vouchers? All of this must be considered to determine whether your bump is worth it.