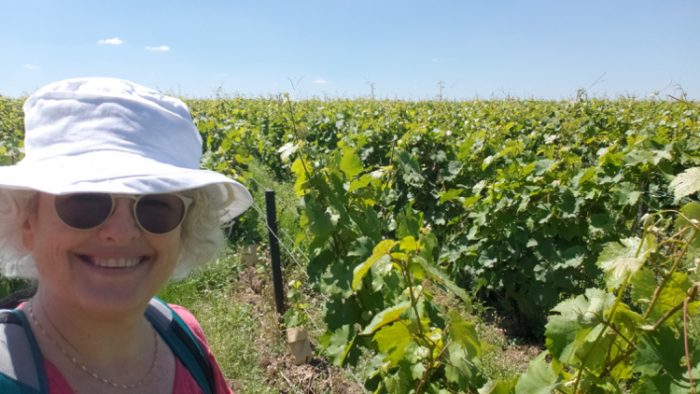 The pleasure of the self-guided tour that I took in June lingers with me.
Being a self-guided tour I was able to go at my own pace. It is because I was able to stop when the mood struck me that the trip lingers with me so vividly today.
This fact was brought to mind as I chatted with a neighbor about walking holidays. She and her husband recently walked the Coast-to-Coast path across the north of England. They covered 304km in 17 consecutive days with one day off. They walked 25km – 37km in a day through very rugged country.
There was little lingering involved.
I was amazed. They are clearly in spectacular shape. Much better shape than me. And while the accomplishment inspires me, and I might want to do the walk at some point, I would want to take much more time.
My self-guided walking tour of the Loire Valley with Exodus Travels in June is dwarfed by theirs. I walked 20-25km a day with a day off between each walking day. But while the distance and physical feat may be less, I don't feel my tour diminished in any way. In fact, I feel really good about it. I was not driven simply to cover the days trek but had the time to enjoy the journey. The Exodus trip was designed by tour guides for tourists. It's realistic for most people.
Today I want to share with you some of the moments that I lingered over. The times I took pause from walking to just enjoy where I was. The walking distance I did each day took 3-4 hours. This gave me lots of time to sit and have a nice lunch, to relax by a lake and read for a while, to stop and watch some kayakers… to take in the journey.
I felt accomplished for having walked so far. I also felt incredibly relaxed as it was doable at my own pace and a somewhat meditative experience. From this trip you can also read:
Now, here are a few photos of some of the moments I lingered on – because I could.
Some of My Favorite Moments on my Self-Guided Tour
This self-guided tour gave me the perfect balance of a physical challenge, relaxation and the opportunity to slowly explore the Loire Valley.
This trip was sponsored by Exodus Travels. Of course, Solo Traveler maintains full editorial control of the content published on this site.