A message to our readers
None of us will be traveling anytime soon, but it doesn't mean that we will stop dreaming about it! Until we can travel again, we will continue to publish Solo Traveler and support the companies that treat solo travelers well.
We have a small favor to ask. When you finish reading this page, please visit another page on the site. Technically, this bit of help will go a long way. If you're on your phone, it may be hard to find a link. Here's one for you. What to Do When You Can't Travel

And please visit us frequently. We'll continue to publish 3 times a week.
With thanks, Janice, Tracey, Simon and Tycko
Single vacations are about relaxation and exploration.
A resort in an interesting destination or a cruise with multiple ports of call are perfect for a singles vacation. They give you a place to settle in a relaxing atmosphere, the opportunity for days by the beach or pool, and the chance of day tours exploring if and when you wish.
I've received a number of emails recently from people who have gone to resorts in search of relaxation and found themselves amongst families and honeymooners. In every case they said that they were probably perceived as a little odd. They didn't regret going, however, in the future, they would be a little more careful in their choice of resort.
This is why I'm writing this post. It's about great single vacation options.
Recommended Singles Vacation Packages
But how do you find vacations–real, relaxing vacations–for singles?
Resorts. Last year Transat's Solo Collection and the Mistral Hotel in Greece each won a Solo Travel Award in the vacation packages category. More and more resorts are offering solos an option. Search "resort no single supplement" in Google.
Cruises. It all started in 2010 when Norwegian launched their Norwegian Epic. Since then, they and many other cruise lines have built ships with single cabins. They book out quickly so you might have to plan ahead. Check out our Solo Travel Deals page and read Ocean Cruises that Cater to Solo Travelers
Solo-only tours. I recently travel to Sicily with Just You, a solo-only company. Read about the experience here. Solo Traveler on a Solos-Only Tour
Slow travel tours. If you're looking for relaxation I would recommend a tour for solos that emphasizes slow travel.  Look for tours that take you to one or two cities and don't move you around too much. If you like to be physically active, search for biking and walking tours. I did a self-guided walking tour of the Loire Valley that was amazingly relaxing. It was meditative. Read Meditative Relaxation Found Walking Through Vineyards
Self-guided tours. Self-guided tours, or un-tours as they are sometimes called, are a great option for a singles vacation. The tour company does all the planning for you, you show up and enjoy the destination on your own schedule. Sleep in. Sit in a park and people watch. It's all up to you. Read Travel Solo on a Self-Guided Walking Tour: Seeing France Slowly and Rome and Paris the Easy Way.
Creative holidays. Keeping your mind busy doing something completely different than you do at home can be a very relaxing solo vacation. Consider cooking or painting classes. Read Solo Travel to Creative Destinations: 10 tips to go creative!
Health retreats. A week of yoga is transformative. My week-long stay in an ashram in Rishikesh was the perfect exit from my busy life and entry into busy India.
Athletic challenges. Learning something new physically, such as surfing, stand up paddleboarding, kayaking… , takes one out of one's head and into the physical side of life and a means of mental relaxation.
Brainy holidays. If your idea of relaxing is learning something new, settle into one city and explore it slowly. Are museums your thing. London, Paris, Florence or Amsterdam may be your choice destinations. It is relaxing to go on your own, and dig deep into a location at your own pace.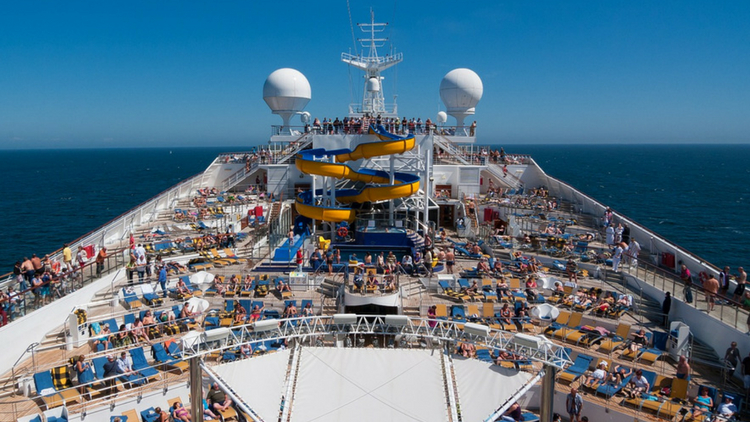 Are Single Vacations Naughty?
Let's address a North American stereotype right away.
In North America, singles vacations are often thought of as hook-up trips. Some singles resorts are known for providing an atmosphere that creates opportunities for casual sex. However, with the growth of the solo travel market, other resorts are now offering vacations for singles by adapting themselves to be attractive to solo travelers while being open to couples as well. The same applies to cruises and tours. All sectors of the travel industry are adapting to the growing solo market.
In the rest of the world, single vacations, (notice that it's single not singles) or single holidays as they're known in the UK, are thought of simply as vacations for those who are single. Unless you're going to a specific destination, such as Ibiza, you're simply going on a vacation that is not designed for couples. Naughty may happen but naughty is not the goal and not what's on offer. Depending on whether it's a resort, cruise, or tour, this can mean things like communal tables, welcome receptions, and pricing that attracts more solo travelers.
How to Make a Singles Vacation Truly Relaxing
The key to making your single vacation truly relaxing is making it all about you. Know yourself. Choose the amount of time, the location, the activities according to your needs. You don't have to prove anything to anyone. You don't need to meet anyone's else's needs or expectations. Go. Relax. Enjoy.