I'm pleased to share with you an article by Elizabeth, a friend and member of the Solo Travel Society. You may remember the story of her first solo trip, Travel, Freedom & Liberation: My Grand Solo Adventure. This summer, Elizabeth embarked on a big solo road trip, visiting family and exploring the Canadian Maritimes.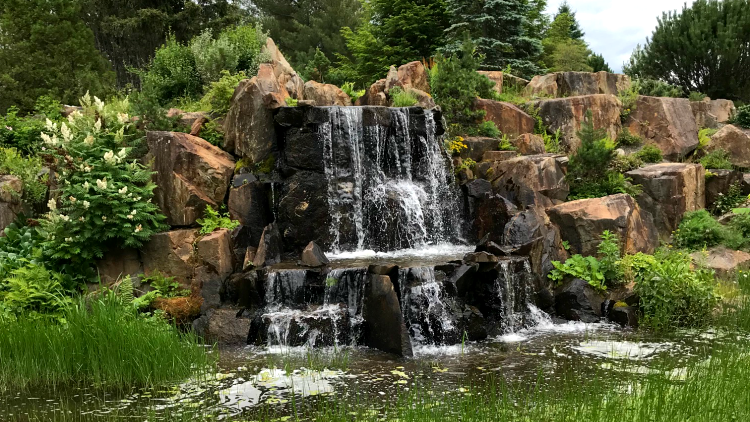 This summer, I sublet my apartment for a month and used the money to pay my rent and rent a car. I decided to drive east from Toronto, visit as many people as I could, and see all the sites I felt like stopping at along the way. It was the first time I'd taken an extended solo road trip and I covered 7,539 kilometers in 30 days.
The densely wooded roads brought back memories of childhood road trips, watching the farms and trees from the back seat of our family car. I also remembered some of the great conversations I had had with my grandmother. She drove very fast, everywhere we went, in her black Volkswagen, Beetle. These memories were triggered by the sight of the rocky shores of Nova Scotia, as I was born in Sydney. My hope for this trip was to visit my favorite cousins and see some good friends in New Brunswick and also visit Prince Edward Island for the first time in my life. I even planned two visits with interesting women I had connected with through Women Welcome Women World Wide.
On my solo Canadian Maritimes road trip, I had time to listen to podcasts while on the road, relax in hammocks and on beaches while visiting farms and cottages, and do some "forest bathing." It felt luxurious in so many ways! Quality solo time topped the list for this adventure, as well as gobs of time to breathe deep in natural surroundings.
I let friends and family know that I'd be in their area on a general date, as my intent was to wander. Most people could deal with this vagueness, as they were retired or self-employed, so it all worked out. One cousin quipped that I could let others know that ETA really stands for Elizabeth Travels Alone. I was offered delicious meals and comfortable beds by my family and friends. My first stop was to see my son, his wife, and my youngest granddaughter in Montreal. I then drove off to visit some friends in the Eastern Townships. It was a gentle way to start my solo adventure.
New Brunswick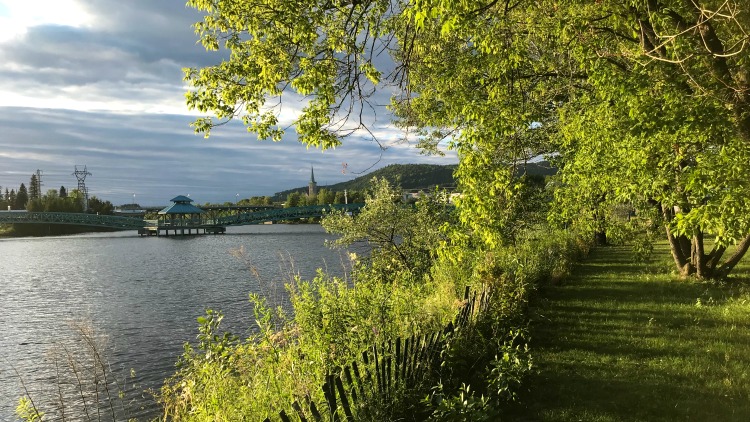 Next, I stopped in Edmundston at the Auberge Aucoin, a high-end B&B owned by Francine Gagne Aucoin and her husband, who is a surgeon. Francine is also a boutique owner, and they were each interesting to meet. The Auberge is tastefully decorated by Francine and when I admired a sculpture in the living room, I was told that her husband had carved it! They are very talented people.
Francine recommended that I visit the New Brunswick Botanical Garden and it was lovely. I stopped for lunch at the onsite Café Flora and the food was exceptionally good, made with local ingredients and cooked up in an open kitchen. I sat at the bar overlooking the kitchen and felt like I was watching a live cooking show.
In the Botanical Gardens, I met one of the two artists in residence and was charmed by her stained glass work. She made a hut that serves as her workshop. Solar materials were mixed right in the construction materials, and she told me that it glows in the dark.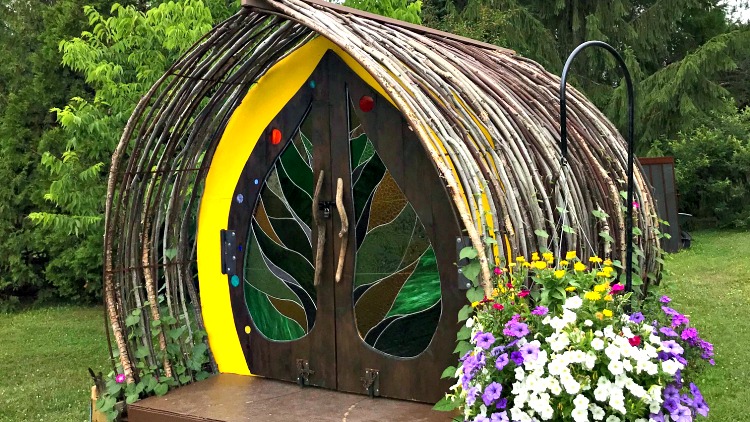 I stopped in Grand Falls. Francine highly recommended some easy hikes down into the gorge itself, but I discovered that they are not very well marked. I can't really tell you where I went, but it was all stunning and the temperatures were cooler next to the rocky wall of the gorge.
In 1904, Van Morrell, an evangelist and native of Maine, USA, crossed the falls with skill and daring, on a tightrope! There's a metal ring that has been painted red to commemorate the event. It's quite subtle, but there is a sign nearby.
I chose to make the same crossing on a zipline with Zip Zag. It was much easier and far less dangerous. The staff were cheerful and kind as I explained that I had had a fear of heights in the past. They were very reassuring every step of the way. It was the first time I had pushed myself to do something at such a height and I was not scared at all. It was all good fun!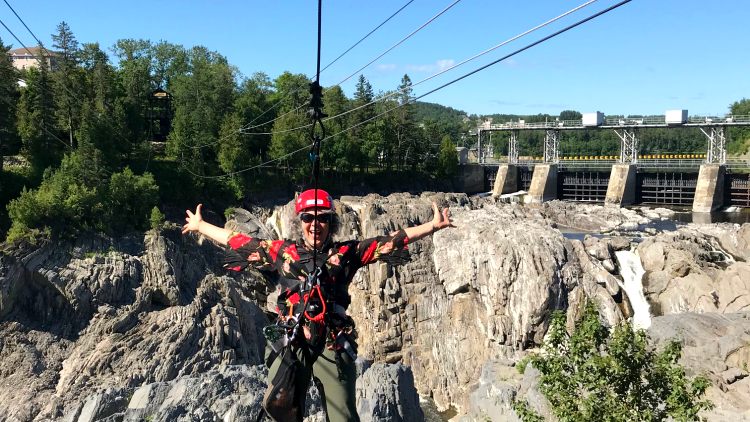 I had the best fried clams I've ever eaten (and I've eaten a mountain of them) at Chez Camille in Cap-Pelé, and I really liked Aboiteau Beach. The parking attendant told me that I didn't need to pay for parking if I said I would eat at the restaurant there, so I bought fries and a pop and parked for free.
I pulled off the highway at Hartland, NB when I saw a sign for the longest covered bridge in the world. It was 1,282 feet long. I really hate to admit it, but I've been drawn to the romance of covered bridges since I read The Bridges of Madison County. Hartland was a sweet town.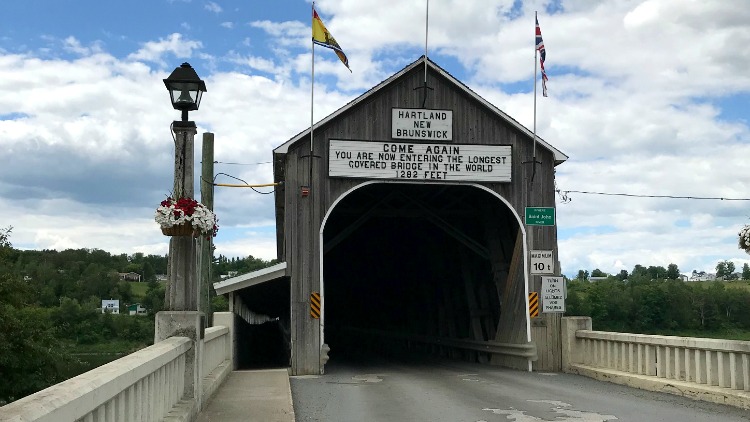 I also pulled off the highway to see the French Fry Capital of the World, Florenceville-Bristol, which is home to the McCain's Factory. It was Fry Day, and they were giving out free french fries at the Potato World Museum. I learned it had been Spanish explorers searching for gold in South America who discovered the potato in the 1500's. Spanish sailors discovered that eating potatoes prevented scurvy. The potato was introduced to North America when Irish immigrants settled in Londonderry, New Hampshire, USA in 1719. I was surprised to learn that most of the potatoes are grown in China, followed by Russia. Canada is only ranked 13th in world potato production. This special day had live music. People were quite friendly and it was fun to be alone but welcomed as part of this community event.
Nova Scotia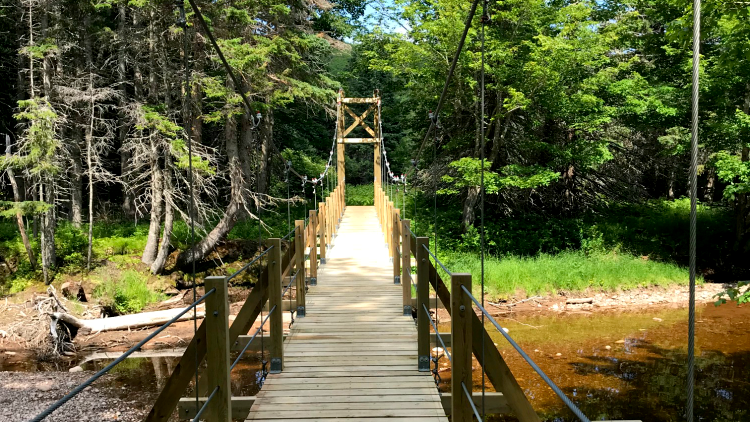 As I crossed over the border, I pulled into the tourist information centre and was welcomed by a piper, who brought me to tears. I was home!
In Nova Scotia, I picked up a favorite cousin in the picturesque town of Mahone Bay and we drove out to Ingonish, Cape Breton to visit another amazing cousin. I had the chance to catch up on family gossip and then go off on my own. I've always wanted to walk all the way around a lake and I got to knock this item off my bucket list in the Highlands. Warren Lake has a 5 km level lakeshore hike around its perimeter. There's even a short suspension bridge, which was a nice touch. I didn't see another person during the whole walk. There were spots that were so quiet, I found it strange. No bird song or frogs croaking. Total silence. I don't get that in my life in Toronto.
After visiting a variety of my cousins, I stopped in to see a few passed relatives in graveyards and cemeteries. I finally learned the difference between the two; a graveyard is beside the church and a cemetery is not.
Prince Edward Island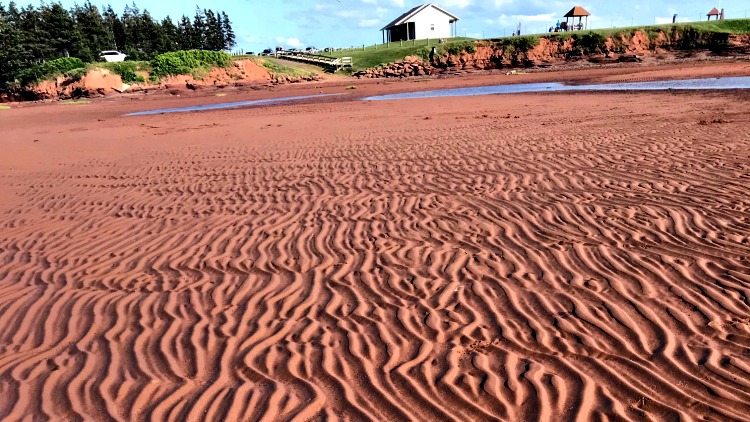 I was off to "the kind island," which PEI is affectionately called by many in the Maritimes.  In Charlottetown, I was hosted at A Country Home B&B. Cathy Smith and her husband Jeff are from Toronto and have been in PEI for 9 years now. Their place is as cozy and comfortable as a country home ought to be. I went to Canoe Cove when the tide was low and I was excited to find Puffins there. It's so interesting to see the red sand and soil. When sand or soil is used to make cement and roadways, it has the red tinge, too. And, something I did not realize is that there are white sand beaches on the north side of PEI. I had thought the whole island was red sand.
On my way off PEI towards Summerville, Nova Scotia, I noticed that the red sand does not stop at the border. There's lots of red sand along that shore of NS. I stayed with a woman named Doris from Women Welcome Women World Wide (5W) who lives on a 100 acre farm with her family and lots of animals. It was a great visit as we got to know one another as only women over 60 seem to do; we share a lot, soon after meeting. We had a lovely visit and will stay in touch.
Winding Down My Canadian Maritimes Road Trip
Finally, it was time to head home. On my way back to Toronto I stopped wherever I wanted along the way. One highlight was the Deanne Fitzpatrick Studio in Amherst, Nova Scotia. Now, rug hooking would most certainly not be everyone's cup of tea, but that's the great thing about a solo road trip: from the destination to the route to the frequency and duration of stops along the way, every single bit of it is up to you.
Elizabeth Verwey is the founder of Spoken Lives: Stories Women Share. 
Planning a solo road trip? Here are some posts to help you get ready to hit the road:
A Solo Road Trip: Why You Can and Why It Will Be Fabulous!