You know those cities that you visit once and feel no need to return?
Amsterdam is not one of them.
Although my visit was very short, it gave me enough of a taste to know that I absolutely want to go back for more.
Over the years, although I had passed through Schiphol Airport a number of times, I had never managed to spend any time in Amsterdam. This autumn, I finally got there. I was traveling with Monograms Travel, a company that offers a unique service that allows you to travel independently, while they smooth the path for you and provide a safety net in the form of an on-call local host. You can read about my trip to London with them in Exploring London Solo with Ease.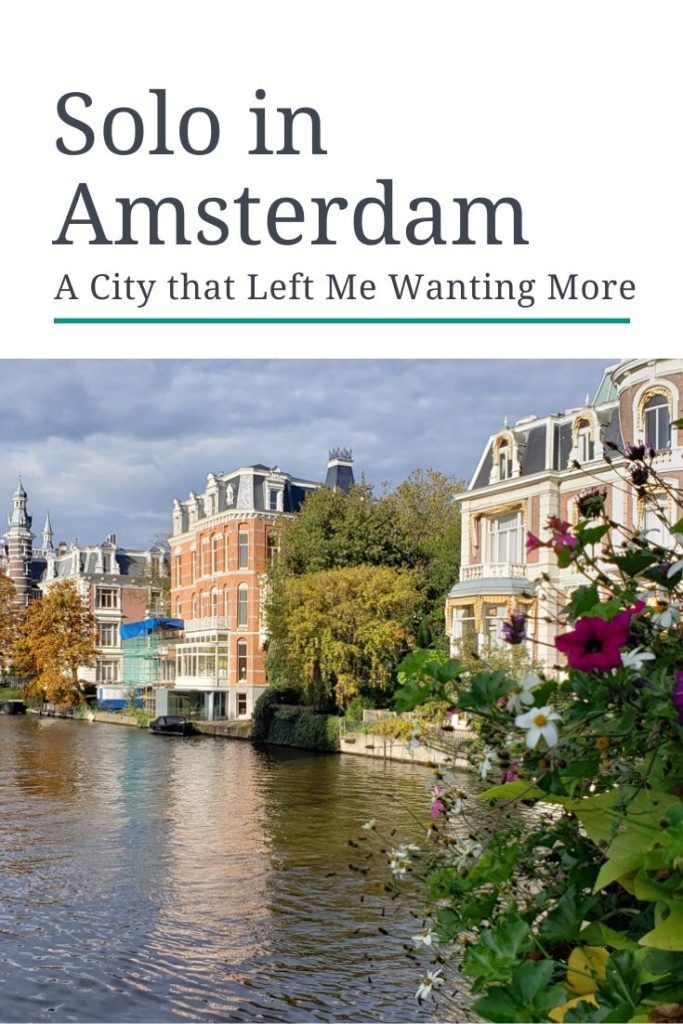 A Traditional Dutch Dinner in Amsterdam
I arrived late on my first day in Amsterdam due to a delayed flight – yes, again! – and it was raining and cold. I was glad that Monograms had already made dinner reservations for me at Haesje Claes restaurant, so all I had to do was show up. A traditional beef stew with mashed potatoes and cabbage warmed me up, an appetizer of a variety of different fish intrigued me, and a couple of glasses of wine washed away my flight frustrations. It was a delicious, relaxing start to my visit.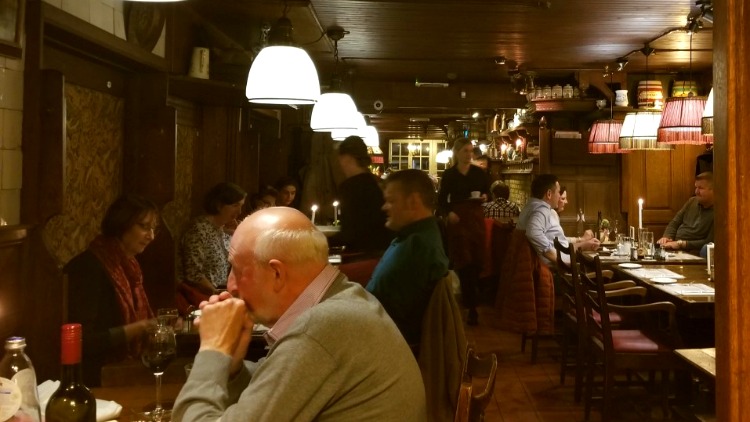 For those who worry about dining alone, here is an example of how easy it can be. No one was the slightest bit interested in me at this restaurant, as evidenced by the fact that I could take a photo without anyone even noticing. The only people who paid any attention to me were the staff, who couldn't have been nicer. They explained different dishes to me, told me about the history of the restaurant, and made recommendations. They also sat me at the window, giving me a view of the entire restaurant. It was great for people-watching.
Solo in Amsterdam – By Boat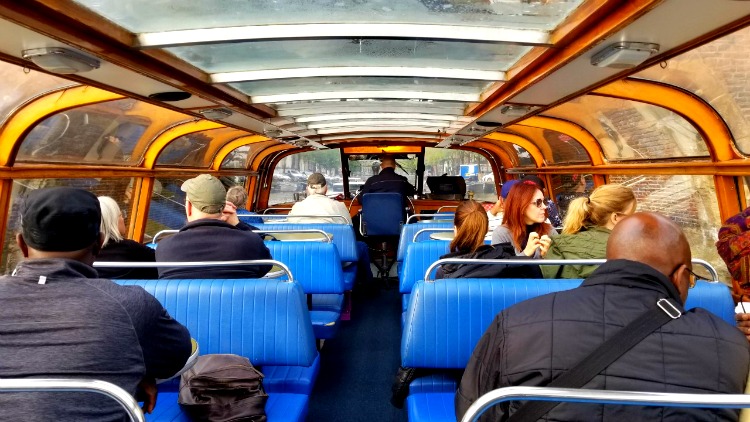 The next morning, I met up with some other travelers and the local host and took a canal boat tour. This was wonderful for several reasons: it was a great way to learn a lot about the city very quickly, the commentary by the captain was good, but the supplemental anecdotes by our host really brought the history alive, and by joining strangers for a tour, you can learn even more from the questions they ask.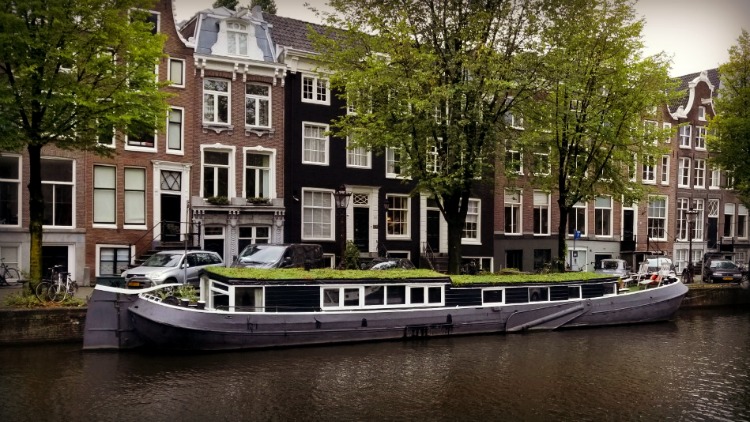 Many locals live on houseboats lining the canals. At one time, people moved onto their boats because it was more affordable than buying property in the city. It may still be expensive to purchase property, but it's no longer cheap to buy a houseboat. I saw a few for sale as we floated along, some of which were going for about CAN$1,000,000. On top of that, you have to add the cost of mooring. If you want to get a taste for living on a houseboat, you can find a large selection for rent on sites like Airbnb.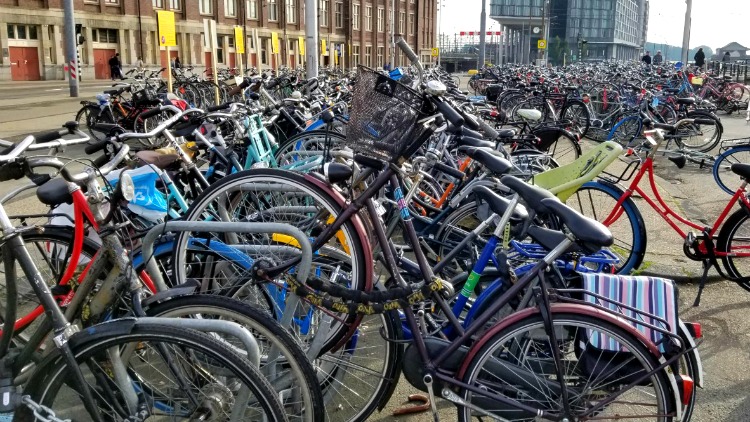 Everyone knows that Amsterdam is a city of cyclists, but I couldn't have imagined just what this meant without visiting the city. There are more bikes in the city than people. Roughly 9,000 people live in the city center, but 300,000 commute there for work. One in three commuters travel by bike. There are bikes everywhere you look: on the roads, parked along the canals, locked up on the sidewalk, and in the canals. That's right: approximately 1,000 bikes end up in the canals every month!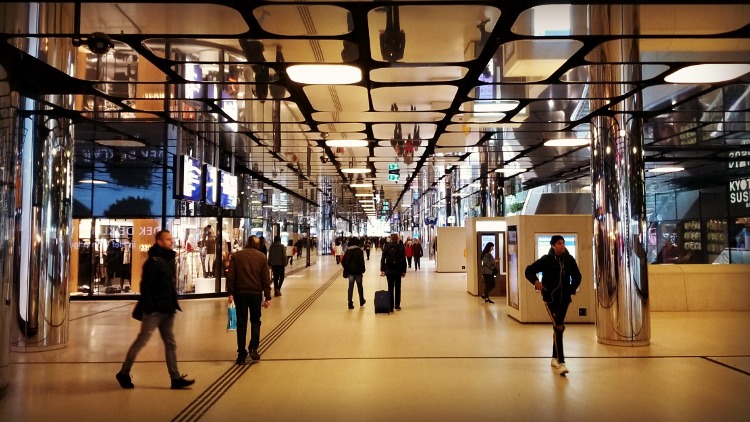 A Lesson Learned
I learned, or rather, relearned something about myself on this trip. I chose a day-long tour that would take me out of the city to see a bit of the Dutch countryside, windmills, and tours of a cheese factory and a shop where the traditional Dutch wooden clogs are made. While all of these things were interesting, because I picked the wrong tour for my personality, the overall experience was not enjoyable for me.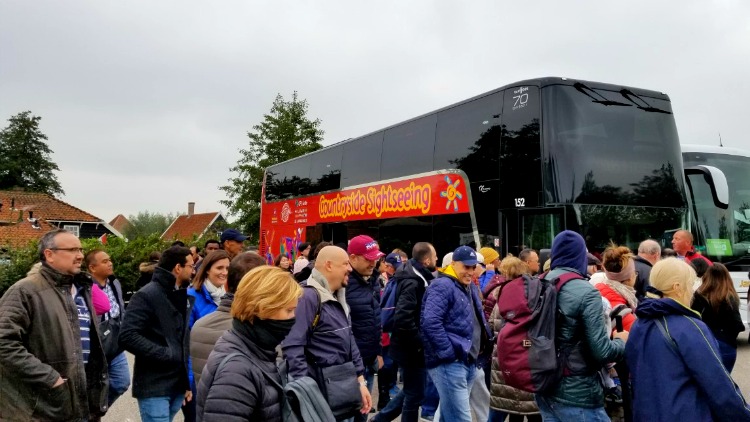 Crammed into an uncomfortable seat on a jam-packed double-decker tour bus, facing a couple who refused to even make eye contact with me for the entire day just made me cranky. While the staff on the bus were fun and entertaining and the trip ran like clockwork, this style of tour, trailing along with 40+ people to busy attractions full of more buses of tourists, just wasn't my cup of tea. It was a good reminder, though, and made me appreciate my time solo in Amsterdam even more. In hindsight, since it was such a short trip, I would have been better off to spend all of my time exploring the city, and saving the countryside for another time.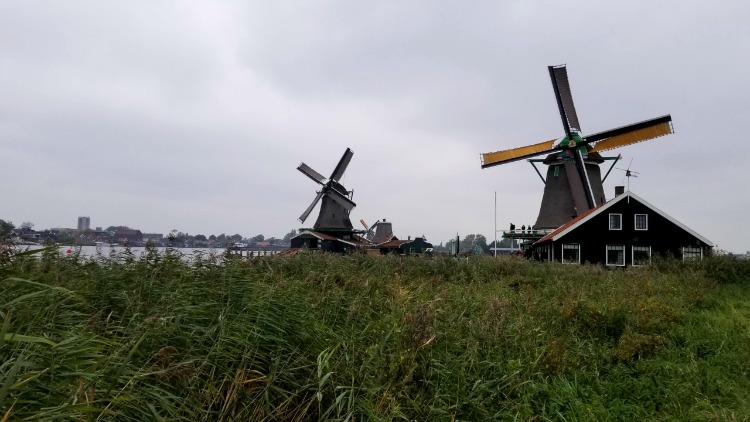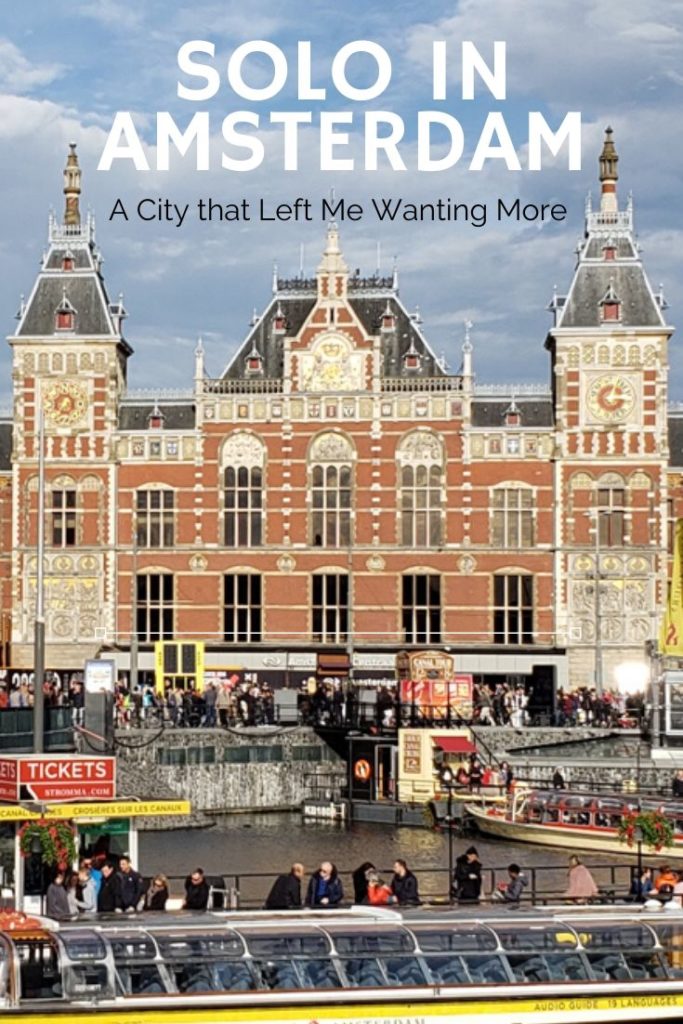 Solo in Amsterdam – On Foot
The best thing I did while solo in Amsterdam was a food walking tour.
These are a great idea in any destination because you do so much more than just taste food (of course, that is the cherry on top!). You get a guided tour; opportunities to visit a variety of food shops and restaurants to just have a taste, without committing to a full meal or buying something you have no means to keep while traveling; an expert on the local food scene who is happy to answer all your questions and offer dining and shopping recommendations; and a local perspective on the relationship between food and culture.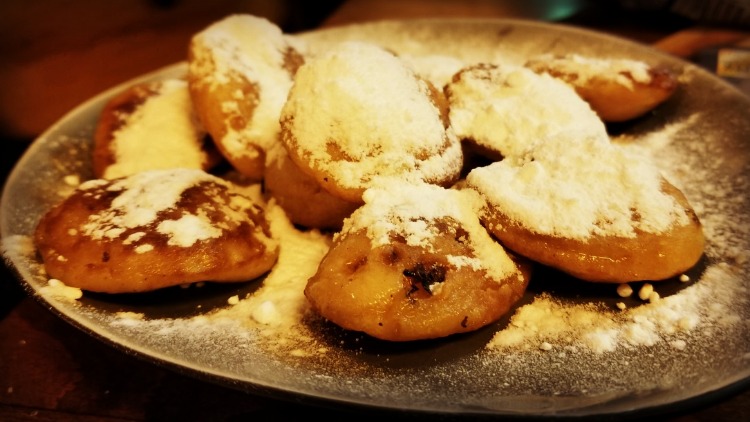 There are usually a wide range of options when it comes to walking tours in popular cities, so making a choice among them can be difficult. I took the Amsterdam Food & Canals Tour with Eating Europe, which was booked for me by Monograms. I didn't have to do any research, which makes someone who is accustomed to researching things to death a little nervous, but I couldn't have asked for a better tour.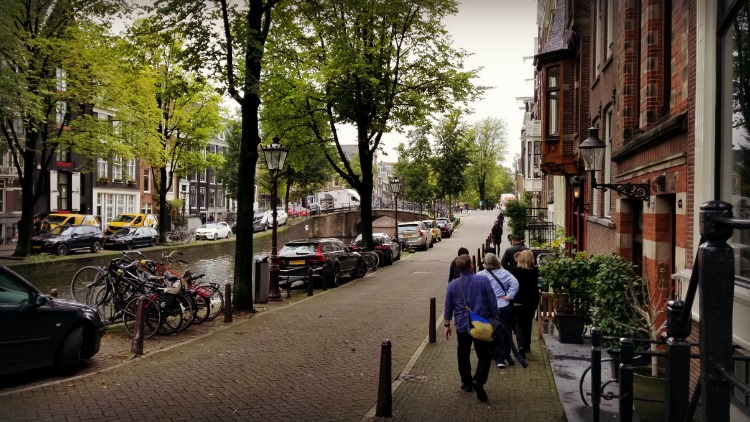 Over the course of about 4 hours, we had coffee and poffertjes in a cafe while introducing ourselves, walked around the city, tasted local foods, walked some more, did a wine tasting, walked some more, then got on a boat to cruise the canals and, you guessed it, drink some more wine and taste some more food.
We visited a fish shop where we tasted fresh oysters, herring, and kibbeling. Kibbeling is battered and fried cod cheeks, served with a mayonnaise-based sauce, similar to tartar sauce. The fish is incredibly moist and the batter is very light. This wins the prize for my favorite food discovery on this trip!
A Sweet Ending to My Trip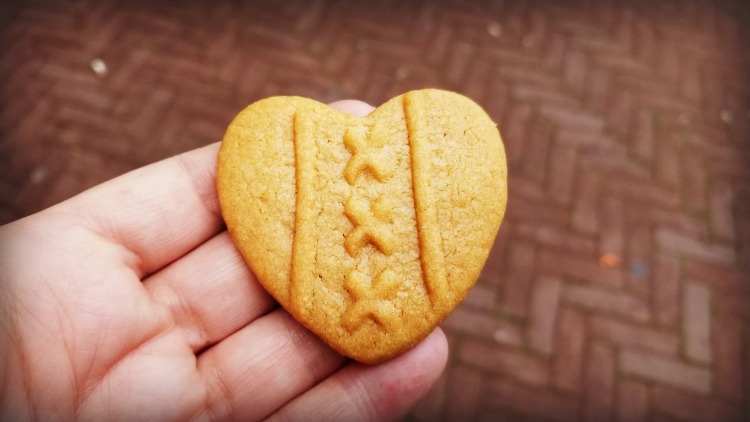 The heart-shaped Eberhardje cookie, named after a former mayor of Amsterdam was not only buttery-good, but has a great story attached to it. Part of the proceeds of the cookie sales goes to a foundation with a mission of supporting community and connection among the residents of the city. A cookie you can truly feel good about eating!
On my last full day in Amsterdam, I awoke with a nasty cold. By the time I returned to my hotel at the end of a full day of sightseeing, cold and wet from the rainy weather, I was done. Finished. You know that feeling when you're tired and under the weather and feeling a bit sorry for yourself? That's exactly where I was.
When I opened the door to my room at the Doubletree Hilton, there was an envelope on the floor. When I read the note inside, I teared up with relief and gratitude. The local Monograms host, who had seen me coughing and surely not looking my best earlier in the day, had changed the time of my taxi pick-up to noon the next day so I could get some extra sleep, and written out directions to the nearest pharmacy in case I needed to pick up medication. It was such a thoughtful gesture and an unexpectedly nice ending to my day. As if that wasn't enough, the next morning, when I showed up for my transfer, there was Wendy with a care package for me.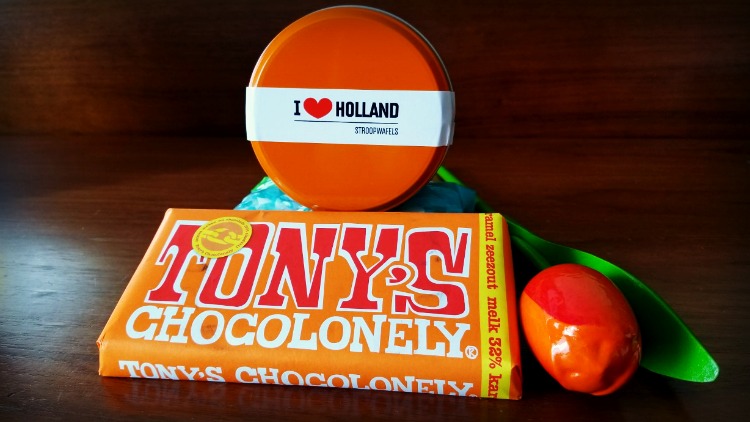 I will return to spend more time solo in Amsterdam at a future date. I would love to have time to relax in cafes, explore art galleries, enjoy more restaurants, maybe take a cooking class, and just wander along the canals. As a Canadian, I found Amsterdam very expensive, largely because I was paying about CAN$1.50 for the euro, so it will take some careful planning to be able to spend a larger chunk of time there. But it will be worth every penny.
This post was brought to you as a result of the Monograms trip, a project between Monograms and iambassador. As always, Solo Traveler maintains full editorial control of the content published on this site.