Sometimes dreams don't come in the form we expect.
I scribbled this on the back of some travel documents while sitting on the sidewalk patio of a café in Milan. The sun was setting and I was enjoying aperitivo, that lovely Italian tradition of relaxing over a drink and a snack between work and dinner, for which Milan is so well known.
I had spent the day wandering solo in Milan without any specific plan other than to just soak it all in. I had taken a hop on-hop off bus tour, which I often do in new places, to get an overview of the city. It was somewhat less successful in Milan because of the layout of the city. I found that I could never get a really good view or photos of the gorgeous buildings from the bus. But no matter: it was a relaxing tour with helpful recorded commentary to provide some context for what I was seeing before me, and it also showed me that the best way to see Milan is on foot.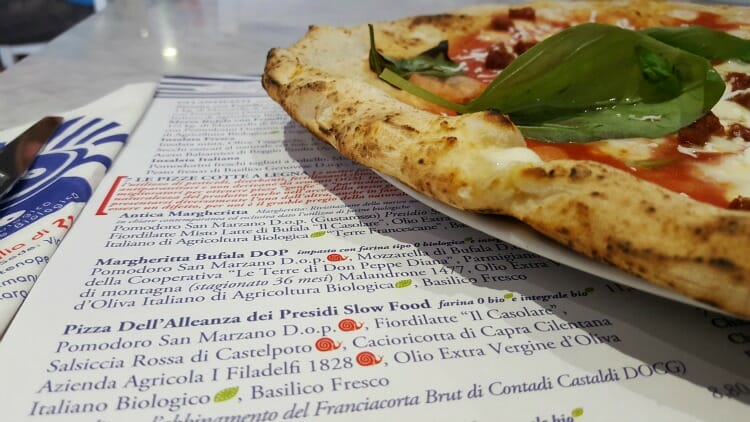 I had also joined the crowd of people hoping for a table at a popular pizzeria. My local source of information, Simon Falvo had tipped me off to the amazing pizza of Gino Sorbillo. Like so many popular restaurants these days, they do not take reservations. I hate this trend, and will rarely line up to dine, but in this case, I was in Italy, and I needed to eat pizza. And I wanted to have the best. So, along with about 40 other people, I had waited outside for 45 minutes.
Once my pizza was in front of me, the wait became a distant memory as I tucked into the stretchy, chewy dough; the local, organic basil and olive oil; the fresh fior di latte contrasted with the spicy sausage; the san marzano tomatoes; and the cacioricotta. Not only was it absolutely delicious, but it also featured ingredients that were grown or made only in very specific places in Italy, in very specific ways. This is one of the great opportunities and joys that travel presents.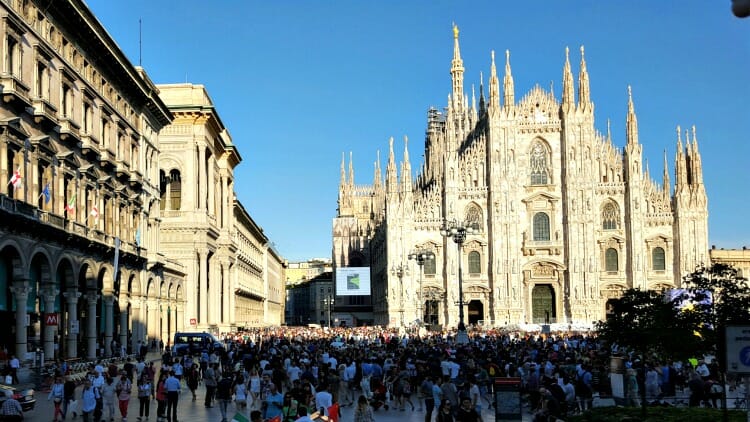 I spent the rest of the afternoon roaming around solo in Milan, occasionally popping into a shop or stopping to watch street performers. I admired the architecture, snapped photos, paused to sit on a bench to watch people going about their days. I gazed at food displayed like art in store windows, got lost then found my way again on crisscrossing side streets. I gazed at the Duomo bathed in brilliant sunshine, then decided against trying to get inside because of the waves of crowds at that time. It was the kind of day that illustrates the freedom of solo travel: I did exactly what I felt like doing in each moment.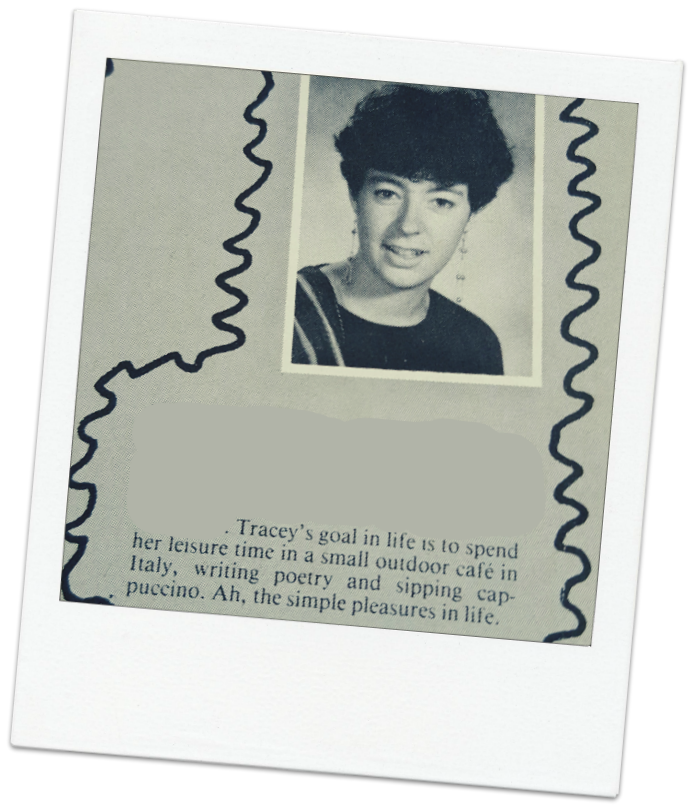 In 1985, my high school yearbook proclaimed that my life's goal was to spend my days in a small outdoor café in Italy, writing poetry and sipping cappuccino. As a teenager growing up in rural Canada, this must have seemed the height of sophistication to me. Exotic, mature, creative–and very likely, unattainable.
Yet, here I was, all these years later, solo in Milan, writing at a small cafe. I hadn't consciously set out to achieve my childhood dream. In fact, I had forgotten all about it until that day. I wasn't drinking cappuccino, and it wasn't poetry that I was writing, so it wasn't exactly as I had pictured it at the age of seventeen.
But I've learned a few things along the way. Spewing your angst out onto paper does not make you a poet. You risk the derision of Italians if you order a cappuccino late in the day. And if you hold tight to a single vision of your dream, you may not recognize when it has been achieved.
For more photos of this trip, see Falling in Love with Italy: Lombardy.
For more information about travel in Lombardy, check out inLombardia, the Official Tourism Board of the Lombardy Region. You can also follow them on Facebook, Instagram, Twitter, G+, and YouTube.
This trip was part of the #BlogVille campaign, created and managed by iambassador in partnership with Lombardy Tourism. All stories, impressions, and experiences are my own, as they always are on Solo Traveler. Especially the unfortunate high school photo.