Travel doesn't always go according to plan.
Janice and I don't always have perfect travel experiences.
Sometimes, the problems or crazy situations are of our own making. Other times, unusual circumstances interfere with even the best laid plans. Some of these stories are the ones that we tell over and over that still make us laugh today (even if we didn't find them quite so funny in the moment).
At this time when we can't travel, we thought we'd offer you a bit of entertainment by sharing some of our solo travel bloopers experienced over the years. You can help us feel better by sharing some of your own in the comments section at the end of this post!
A Frisky Monkey in Grenada
On one of my first trips for Solo Traveler, I visited Grenada. It's such a lovely island. The waterfalls are beautiful, the rainforest unspoiled, the beaches stunning.
One day, I visited the Annandale Waterfalls. On the walk down to the falls, I encountered a man with a monkey on his knee. As I passed by, I thought I felt someone swipe my behind. I quickly turned around, but all I saw was the man and the monkey, and neither were even looking in my direction. Could it have been the monkey, I wondered? I assumed I must have been mistaken and carried on.
The waterfall was lovely, surrounded by lush vegetation. A few local guys hung about, waiting for the opportunity to be paid by tourists to jump off the top of the falls. On the way back up the hill, the man asked me if I wanted the monkey to sit on my shoulder. I was pretty sure that I did not, as I was already a little suspicious of the critter. However, the next thing I knew, the monkey was on my shoulder. It was a strange sensation, but it didn't last long, as moments later he had climbed up onto my head. He then proceeded to crack open a nut, which promptly fell into my cleavage. This, I thought, is about to get tricky! I insisted that the man take back his monkey so we could all part friends.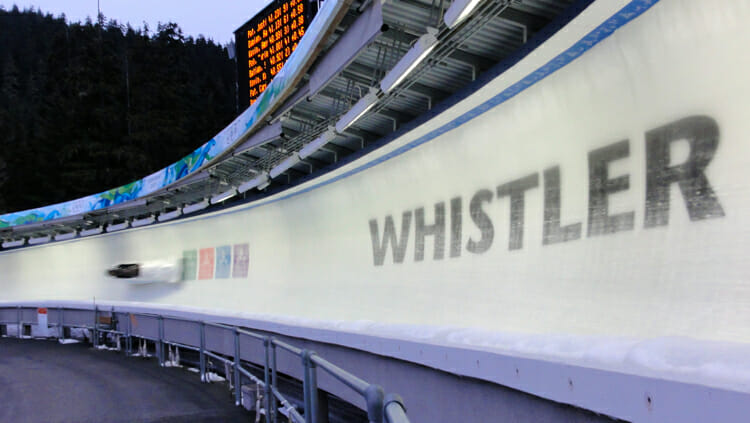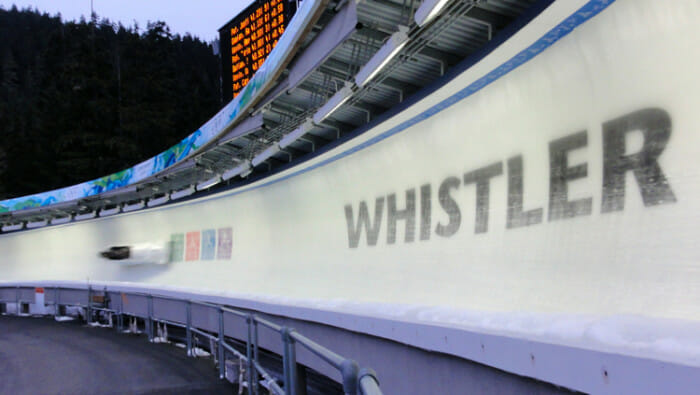 Testing My Limits on the Fastest Bobsleigh Run in the World
According to The Hitchhiker's Guide to the Galaxy, 42 is "the meaning of life, the universe, and everything".
I was thinking about this as I prepared for my 42-second bobsleigh run at The Whistler Sliding Centre.
What would this run mean to my life?
It has meant a lot. And, beyond its meaning, this experience resulted in a story told many times as people both laughed and suffered along with me. It was an excruciating 42+ seconds. Read the full story here.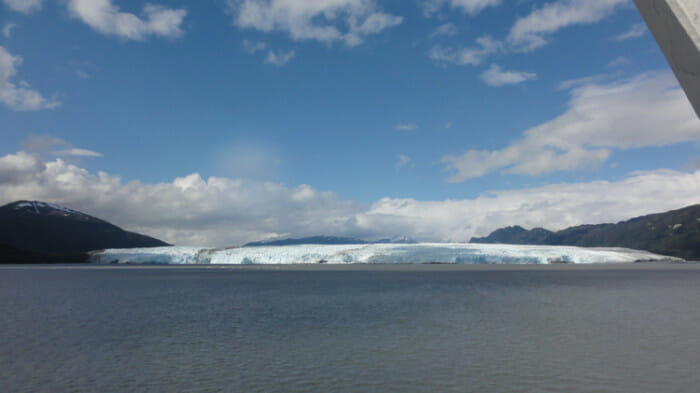 When Your Holiday Hits the Rocks – Or, the Crash of the Navimag
I stuffed my passport inside my clothes and thought, if worse comes to worst, when they find my body they'll know who it is.
Really. That's what I thought as I quickly put on my warmest clothes and rain gear, grabbed my life jacket from under the mattress and hurried to the top deck of the ferry. And I wasn't alone. The next day I talked to a number of people who had similar thoughts.
But, as you read the full story, you'll learn that not all was what it seemed.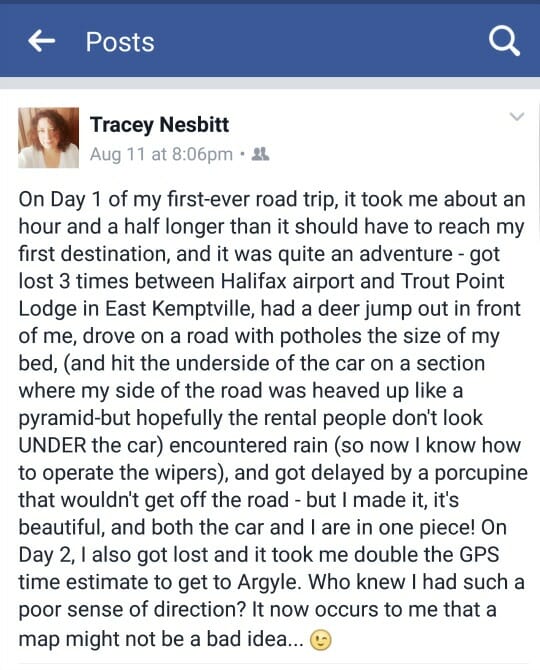 A Road Trip Full of Solo Travel Bloopers
On July 25th, 2016 at the age of 49, I received my driver's licence. Two weeks later I flew to Halifax, Nova Scotia, picked up a rental car, and embarked on my first solo road trip.
I started screwing up almost immediately.
Read My First Solo Road Trip: Nova Scotia
Suspended Upside Down from a Tree
I was ready. I knew I could do this. I verified with Julian below: "I just sit in the harness and trust it?"
"Yes," he said. "Just make sure you catch the cable at the other end."
The cable. Got it.
I sat, zipped, and grabbed that cable. What I didn't do was take the ramp up to the platform on the other side. So while I wasn't sliding back down the zipline, I was suspended in the air and then quickly flipped upside down so that I couldn't see what was below me.
Read Taking On My Zipline Fear – With Mixed Results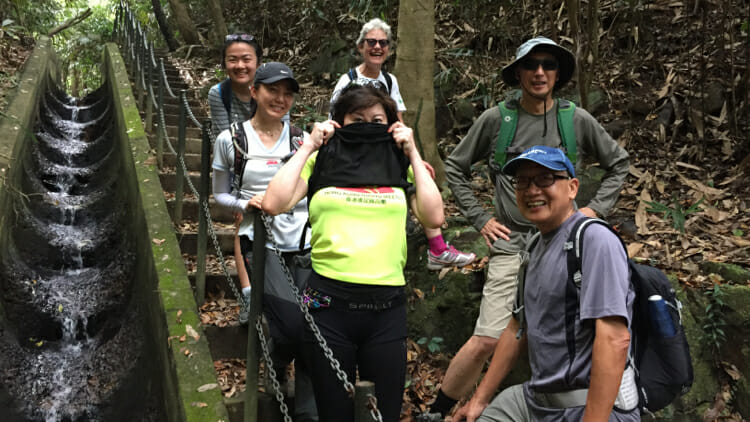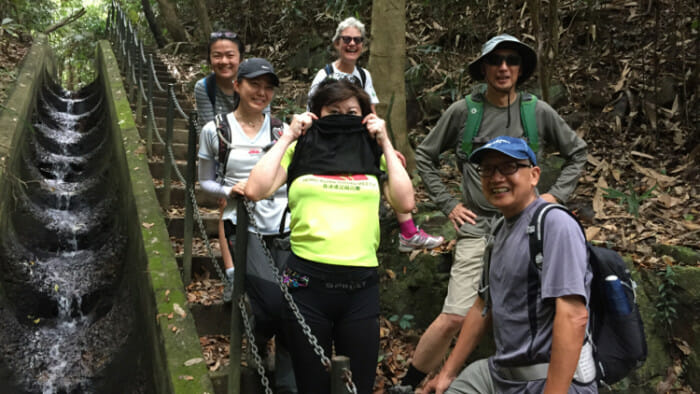 Hiking Humiliations
Toronto is flat.
The Lake District of the UK is hilly but not too difficult.
The Southwest Coast Path at the other end of England is slightly more challenging – you're constantly climbing up and down between the sea and the cliffs.
Hiking the "W" in Patagonia certainly has some difficult parts but, overall, I found it quite doable.
My point: I have hiked many places and it was never more than I could handle.
And then I went to Hong Kong.
Read Meetup.com Got Me Hiking in Hong Kong – It Was #[email protected]&ing Hard!
Clay has a very different consistency than typical soil. It's slippery when wet. Very slippery. So when I was about 100 yards along the Alakai Swamp Trail (via the Pu'u O Kila Lookout) and saw people leave the trail covered in mud, saw the wide path with no trees to grab onto and few footholds to grip, I gave up. But then…
Read Another Hiking Humiliation and Then… Redemption
Please share stories of your own solo travel bloopers below.