I am pleased to present a new Solo Travel Destination Post from Francine, a member of the Solo Travel Society on Facebook. Francine is from Canada, and submitted the following report about her trip to Alsace, France. Do you have a solo travel destination that you would like to recommend? Submit your description here, along with a few photos, and share it with fellow travelers!
Solo Travel Rating: 1.5 (1 is easiest, 3 is most difficult. Please see chart below)
Languages Spoken: French
Costs at Destination: Reasonable (local transportation, dining, tours, events, and attractions)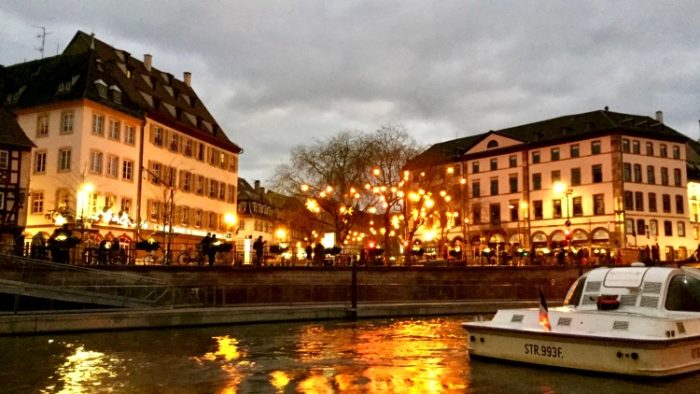 Reasons to Visit Alsace
In the latter half of December, I went for a solo trip to Alsace, France. For about 11 days, I visited Christmas markets in and around Colmar.
I stayed at Pierre & Vacances Residence La Petite Venise in Colmar, from where it was easy to walk to the Christmas Market and in the historic part of the city. I had a studio and it was well equipped.  
I rented a car for this part of my trip, and this was a big part of the joy of exploring the surroundings of Colmar: Christmas markets in small villages, vineyards everywhere, and the Vosges mountains.
Then I stayed for eight days in Strasbourg at Ibis Strasbourg Centre Petite-France. Practically in the historic part of this beautiful city, this hotel is basic but offers good service and a wonderful breakfast (not included). There, I used public transport, mostly trams, even if there were restrictions sometimes because of the transportation strike.
I rarely went to restaurants and I was happy to eat mostly snacks from the Christmas markets. I was surprised to see how popular the Christmas markets are – there were lots and lots of people there.
I bought a transport pass in Strasbourg so I took trams and buses to visit different neighborhoods, and I would stop whenever I wanted. That is a good way to really explore a city, not only the tourist areas. Since Alsace is on the banks of the Rhine river, I also went for a one day visit to Freiburg and to Kehl in Germany.
Solo Travel Destination Rating System
Safety – 1 (1 very safe, 2 safe in most areas, 3 be cautious at all times.)
Language – 3 (1 English is first language, 2 English speakers easy to find, 3 English speakers rare)
Navigation – 1 (1 easy to navigate by transit or car, 2 poor transit, car necessary, 3 not easy to get around)
Culture – 1 (1 Similar to North America or Western Europe, 2 Different from above but relaxed and easy, 3 Challenging)
Average Rating – 1.5 (1 is easiest, 3 is most difficult)