I am pleased to present a new Solo Travel Destination Post from Lia, a member of the Solo Travel Society on Facebook. Lia is from Romania, and submitted the following report about her trip to Bansko, Bulgaria. Do you have a solo travel destination that you would like to recommend? Submit your description here, along with a few photos, and share it with fellow travelers!
Solo travel rating: 1 (1 is easiest, 3 is most difficult. Please see chart below)
Languages spoken: Bulgarian, English
Costs at Destination: Reasonable (local transportation, dining, tours, events, and attractions)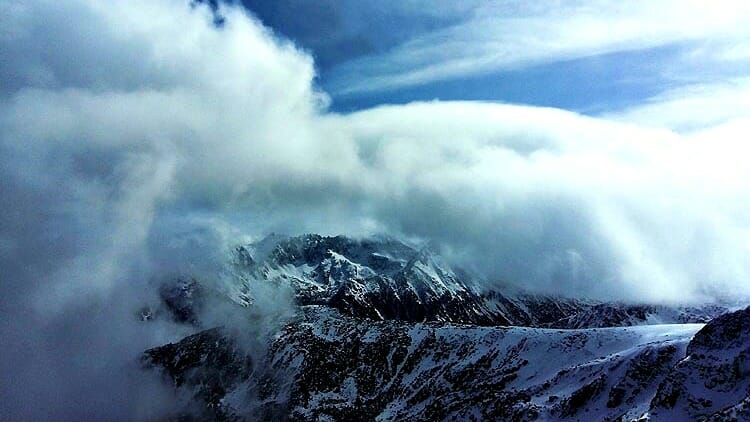 Reasons to Visit Bansko
If you are an inexperienced skier and you are looking to practice and have fun on the slopes, then Bulgaria's ski resort, Bansko, is the place to start. I am a beginner level skier and for 6 days I started to master the art of skiing.
I didn't research much before heading to Bansko, but I heard good reviews from friends and people on the internet. The best time to go is either in February or March. Apparently, in March, even if it's a low season, you get fresh snow. I went there in February. The weather was changing during the day, so you could have heavy fog early in the morning and sunny blue sky at mid-day. It was a challenge and I loved it, as I could experience skiing under different conditions.
You can find many ski/snowboard rental shops near the gondola, so feel free to choose any of them. If you are looking for ski lessons, I warmly recommend Sankiy Ski School, just 2 minutes from the gondola, with friendly staff, experienced instructors (thanks Peter), and professionalism. I booked my ski lessons in advance online and Bobi, the manager was very helpful and even bought the ski pass in advance for me. They have equipment for rent as well and I heard only the best reviews before deciding on a ski school. So, be trustful and look no further.
The Gondola starts working at 9 am, but in high season it is open starting at 8 am. The queue might get long, so here is an inside tip: between 9 am-11 am, every day, in front of the gondola is a free bus shuttle that will bring you to the top in approximately 10 minutes. You only need a valid ticket or ski pass. I'm not sure if many tourists know about it, because they were always queuing at the gondola, even waiting 40 minutes in line.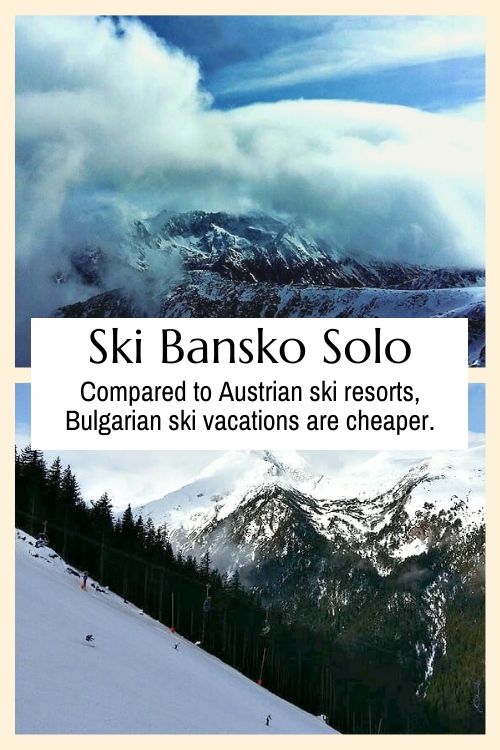 The ski chairs are very well connected so you can reach the slope you need and get to the top (2600 meters) quickly. Once at the top the views are remarkable and breathtaking.
Blue, red, and black slopes are well maintained with snow cannons at every corner making the skiing more comfortable.
The restaurants on the slopes are quite expensive and not very good, but when you take the ski road to get to the bottom of the slopes, you will find 2 small restaurants, the only ones on the left side, which are very cozy, with good food, friendly staff, friendly tourists and locals (mostly the ski instructors, stopping to eat after finishing their schedule). The places are crowded but don't be scared, as they serve the food quickly and you can share the table with other tourists and locals alike, making it even more enjoyable. I always like to meet new people and share experiences while traveling solo.
You can have drinks and dinner in the center of Bansko with a lot of bars and restaurants to choose from. Après-ski activities should definitely include taking a warm, relaxing mineral bath after a long day of skiing. If you stay longer and have time on your hands, go to the nearby village of Banya, only 5 km from Bansko, and relax in a thermal bath. I haven't been there personally, but the locals recommended it to me.
To experience traditional Bulgarian food, choose the local taverns called Mexaha, and try the Shopska salad (a common salad of chopped cucumbers, onions, peppers, and tomatoes with white cheese), grilled meat, different kinds of sausages (Sujuk), moussaka (an eggplant or potato-based dish), or gyucetch (spicy vegetable stew). For the drinks, I recommend Mavrud, the local Bulgarian red wine.
Have fun!
How to Get There from Sofia International Airport
From Sofia International Airport you can rent a car, or arrange for a private or shared transfer to Bansko that takes around 2 hours, depending on the traffic. I found a European transfer company, Sun Transfers, that works with local Bulgarian companies. They had the best prices and options for transfer and were very professional. For one person, I paid 35 euros return. For a personal transfer from the hotel, the prices go up drastically, so for a private transfer by car, 2 people have to pay 70 euros one way.
Alternatively, you can catch the public bus from Sofia central bus station which costs 16 Lev per person to Bansko bus station and takes 3 hours.
When to Go
The gondola operates from December 15 – April 5, but February and March are the best times to go. In March, it usually snows, so no more artificial snow.
Prices
Compared to Austrian ski resorts, Bulgarian ski vacations are cheaper. That doesn't mean it is very cheap though. For example, a dinner starts at 30Lev (around 15 euros) per person for a salad, main course, and a drink.
A ski pass is around 23 euros/day and the ski equipment may vary a little from one rental company to another. You can find more information about prices here.
Where to Stay in Bansko
Regarding accommodation, try to choose a hotel that is close to the gondola, even if all of the hotels offer a free or low-cost shuttle bus, because it will be easier to go for a walk and dinner in the center in the evening.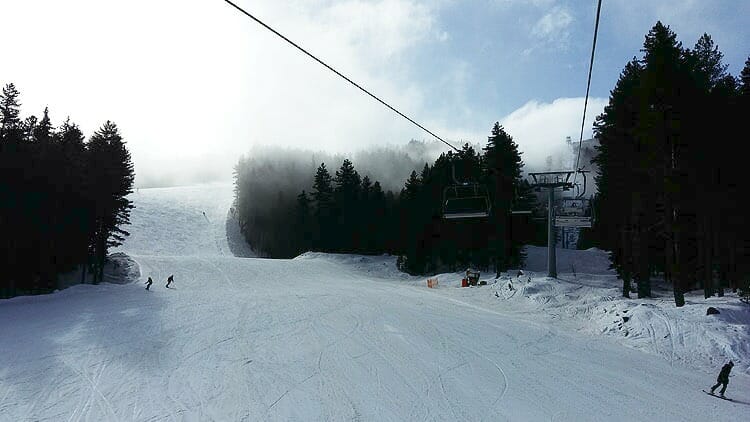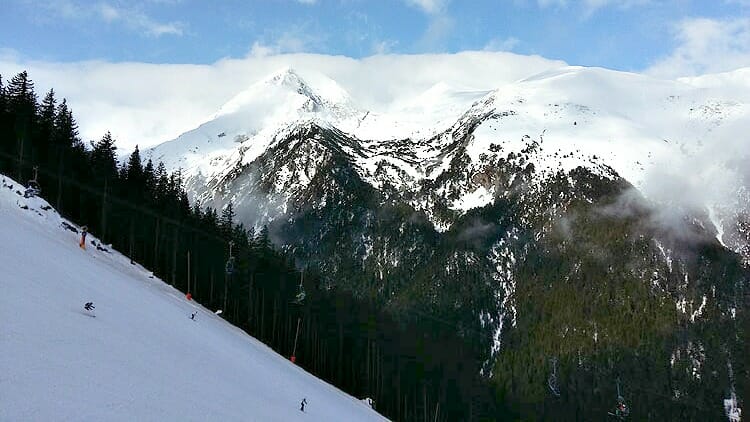 Solo Travel Destination Rating System
Safety – 1 (1 very safe, 2 safe in most areas, 3 be cautious at all times.)
Language – 2 (1 English is first language, 2 English speakers easy to find, 3 English speakers rare)
Navigation – 1 (1 easy to navigate by transit or car, 2 poor transit, car necessary, 3 not easy to get around)
Culture – 1 (1 Similar to North America or Western Europe, 2 Different from above but relaxed and easy, 3 Challenging)
Average Rating – 1 (1 is easiest, 3 is most difficult)