I am pleased to present a new Solo Travel Destination Post from Carol, a member of the Solo Travel Society on Facebook. Carol is from Australia, and submitted the following report about her trip to the foothills of the Indian Himalayas. Do you have a solo travel destination that you would like to recommend? Submit your description here, along with a few photos, and share it with fellow travelers!
Solo Travel Rating: 1.5 (1 is easiest, 3 is most difficult. Please see chart below)
Languages Spoken: Hindi, English, Others according to destination – Urdu, Punjabi, Ladakhi, etc.
Costs at Destination: Reasonable (local transportation, dining, tours, events, and attractions)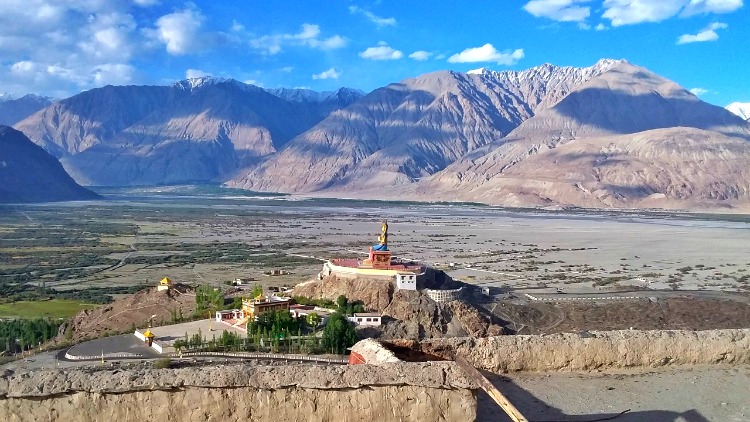 Reasons to Visit the Indian Himalayas
I thought the Himalayas were all about snow and trekking until July this year.
Starting in Delhi we caught two trains to the foothills of the Himalayas, to Shimla, the summer capital of the British Raj in the 19th and 20th centuries. This enchanting place for local and international tourists was full of reminders of a unique British culture which had an enormous influence over Indian society. Throwing open the wooden hinged windows of the Clarkes Hotel in Shimla to breathe in the clear, cool air was one of my most memorable experiences of the trip. It was organised by Incredible Indian Tours and included about 50% solo travelers.
Traveling higher and further north we came upon our first snow. Our drivers were experts in negotiating the roads at this altitude (about 4000 meters) – which can be in atrocious condition – along with the hundreds of motorbike enthusiasts reveling in this top of the world road challenge. Roads are literally sliced out of the snow annually and under constant repair during the short summer season before the snows once again close them for the rest of the year, isolating the villages beyond.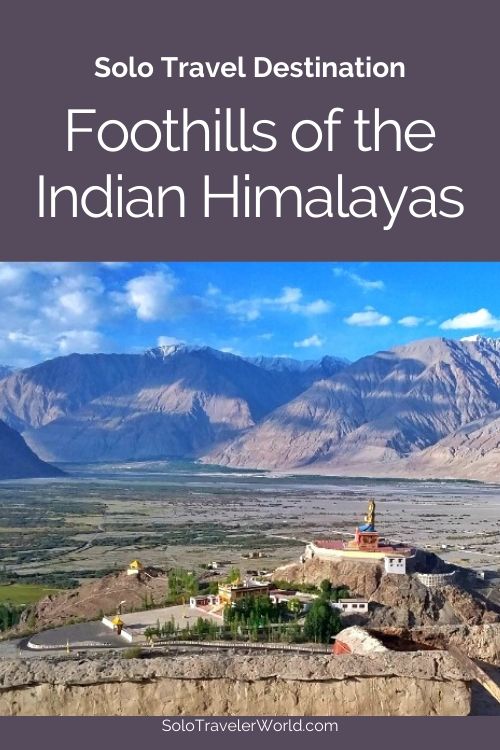 Up and up we continued, through thickly wooded mountains, along roads that twisted constantly. 360-degree vistas of colorful jagged mountain peaks, hanging valleys, glaciers, and waterfalls cascading hundreds of meters down sheer cliffs made our long days of travel so special. In this pristine scenery at the top of the world I found it easy to understand why people believe that gods choose to live in the mountains.
Leh in Buddhist Ladakh was our base for several days. The Indus river flows eastwards through Leh's high altitude desert in the Indian Himalayas, allowing people to grow crops in the limited summer growing season in lush green fields irrigated by glacial run off. We traveled out to the Nubra valley where I finally saw, clinging to steep rock faces, the white edifices of iconic Buddhist monasteries shaped like Tibet's Potola Palace, looking out over unbelievably vast, flat river valleys.
Houseboats on Dal Lake in Srinagar in Kashmir were our final destination. Srinagar is still a magical and peaceful place where kingfishers, herons, and eagles fished all day long. The lovely local Muslim people were proud to show us the beauty and culture of their city and encouraged us to try their amazing food. We encountered a riot of color in the Mughal gardens, copper workers, spice merchants, and the very special experience of buying local jewelry and handicrafts from Srinagar's waterborne merchants.
Negative media reports? Go see for yourself.
Solo Travel Destination Rating System
Safety – 1 (1 very safe, 2 safe in most areas, 3 be cautious at all times.)
Language – 2 (1 English is first language, 2 English speakers easy to find, 3 English speakers rare)
Navigation – 2 (1 easy to navigate by transit or car, 2 poor transit, car necessary, 3 not easy to get around)
Culture – 2 (1 Similar to North America or Western Europe, 2 Different from above but relaxed and easy, 3 Challenging)
Average Rating – 1.5 (1 is easiest, 3 is most difficult)