We are pleased to present a new Solo Travel Destination Post from Lia, a member of the Solo Travel Society on Facebook. Lia lives in Romania, and submitted the following report about Gozo Island. Do you have a solo travel destination that you would like to recommend? Submit your description here, along with a few photos, and share it with fellow travelers!
Solo travel rating: 1 (1 is easiest, 3 is most difficult. Please see chart below)
Languages spoken: Maltese, English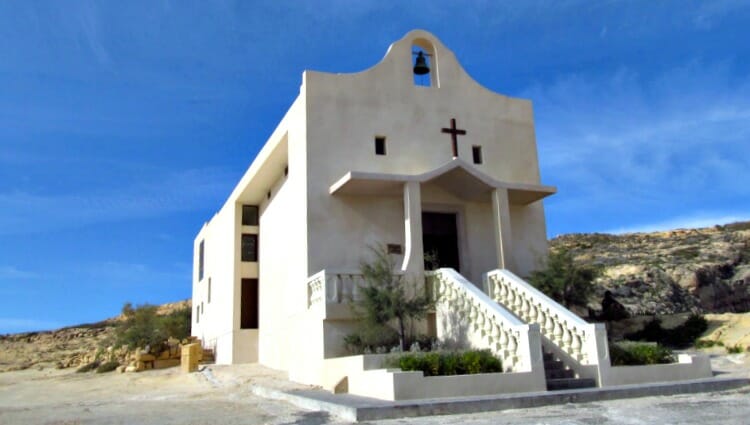 Reasons to Visit Gozo Island
With its picturesque and tranquil towns and villages, beautiful Gozo Island has so much to offer, from churches, fortified cities, and temples to stunning landscapes and beaches. Getting to the island is quite easy: the local ferry is available either from Cirkewwa (in the North of Malta – 25 min trip), or from the harbor in Sliema city (90 min trip). Both routes stop at Mgarr Harbour (Gozo) and the price for a standard return ticket is €4.65.
I found the island big enough to take a Hop-on Hop-off bus. Besides renting a car, this is the fastest way to see the island.
To sum up, here are the top 5 must-see sights on my list. Enjoy!
1. The Citadel and Cathedral of Assumption, Victoria City
First on my list is Victoria Citadel. Situated in the heart of Victoria, this small city and citadel lived to see many attacks and bombings, later being renovated and fortified. It is impressive in size and has been perfectly preserved after its last restoration. Allow yourself a few hours here. It's definitely worth the visit.
Don't miss the Cathedral of the Assumption, a baroque cathedral located within the walls of the Cittadella. The interior is impressive in religious icons, murals, and decorations.
2. Ggantija Megalithic Temples
Regarded as the oldest free-standing structures in the world, the largest megalith to be found here weighs about 50 tonnes and its walls reach a height of about seven meters. Altars and the remnants of a fire-reddened circular stone hearth, possibly for an eternal flame, can still be seen.
3. Ta' Pinu Basilica
This Roman Catholic basilica was dedicated to the Blessed Virgin of Ta' Pinu, believed to have miraculous healing powers. This is one of the reasons why every year this church is an important pilgrimage site. Attend the holy mass and afterwards enjoy the beautiful views of the area.
4. Azure Window
Perhaps the most spectacular natural monument in Malta, this rock formation was created after two limestone sea caves collapsed. Unfortunately, the rest of the structure collapsed in March of 2017. I was lucky to see it on my trip to Gozo Island.
5. Xlendi Bay
Every trip should have some relaxation time and Xlendi Bay is perfect for sunbathing, swimming, canoeing, and jet skiing. While Xlendi city is a quiet fishing village, the bay is now a popular seaside resort with small hotels, restaurants, and clubs.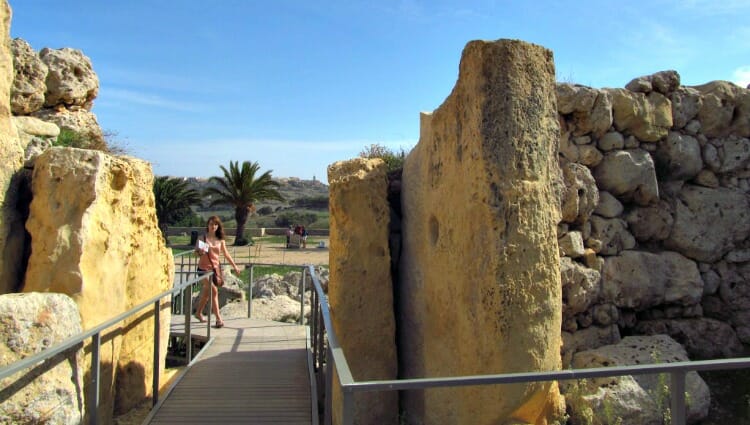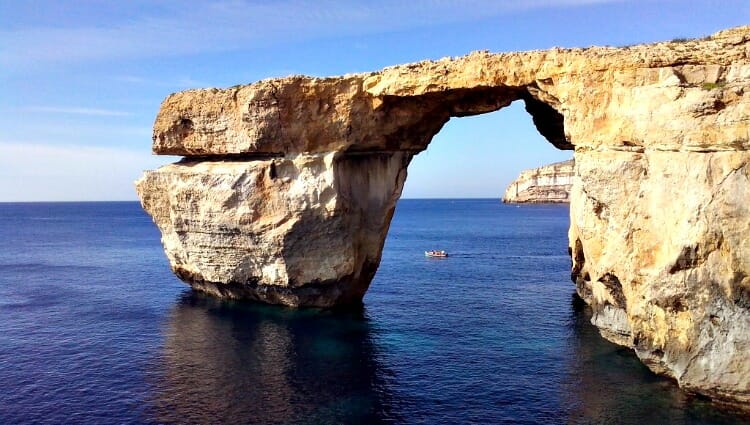 Solo Travel Destination Rating System
Safety – 1 (1 very safe, 2 safe in most areas, 3 be cautious at all times.)
Language – 2 (1 English is first language, 2 English speakers easy to find, 3 English speakers rare)
Navigation – 1 (1 easy to navigate by transit or car, 2 poor transit, car necessary, 3 not easy to get around)
Culture – 1 (1 Similar to North America or Western Europe, 2 Different from above but relaxed and easy, 3 Challenging)
Average Rating – 1 (1 is easiest, 3 is most difficult)