I am pleased to present a new Solo Travel Destination Post from Sylvie, to complement an earlier one from Heike. Both are members of the Solo Travel Society. Sylvie is from Canada, Heike is from Germany, and each submitted reports about their solo travels in Jordan. Do you have a solo travel destination that you would like to recommend? Submit your description here, along with a few photos, and share it with fellow travelers!
Languages spoken: Arabic, English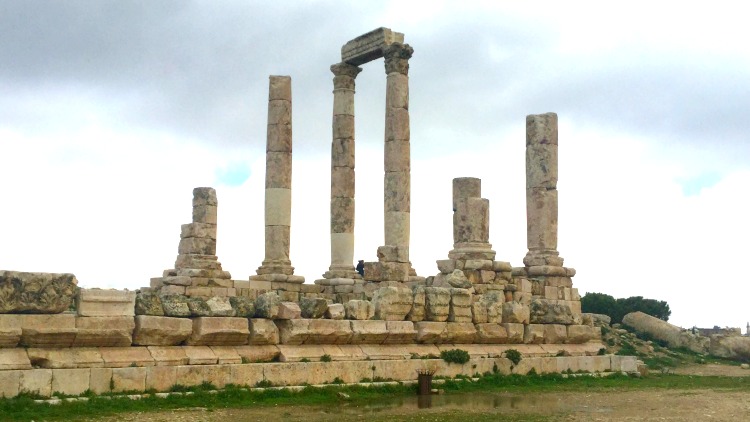 Sylvie's Reasons to Visit Jordan
Solo travel rating: 2 (1 is easiest, 3 is most difficult. Please see chart below)
Costs at Destination: Reasonable (local transportation, dining, tours, events, and attractions)
I wake up to the sound of the call to prayer. It's my first morning in Jordan, a country I have wanted to visit since I saw Petra in an Indiana Jones movie many years ago. The next 10 days would show me that Jordan is so much more than Petra, with every day bringing a new wonder and experience.
On my own, I wander up to the Citadel in Amman to see the Temple of Hercules and a fascinating little museum and catch a glimpse of the Roman amphitheater down below. Amman is built on a series of hills, with streets meandering this way and that and staircases acting as shortcuts. I got lost, of course, and although I had read that many Jordanians speak English, it took me many attempts before I could find someone to help me.
The Jordan Museum is also worth a visit, if only to see the Dead Sea Scrolls, but again it was hard to communicate with taxi drivers. Thank goodness I had my hotel's business card with me.
The next week would open my eyes to the long history of Jordan, from Biblical times, to Roman Occupation to the 4th century Nabatean Kingdom at Petra. My first stop was Jerash, the largest and most well preserved Roman site outside of Italy. Then, it was on to the Dead Sea where, covered in therapeutic mud, you wade in, lift your feet off the bottom and bob to the top like a cork. The next few days brought a visit to Mount Nebo, where Moses is reputed to be buried, a tour of a Crusader castle, and a church whose floor is covered in an ancient mosaic of the Holy Land.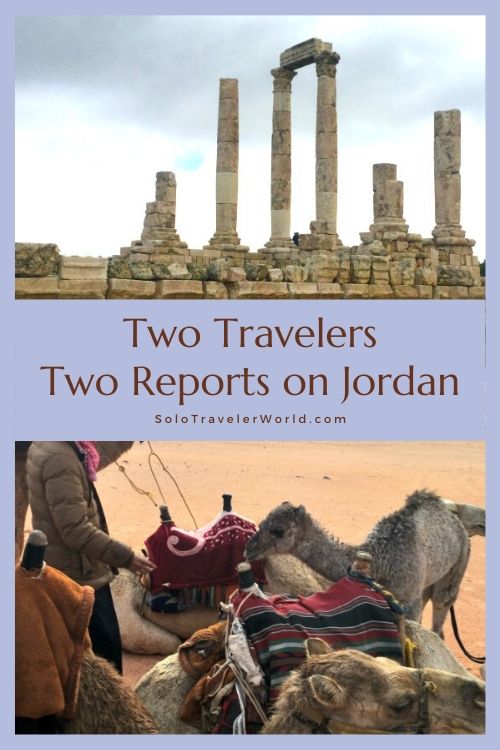 Then, on to Petra! Our guide had us at the gates at 6:00 am so we could get photos without the hordes of tourists that descend later in the day. After a 1.2 kilometer walk through the Siq, the gorge opens up suddenly and you are directly in front of the Treasury, that iconic building facade. The Monastery, reached after a climb of about 300 steps, is just as impressive. (You can take a donkey most of the way, if the climb is too demanding.) After a rest stop at one of the cafes and a refreshing glass of mint tea, it's back down to visit the Royal Tombs and shop for souvenirs.
No trip to Jordan would be complete without a visit to Wadi Rum in the Arabian Desert. It's rocky and hilly, not at all like the images you might have of a desert with sand dunes. It's a vast, empty space, so even on a camel ride, you see no one but your fellow travelers. Spending a night in a camel hair Bedouin tent, after a traditional meal and some non-traditional roasted marshmallows, is a unique (and freezing cold) experience.
My last stop was the Red Sea. From the shore you can see Israel, Egypt, and Saudi Arabia. On a charter boat, you can swim and snorkel and catch a glimpse of a sea turtle. Aqaba is a tourist destination for many, with outdoor cafes serving fresh fish dishes and liquor stores offering beer, wine, and spirits for sale.
This trip with G Adventures ranks high in my top 10 list. Jordan has everything: a fascinating culture, layers of history, great food, and welcoming people.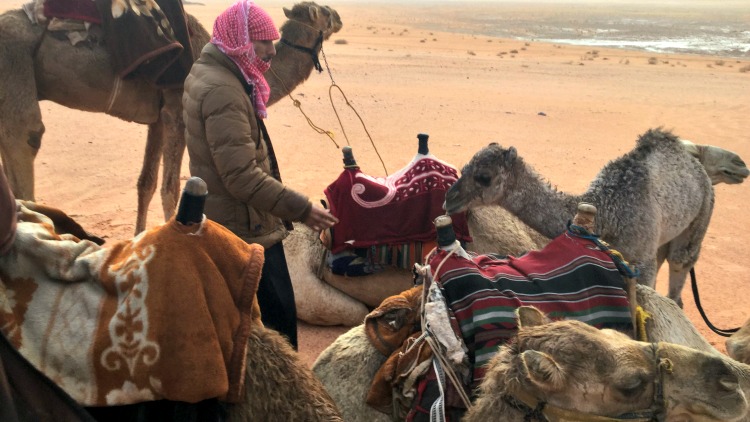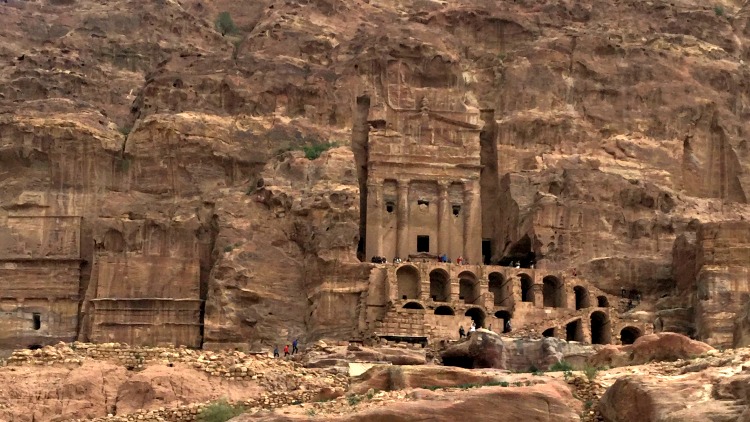 Solo Travel Destination Rating System
Safety – 2 (1 very safe, 2 safe in most areas, 3 be cautious at all times.)
Language – 3 (1 English is first language, 2 English speakers easy to find, 3 English speakers rare)
Navigation – 2 (1 easy to navigate by transit or car, 2 poor transit, car necessary, 3 not easy to get around)
Culture – 2 (1 Similar to North America or Western Europe, 2 Different from above but relaxed and easy, 3 Challenging)
Average Rating – 2 (1 is easiest, 3 is most difficult)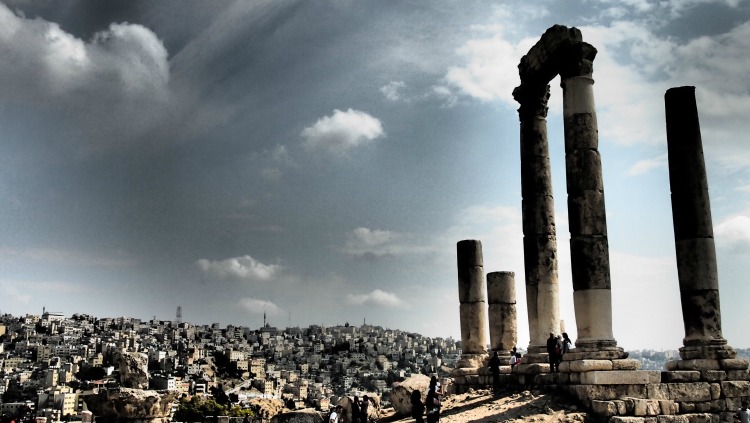 Solo Travel Jordan: Heike's Story
Solo travel rating: 2 (1 is easiest, 3 is most difficult. Please see chart below)
Costs at Destination: Cheap (local transportation, dining, tours, events, and attractions)
I traveled to Jordan in the spring of 2018. I stayed in guesthouses and cheap hotels which I booked while traveling in the country. I ate in simple local restaurants, relying on my travel guide, recommendations from locals, or just randomly choosing.
Solo travel in Jordan is safe, people are very friendly, and traveling as a woman alone is no problem at all. At guesthouses or hotels they arrange all kinds of trips – day trips, hiking trips, etc. – as well as transportation to your next destination.
I stayed in Amman for 5 nights and participated in organized day trips to visit various places of interest, including the North (Um Quais, Ajloun, and Jerash), the Desert Castles, Mount Nebo, Madaba, and the Dead Sea. I then headed south to Dana, a Nature Reserve with spectacular landscapes and excellent hiking opportunities. From there I went to Petra, then to Wadi Rum, where I stayed overnight in a camp, then to Aqaba at the Red Sea for diving.
As the country is relatively small, you lose little time getting from A to B and therefore can see a lot. Jordan is an ideal destination if you love nature and hiking and diving as well as cultural heritage and ancient monuments.
What to enjoy? Everything! What to avoid? Sleeveless shirts or tops; you should feel okay being in a different and Arabic culture. I recommend buying the Jordan Pass online in advance. It covers entrance fees to many attractions as well as visa fees and entrance fees to Petra and Wadi Rum.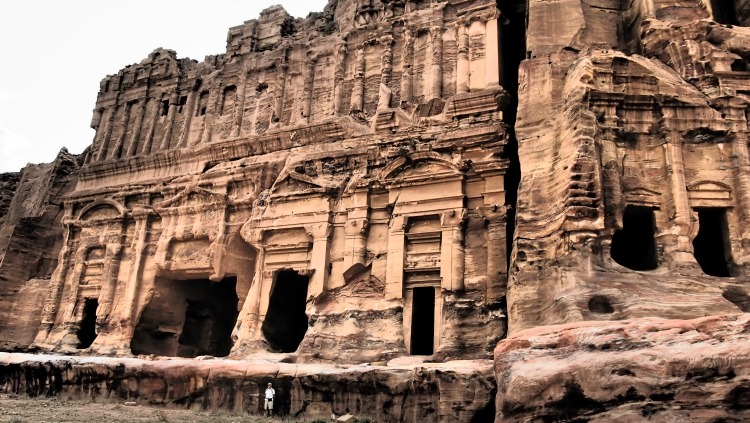 Solo Travel Destination Rating System
Safety – 1 (1 very safe, 2 safe in most areas, 3 be cautious at all times.)
Language – 2 (1 English is first language, 2 English speakers easy to find, 3 English speakers rare)
Navigation – 2 (1 easy to navigate by transit or car, 2 poor transit, car necessary, 3 not easy to get around)
Culture – 2 (1 Similar to North America or Western Europe, 2 Different from above but relaxed and easy, 3 Challenging)
Average Rating – 2 (1 is easiest, 3 is most difficult)